How to Withdraw from 888sport: How Long Does It Take in 2023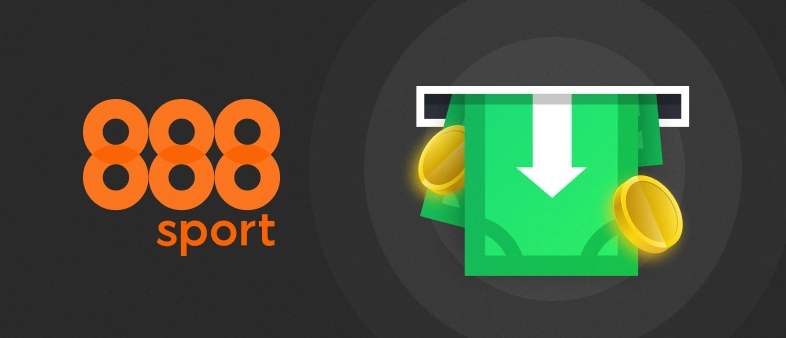 888sport Withdrawal methods
888sport are a quality bookmaker listed on the London Stock Exchange and as you would imagine there is the full array of payment processing methods allowing you to withdraw quickly and smoothly the way most convenient to you. It could be Visa, Mastercard, Skrill, Neteller, PayPal or a direct Bank Transfer they always have you covered.
888sport Withdrawal options and limits
Withdrawal Method




Fee

Processing time

Min limit

Max limit

Debit Card

(Visa or Mastercard)

Free

Up to 6 days

£3

£25,000

Skrill

Free

2-3 days

£3

N/A

Neteller

Free

2-3 days

£3

N/A

PayPal

Free

2-3 days

£3

N/A

Much Better

Free

2-3 days

£3

N/A

Wire Transfer

Free

5-8 days

£10

N/A
888sport Withdrawal Methods – Debit Card
Withdrawing money from your 888sport account to the card you deposited with is simple and easy. In most cases to withdraw back onto your debit card you should follow these steps.
Log into your 888sport account

Click on the "Cashier" bubble in the top right hand corner of the screen

Go to the withdrawal tab located underneath the deposit tab.

Enter the amount you wish to withdraw and select the Debit card option. (Note that you can only withdraw profits to a card if all other registered cards are not in a negative balance)

Press confirm and wait for the money to enter your account.
It is the policy of 888sport that you need to withdraw money back onto the same method you deposited with. This is a payout rule followed by all bookmakers. If this is no longer possible due to reasons like an expired card or closed bank account then you should contact the 888sport customer support team using the contact us link at the bottom of the page and explain the circumstances. Another method of withdrawal will likely be arranged. Please bear in mind that if these steps ever need to be followed it is likely that you will be required to provide extra proof of identification which may further delay your withdrawal process.
Withdrawals made to your debit card are always free however there are withdrawal limits. With 888sport this is a maximum of £25,000 and a minimum of £3. Larger withdrawals will need to be broken down into several transactions and how long you will be waiting to receive your money depends on the bank you are with as well as the time of and date you decide to withdraw. This means your withdrawal times may be anywhere from 1 to 6 days.
888Sport Withdrawal Method – Neteller
If you wish to withdraw with Neteller the process couldn't be any simpler. First log into your 888sport account and then navigate from the homepage to the cashier tab located in a yellow bubble in the top right hand corner. Then navigate to the withdrawal tab and select Neteller. Enter the relevant details as well as the amount you wish to withdraw into your neteller account and click withdraw. The minimum amount you can withdraw with Neteller is £3 and 888sport has no maximum withdrawal amount for this method. 888sport do not charge fees on any of their transaction services so withdrawing your funds is worry free. Using Neteller to withdraw your funds is potentially quicker than using a bank card with a typical wait time of around 3 hours.
888Sport Withdrawal Method – Skrill
Skrill is a nice and simple way to withdraw your earnings from 888sport. To withdraw funds using Skrill, first log into your 888sport account and navigate to the yellow bubble in the top right hand side of the screen with the writing "cashier". Once the cashier tab has popped up click on the withdrawal section and select Skrill in the drop down menu. Then enter the appropriate Skrill account details into the areas it asks for them and enter the amount you wish to withdraw. Using Skrill you can withdraw a minimum of £3 and due to 888sport policies there is no cap to the amount you can withdraw in a day unless you are using a Visa.. Skrill withdrawals are free as 888sport does not charge a fee for any withdrawal services.
888Sport Withdrawal Method – PayPal
PayPal is going to be the E-Wallet that the average consumer has heard of. As long as you have previously deposited money with PayPal you can withdraw money using PayPal. To withdraw using PayPal login to your 888sport account and click the yellow cashier button in the top right hand corner. Then navigate to withdraw and select PayPal from the drop down menu. Once PayPal is selected enter the appropriate account details that are asked as well as the amount you wish to withdraw and click withdraw. Using PayPal the minimum amount you can withdraw is £3 and as with other E-wallets there is no maximum withdrawal with 888sport. PayPal withdrawals are free along with any withdrawal from 888sport as they do not apply any fees for their withdrawals.
How Long Does an 888Sport Withdrawal Take?
Withdrawal times vary depending on which method you wish to withdraw with. It generally ranges from 2 - 6 days. To find out exactly how long your withdrawal time may be you can double check on the 888sport website by navigating to the bottom of the 888sport home page, then going to the secure banking section, withdrawals and then withdrawal payment time frames.
Step by Step Guide
 How to make an 888sport Deposit 
 To deposit money into 888sport first log in to your account and click the yellow circle in the top right corner with the label "cashier".

 By default you will be opened onto the Deposit tab. Then decide which of the 6 deposit methods you wish to use as well as the amount you wish to add to your bankroll.

Enter all the appropriate details for the payment method you wish to use (for this example Visa Debit is the method however you can use any of the ones listed). Finally click deposit and the selected funds will be added into your 888sport account for you to bet with. Please note that you can not deposit funds with a credit card.
How to do an 888Sport Withdrawal
To withdraw money from 888sport you must first log into your account and click the yellow oval in the top right hand corner saying "cashier".

The pop up image below will appear on your screen with the options withdraw and deposit as shown on the left hand side. Select withdraw and then enter the details shown. (Note that you can only withdraw money with options you have previously deposited with)

Once you have entered your details and the amount you wish to withdraw, simply click withdraw and wait for the money to enter your account. This can take varying amounts of time depending on your preferred method of withdrawal. The time it will take can be found by navigating to withdrawals - withdrawal payment time frames. (Please note your first withdrawal will be pending until 888sport receive your identification documents)
Frequently Asked Questions
How long does it take to withdraw?
Withdrawing from 888sport is a simple process but payout time is not a constant. Some withdrawal methods have a longer payout time than others the quickest being the E-wallets and the slowest is bank transfers back onto your Visa or Mastercard debit card.
How can I see my withdrawal history?
To see your withdrawal history go to the 888sport homepage. Click on the yellow "cashier button" in the top right hand corner and a popup will appear in the centre of your screen. Navigate towards the bottom left of the pop up tab and select history. From there you can select how many of your withdrawals you wish to see anywhere from the last hour up to the last 3 months.
What are the minimum deposit and withdrawal amounts?
At 888sport the minimum deposit amount is £10 which is higher than some others. The minimum withdrawal amount though is £3 which we believe is the lowest amount in the industry!
How can I cancel a withdrawal?
It is not possible to cancel a withdrawal once it has been submitted.
What should I do if there are Withdrawal problems?
If you have a problem withdrawing with 888sport the first thing you should do is check the withdrawal policy listed at the very bottom of the site. This page shows all the payout rules you need to meet to withdraw from 888sport and you should first check that all the payout rules are met. If the problem still persists after this, contacting them via their customer help page and using "withdrawal" as your category would be the best port of call. After this step you should receive an email back from 888sport both acknowledging your complaint and then a member of staff to help you deal with your problem.
Yes! Paypal can be used to transfer money both in and out of your 888sport account.