How to Withdraw from BlackType: How Long Does It Take in 2023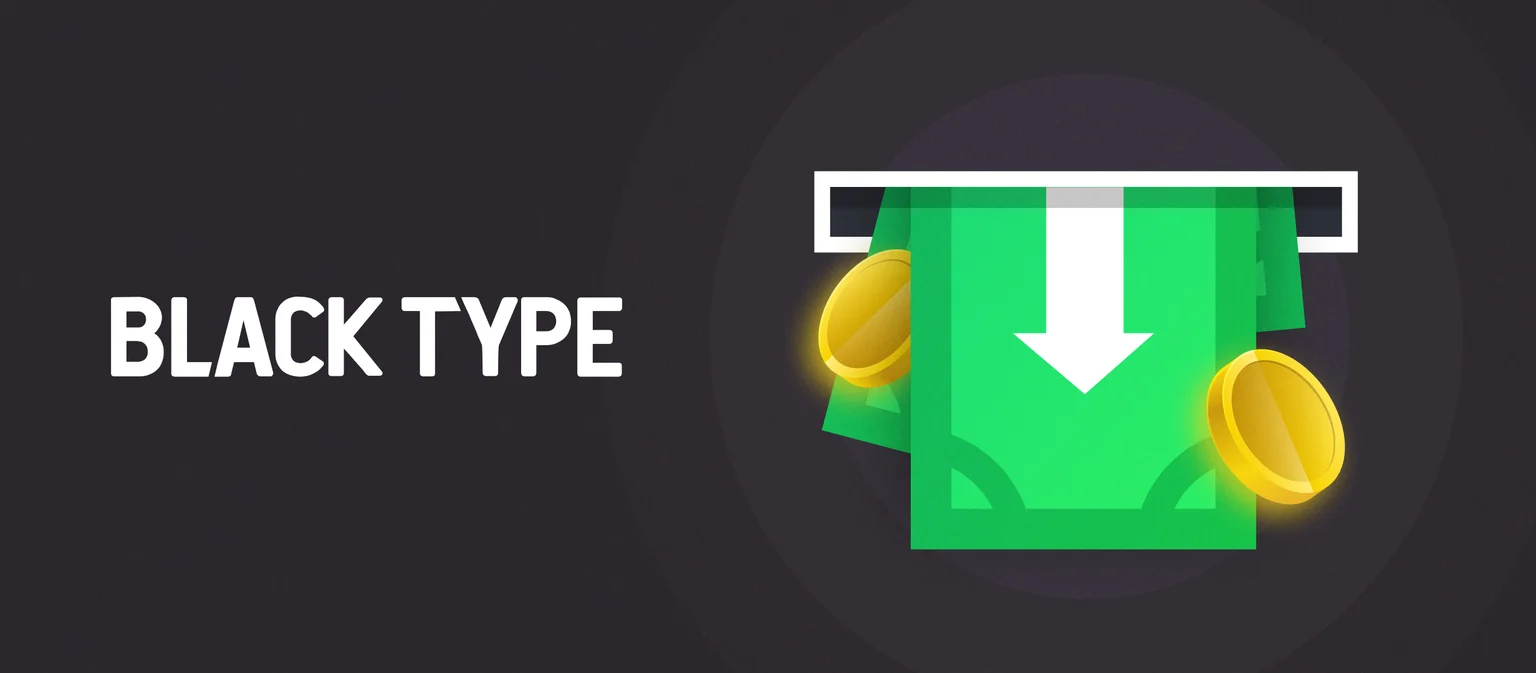 BlackType Withdrawal methods
BlackType is a website owned and operated by FSB Technology (UK) Ltd. They are a newer brand and have been making waves advertising heavily online and via social media. They do not have a huge range of payment methods available though, with no PayPal, Neteller, or Skrill, they are dependent on accepting just debit cards from their UK customers.
Withdrawal Method




Fee

Processing time

Min limit

Max limit

Debit Card

(Visa) 

Free

1-5 days

£10

N/A

Debit Card

(Visa Electron)

Free

1-5 days

£10

N/A

Debit Card

(Mastercard)

Free

1-5 days

£10

N/A

Debit Card

(Maestro)

Free

1-5 days

£10

N/A
BlackType Withdrawal Methods – Debit Card
At BlackType all the debit cards which they accept have the same terms attached to them, and there is very little difference between them. They all have no fee to deposit and withdraw, they all have a £10 minimum and maximum limit to deposit and withdraw, they all will take the same length of time to reach your account, between 24 hours and 5 working days.
As is true of all UK bookmakers a credit card can not be used to deposit due to UK Government legislation put in place early in 2021.
How Long Does A BlackType Withdrawal Take?
The withdrawal time from any bookmaker is dependent on a number of factors, and there is rarely a simple and straightforward answer. The length of time taken to move from being pending at the bookmaker to being in your account will depend on how long it takes them to process it, this will be dependent on when you submit the request and whether the BlackType payments team work at the weekend or not. Further factors will include the type of method you use, and although you must use a debit card, normal Visa cards can be as little as 2 hours, whilst Mastercards and Maestro cards can be days.
Step by Step Guide
How to do make a BlackType Deposit
To deposit into BlackType you must be logged in and then from the top right of the screen click on the grey "DEPOSIT" button.

This will bring up the following deposit screen. As you can see debit cards are the only deposit methods available.
You need to inform them of:
A) The amount you wish to deposit
B) The 16 Digit number on your debit card
C) The 3 Digit security code on the back of the card
D) The cards expiry date

Finally push "SUBMIT" and your money will be credited instantly.
How to make a BlackType Withdrawal
To withdraw from BlackType once you are logged in you need to click on your name in order to bring up the control panel. On this page you will see a category "Withdrawal", and the option you want is just inside there. Click on "Withdraw" your winnings.

Once you have clicked on that you will open a new page on which you need to enter the specific details of your request.

Enter the amount that you wish to withdraw, confirm the card it is going onto, and click "WITHDRAW MONEY". Your money will then be on its way to you shortly.
Frequently Asked Questions
How to view my withdrawal history?
To view your withdrawal history at BlackType you need to be logged into your account click on your name to open the control panel. Inside the control panel you will see a group of options under the heading "Account Details"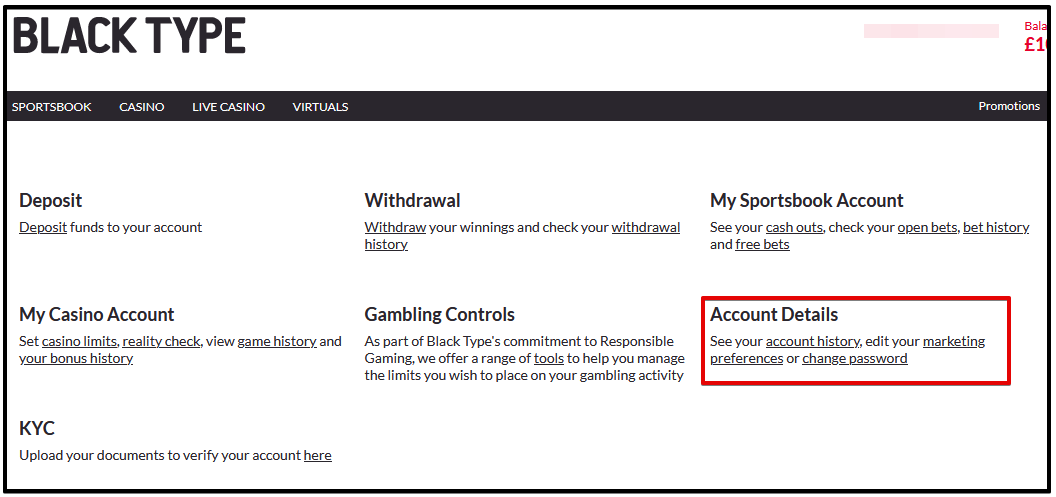 Under this heading you will see the option "account history", if you open this you can access a complete history of all your account transactions including all withdrawals, alongside all deposits and also the bets you have placed.
What is the Minimum deposit and withdrawal amounts?
The minimum amount which can be deposited in one transaction is £10, there is a maximum limit in place of £5000. When it comes to withdrawals there is also a £10 minimum and no publicised maximum.
How can I cancel a withdrawal?
How to withdraw funds is easy but canceling a withdrawal is not. It is in fact not possible to cancel it. This is one of the payout rules put in place by the UK Government in an attempt to tackle problem gambling rather than a policy on BlackType.
I am having problems with my withdrawal, what can I do?
Should you experience any problems, perhaps you are waiting for a withdrawal and the payout time is longer than expected, then it is best to contact the BlackType customer service department. They will be able to help you resolve the problem, whatever it may be. If there is a problem with your debit card that can not be resolved as a matter of last resort BlackType will transfer money to you via a bank transfer.
Unfortunately no, PayPal is not a supported payment method at BlackType sportsbook.