BetRegal Withdrawal methods, & "How-to guide"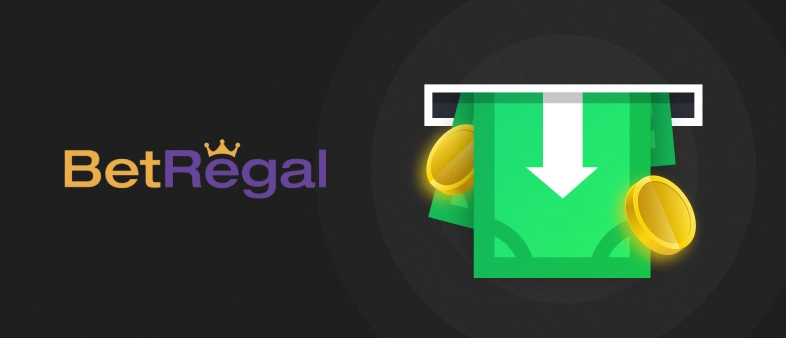 BetRegal Withdrawal methods
BetRegal provides their players with a range of options when it comes to transferring money. They obviously have the option to use debit cards, either Visa or Mastercard, and also the popular E-Wallet PayPal. They complement this with the lesser known E-Wallets MuchBetter and paysafecard. Furthermore they have the option to use "Trustly" if you want to transfer money without the use of your card or an App. Please note as with all UK bookmakers, you can not deposit using a credit card.
BetRegal Withdrawal Options and limits
Withdrawal Method




Fee

Processing time*

Min limit

Max limit

Debit Card

(Visa or Mastercard)

Free

Up to 6 days

£10

N/A

PayPal

Free

Up to 2 days

£10

N/A

MuchBetter

Free

Up to 2 days

£10

N/A

Trustly

Free

Up to 4 days

£10

N/A

Wire Transfer
Free

2-6 working days

£10

N/A
*All days to here are business days (not including weekends and public holidays)
 BetRegal  Withdrawal Methods – Debit Card
Although BetRegal Accepts Visa, MasterCard and Discover some banks disapprove of and make it harder for their cardholders to make transactions with gambling websites. For this reason, they actually recommend you open an alternative payment method for your transactions. If you are certain that you wish to use a Debit Card with your BetRegal Account you should be aware that there is a 2.5% fee charged on each deposit.
BetRegal Withdrawal Method – PayPal
PayPal is the leader in terms of E-Wallet online payments, and has been since the start of the century. It has over 100 million member accounts in 190 countries and regions and is accepted by merchants all over the world. At BetRegal it is one of their recommended payment methods of choice.
BetRegal  Withdrawal Method – MuchBetter
MuchBetter is an app-based E-Wallet which is newer to the scene than some of the other main rivals, for example Skrill or Neteller. MuchBetter advertise themselves as a quick, easy and safe way to deposit and withdraw funds to and from your bookmaker account. 
BetRegal  Withdrawal Method – Wire Transfer
Wire transfer is a direct bank transfer made into your bank account. You will be able to withdraw by this method as long as your deposit amount(s) has been paid back to its original source of funds. There is no published maximum limit to the amount you can withdraw using this method.
BetRegal  Withdrawal Method – Trustly
Trustly is a Swedish fintech company founded in 2008 but available to UK customers as well as many other Nations.. Trustly is an open banking payment method that allows you to pay from your online bank account, without the use of a card.
 How Long Does a BetRegal Withdrawal take?
How long it will take is a question which is not easy to answer directly, the length of time that it will take is going to have many variables effecting it. One of the most obvious is what payment method you have used, PayPal can take up to 2 days compared to a debit card taking up to 6 days. Other factors will include the day you withdrew, was it your first withdrawal, the time of day you withdrew, the amount it was for, etc, etc. As a rule based on our experience it will take around 2 days to be paid but there is no certainty about that.
Step by Step Guide
How to make a BetRegal Deposit
The first step is to be logged into your account, and then you will see a quick link in the top right hand corner, a purple "Deposit" button.

After clicking on deposit you will see the following screen from where you choose which deposit method you want to use.

Assuming you chose to use a debit card then the following screen will appear, but no matter which option you choose they will all look very similar.

Now you simply fill in all the relevant information, click on "Deposit" and your funds will be in your account instantly. Note the 2.5% fee, this applies no matter which payment method you use. Also IF you have a Promo Code here is the place to click the + symbol and add it before you click "Deposit".
How to make a BetRegal Withdrawal
How to withdraw is simple, you must be logged into your account and then hover over your account profile icon and the following drop down list will appear. You want to select the "cashout" option, which will turn blue once you are hovered above it, as in our example.

Once you have selected "cashout" then the following screen will appear. It will have your previous deposit method in place as the default place to return funds to. You simply have to enter the amount you wish to withdraw on this page (a number within the limit) and click on "REQUEST CASHOUT" and await your funds. It should be noted that withdrawals from BetRegal also attract fees and these are displayed clearly before you withdraw, showing your requested amount and also how much you will actually receive.

It is now just a case of waiting for BetRegal to transfer money back to your card. The payout time can vary but should be around 2 days.
Frequently Asked Questions
How to view my withdrawal history?
To view your BetRegal withdrawal history, all you have to do is be logged into your account and look in the top right hand of the screen. From the homepage there is an option to view your transaction history.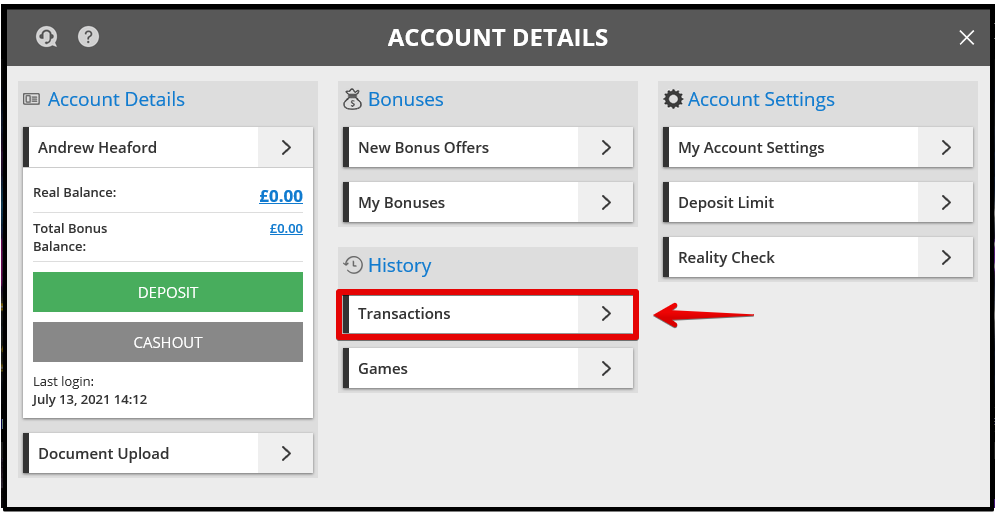 From here you can select the timeframe you wish to view details of, and your withdrawal history will be displayed.
What are the Minimum deposit and withdrawal amounts?
For all deposit methods the minimum amount is advertised as being £10 but it should be noted that there is a 2.5% fee on all deposits, so it is in reality £10.25 then as that is the amount which will debited from your bank. The minimum withdrawal amount is £10.
How can I cancel a withdrawal?
Once you have submitted a withdrawal and it is pending in the BetRegal system it is not possible to cancel it.
I am having problems with my withdrawal, what can I do?
Whenever you face difficulties or problems with your withdrawal, for example the withdrawal time is taking longer than advertised, or it is not allowed to be submitted by the cashier system, your first place to turn to should be the BetRegal Customer Service staff. They will in the majority of cases be able to help you there and then by explaining which of the payout rules you have not met. If they can not, they will be able to direct you to where you do need to go to fix the problem.
Yes PayPal is an accepted payment method to be used at BetRegal, for both deposits and withdrawals.