Makhachev vs Oliveira: Bets and odds for the fight on October 22nd 2022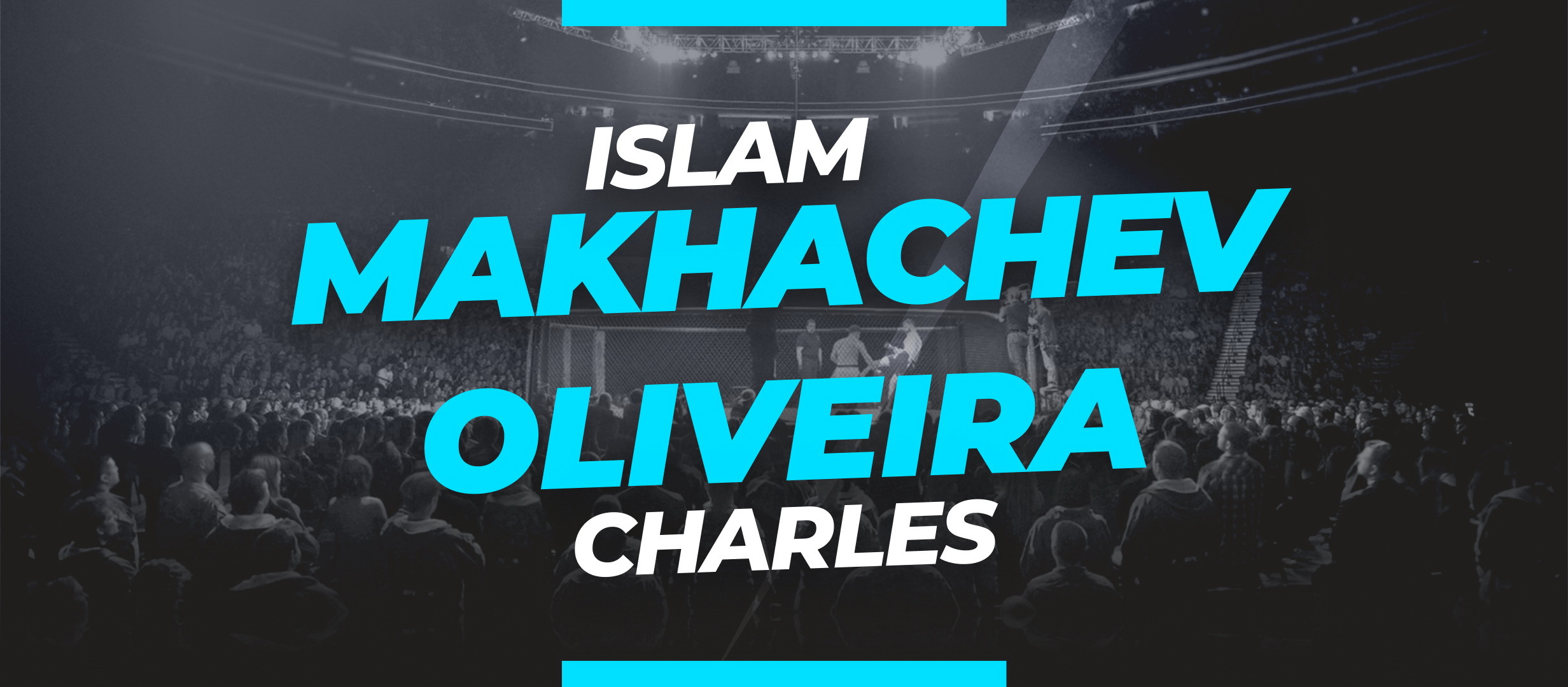 Russian UFC fighter Islam Makhachev will face Brazilian Charles Oliveira for the UFC lightweight title. The fight will be the main event of the UFC 280, which will be held on October 22 at the Etihad Arena on Yas Island in Abu Dhabi, UAE.
In this article: fighter stats, interesting bets, bookmakers' odds and an exclusive tip for the Makhachev-Oliveira fight.
Makhachev to win
63/100

Oliveira to win
7/5

The main card fights will start closer to 11pm London time. Lve streaming of the event will be available on the Winline website, as well as to UFC Fight Pass subscribers and Match TV viewers.
The fighters will compete for the vacant lightweight title. Despite defeating Justin Gaggi at UFC 274, Oliveira was stripped of the belt during the weigh-in for being 226-grams overweight. No one got the belt after his win, but the result of the fight was included in the official records of the fighters.
Odds for the Makhachev v Oliveira fight 
Islam emerged as the favourite with a serious advantage. The odds on Makhachev's victory are 63/100

It seems like everyone forgot about two successful defences of the title and Charles's series of 11 wins. You can bet o n Oliveira's win with odds of 7/5

.
Statistics and physical data
The fighters are the same height, but the Brazilian's arm span is 9 centimetres longer. However, given Oliveira's style, he won't gain a serious advantage due to his physical data. The close-range fighter will definitely not attack Makhachev from afar.
| | | |
| --- | --- | --- |
| Islam Makhachev | | Charles Oliveira |
| 23 | Fights | 42 |
| 22 | Wins | 33 |
| 1 | Losses | 8 |
| 0 | Draws\No Contest | 1 |
| 178 | Height | 178 |
| 179 | Reach | 188 |
| 72,57 | Weight | 70,53 |
| 30 | Age | 32 |
Islam Makhachev
Russian Combat Sambo champion and world Combat Sambo champion. International Master of Sport in Combat Sambo.

Record: 23 fights, 22 wins, 1 defeat.
Makhachev to win
Odds
63/100

7 years in the UFC, 11 wins and 10 submissions in his career. We've heard about Islam's title claims for years on end, but it wasn't until 2022 that he finally became a major contender. 
You can argue forever that his record lacks a couple of big names and knockouts, but there's no denying that the current Islam is the toughest and most uncomfortable opponent for Oliveira.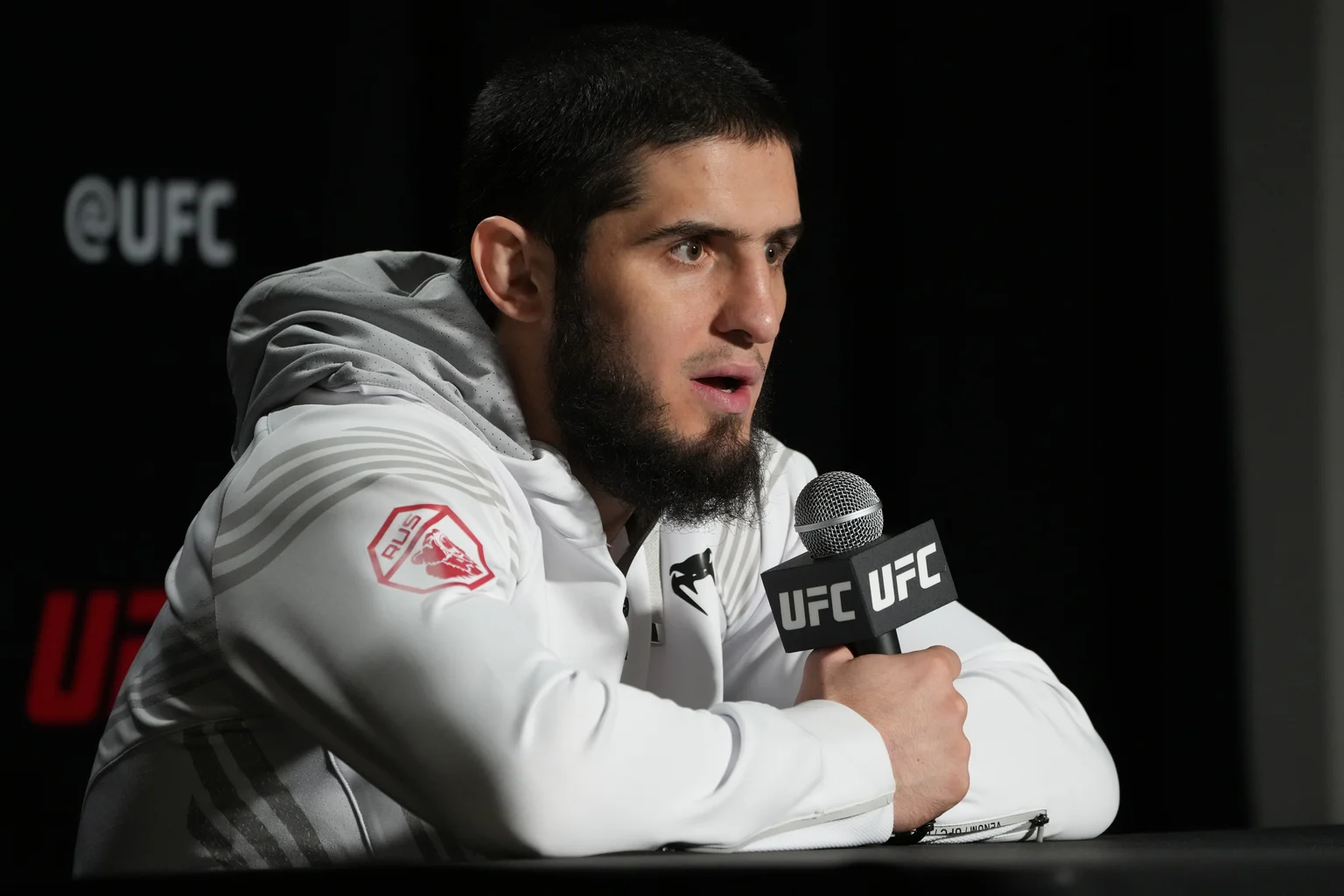 Makhachev has gone through a phenomenal wrestling school. Being under the patronage of Khabib, he has worked through every possible development and is ready to once again bring together combat sambo and freestyle wrestling with a black belt in BJJ.
What to expect from Makhachev in the fight against Oliveira? 
As always - defence. Islam knows that Charles will go forward from the very first seconds to get the maximum available distance for a punch. Oliveira is willing to miss any punches to lure the Russian into the fray, but Makhachev won't fall for such a ploy. 
He'll shift in circles with his hands high and continue to rip Oliveira apart with right jabs and low kicks. No quick attempts to ground fighting from the Russian should be expected. First of all, Oliveira must be given a chance to throw out all his preparations and only then he can start a counterattack. Towards the end of the first round the fight will move to the net and the long mutual attempts of takedowns will begin. 
But Islam is used to not forcing things and to approach every situation in the fight with utmost equanimity, so that he can change the gameplan quickly if necessary. Makhachev is always very attentive to Khabib's advice, which he shouts from the corner. So there is no need to worry about the Russian's tactical preparation. 
Makhachev's winning chances 
It is the gameplan and maximum composure that are Islam's main advantages. He may be the only fighter who will not be affected by the Brazilian's psychological pressure. 
Of course, it's silly to deny that Islam is behind Oliveira in punching speed, but he has the advantage of physical strength and takedowns on his side. Makhachev has beaten some of the strongest fighters in the division (remember the fight against Ramus alone). He is used to dealing with much more physically demanding opponents, and is unlikely to be intimidated by Charlie's jujutsu techniques.
Islam's chances are quite high, but there will be no quick win by fluke-punch or easy chokehold. Makhachev must be prepared for the outcome of the fight to be decided by the judges.
Makhachev's last five fights 
| | | | |
| --- | --- | --- | --- |
| Date | Opponent | Result | Method |
| February 26, 2022 | Bobby Green | Win | TKO |
| October 30, 2021 | Dan Hooker | Win | Submission |
| July 18, 2021 | Thiago Moises | Win | Submission |
| March 7, 2021 | Drew Dober | Win | Submission |
| September 7, 2019 | Davi Ramos | Win | By decision |
Charles Oliveira
Former UFC lightweight champion. The record holder for most premature submissions.

Record: 41 fights, 32 wins, 8 losses, 1 no contest
Oliveira to win
Odds
7/5

The fight against Gatja was the final 'test of the champion' for Oliveira. He was rising after hard hits and was even able to stagger his opponent back. The Brazilian has felt his full strength and now clearly believes he is unbeatable.
Of course, it's not the old Charlie anymore. The image of a good-natured pauper from the favelas is slowly receding into the background, giving way to an self-confident version of the early Conor. And it is a logical process. Oliveira sees no threat in the lightweights, where everyone promises to beat him but fails.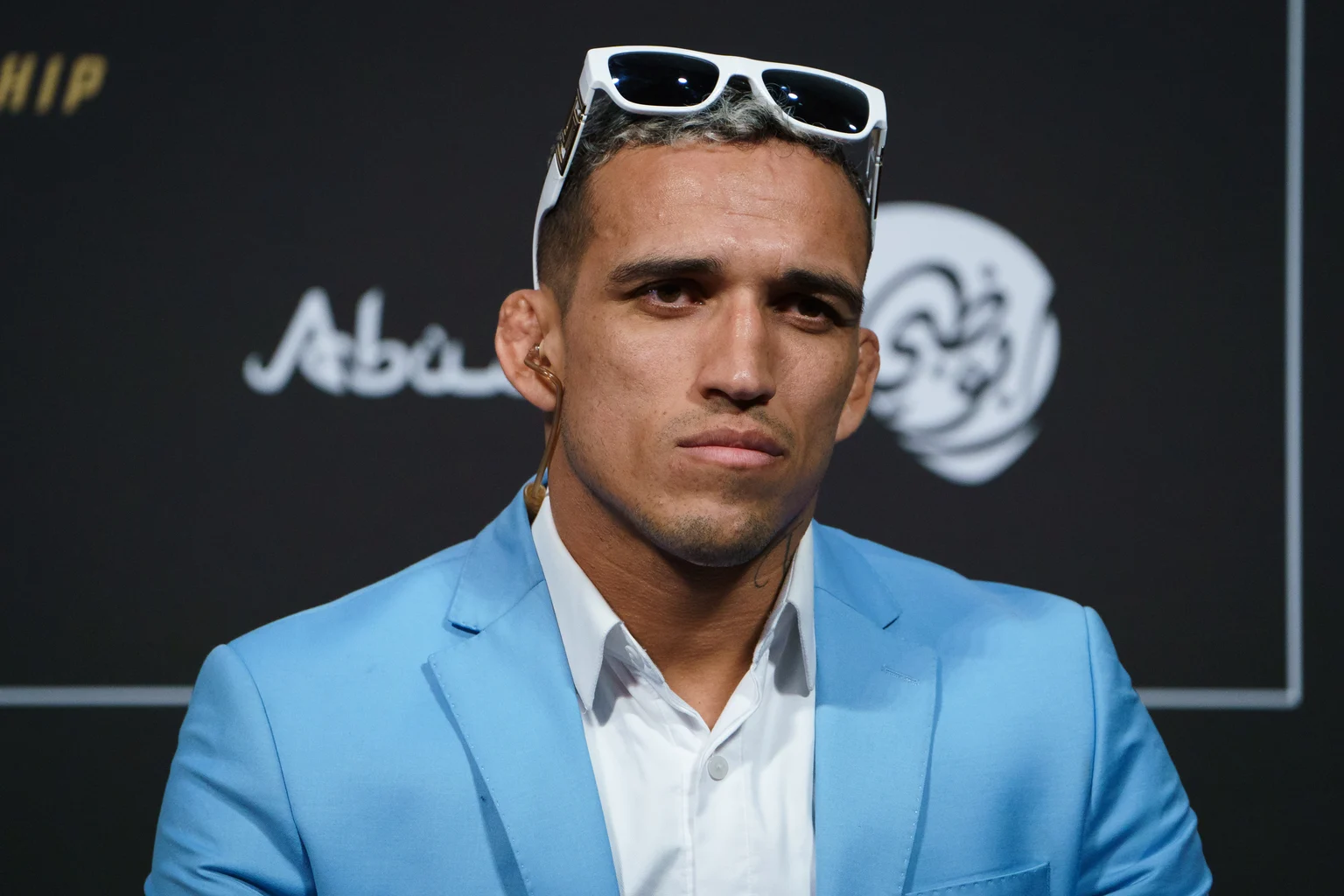 Oliveira clearly respects Islam, but believes he is technically two heads above him, contrasting Makhachev's wrestling abilities with his jujutsu variety. But what Charlie doesn't realise yet is that he's facing one of the smartest fighters on the roster, one who simply cannot be intimidated.
What to expect from Oliveira in a fight with Makhachev? 
Charles will not change his aggressive pressing tactics from the opening seconds. He knows Makhachev is hoping to drag him into the late rounds to exhaust him and put him down with a fight.
Oliveira will do everything he can to daze Islam as quickly as possible. It will be necessary to force him to panic and make mistakes. The Brazilian hopes that Makhachev will give him the centre of the octagon and allow him to press all the time, only occasionally answering with a right jab. 
Let's face it, we've never seen Charles in the championship rounds before. His maximum is three rounds of five minutes. And he'll definitely do his best to finish this fight as early as possible. 
Oliveira's advantages include his size. He clearly doesn't fit into the lightweight format and fails the weigh-in time after time. He should be thinking about moving up to a bigger weight, but instead he keeps exhausting himself with the dreaded weight chase. Nevertheless, on the second day after the weigh-in Charles regains a lot of the pounds he lost and feels great.
Oliveira's chances of winning 
Indifference to defensive action will play against Oliveira. On the one hand he tries to always keep his hands close to his chin, but on the other hand he misses a lot of easy hits and is often sent to knockdown. 
Of course, after each such hit he either gets up quickly or invites his opponent to ground fighting. He is used to a frightened opponent giving him a chance to recover. And that is where the main difference between Islam and other fighters lies. 
Makhachev won't let Oliveira catch his breath. He will fight on the ground, clamp the Brazilian at the net and react to his every move and every slump or mistake. Islam looks much smarter than Charles, he has much more options in his arsenal now. The Brazilian, however, seems to be fixated only on his hyper-pressure, and that could be the thing that lets him down in the end.
Oliveira's last five fights 
| | | | |
| --- | --- | --- | --- |
| Date | Opponent | Result | Method |
| May 7, 2022 | Justin Gaethje  | Win | Submission |
| December 11, 2021 | Dustin Porier | Win | Submission |
| May 16, 2021 | Michael Chandler | Win | TKO |
| December 12, 2020 | Tony Ferguson | Win | By decision   |
| March 15, 2020 | Kevin Lee | Win | Submission |
Makhachev vs Oliveira: Tip for the fight .
The problem with Oliveira's past opponents was that before the fight they all refused to acknowledge Charles' high level of punching. And when they realised what they were dealing with, they could not cope with the nerves, which was often the reason for their defeat. Let us at least recall these fights: Chandler - insane attacks, problematic physiques and nerves, Poirier - lack of energy and nerves, Gaethje - a missed punch and nerves. 
Islam will definitely be able to keep his composure even if the fight slips out of his hands. I'm afraid he won't even be able to punch if he falls into a stalemate trap and allows himself to be "put to sleep". 
But personally, I don't believe in such an outcome. I suspect that we will also see the start of the fourth and even the fifth round. Islam will be able to correctly allocate his energy for the whole distance and repel all the aggressive attacks of the Brazilian. Oliveira definitely won't be able to move him to the ground during the frontal pass, so he will have to expend a lot of energy to outplay the Russian . 
Makhachev is my favourite, but I wouldn't bet on an exact type of victory for him though. The referee's decision and the submission with the knockouts looks too close to choose. 
My bet and prediction is a win for Islam Makhachev.
Makhachev to win
Odds
63/100

Frequently Asked Questions
When will Islam Makhachev and Charles Oliveira fight?
The Islam vs Charles fight will take place on October 22. The venue is the Etihad Arena on Yas Island in Abu Dhabi, UAE.
What are the odds on the Makhachev vs Oliveira fight?
Islam is the unconditional bookmaker's favourite to win at odds of 1.62. Oliveira is also on a winning streak, but analysts don't believe his jujitsu will stop the master of combat sambo. Charles's success is offered 2.85.
Makhachev v Oliveira: who will win?
Islam is the most unfamiliar and uncomfortable opponent for Oliveira. Makhachev is able to change tactics quickly or hold back the most protracted pressures. Now he really has everything he needs to take away the coveted belt and bring it to Dagestan for the second time in the history of the promotion.