How to Withdraw from EnergyBet: How Long Does It Take in 2023
EnergyBet closed to UK customers in September 2022
EnergyBet Withdrawal methods
EnergyBet display a huge range of deposit and withdrawal options, one of the largest ranges which we have seen. The only thing missing is a credit card but that is due to UK legislation banning their use for gambling transactions. Everything else is there, although the range of limits are not the best, and nor are the withdrawal times, when it comes to choice EnergyBet is amongst the best there is.
EnergyBet Withdrawal Options and limits
Withdrawal Method




Fee

Processing time

Min limit

Max limit

Debit Card

(Visa or Mastercard)

Free*

3-8 Days

£20

£5000

Skrill

Free*

3-8 Days

£10

£3500

Neteller

Free*

3-8 Days

£10

£3500

Muchbetter

Free*

3-8 Days

£20

£3500

Trustly

Free*

3-8 Days

£20

£3500

Online Bank Transfer
Free**

3-8 Days

£20

£3500
*The first withdrawal of each week is free of charge. Any withdrawal after that in the same week has a fixed fee of £5 per withdrawal. Furthermore if funds are withdrawn before they have been wagered at least once, a 5% administration charge (min £10) may be applied.
**For Bank Transfers there is one free withdrawal per MONTH, rather than per week.
EnergyBet  Withdrawal Methods – Debit Card
When you withdraw money from your EnergyBet account it must go back onto the card you used to deposit with. Debit Cards have a slightly higher maximum daily limit than all other methods and should be the transaction method of choice.
You MUST use a debit card in your name only, and EnergyBet are very strict about this. Ideally money will also leave from and go back to the same card. If however this is no longer possible, for example the card expired or was lost and had to be cancelled and replaced, you can contact the EnergyBet support staff either on the phone or on livechat. It is likely additional Identity documents may be required but they will help you to access your money, the balance shall not simply be lost.
EnergyBet  Withdrawal Method – Bank Transfer
Bank transfers are in reality incredibly similar to using a debit card. The main difference is the information supplied to the bookmaker. Instead of your Card number, expiry date and CVV you instead use your account number and sort code. It still has the same payout time getting to your bank.
EnergyBet  Withdrawal Method – Trustly
Trustly is an European online payment method which offers water tight security and a simple way to pay from your online bank account. It is a form of Bank Transfer and at EnergyBet there is no noticeable difference between the two.
EnergyBet  Withdrawal Method – MuchBetter
MuchBetter is a Peer-2-Peer platform which allows you to transfer money to friends and family, and request payments from others. The Peer-2-Peer platform is free to use and transfers money instantly, although it may take up to 3 days to arrive from EnergyBet as the withdrawal must first be processed by the EnergyBet accounts department. 
EnergyBet  Withdrawal Method – Neteller
Neteller is an E-Wallet option that is readily reliable in the UK and is fully integrated with the EnergyBet banking system. To operate your Neteller account just transfer funds from your bank account or debit cards and pay into Neteller once, from then on you can enjoy the convenience of being able to use this float separate and ringfenced from your bank (until it runs out). 
EnergyBet  Withdrawal Method – Skrill
Skrill is the Sister company of Neteller and many of their processes are the same. You initially transfer money from your bank account or debit card but after that you can use your Skrill balance independently in effect as a new bank account. A Skrill account holder uses Skrill with their email address in order to access and enable transactions. It is important to note that all banking processes conducted via Skrill will only be authorised if the email address associated is identical to the email address registered with Skrill.
How Long Does an EnergyBet Withdrawal Take?
There is no clear answer to this as it can depend on a large number of different factors. Not only does it depend on what payment method you have used, but it also depends on when you withdrew, and the size of the withdrawal, and if it is your first withdrawal, etc, etc. On average though a withdrawal will probably take no more than two or three days.
Step by Step Guide
How to make an EnergyBet Deposit
To deposit into EnergyBet you must first have to register an account and be logged into it. Once you are at this stage you will see a large green "DEPOSIT" button, click on it and the following screen will appear showing you your deposit options.
From the list of deposit methods click on the "Deposit" button next to the one that you wish to use. In the following example we have chosen to use a Debit card, the following screen will appear.
Enter a Promotion code (PROMOCODE) should you have one. Before entering any promotions make sure you have fully read and fully understand the terms and conditions of the promotion you are entering.

If you do not have a Promotion code simply select "NO BONUS". 
Now you simply have to say how much you want to deposit, either choose one of the preset amounts or you can enter your own. Then click "Deposit".
You will be asked to confirm the amount, if this is correct then simply click on "CONFIRM".
The final window is a pop up from a third party website (your bank) asking you to confirm some details.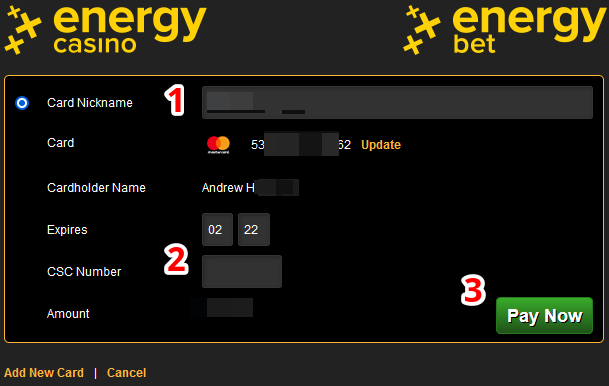 Enter a nickname for your card, this is purely for your reference and just so you can easily remember which card you are depositing with in future as these details will be saved.
Enter your cards security details.
Click "Pay Now" your funds will instantly be credited to your EnergyBet account.
How to make an Energybet Withdrawal
When looking at how to withdraw the first thing you need to do is whilst you are logged in select the yellow "MY ACCOUNT" button in the top right hand corner. From there you will get a drop down set of options and you need to select "Withdraw", highlighted in yellow again in the picture below.

After you have chosen to "Withdraw" the following will appear in the middle of your screen. Please note if you have deposited by a payment method not shown it will be there when you come to withdraw.

Select the method you wish to withdraw to, in this case we have chosen to withdraw to the debit card we deposited with.

You select the card you want to withdraw to from the cards you have previously deposited with, then enter the amount you want, and click the green "Withdraw" button. Then it is simply a case of waiting for your funds to arrive.
Frequently Asked Questions
How can I view my withdrawal history?
To view your withdrawal history at EnergyBet is not difficult at all. Simply go to your "MY ACCOUNT" section and from there you will see an option of "Payment History", load this page and you will see a complete list of your transactions, including any which are still pending.
What are the minimum deposit and withdrawal amounts?
The minimum deposit amount is £10, the minimum withdrawal amount is also £10 but both can be higher depending on what payment method you are using. Mastercard and Visa have slightly higher limits than other methods.
How can I cancel a withdrawal?
Due to regulatory requirements, there is no option to cancel a withdrawal for UK residents. It does not matter how long it has been, once you confirm the withdrawal that is it.
I am having problems with my withdrawal, what can I do?
If you ever experience any problems when you withdraw funds (or you make deposits for that matter) then the best course of action is to contact the EnergyBet customer services either by LiveChat or on the Phone. They will go through why the withdrawal time is longer than expected and see what has happened. After identifying the problem, for example perhaps you have not met all the payout rules, they will then advise you on the next steps to take.
The simple answer to this is "Yes" they do accept PayPal.