Sportsbet.io withdrawal methods, & "How-to guide"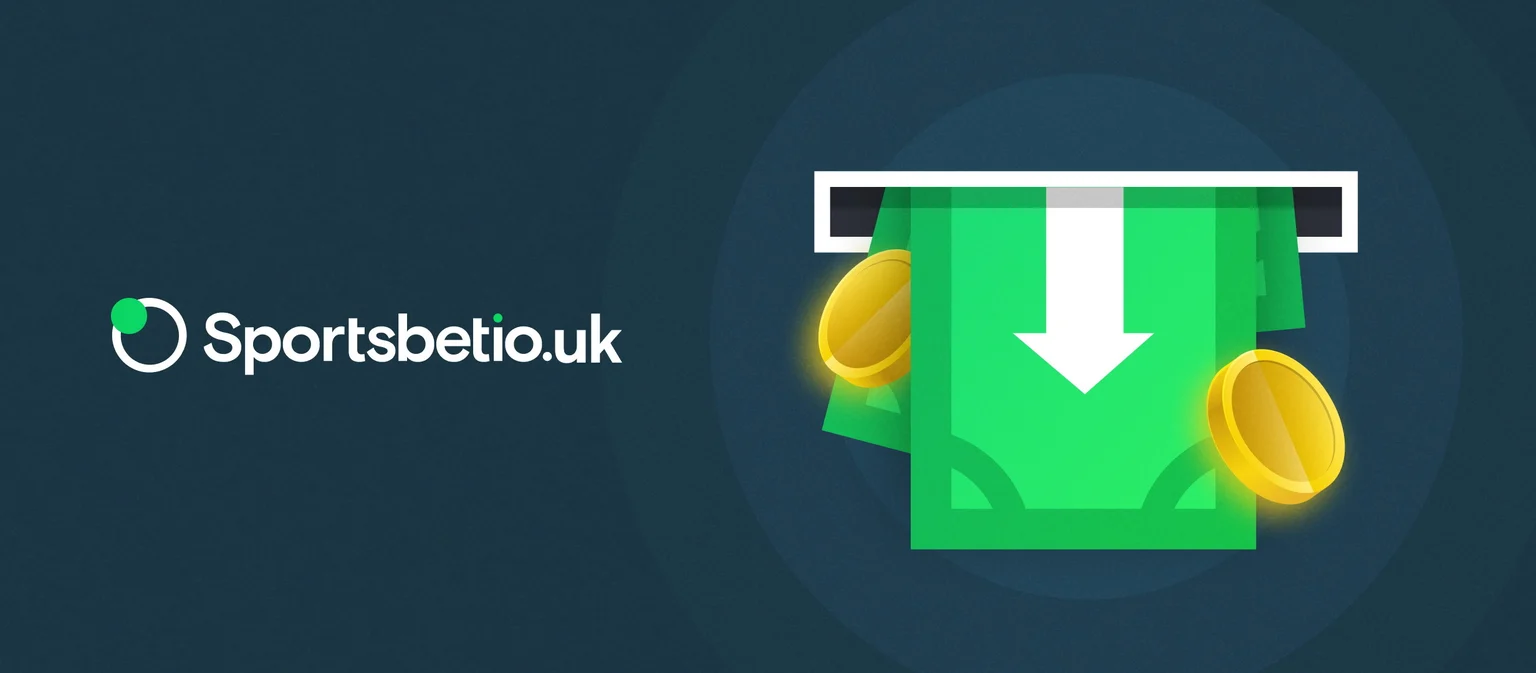 Sportsbet.io Withdrawal methods 
Originally created in 2016 under the Coingaming group, Sportsbetio.uk as it was rebranded in 2019 is a leading sportsbook operator that has "redefined online sports betting". Mastercard and Visa are the available debit card options for you to withdraw with as well as the E-wallet options of Neteller and Skrill.
Sportsbet.io Withdrawal Options and limits
| | | | | | |
| --- | --- | --- | --- | --- | --- |
| Withdrawal Method | | Fee | Processing time | Min limit | Max limit |
| Visa Debit Card | | Free | 2-5 Working Days | £10 | N/A |
| Mastercard Debit Card | | Free | 2-5 Working Days | £10 | N/A |
| Skrill | | Free | Instant-24 hours | £20 | N/A |
| Neteller | | Free | Instant-24 hours | £20 | N/A |
Sportsbet.io Withdrawal Methods – Debit Card
Withdrawing from debit card is one of the few withdrawal methods on Sportsbet.io however, does also feature one of the more favourable characteristics of the bunch. The £10 minimum withdrawal limit is half of that given to the E-wallets. This however is opposed by the much longer 2-5 working days processing time however this is a give and take and a decision you will need to make when you are looking at withdrawing funds from your account.
(Please note that Credit cards are no longer an accepted deposit method)
Sportsbet.io Withdrawal Method – Neteller
Neteller is one of the two E-wallet options available on Sportbet.io it provides a £20 minimum withdrawal however paired with the considerably shorter processing time at almost immediate 24 hours. This is identical to Skrill the other E-wallet however whichever method you would like to use is dependent on personal preferences.
Sportsbet.io Withdrawal Method – Skrill
Skrill is the second of the two E-wallets available on Sportsbet.io. With identical characteristics to Neteller (£20 minimum withdrawal, uncapped max withdrawal and anywhere from instant-24 hours) Due to these characteristics the decision between the two E-wallets really depends on your preferences and which of the methods you already use.
How Long Does a Sportsbet.io Withdrawal Take?
Withdrawing funds on Sportsbet.io can take anywhere from immediate to 5 days however this varies heavily on the withdrawal method you decide to use. Debit card withdrawals can take anywhere from 2-5 working days however payout time on the  E-wallet options listed can be anywhere up to 24 hours. However no matter which method you use you will never be waiting too long.
Step by Step Guide
How to make a Sportsbet.io Deposit
Locate the large green deposit button located in the top right corner of the screen and click on it to advance to the next page.

Select which deposit method you would like to use as well as the amount of money you would like to deposit and click the button highlighted in a red box.

Enter any required info for your selected deposit method and finalise your deposit. Then wait for the funds to hit your account and start playing!

How to make a Sportsbet.io Withdrawal
Hover over your account icon in the top right corner (your username will appear) and select withdraw.

Enter the amount you would like to withdraw as well as your account number and click withdraw.

Enter any required info and verify your withdrawal amount is correct before finalising your withdrawal. After this simply wait for the funds to hit your account and enjoy your winnings!
Frequently Asked Questions
How to view my withdrawal history?
To view your withdrawal history on Sportsbet.io simply hover the cursor over your account in the top right hand corner where your username will be displayed.After the drop down menu appear select transaction history where any previous transactions will appear. This includes withdrawals and deposits up to a certain date however this date can be changed using the drop down menu in this section.
What is the Minimum deposit and withdrawal amounts?
Minimum deposit and withdrawals sit at £10 each however this depends on the method. Debit card withdrawals have a £10 minimum however E-wallet withdrawals have a £20 minimum. This is identical for deposits.
How can I cancel a withdrawal?
Cancelling withdrawals once they have been processed and are no longer pending is not possible. This is UK law and is not specific to Sportsbet.io
I am having problems with my withdrawal, what can I do?
If you are having problems with your withdrawal the best thing to do is contact the customer support team using the live chat, email address or phone number. Here you can speak directly to a  member of the Sportsbet.io team where they can directly assist you in solving your problems.
Alternatively viewing the FAQs page will allow you to view many of the most common problems and immediate answers however may not be helpful if your problem is very specific.
Finally making sure that all of the payout rules are met for withdrawals to be made such as proof of identity and address documents being sent to Sportsbet.io
Unfortunately PayPal is not an accepted way to transfer money however other E-wallets in the form of Skrill and Neteller are available.