Novibet Mobile App – review of betting app for iOS & Android (2023)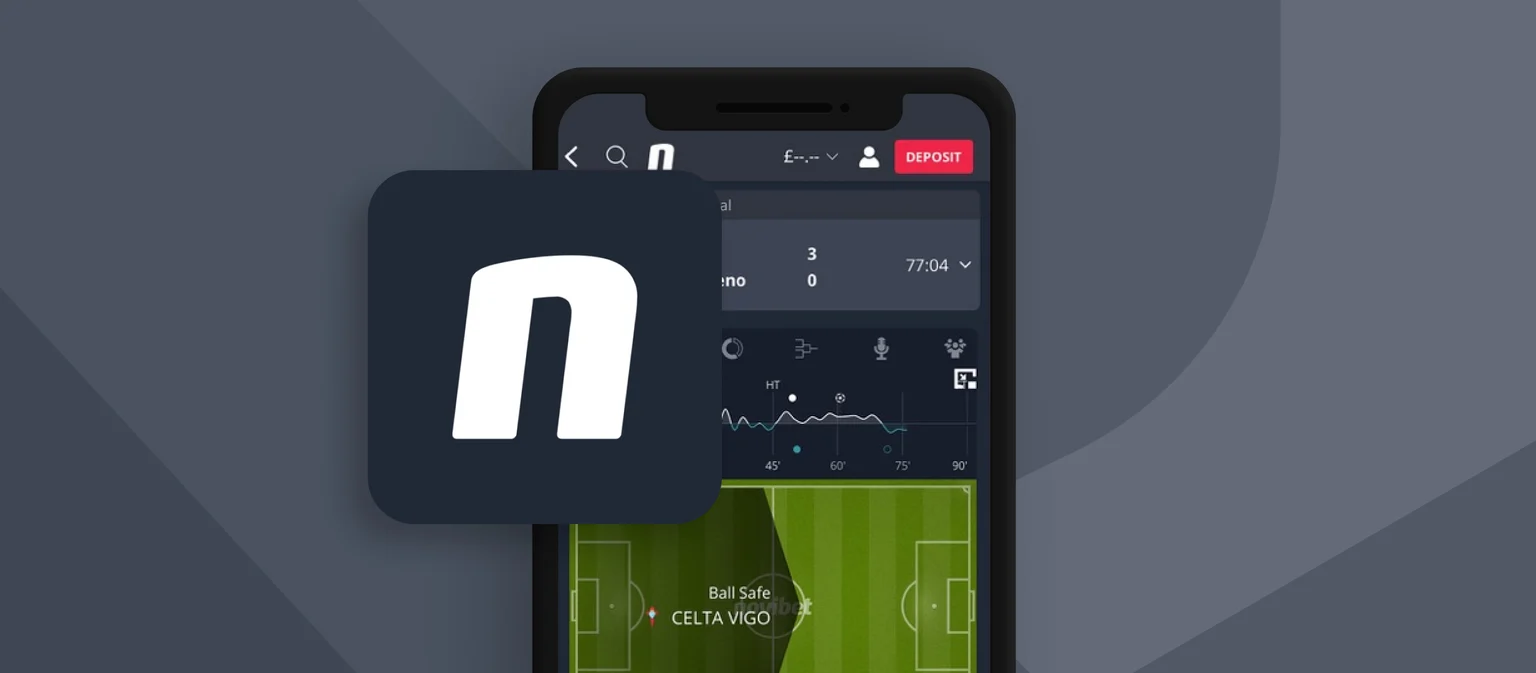 Novibet closed to UK customers in February 2022
Novibet offers a wide range of products from their in-depth sportsbook, a comprehensive casino section, and an entertaining live casino area. Novibet offers its customers a huge selection of sports and betting markets and dozens of casino games for gambling fans.
As well as the mobile app Novibet also provides a mobile site. This site is somewhat similar to the app however does offer a different colour scheme and layout. This may be a hindrance to some users but on a whole both the app and the site offer the same features (just in different places). The difference is minimal when it comes to useability.
Furthermore, their mobile platform is on point and can be accessed by any mobile device or tablet, providing maximum coverage.
Novibet
has recently released two dedicated betting apps for both Android and iOS devices.
How to download the Novibet mobile app
We will be looking to provide you with an in-depth guide on how to download and install the Novibet mobile app for both iOS and Android devices. Both these apps offer the same user experience as the desktop website, with customers being able to access the sportsbook, online casino and live casino flawlessly.
How to download and install the Novibet iOS app
There are two ways to download and install the Novibet mobile app on your iOS device. Firstly, you can access the Novibet website via your device and you will see the following message at the bottom of each page 'Download the App today' with two separate links for the iOS and Android pages.
You can get the Novibet iOS app by following the next steps:
Open the App Store or Google Play store (depending on your device) and search for "novibet".

Click install / get, and wait a short moment for the app to install to your device.

Locate the app on your home screen and tap it to open the app and start playing!
How to download and install the Novibet Android app
As for the Android users, there is a link to the app on each page on the Novibet website and if you access the site via your mobile phone, you will be redirected straight to the Google Play designated page of the application. Another method is to download and install the Novibet Android app straight from Google Play:
Open Google Play;
Search for Novibet and click Install;
The Novibet app will be downloaded and installed automatically;
The app will verify your location in order to make sure that you're allowed to place bets due to geographical restrictions.
Novibet Mobile bonuses
Welcome bonus
Novibet offers a £10 free bet on new accounts who have deposited over £20 and have placed a bet with odds of 1.7 (7/10) or more. This offer will be automatically applied to your account upon completing all necessary terms and conditions (Details of which can be viewed on the promotions page of the app).
Existing user promotions
There are a variety of ongoing offers available to all customers using the Novibet app as well as two different "clubs" for you to join. These clubs offer rewards for ongoing betting at Novibet and function as a loyalty bonus to keep players returning and using their service. As well as the clubs a small amount of normal promotions are available including those on offer for the Novibet casino such as free spins on slot wheels, cashback on certain bets and tournaments available for you to join!
Novibet login
The login process is usually a formality if you are a regular bettor, and logging in to your Novibet account via the Android and iOS apps is no different. The Login and Register buttons are more than visible at the top-right corner of your phone screen. If you don't possess a Novibet account, then no worries as the registration process take just a couple of minutes.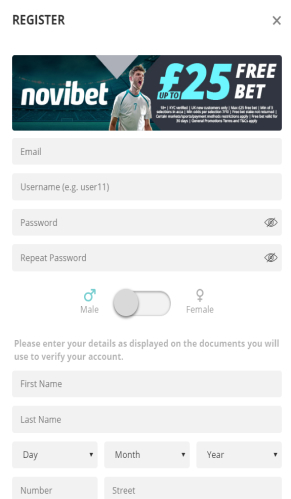 Here is how to join Novibet:
Click on the red "Register" button at the top of the screen;
Fill in your personal details such as name, address, date of birth, etc.;
Choose your username and password;
Insert a promo code if you have one and make your first deposit.
Novibet sports
At Novibet, you will be able to find dozens of betting markets for more than 25 sports. When it comes to football betting, Novibet offers worldwide coverage allowing its customers to place bets on all top-level events and fixtures, but there are also a couple of minor leagues too.
While using the Novibet mobile app, the A-Z sports menu can be accessed by clicking on the 'Sports' button at the top of the home screen. As well as navigating through the sports section, you can switch to Casino and Live casino sections. The "Top Matches Of the Day" can be seen right in the middle of the Sports tab, while the most popular leagues are listed down below.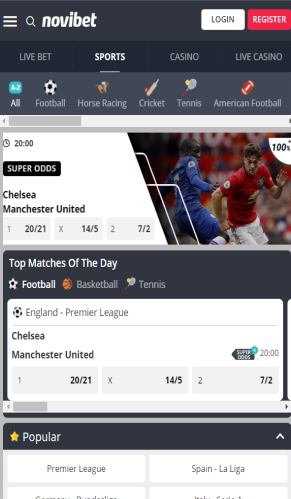 In order to add a selection, you just need to select the fixture you want to bet on, search the desired betting market and touch the price with a tap on your phone screen.
Novibet stake
Once you have added the first bet on your bet slip, you can move on to place the stake. After adding the stake, you will be able to see the potential winnings and if you the price fits you, the next step is to click on the Place Bet button.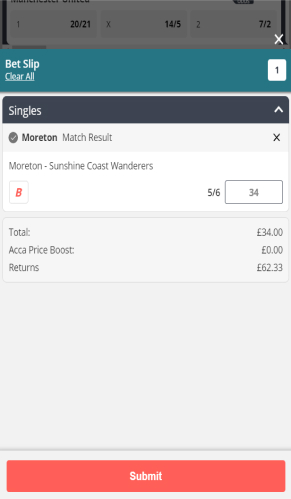 Once the bet is live, you can check the Cash Out or the Partial Cash out features if you want to withdraw some winnings at any point.
App Key features:
Cash-Out
Cash out is a feature which allows players to withdraw part of or all of a bet before the event being bet on has run its course. This allows players to lock in a profit on an event that has a chance of a potential comeback or negate some of a loss by accepting a lower loss amount. However of course with a lower risk comes a lower reward and a smaller payout is given for the funds that have been cashed out. 
Live betting in-play
Live betting or as it is commonly known "in play betting" is a feature used by almost every major online bookmaker. Live betting allows you to place bets on an event that has already started and is still live hence  the name. Constantly updating odds to match the events in front of you is another feature of Live betting. This can cause odds that at one time were unfavourable and of little interest to become suddenly of interest!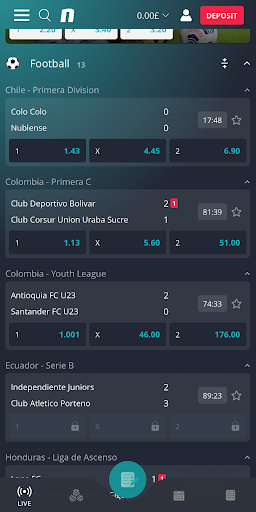 Live streaming
Live streaming is a feature which allows you to view live video or animations of an event taking place now. This means that you can view the event you are betting on in the same place that you want to bet! Viewing the live feed requires you to have an account and have made a deposit into your account however users who have not deposited still get access to the animations which depict certain key events such as goals scored, overtakes or large offensive pushes.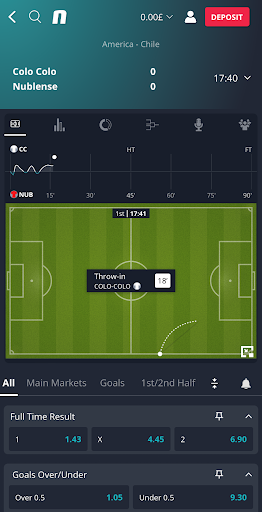 Special bets
Special bets on Novibet are bets using boosted odds to provide a larger reward. This allows a bigger payout for your bet amount however of course there are still all the risk of normal betting! Finding the special bets section on the app will provide you with a list of bets featuring boosted odds and bets can be placed from this menu.
Frequently Asked Questions
What are the System Requirements and Compatibility?
To run the Novibet app on an iPhone you are required to have iOS 12 or higher. This is the only system requirement for iPhones making it an incredibly easy app to run. Androids unfortunately do not provide system requirements for their apps but due to the incredibly low system demand almost any modern android smartphone will be able to run this app with ease.
How do you withdraw money from app?
To withdraw money from the app simply tap the account icon (which will only appear if you are already logged in) and then click withdraw. From here select your withdrawal method and amount as well as entering any necessary details for the method you decided. Finally click withdraw to process your withdrawal and wait for your funds to enter your account.
What are the Payment methods?
There are 9 different deposit and withdrawal methods available at Novibet.  There are the standard Visa, Mastercard and Maestro debit card options. As well as this there are  E-wallets on offer in the form of Trustly, Paysafecard, Skrilll, Neteller, PayPal all of which have pros and cons.
We have mentioned the deposit process in the previous phrase, so we are glad to announce to you that at Novibet, you can use the most popular payment methods amongst the bettors. Novibet allows its users to pay with VISA, Mastercard, Maestro, Skrill, NETELLER, Paysafecard, PayPal, and even Rapid Transfer. In order to proceed to the depositing process, you just need to click on the Deposit button, add your payment method, insert the amount and press on the confirmation button.
Is there a live chat option on the mobile platform?
You can get in touch with Novibet via a live chat feature that can be found in the dropdown menu at the left-hand side of the screen. By accessing this feature, you will be asked to insert your email, username and select the category for why you need assistance. Novibet support team can be also contacted via the following email address: [email protected].