How to Withdraw from Sky Bet: How Long Does It Take in 2023



Sky Bet Withdrawal methods
Sky Bet mainly focuses on being an online sports betting service although customers can also use the service on their mobile or tablet. To bet with Sky Bet you need to open a free account and register a debit card. You can then deposit into and withdraw from your account as you wish. Any bets are automatically deducted from your account balance and your winnings from bets are added back to it. Despite previously accepting many payment methods including PayPal, Neteller, and Skrill, they now only accept debit cards as a deposit method. Credit Cards are no longer accepted due to UK Government legislation affecting the whole Industry.
Sky Bet Withdrawal Options and limits
Withdrawal Method




Fee

Processing time

Min limit

Max limit

Debit Card

(Visa) 

Free

2 hours

£10

N/A

Debit Card

(Mastercard)

Free

2-5 days

£10

N/A

Debit Card

(Maestro)

Free

2-5 days

£10

£5000
Sky Bet Withdrawal Methods – Debit Card
There are several distinct types of Debit card accepted by Sky Bet, and each has different qualities. You will be pleased to know that they are all free to use and have low minimum deposit amounts of £10 across the board. One minor difference you may notice is that Maestro has a lower maximum withdrawal limit of £5000 but this is not a big issue. The major issue which is a big deal and where Visa stands out is the withdrawal time. Visa Fast Funds system means that withdrawals should be pending for less than two hours before being cleared to your account. This compares very favourably to the few days a Maestro or Mastercard withdrawal will take.
How long does a Sky Bet withdrawal take?
What kind of withdrawal time to expect will depend on a number of factors and will vary each time. Factors which could have an effect are how large is the withdrawal and is it your first ever withdrawal at the bookmaker. It will depend on what type of debit card you have and could come down to what time and on what day the withdrawal request is submitted. As a rule Visa withdrawals will be considerably quicker than Mastercard withdrawals. How long? Well probably taking a few hours rather than a few days.
Step by Step Guide
How to make a Sky Bet Deposit 
Firstly it is important to make sure that you are logged in, and then click on the account profile icon in the top right of the screen.

This will open up the drop down with your account controls on it and you can select that you wish to deposit.

The next page if you have never deposited before you will need to enter some of your card details. At present they do not have many deposit methods available and you can only really use a debit card.
The details which you need to enter are:
A) The 16 digit card number from the front
B) The cards expiry date
C) The security code from the back
D) Your name as it appears on the card
When that is done you just need to click "Agree & Add Debit Card"
When you have registered your card you will then be taken to the actual deposit screen. Here you enter the amount of money you wish to transfer, the security code (again!) and finally hit the "Deposit" button.

How to make a Sky Bet Withdrawal
When it comes to how to withdraw from Sky Bet you must firstly make sure that you are logged into you account. Once you are click on the profile icon in the top right of the screen.

From the "My Account" section that opens up select that you wish to "Withdraw".

To withdraw funds you will then be shown the final screen. Withdrawals can only go back onto the card which was used to deposit with as standard. If this is a problem then you need to make a bank transfer contact customer services to see if they can assist you. Assuming withdrawing to the same card is OK then you simply enter the amount you wish to transfer, and click on "Confirm Withdrawal".
You should not be waiting long for your money, either a few hours if you used a Visa card or a few days if it is Maestro or Mastercard.
Frequently Asked Questions
How can I view my withdrawal history?
To view your withdrawal history you must first of all make sure that you are logged in, and then from the "my account" section you can scroll down to a link to your "Banking History".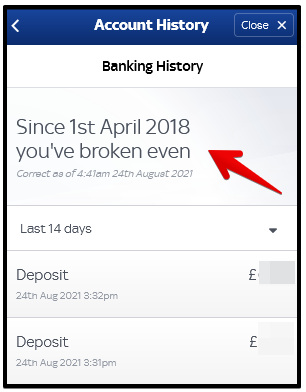 Here you can see all deposits and withdrawals which have been made in the last 14 days. If you want to you can change this time period to what you want, and a nice feature is that you will be told how much you have won or lost.
What is the minimum deposit and withdrawal amounts?
The minimum deposit amount is £10 no matter which type of debit card you use. The same applies for withdrawals, all have a minimum £10 amount. There is no fee applied when you transfer money regardless of amount.
How can I cancel a withdrawal?
Once you have submitted a withdrawal request it is not possible to cancel it once it is pending. This is not just a Sky Bet rule but one that the UK Government has imposed on all bookmakers they regulate.
I am having problems with my withdrawal, what can I do?
If you have any problems with your withdrawal then it is best to contact the customer services team. They will be able to find out why the payout time is taking longer than expected and if you have not met all of the payout rules advise you on what to do next from here to fix it. Alternatively if there is nothing for you to do they will notify the relevant people and get them to resolve the issue.
Unfortunately not, at present PayPal is not an accepted deposit method.