Sky Bet Request a Bet – How It Works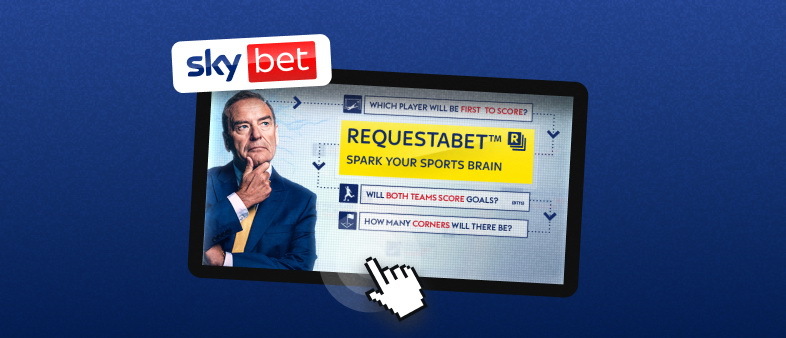 Sky Bet offers users the opportunity to create and then place their bet using the Request A Bet feature. It allows you to bet on almost anything, for example, to bet on 5 red cards, 7 corners, and 2 goals in one football match. Besides, thousands of ideas from other users will help you find unique bets. Legalbet experts have prepared detailed instructions with examples on how to use this option.
Read also Sky Bet Super 6 >> 
What is "Sky Bet Request A Bet"?
It's a process of composing your own bet, for which the bookmaker will provide some special odds. Using the feature, customers can also combine almost any event outcome in one single bet:
Corner kicks;

Yellow and red cards;

The number of goals scored;

Penalties to be missed and so on.
All registered bettors can use this option, so if you don't have an account, you must sign up first. All new users benefit from free bet stakes and other bonuses provided by the company.

How Does Request a Bet Work
Newcomers need to create an account before using the RAB feature, and here's how it's done:
Open the Sky Bet website or download the bookmaker's app for Android/iOS to use it from a smartphone or tablet.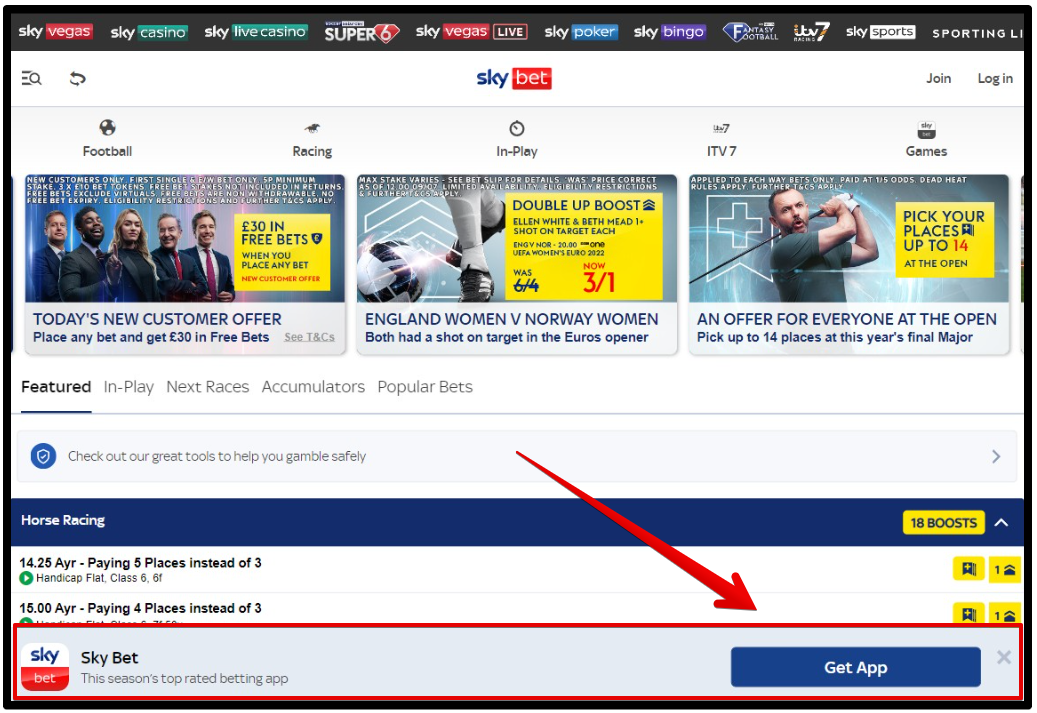 Click the Join button and sign up. You will need to provide personal details, contact information, preferred username, and PIN. At the same step, you'll be asked to read the bookmaker's rules and regulations, then confirm you agree with them. The steps will look like this: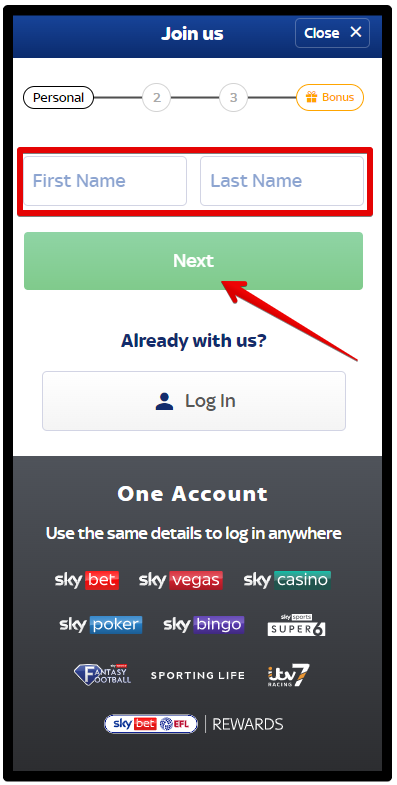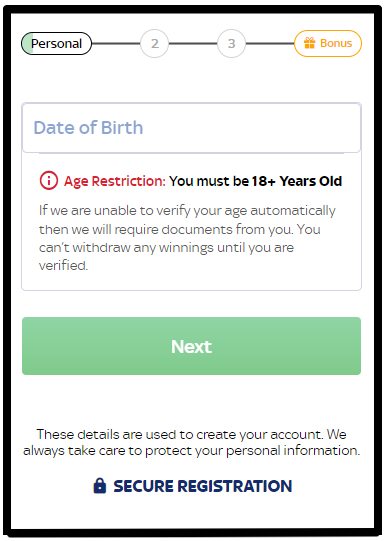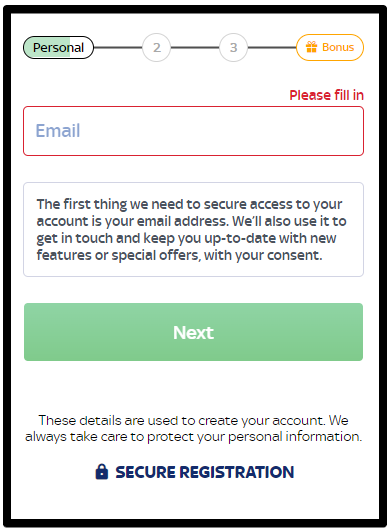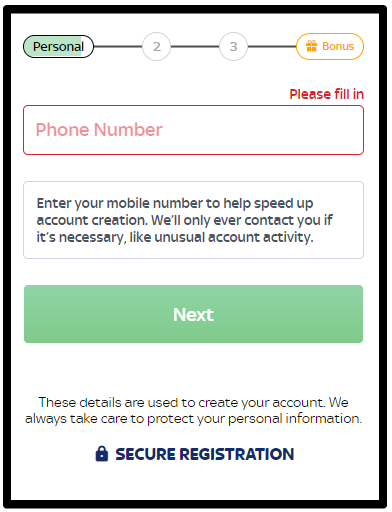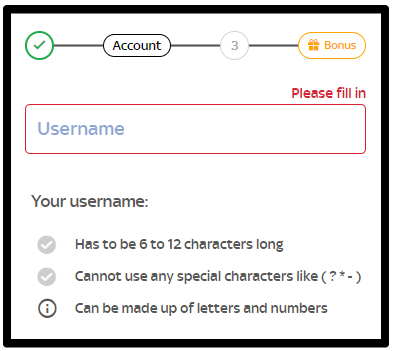 Add your banking card details. In accordance with the law, all UK betting sites only accept deposits from debit cards.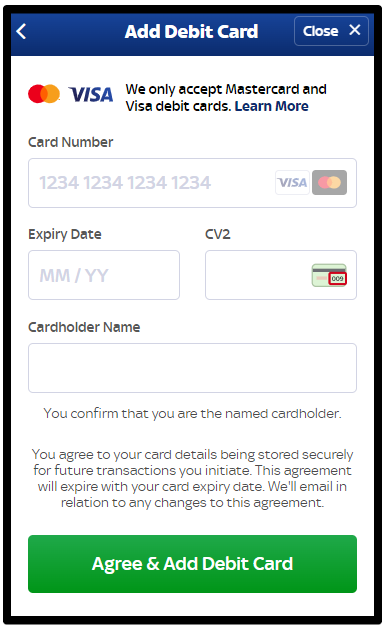 Complete the registration and receive a sports bonus. Beginners can get £30 of Free bets after their first real bet. The bonus is released as Free bet stakes of £10. The minimum qualifying bet is 5 pence and there are no limits on the bonus validity period, meaning it never expires. When using a Free bet, only the net winnings are credited to the user's account. Customers who made deposits with Neteller or Skrill are not eligible for the bonus offer and for the Free bets. (Skybet are possibly the only betting company who offer a no deposit free bet to new customers, the offer comes and goes so please check the current promo page to see what offers you can take part in).
If you already have an account, you don't need to sign up again: it's enough to log in to the site by entering your username and password.

How to request a bet on Sky Bet
Select a match that is marked with an R in the yellow box. These are the ones for which you can request a bet.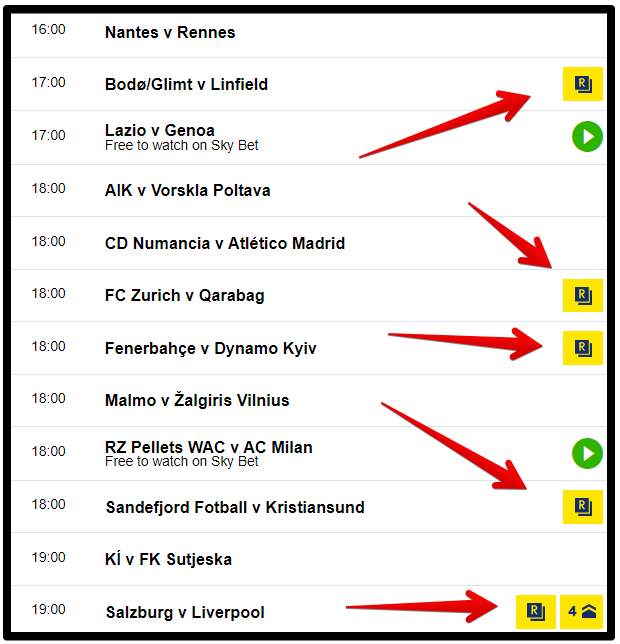 Go to the RequestABet tab, you can have a look at what bets other users have requested, and if you find one you like, then you can place a bet on it too.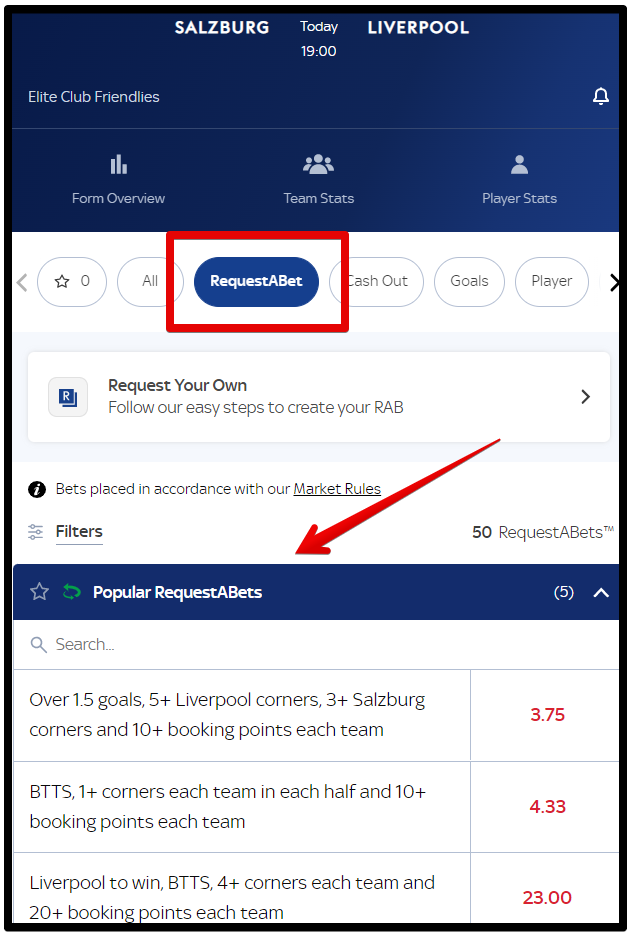 If there's nothing that you fancy on the page, request your own bet by clicking on the Request Your Own button and filling in the form.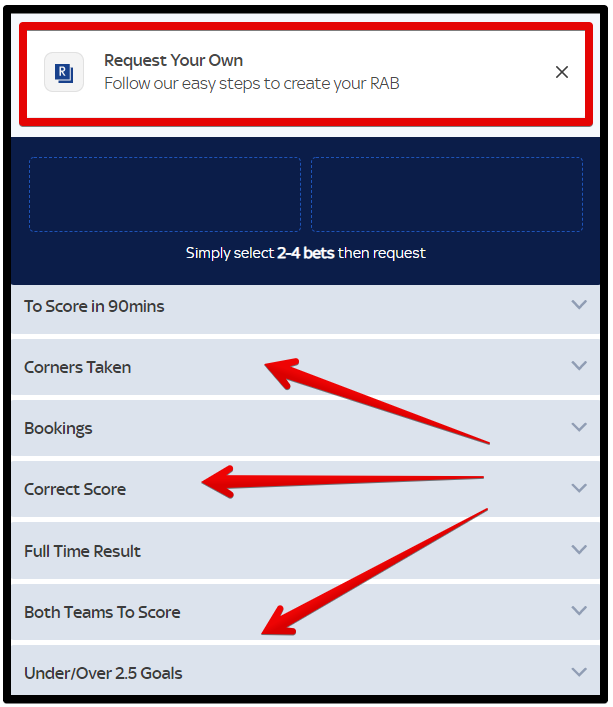 There is another way of requesting a bet: which is to tweet @SkyBet using the #RequestABet hashtag. It takes some time for the bookmaker staff to calculate the odds, so it's recommended to do it at least an hour in advance.
The RAB option on the site is currently only available for football events. If you want to create your own bet on horse racing or competitions in other sports, you will have to get in touch with them via Twitter.

What Bets Can I Request?
All registered customers can use the Request A Bet (RAB) feature. The betting choice covers not only winners or draws, but other outcomes like the number of corners, headers, and so on. It mainly depends on the match status, which outcomes will be included in the RAB on the site.
When ordering a bet on Twitter, you have a total freedom of choice: RAB is not tied to a specific match, and Sky Bet also allows you to request bets on other sporting events, such as transfers.
Request-A-Bet Markets
Before sending the request, the user is offered the opportunity to add 2-4 bets to it. The following types of betting markets are available:
Match results;

The number of goals;

Both teams to score;

The number of corners;

Individual statistics and so on.
If for some reason, an athlete on whose statistics the bet is made doesn't take part in the match, the bet will be made void. By default, all bets are placed on the events, happening across the period of 90 minutes of regular time, except for the bets where the opposite is stated in the conditions.
Examples
Customers can request their own bet for many events from the Sky Bet catalog. Most often, the RAB option is available for football matches, but customers can use it to bet on other sports, such as horse racing. Here are the examples of customers' bets and the offered odds:
Women's Euro Championship Austria Women vs Northern Ireland Women. "Northern Ireland Women to win, BTTS, 4+ corners each team and 20+ booking points each team" bet was valued at 350/1 and "Austria Women to win, over 2.5 goals, 6+ Austria Women corners and 20+ Northern Ireland Women booking points" got 4/1 odds.


Champions League Lincoln Red Imps FC vs Shkupi. The bookmaker offered the odds of 66/1 for "over 3.5 goals and each team 7+ corners," while for the "Lincoln Red Imps to score 2+ goals and 5+ Lincoln Red Imps corners," the betting odds are 9/2.


Brazilian Serie A SC Internacional vs América-MG. For the user's bet "America FC Belo Horizonte to score 2+ goals and 6+ America FC Belo Horizonte corners," the bookmaker offered the odds of 16/1, and for "America FC Belo Horizonte to score 1+ goals and 4+ America FC Belo Horizonte corners" — 15/8.
What are Request-A-Bet Tips?
The RAB option adds excitement to sports betting and allows you to invent new betting options. It can be used to place a bet with high odds, but as with all other accumulator bets, one must be very careful when making a decision. When the number of selections in a bet grows, the odds increase too, and so does the probability of losing. It means that combining several selections to make a bet on makes sense only after a thorough analysis of the situation.
Another disadvantage of RAB is the margin that's paid from each selection in the bet. However, this condition is also typical for other accumulator bets. It's a good thing that Sky Bet offers special odds for Request-A-Bets from time to time, as they can partially compensate for the implied commission.
About Sky Bet
They are a digital company specialising in online gambling entertainment. One of its main activities is accepting sports bets. Using the company's website or app, customers can bet on the results of competitions in various sports:
Football ⚽

Hockey 🏑

Tennis 🎾

Basketball 🏀
The company's head office is located in Leeds, West Yorkshire. The bookmaker is currently owned by Flutter Entertainment and has a license from the UK Gambling Commission, giving it the right to accept bets in the UK legally.
On the company's website, in addition to sports betting, there are slots, casinos, and other options for gambling. Various promotions are held regularly for the bookmaker's customers, who can request a bet insurance, receive a free bet, enhanced odds, and other bonuses. All the information concerning the promo offers is collected in a special section on the bookmaker's website or app. If any problems arise, users can contact the customer support service.
Read How to Withdraw from Sky Bet >> 
Frequently Asked Questions
RAB is short for Request a Bet. This feature allows users to create their own bet, request odds for it, and eventually place a bet if all conditions are adequate. In the future, the bookmaker plans to offer the option for other sports.
How to request a bet on Sky Bet?
The easiest way of requesting a bet is via the Sky Bet website or app. The user needs to select a match and suitable outcomes, then send a request to the betting company's staff. They will make the necessary calculations and present a betting option. An alternative way to use the Request A Bet option is to tweet @SkyBet using the hashtag #RequestABet.
Where to find "Sky Bet Request a Bet"?
The RequestABet feature is offered for selected sporting events. They're marked in the catalog as yellow squares with an R letter. While browsing through the available markets, you can click the RequestABet tab and then request your own bet.
Why is it popular to request odds for bets?
Customers often use a betting request to get greater odds. You can combine several markets of the same match that you think will happen in one bet. For example, the odds for a bet on one of the teams to win and five corner kicks will be greater than for each of these outcomes individually.
How do you place RABs on horse racing?
You can request a bet on horse racing the same way as for other sports. Just tweet @SkyBet with the hashtag #RequestABet.
What type of bet can you request?
The RAB option allows you to create your own accumulator bets that include different outcomes of the same event.