Smarkets withdrawal methods & "How-to guide"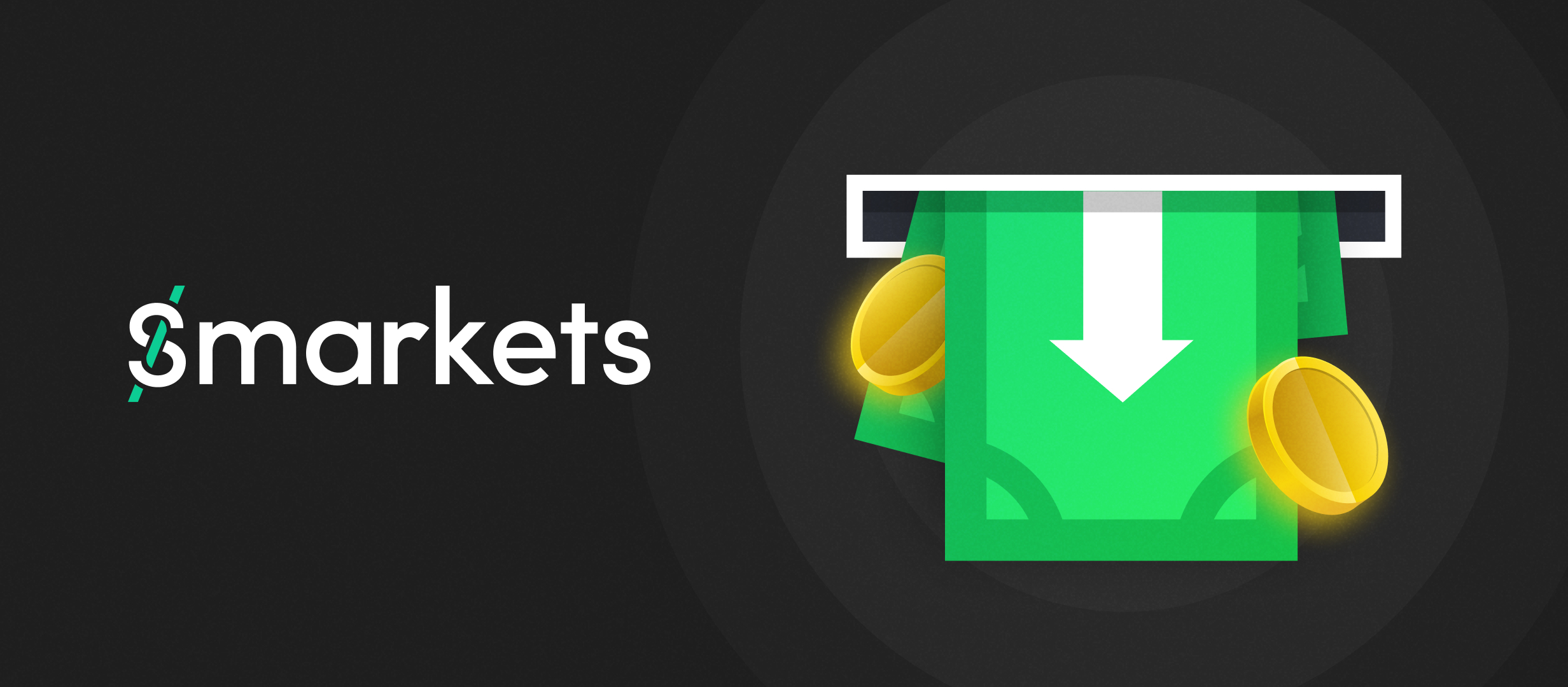 Smarkets Withdrawal methods
Smarkets operates a closed loop system for withdrawing funds. This means If you have deposited by a particular payment source, you will need to withdraw to the same source. You will also have to pass KYC (Know your customer) verification checks to make sure that you are over 18, a UK resident, and that you are gambling with your own funds. Customers can use a variety of payment methods when using Smarkets, whether that's VISA, Maestro or Mastercard debit card, an E-Wallet any other of the approved methods listed below.
Smarkets Withdrawal Options and limits
| | | | | | |
| --- | --- | --- | --- | --- | --- |
| Withdrawal Method | | Fee | Processing time | Min limit | Max limit |
| Visa Debit Card | | Free | 1-6 Business Days | £10 | N/A |
| Solo / Maestro | | Free | 1-6 Business Days | £10 (Some cards limited to deposit amount) | N/A |
| Mastercard | | Free | 1-6 Business Days | £10 (Some cards limited to deposit amount) | N/A |
| Skrill | | Free | 1-2 Business Days | £10 | N/A |
| Neteller | | Free | 1-2 Business Days | £10 | N/A |
| Bank Transfer | | Free | 5-10 Business Days | £20 | N/A |
| Trustly | | Free | 1-2 Business Days | £40 | N/A |
| PayPal | | Free | 1-2 Business Days | £10 | £5,500 |
| Open Banking | | Free | 12 Hours | £10 | N/A |
Smarkets Withdrawal Methods – Debit Card
Withdrawing with Visa, Mastercard, or Maestro debit card is very simple. It is the way that Smarkets recommend you withdraw by. To do so is quick, easy and free, your money being back in your account often the next day although due to an abundance of caution they say it could take six in a worst case scenario. 
To begin a withdrawal back onto a debit card you must have first once upon a time have deposited with that same card. It is then a matter of going to your "Account" section and choosing to "Withdraw". You now are shown the withdrawal methods available to you and how much can be withdrawn that way. Select your card, enter the amount, and push "Withdraw". The exact withdrawal time will depend on what day you withdraw and specifically if there is a bank holiday, but the money will not take long to arrive regardless.
Smarkets Withdrawal Method – Neteller
To withdraw by Neteller it is much the same process as before, you must be logged in and go to your "Account" section and from there choose to "Withdraw". In order to be able to withdraw by Neteller you must have at least once before have deposited with Neteller. On the withdrawal screen you confirm your Neteller Email address (which is the one you deposited with) and then enter the amount of money you want to have returned to you. 
Smarkets Withdrawal Method – Skrill
Being the sister company of Neteller the two withdrawal methods are virtually identical. You must be logged into your Smarkets account and then proceed to the "Account" section and then navigate to "Withdraw". On this screen the Skrill Email address which you previously deposited with is displayed and you are shown how much you can withdraw at the moment to this method. Simply put the amount you want in the box and push "Withdraw". Please note that unless you have deposited with Skrill, you shall be unable to withdraw with Skrill.
Smarkets Withdrawal Method – PayPal
Another so called "E-Wallet" which Smarkets support to make deposits and withdrawals is PayPal. This method is just as simple as the others, again it is important to note that you can only withdraw by PayPal if you have previously deposited with PayPal and that the money must come from and go to the same account. To withdraw you need to go to the "Account" section and chose to "Withdraw". From there your PayPal account will be an option and you select this. Enter the amount of money you wish to withdraw (up to the amount available) and click "Withdraw". Your money will be back in your PayPal account shortly.
Smarkets Withdrawal Method - Alternate methods
There are several other withdrawal methods which are available at Smarkets which are not available at everywhere else. The first one is "Open banking" which is a financial services term referring to the use of open APIs. This enables third-party developers to build applications and services around the various parties allowing transfers to take place. Another alternate method which you do not see too often is "Trustly". A relatively new payment method Trustly is an open banking payment method that allows customers to shop and pay from their online bank account, without the use of a card or app.
All payment methods are facilitated the same way. In order to transfer money you must always be logged in to your Smarkets account. You then go to your "Account", select "Withdrawal", choose the method you want to withdraw to and enter the desired amount. Click the big green "Withdraw" button and then you are done.
How Long Does a Smarkets Withdrawal Take?
As a rule Smarkets are one of the quickest paying bookmakers out there processing withdrawal requests in hours if not in minutes. They err on the side of caution with their publicised information though saying how long a withdrawal "could" take, in our experience it is always at the lower side of the range. The exact length of time a withdrawal takes will not just depend on Smarkets processing it but will also depend on what payment method you have decided to use. The quickest methods are probably the E-Wallets Neteller and Skrill, but other methods such as Visa debit card withdrawals are not far behind in practice.
Step by Step Guides
How to make a Smarkets Deposit
Follow the step-by-step guide below to help you make a deposit at Smarkets:
Once you are logged in, click your balance in the top right of the screen (1a) and then from the drop down box choose to "DEPOSIT" (1b).

Once on the Deposit money screen select a payment method you wish to transfer money with (2a) and enter any security info such as your cards cvc number and the amount you wish to transfer (2b).

Quickly check all the info you have put in is correct and if you are happy with it, click the large green "START DEPOSIT'' button (3).
How to make a Smarkets Withdrawal
Follow the step-by-step guide below to help you make a withdrawal on Smarkets:
Again click on your account balance and then this time select the withdraw icon on the top right hand side of the site

 2. The withdrawal page will show withdrawal options based on how deposits were previously made to your account. 




3. Select the required withdrawal method and enter the amount you wish to withdraw. Because you can only withdraw back to a method which has been used before and no other method is in a negative position it may require you to split your withdrawal over different deposit methods. Each potential withdrawal method will show the maximum you're allowed to withdraw (Usually your available balance)..
FAQs
How long does it take to withdraw?
To withdraw from your account takes seconds, minutes at the most, you simply log in, go to the "account" section, choose to "withdraw" and then select the method you want the money sent to and how much money you want to be sent. Then click "Withdraw" and you are done. How long that money takes to reach your account so you can spend it elsewhere should you wish will depend on what payment method you are using. Some payment methods are quicker than others and some can be effected by variables such as what time of day you withdraw, it is a Bank Holiday, etc etc. Overall though the Smarkets team make payments quicker than most and we would always expect a withdrawal request to be honoured swiftly and the money be with you the next day at the latest.
How do you see withdrawal history?
To  view your transaction history, which can include deposits, withdrawals, and also details of settled bets, click on your account balance and then select "statement" from the drop down list below (1).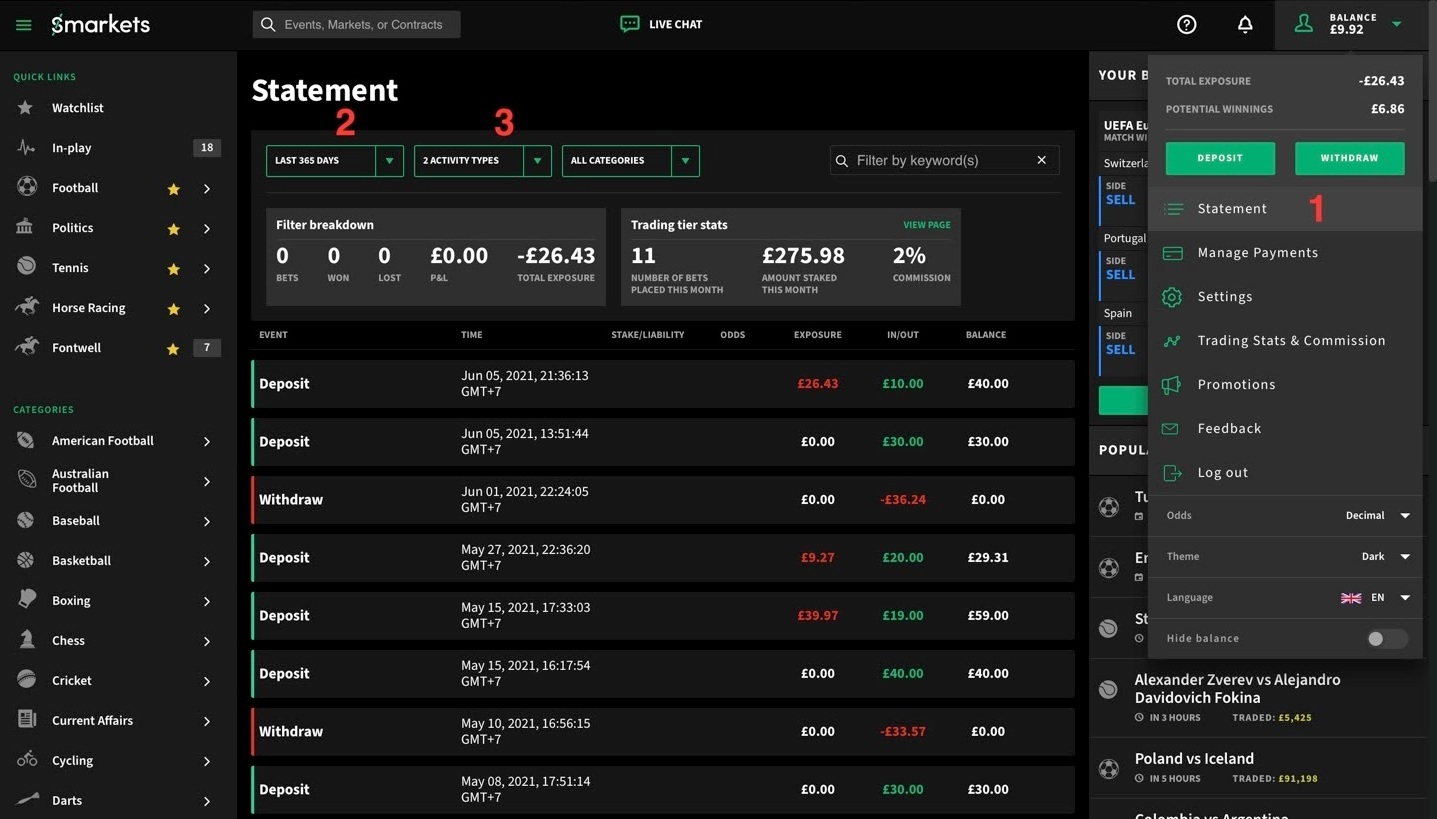 From the following screen that appears in the middle of the page you have options to choose the date range which you wish to view (2) and also the transaction types, in this case deposits and withdrawals (3). You are provided with a detailed breakdown of what has happened and when it happened.
Whats the minimum deposit and withdrawal amounts?
The minimum deposit and withdrawal amounts will depend on the method which you use. The most likely amount will be a minimum £10 to deposit and also £10 to withdraw.
How do you cancel a withdrawal?
It is not possible to cancel a withdrawal once it has been made. This is a UK Government regulation and part of every gambling operators licence conditions.
If you have withdrawal problems when trying to withdraw?
If you ever have any problems operating your account, especially when it comes to withdrawals then you should contact the Smarkets customer service. You may get an error message on the screen or things may seem to go smoothly but you find yourself waiting to see the money in your account, it is possible that you have not followed one of the payout rules. They will e well positioned to advise you what to do next.
Is PayPal accepted?
Yes PayPal is an accepted payment method at Smarkets. You can use it to deposit and withdraw money from your Smarkets account.