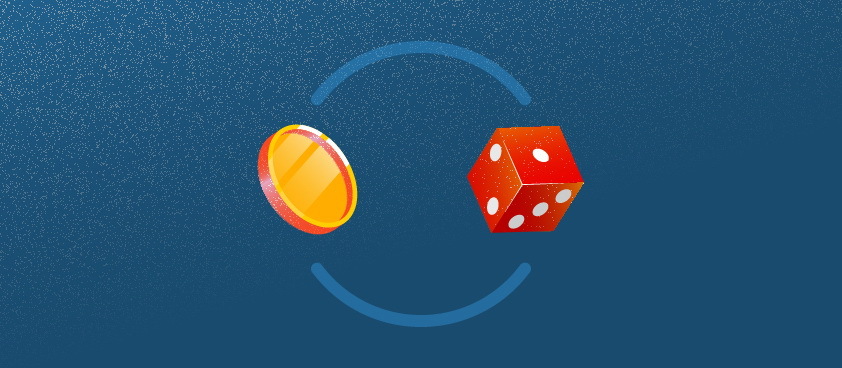 What Is a Betting Exchange?
A betting exchange simply acts as a marketplace (much like a stock exchange) where buyers and sellers can meet and trade with each other. The product at a betting exchange is of course bets, and supply and demand will dictate the odds that are available. At a betting exchange you can "back" bets which is what you do at a traditional bookmaker but also you can "lay" bets which is where you take on the role of the bookie and accept a bet from someone else.
Best Sports Betting Exchange Sites in the UK – Our Review
Betfair
UK players only - 18+ - BeGambleAware
Betfair are the biggest betting exchange and are likely to have the best odds available a day or more before the match, game, or race takes place. Their betting markets always tend to form and gain liquidity quicker than the competition. They are also ahead of rivals when live streaming and cash-out options are taken into account too.
If you are betting on sports that generally do not get as much coverage Betfair will usually have a lot more markets than are available elsewhere and usually more liquidity than the other exchanges in this area. If you are looking to take up trading seriously then Betfair is probably the best option, their API system and integrated trading tools are relatively easy to pick up and run with.
A large number of Free bet offers for all customers every week

The most liquidity for niche markets

Most payment methods supported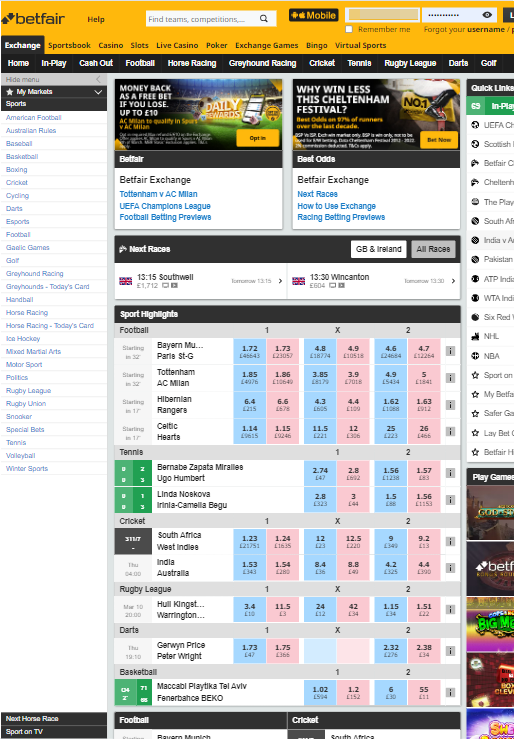 Smarkets 
UK players only - 18+ - BeGambleAware
Smarkets are the newest UK betting exchange, but they have been around for ten years and so they can no longer classify themselves as a start-up. They were the first to introduce a 2% commission rate which has become the industry standard and everyone should be very grateful to them for that alone. They have a decent amount of liquidity just before events start but can lag the others in the days before. They have a greater range of exchange odds than the competition allowing bets of up to 9,999/1 and the graphical display of previous odds adds to a sense of using a financial trading product rather than a sports betting site.
Since the early days the site stability has come on leaps and bounds and there is now rarely an unscheduled outage to contend with. Liquidity is the market leader more often than not on major football and horse racing events but at times other markets do suffer, especially in the days before the event is scheduled to begin.
The largest range of exchange betting odds

High liquidity before the events begin

The best customer service in the business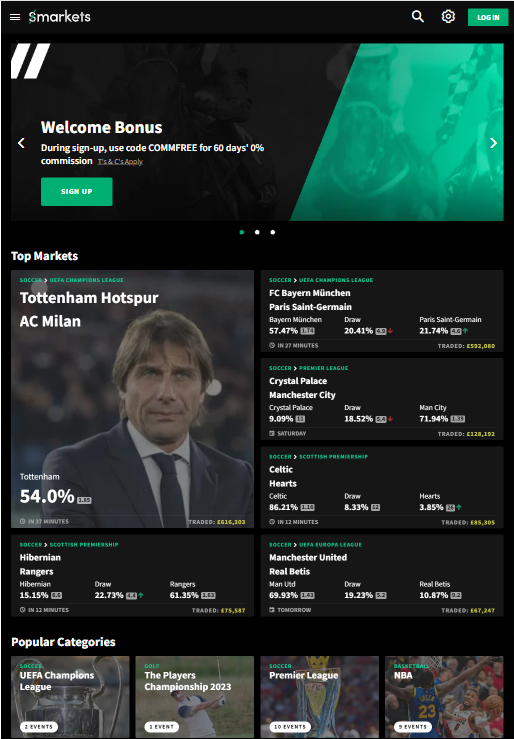 Betdaq
UK players only - 18+ - BeGambleAware
Betdaq for a long time were the only rival betting exchange to Betfair but have never quite done enough to tackle the market leader. They have had some nice design touches such as displaying active bets at the bottom of the page, and a better odds interface allowing tighter bet spreads. In recent years they have improved adding more sports covered, more betting markets, and some regular Free bet promotional offers.
Regular Existing User Free bets

Great user friendly interface

Large range of Asian Handicap markets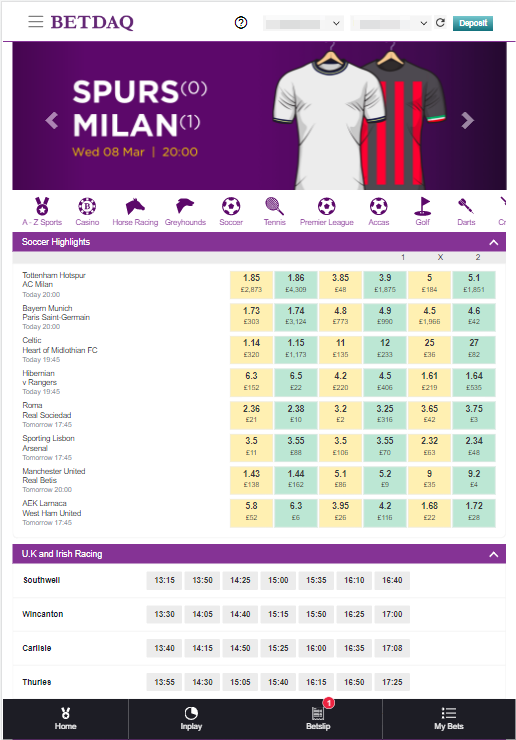 Matchbook
Only 18+ new users registered using the "MB20" bonus code are eligible. You must make a qualifying bet of 1.8 minimum odds within 14 days of registration to claim this new customer offer. The maximum refund is £20 as a Free bet, expiring after seven days. Deposits via paysafecard, Neteller, or Skrill are exempt. Matchbook's general
Terms and Conditions apply
.
Matchbook have had a potted history but the current betting exchange is going from strength to strength and rapidly catching the market leaders. They have settled on a flat 2% commission structure which is simpler than previously and have fewer sports covered than the competition but that has meant they have a quality product for the sports they do cover,
Near 100% market odds for major football games

Some live streaming options recently added

Super fast withdrawals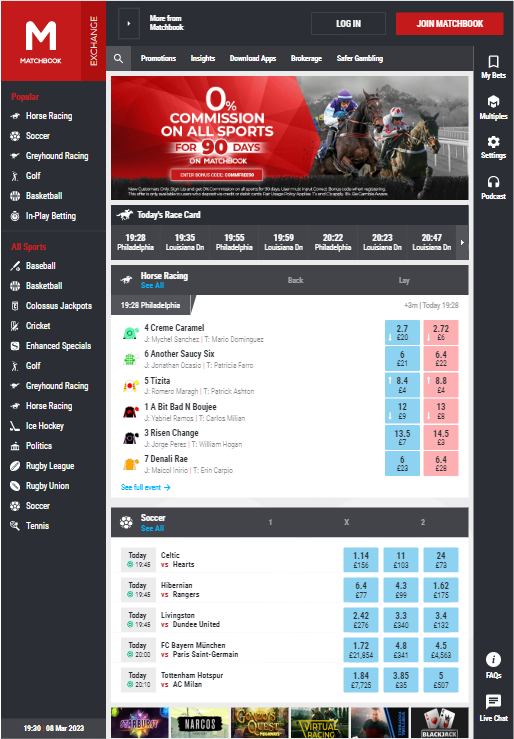 How To Choose a Betting Exchange
There is actually nothing to stop you from registering an account at all four, which is exactly what we have done. They all have different pros and cons, and despite anything else, they all "fall over" now and then, and if you want to place an exchange bet whilst their IT departments struggle to fix the issue, then using a different exchange is your only choice. 
Suppose the question is how to choose your "main" betting exchange. In this case things to look for are what are the most important to you.
Liquidity: If you are a big hitter and place bets worth thousands of pounds at a time then liquidity is important, and the exchanges with the highest turnover are the ones for you. If you usually bet £10 or so a time it does not really matter so much.
Bonuses: Do you like taking part in promotions and bonus offers (who doesn't) because if so then the exchanges offering this will be of interest.
Payment Methods: They all accept debit cards (which is the payment method we recommend using) but if you do want to use more exotic methods, then check which exchange offers what you want.
Commission: Interestingly when it comes to a betting exchange the odds are not a factor, they all have the same odds or at least you can request any odds you like. Instead of odds what sets each exchange apart is the commission rate that is charged. At the moment they all have the option of 2% so not a lot sets them apart but if that changes in the future, the commission rate is certainly something to consider.
Risks & Rewards of UK Betting Exchanges
Betting exchanges have the same risks are every other bookmaker and of course you should never gamble with money you can not afford to lose. Do not even deposit it. Exchanges have a few risks that are additional to bookmakers though and extra special care needs to be taken. There are of course also extra rewards too.
The rewards:
The main advantage of using a betting exchange is that the odds you get will on average be much higher. On the favourites not always a lot higher but for outsider bets the difference can be massive. Exchange bets are better value more often than not, even after taking commission into account.
If you are a profitable gambler (and sometimes even if you are not) then bookmakers will limit your bet stakes fairly swiftly. You can not be limited on the exchanges and placing large bets can be done by anybody. The bet size on major markets is virtually unlimited as long as you are willing to accept lower odds in order to be matched.
The ability to lay bets, as well as back them, opens up a huge amount of otherwise unavailable opportunities, including the ability to take part in trading prices pre-match or in-play, arbitrage, and cashing out bets with complete control.
The risks:
The main risk with a betting exchange is that there is no palpable error rule, and if you are careless or make a "mistake" whilst betting that is tough, once a bet has been matched it can not be canceled. People have lost £100,000s in a matter of seconds before just from carelessness.
If you are trading there is a risk of being unable to cover your bets if a betting exchange goes down (stops working) in the middle of your trade. This happens more often than you might think and Twitter is full of threads to the various betting exchange customer service accounts with furious traders venting spleen when that happens. (Having more than one betting exchange account can mitigate this risk)
Betting Exchange Trading Tips & Strategies
The biggest tip we can give is to emphasise that a betting exchange is far, far, far more complex than a standard bookmaker, and in order to use them properly involves a certain level of maths. If you are not someone who is good with numbers, and you do not want to learn, then do not join a betting exchange. That being said, if you have a decent grasp of maths or you are willing to learn, here is our advice.
A tip when you are first starting is to keep a low balance, because you can only ever lose your balance. Even if you intend to place £100 worth of bets throughout the day, why not deposit half, place half of your bets, then deposit the other half later and finish it off.
A betting strategy that has been proven to work in the past (but this does not guarantee that it will work in the future) is to lay England to win in football, cricket, and rugby international games. The reason being that the majority of customers like to bet on England to win, and they do not particularly care what the odds are. This weight of money forces down the odds to below the true probability of it happening. Therefore if you lay those bets, in the long run you will actually make a profit.
A strategy that could make money under certain circumstances is known as "lay the leader" and as the name suggests it involves betting in-play and watching a game where one team is a favourite. Then wait for one team to take the lead and if it is the favourite team lay them to win. The odds will be very low, and because people are naturally optimistic and it is mentally very hard to now back the losing team, because A) They are losing, and B) They were less likely to win in the first place, the odds will be disproportionately low. You can now watch the game and the odds will not fall any lower now until probably very near the end of the game unless the team score again. If it is still 1-0 around 85 mins of a football game you can back the same team you just layed and in effect neutralise the liability. If the other team equalises, this is where you profit because the odds will shoot up and you can go all green. It is effectively a low risk, high pay out strategy that can be fun to try and master.
Betting Exchanges Compared by Commission Rates
Once upon a time, different exchanges had different commission rates but since Smarkets entered the market offering a flat 2% the others have all been forced down to this level as well. There are some exceptions though.
| Betting Exchange | Base Rate | Other tiers | Exceptions |
| --- | --- | --- | --- |
| Betdaq | 2% | N/A | N/A |
| Betfair | 5% | 2% or 8% | Australian Horse Racing (7% base rate) |
| Matchbook | 2% | N/A | N/A |
| Smarkets | 2% | N/A | N/A |
Liquidity on Betting Exchange Markets
When you use a betting exchange you are not betting against the exchange, but instead other users. So the amount of liquidity (the amount that can be bet at any given odds) is not actually in the control of the exchange, and can vary from match to match, market to market, and day to day. On the day of an event, certainly the hour before all betting exchanges are pretty much identical on the popular betting markets and you will not notice a difference between them. In the example below we have taken data 48hrs before kick off for an upcoming Premier League football match between Manchester United and Everton FC.
| Betting Exchange | Man U back odds | Liquidity | Everton back odds | Liquidity | The Draw back odds | Liquidity |
| --- | --- | --- | --- | --- | --- | --- |
| Betdaq | 1.53 | £737 | 7.8 | £105 | 4.5 | £145 |
| Betfair | 1.53 | £224 | 7.8 | £250 | 4.5 | £363 |
| Matchbook | 1.53 | £167 | 7.8 | £30 | 4.5 | £123 |
| Smarkets | 1.53 | £644 | 7.8 | £3 | 4.5 | £8 |
Complete List of Betting Exchanges
| Betting Exchange | Welcome Bonus | Existing User Bonuses | Introductory 0% commission rate |
| --- | --- | --- | --- |
| | £10 Virtual bet | No | Yes |
| | £20 risk Free bet | Yes | No |
| | £30 Free bet | Yes | No |
| | £0 | No | Yes |
How We Rank Exchange Betting Sites
Betting exchanges are similar to a bookmaker but with a few extra complexities, which means there are some extra criteria to take into account when ranking them.
Commission
The key benefit of backing  betting exchange is the better odds, and it is claimed that the exchanges had better odds on 95% of UK Horse races (Data from 2022). This is because there is no profit margin added to the book by the bookmakers but now instead what you have is commission. At the existing exchanges on the market today commission is only charged on winning bets but that is just the model they have chosen, in the past it has also been charged on the stake amount regardless if you win or lose. The commission is how the exchange makes its money, and the lower the commission the better off you are as a player. For a long time the industry standard rate was 5% but it has changed in recent years due to competition and is now from as little as 2%.
Liquidity
This basically means can you get large bets matched (placed and accepted) on the markets you want and at the odds you want. It is all very well having odds of 2.58 but maybe only £2 can be bet at that price. Also, more liquidity means that you can place orders to leave on the system and come back a few hours later and have them matched. The more liquidity the better the exchange is.
Range of markets
Being able to bet on exactly what you want is important, and so a large range of markets for you to place bets on, or make markets for, is a big advantage. It is not enough to just offer betting on the Over/Under 2.5 goal market, it is desirable to have the Over/Under 1.5, and 3.5, 4.5 as well, what about a Half time O/U market even? Linked to this is the range of sports that are covered, they will all have the main ones such as Football, Horse racing, Cricket, Rugby, Golf, but do they have Chess?, Windsurfing?, Esports?, and Political bets? The very best betting exchanges will do.
Bonuses
It is always nice to be rewarded with a Free bet or two, and bonuses are one of the ways an exchange can differentiate itself from the competition. There is the possibility of a welcome bonus for new customers to think about and also probably more importantly what kind of existing user reward schemes or loyalty bonuses do they offer?
Payment Methods
The ease of depositing and withdrawing is also something to consider, the more deposit methods that are accepted the better. Also we look at what the average payout times are, and are there any fees involved? All bookmakers are entitled, in fact they are required, to ask for certain amounts of ID to pass KYC checks but a betting exchange asking for more than is required is not good.
The Best Online Betting Exchanges Сomparison
There are currently four betting exchanges in the UK market and we have a short comparison table below. It should be noted that Smarkets does have fixed odds betting specifically on a dedicated app, but as we are reviewing the betting exchange it is listed as "no", because it is not available on the betting site itself.
| | | | | |
| --- | --- | --- | --- | --- |
| | Betdaq | Betfair | Matchbook | Smarkets |
| Commission Rate | 2% | 2% - 8% | 2% | 2% |
| Range of Sports | 14 | 27 | 10 | 19 |
| Sportsbook | Yes | Yes | No | No |
| Casino | Yes | Yes | Yes | No |
| Mobile App | Yes | Yes | Yes | No |
| Live Streaming | Yes | Yes | No | No |
| Existing User Bonuses | Yes | Yes | Yes | No |
In reference to the existing user bonuses, Betfair has by far the most (and the best) Free bet offers for existing customers. Betdaq has some offers but not as many and they tend to be linked to virtual sports or the Casino. Matchbook has no existing user Free bet promotions listed but they have sent several offers and even no deposit Free bet credits to existing customers by Email this year. We have received nothing at all from Smarkets.
What Is a Betting Exchange & How Does It Work?
A betting exchange is not a bookmaker, it does not take bets or ever risk its own money. It is just infrastructure that connects customers with each other, and they all bet amongst themselves. The betting exchange just holds the money whilst waiting for the bets to settle, and then it hands the money to the eventual winner (minus the commission).
There are many differences between betting on an exchange and using a bookmaker but one of the more noticeable ones is that on an exchange you can set your own odds, and they will either be matched (so your bet is on), or not matched (so there is no bet) but you will have the option of entering any odds you want and seeing what you are given. You do not have to take the odds that are available now, you can request higher and hope to be matched in the future or you can take the current odds. Someone once described a betting exchange as "a tool which takes money from the impatient and gives it to the patient" and this is a pretty accurate description.
The other major difference is that you do not just have the option to place back bets (normal customer bets) but also half the customers will be placing lay bets (what the bookmaker normally does). When you lay a bet you are betting that something will not happen. For every back bet on the exchange, it must be matched with an equal and opposite amount of lay bets.
Exchange Betting vs Traditional Bookmakers
There are many differences between a betting exchange and a traditional bookmaker. The biggest one is that a traditional bookmaker will only allow you to bet on things to happen (back bets). At a betting exchange you can place back bets or you can also lay bets, in which case you are acting as the bookmaker yourself.
Advantages of using an exchange are mainly that the odds you get will probably be better but there are other things too.
You will not find your accounts closed or restricted in stake size if you win too much at the exchange. Bookmakers do not like winning customers, they like customers to win sometimes because it is good publicity and they know they will get it back again sooner or later, but if you know what you are doing (and they spend a lot of money tracking customers betting records) and they see you only place value bets you will not be welcome as a customer. When you bet on an exchange your bets are anonymous and nobody knows it is you they are betting against and the exchange does not care because they are just holding the money, they take the same commission amount regardless of who wins.
An advantage of an exchange is that you can trade the prices when you see value and then never actually have to worry about the result if you have bought and sold the same bet before the event settles. You can do this either before an event starts or you can trade in play and many people make successful incomes by betting on an exchange but only on what the odds are going to do, rather than whether that bet will win or lose.
Advantages of using a traditional bookmaker can be some of the concessions such as Best Odds Guaranteed or paying the official result and also first past the post, these things will not be given to you at an exchange. The other thing is that some people like to bet on accumulators, which you can do at a traditional bookmaker but you can not do at an exchange. Both bookmakers and exchanges will offer Free bets and various other promotional offers from time to time but on average it is fair to say that the bookmakers are more generous.
There are certain customer service benefits of using a traditional bookmaker, they realise that mistakes happen and if you accidentally bet more than you wanted to or there is a mistake in the odds (called a palpable error) then bets can be canceled. On an exchange, bets can not be canceled if you made a mistake. It is just tough it is your mistake and there have been many well documented cases of "fat-fingered mistakes" costing hundreds of thousands of pounds which would not have been the case at a traditional bookmaker.
Ultimate Guide on How To Use a Betting Exchange
When looking at the best betting exchange sites it is important to realise that they are not bookmakers. They do not accept bets themselves, but they allow their customers to bet amongst each other, some betting (known as backing) in exactly the same way as they would do at a bookmaker and others acting as the bookmakers (known as laying bets) which means profiting when a back bet does not win.
Each betting exchange has a slightly different layout and control panel but they are similar. We are using Matchbook for these examples.
At first betting exchange markets can appear confusing when you go to the match that you want to bet on you. We will explain how a betting exchange works below.

In the above image you can see the "Match Odds" (What the result will be after 90mins plus injury time). The Blue boxes are showing firstly the odds on each selection, so betting on AFC Bournemouth is 3.95, if you want to bet on Aston Villa it is 2.08, and to bet on the Draw is 3.7. That is pretty standard so far, but why are there more blue boxes to the left? Well, that is because if you look under the odds you will see different £s amounts. This is showing how much you can bet at those given odds. So if you want to bet £20 on Bournemouth you would be able to bet £16 at 3.95 and the other £4 would be at odds of 3.9. You could keep betting up to £350 at 3.9 before having to accept 3.85. What we are viewing is known as market depth and is a display of liquidity, being how much money can you get matched at the current odds.
Each betting exchange site is slightly different and in this example we are going to use Betfair to show step by step how to place a bet:
Choose the sport that you wish to bet from either the header if it is a major one such as football, horse racing, tennis, or golf, on the left hand sidebar (which lists absolutely everything).

Once in the relevant sports section, you will then have several options to help you find your desired match. In this example for football Betfair have given quick links to what you are most likely to want.



A: The Top Competitions, so there you will find the Premier League and The Championship.

B: If you are betting on a foreign game they have grouped the Top Countries.

C: If you are betting on a niche game that does not fall into either of those categories then you also have a link to view All Football.

D: Helpfully if time is of the essence, they also list the major leagues where games are due to start next, so if it is 10 mins before kick off chances are the Premier League game you are looking for will be one click away shown in the middle of the page.

Once you see the game you want to bet on you click on it, which will bring up the betting menu for all the bets which can be placed on that match.

The bets displayed are broken down by:

A: Match odds, this is who will win the game which is by far the most popular type of bet and why it has prominence.

B: Underneath you can scroll down through some of the other major markets, the Over/Under goals, correct score, things like that.

C: On the left you have the full list of everything which you can scroll through and click on the one you want to bring up the odds details.

For this example we have chosen the match odds, and there are 6 possible bets that we can make, three blue back bets, and three pink lay bets (we will explain the difference shortly). For this example we want to bet that Bayern Munich will win the game so we will click on the blue betting on their row, which is showing us odds of 1.53.

The betslip will open with the odds entered for you. All you have to do is put in your desired stake amount and click on the orange Place Bet button. This will submit your bet.

You will know if it has been confirmed and is definitely on as it will be displayed as a "matched bet" on your dashboard, (as well as the market showing your Net positions).
How Do Back Bets Work
Below is what your bet slip will look like when you place a back bet at any of the betting exchanges, they all have these three variables (Back, Stake, Profit).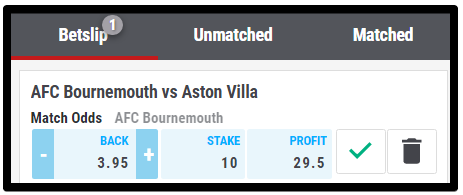 If you were to bet £10 at 3.95 you would be left in a position of winning £29.50 if Bournemouth win but losing £10 if they do not.

Once bets have been submitted and matched (it is very important that they are matched) then the betting interface helpfully displays in green and red your Net positions on the market. This is all you have to do and all you have to know about to place a standard bookmaker back bet.
However, someone once said, "A betting exchange is a tool for taking money from the impatient and giving it to the patient". It is very true!
Below we can see that you can actually control what odds you are willing to accept and can change the 3.95 to 4, which would now mean your £10 stake wins £30.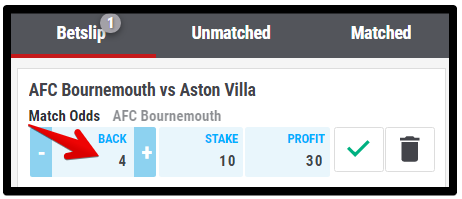 That bet is now entered into the system and you can see it displayed in the "lay column" (the red box) now. It is not matched yet, but it is there waiting for someone who wants to take a £10 bet on Bournemouth to win, to accept that bet.

By accepting a Lay bet you are essentially acting as a bookmaker, and we will look at that now.
How Do Lay Bets Work
Betting exchanges allow normal punters to try their hand at being bookmakers and that is what "laying" bets is all about. The pink boxes are displaying how much money people are willing to bet on each outcome IF they get given the odds which they are asking for. When you accept a lay bet you will need enough money in your account to cover the worst case scenario which can be a lot more than the stake amount you would be used to needing. For example if someone is asking for a £10 bet at 10/1 on a correct score ending 0-0 he will need £10 in his betting exchange account, and he will win £100 if it is 0-0. Whoever accepts (lays) that bet though will need £100 in their account, in case it has to be paid out as a winner. If it is not 0-0 and the lay bet wins, then they can keep the £10.
Below is an example of how a lay bet works:

You can see the match odds (so what will the outcome of the match be) between Norwich City and Wigan Athletic. The red / pink boxes that you can see is what odds people will bet on each result, IF you (or another exchange customer) is willing to give them those odds. If you look at the draw you can see that someone (or many people collectively) want to bet £55 on the Draw IF someone will give them odds of 4.1.
If you think that it will not be a Draw you can accept an amount of up to £55 on that and have it matched instantly. BUT remember you will need a lot more than £55 in your account to do so. We have decided in this example to take somebody else's £10 bet on the Draw. To do that we are risking £31 as that is our liability (the amount we stand to lose).

You can see from the above image our Net outcomes. If it is a Draw then we lose £31. If it is not a Draw, we do not care who wins, as long as somebody wins then we will profit £10 from this bet.

Because we are using a betting exchange site we do not have to accept somebody else's bet, we can actually act like a bookmaker and offer potential bets to other people. Instead of laying at odds of 4.1 you can see in the above example that we will offer people slightly worse odds of just 4. This has a liability of £30 now, so it is better for us.

The bet is not matched instantly but you can see that it is now available to anyone wanting to back the Draw, they can take our bet if they want to. Because we are lay betting to submit any bet you will need an available balance large enough to cover your worst case result. (You can combine liabilities by laying more than one selection, but that is perhaps the topic for another day)
What Sports Are Available At Betting Exchanges?
With a betting exchange, it is possible to bet on almost anything, the only thing you can definitely not bet on is whether someone will die or not. That is pretty much the only restriction there is. Other than that the exchange are likely to have a market for it if there are two or more people who want to bet on it, and if there is not the sport or event you want to wager on listed you can contact them and they will probably add it.
A few examples of sports with the most turnover (amount of bets) which you can also bet on are listed below.
Politics Betting 🗳️
Remarkably, by a very very large amount, the most turnover ever on any exchange market ever has been the 2020 Presidential Election race between Donald Trump and Joe Biden. The final total was £600 million ($793 million) was traded on the betting exchange in the UK alone and was made up of 3 million individual bets. This was three times as much as the next twice the next highest amount staked on a market which was just shy of £200m on the previous US election in 2016.
The main reason for this it must be said is that those figures record turnover, not exposure, and the majority of people betting on that market would be trading. The backs and lays would cancel each other out of course so two £10 bets could cancel each other out but would still count as £20 in turnover. The other reason for such a vast amount of bets paced is the length of time the market was open for, the majority of events only see bets placed on them in a week or two window, the US Presidential election market was open and active for four years.
Horse Racing 🏇
The largest amount ever placed on a Horse racing bet was the 2012 Diamond Jubilee stakes back in 2012, £13.7m was wagered on this race. Overall though the sport of horse racing has the most turnover on exchanges. This is due to the sheer number of races being run all day, every day.
American Football (Super Bowl) 🏈
Another major sporting event that receives a huge amount of bets every year is the NFL Superbowl. The regular season does not attract much betting attention but when the Superbowl is played, this becomes one of the most bet upon sporting events of the year.
Boxing 🥊
There are not very many boxing matches, in comparison to sports like football, horse racing, etc, etc with hundreds of things to bet on every week. When there is a boxing card though, the headline events often attract big bets, very, very big bets, and by far the best value can be had on the betting exchanges. A good example of a big event would be when in 2017 Floyd Mayweather fought Conor McGregor, it was reported that "at Betfair In the final five hours leading up to the fight, nearly £12 million ($16.1 million) was traded". When there is a large boxing event and you want to bet big you really have to do it at one of the betting exchanges.
Football ⚽
The last sport which we will look at, but certainly not the least is football, (or soccer as some like to call it). Betting exchanges list many many games from many more leagues in many more countries than other bookmakers. The main reason for this is of course that they themselves do not have to research and price up the markets, so it is of no risk to them to do so. The same applies for the number of markets per game (although many bookmakers now having "request a bet" is changing this. It is also likely that for the vast majority of games the betting odds will be better, certainly on the long shots, and in terms of betting limits, well there are none. You will only be limited by the market liquidity but for a Premier League games this will be hundreds of thousands, if not millions of £s.
The above are just a few of the biggest exchange betting markets and some of the sporting highlights which can be bet on at the exchanges. In total there are around 30 sports listed across the four UK betting exchanges and they are:
American Football, Athletics, Aussie Rules, Baseball, Basketball, Boxing, Cricket, Cycling, Darts, Esports, Football, Gaelic Games, Golf, Greyhound Racing, Hockey, Horse Racing, Ice Hockey, Mixed Martial Arts, Motor Sport, NetBall, Politics, Rugby League, Rugby Union, Snooker, Special Bets, Swimming and Tennis.
Exchange Betting Tips
Specialise
Betting exchanges all have a huge amount of sports for you to bet on and then a huge amount of games for each sport and then again a huge amount of markets for every game. It is easy to get carried away and try exchange betting on everything there is and that is likely to be a mistake. It is better to only place bets on sports that you have a thorough understanding of (unless it is something you are watching and you are betting In play purely for fun). If you are taking your betting seriously then you will not have time to become an expert at everything so focus on the sports, the teams, and the players you follow closely. 
Be Patient
Some people can be impulsive and rush in when it comes to placing bets. It is very likely (and it is our experience) that to be successful you need to be patient and watch the markets waiting for the odds to come to you (and match your queued bets). If you are impatient then as we have said before you are just slowly giving your money to people who are patient.
Research, Research, Research
The amount of statistics and data that is in the palm of your hands when you hold a smartphone, and available almost instantly at a few taps of the screen, is mind blowing. There is no reason not to do your homework and research the form, maybe the weather forecast, and certainly the news surrounding the teams or players you are betting on. This information can have a huge impact on what odds you will accept, how much you will stake, and even if you will bet on that market at all.
It is also important to research and know the ins and outs of all the best betting exchange sites so you can be fully in control of your bets. It is a good idea to know exactly how to deposit quickly (it may be important), how to navigate to your desired market, how to control the bet slip panel and how to know and check your current positions. Another thing that changes is when you are In play betting some sites match your bets after a set length of time delay and others wait for the end of that phase of play, knowing what happens at the bet exchange you are using is a good idea. The layout of every betting exchange is slightly different so it is a good idea to know them all.
Remember it is a marathon, not a sprint
Many people over the years have seen betting exchanges as the Holy Grail of betting and have attempted to make a living full time from trading the markets or just punting value bets. This is not necessarily realistic. Although it is possible and "some" people do it, yes sure, but... it wont be you. It is like if your 10 year old cousin asks if one day he could be a Premier League footballer, it is possible, sure, but... do not be so upset if you do not make it hey kid.
Never go "on tilt"!
Whenever you lose and you care about it, have the rest of the day off. Never, ever bet when you are angry or emotional or wanting to win money back which has just been lost. There is no need, everything will be there tomorrow, and in doing so you are almost certainly not betting on value and you will make the situation worse. This can happen at any time but is most likely to happen when you are live betting so be aware of this.
Linked to this it is a good idea to have a dedicated betting bankroll and only ever use this to bet with, so wins are not spent and losses are not noticed, it is all just numbers in your bankroll and not actual real money you ever considered spending.
Pros & Cons of Betting Exchanges
✅Pros:
Better odds

The ability to manage risk (hedge bets)

The ability to lay bets

No limits (or limiting of winning accounts)
❌Cons:
Can be complicated for beginners

Less promotional offers and concessions (No BOG for example)

Mistakes can not be undone, once you have had a bet matched then that is that
Betting Exchange Sites Promotions & Bonuses
Betting exchanges do not have as many promotions and bonuses as traditional bookmakers do, largely because their profit margins are already much lower. They do have some now and then for certain existing customers but it is nothing like as prevalent as it is with traditional sportsbooks.
Betfair: At the time of writing Betfair do not offer a specific Welcome bonus for new customers at the betting exchange.
UK players only - 18+ - BeGambleAware
Smarkets: Smarkets has a Welcome bonus of 0% Commission for 60 days
UK players only - 18+ - BeGambleAware
Betdaq: Betdaq say that new customers who place a £10 qualifying bet on the Exchange at odds of 2.0 or greater get £10 free bet valid for 7 days. (Promo Code: BDQ10)
UK players only - 18+ - BeGambleAware
Matchbook: At Matchbook you can place your first £20 bet at odds of 1.8 or more and if it loses the Welcome bonus is getting the stake refunded as a single Free bet as well as 20 Free spins in the Casino. (Bonus code: MB30)
Only 18+ new users registered using the "MB20" bonus code are eligible. You must make a qualifying bet of 1.8 minimum odds within 14 days of registration to claim this new customer offer. The maximum refund is £20 as a Free bet, expiring after seven days. Deposits via paysafecard, Neteller, or Skrill are exempt. Matchbook's general
Terms and Conditions apply
.
The top betting sites are…
Here at Legalbet we have also categorised the top betting sites and their features to make them easier for you to find. They are:
By Sport: Football | Tennis | Boxing | Cricket | Snooker | Golf | UFC | Darts | Greyhound | Rugby | Horse Racing | Basketball | Baseball | Formula 1 | Ice Hockey (NHL) | Volleyball | Cycling | Netball | AFL
By Payment Systems: PayPal | Skrill | Klarna | Boku | Debit Cards | Apple Pay | Paysafecard | Neteller | Google Pay | Prepaid Cards | Revolut
By Features: Cash Out | £5 Minimum Deposit | Minimum Bet Sizing | Live Streaming | Betting Exchanges | Safest | Fast Withdrawal | Daily Free Games | New Betting Sites | Horse Betting Apps
By Events: Politics | WWE | Golf Solheim Cup | NRL Grand Final | Ryder Cup
By Esports: CS:GO | Dota 2 | League of Legends | PUBG | Valorant | FIFA | CS:GO Betting Sites with Paypal
Frequently Asked Questions
Which Is the Best Betting Exchange in terms of liquidity?
Betting exchange sites do not themselves control how much liquidity there is on their markets, certainly not at any one time. They may have partners who they can work with but by and large it is a betting exchange's customers who determine how much liquidity there is, either by laying bets which helps the backers or by backing bets which helps the layers.
To answer the question more often than not it will be the Betfair exchange as they have the most customers. It will not always be Betfair but the Betfair exchange is usually the best betting exchange for liquidity. 
Is It Possible to use a Betting Exchange Abroad?
The short answer is yes you definitely can use betting exchanges abroad in practice. You might be breaking local laws though depending on exactly where "abroad" you have gone to so check this carefully. Just because the betting exchange allows it, does not mean the local police will.
Which Betting Exchanges are best for betting?
Well, all betting exchanges have certain areas that they are the best at so it will depend on what things you prioritise when you are betting. Overall, it is probably going to be Betfair but Smarkets come a very close second in many areas.
How do you win a bet at the betting exchanges?
You win a betting exchange bet in a different way depending on whether or not it is a "Back" bet or a "Lay" bet. If it is a back bet then you win by that selection happening. If it is a lay bet then you win by that selection not happening.
Yes Smarkets is a betting exchange. Originally launched with the idea of being a social betting site it quickly changed focus and has grown to be the only serious competitor to Betfair in the past twenty years.
What Are the Main Pros of Exchange Betting?
The main Pros of a betting exchange are that you will almost certainly be getting better odds, and even if you are a winning player your bets will never be limited in size.
Can I Expect to Get Offer Promotions from Online Betting Exchange Sites?
As a rule yes all the betting exchanges have been known to offer various Free bets and other promotional offers to existing users. Betfair are the only one with a monthly loyalty rewards package you are certain to get whilst the others Email existing customers as they see fit.
Do All Bookmakers Offer Betting Exchange Sites in the UK?
No, none do. There was once upon a time a Ladbrokes exchange but it closed many years ago.
What Are the Betting Exchanges in Horse Racing?
There is no specific betting exchange for horse racing, every site offers a market on every UK horse race. Arguably Betfair is the best one because it sometimes has a better depth of markets compared to the others.
Do you pay tax on Betfair Winnings?
If you are a UK resident then no you do not. If you are not a resident of the UK then your local tax office will be able to advise you on this.
Which is the Best Betting Exchange for Backing with High Stake Liquidity?
It will vary from market to market and there is no one exchange that is always the highest or always the lowest, they all fluctuate. On average, if you want to back close to when an event is about to begin, Smarkets probably has the best liquidity. There is not a lot of difference between them all though.