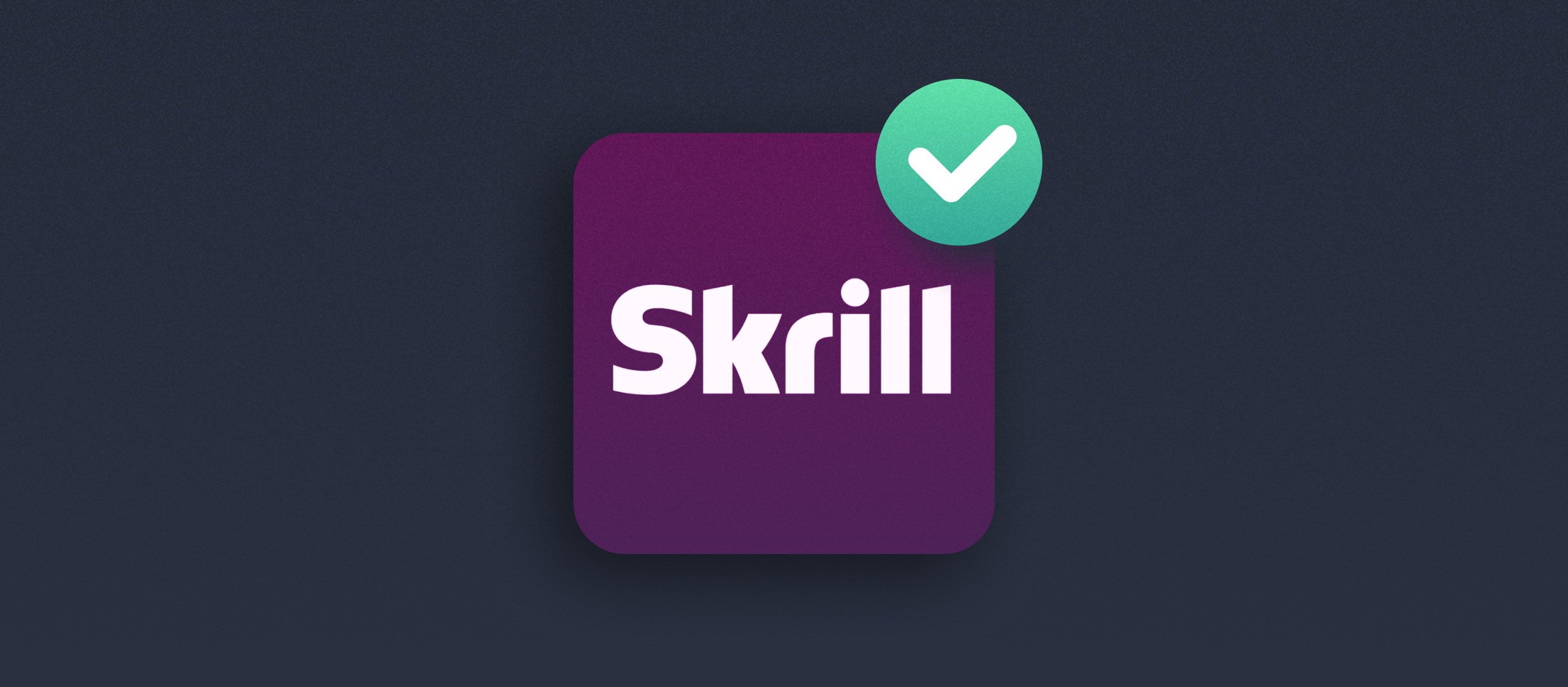 What is Skrill?
Skrill is a payment method very similar to PayPal and is one of the major payment methods used for funding an online betting account. Skrill is both widely accepted and a safe way to fund almost all online bookmakers. It can be used for withdrawals and deposits at a wide range of Skrill betting sites 24/7. If you ever have a problem there is Live Chat available 24/7 to assist you!
It should be pointed out that as good as Skrill is a payment method usually when claiming a Welcome bonus payment restrictions apply, and a Skrill deposit will not be eligible. You can usually use Skrill afterwards for existing user Free bets, offers and promotions though, but check each bookmakers T&C's to be sure.
How Does Skrill Work?
Using a Skrill account is similar to most other E-Wallets used for online betting. After deciding that you want to be online betting with Skrill go to the website and choose to register.

You then enter your personal details, your address and what have you and after a short verification process to have your account activated you are ready to go. The key part of how Skrill works is that it uses your registered Email address to identify when and where you send or receive money.
Before you can send any money from your new payment method to a Skrill betting site you first have to get money from your bank account into Skrill. To do this you should follow the steps below:
After logging into your Skrill account select deposit and add funds to your account.

Funds can be added into your account with a variety of methods such as Credit and Debit cards, Rapid Transfer, Bank Transfer and paysafecard.

Some of the payment methods used to get money into your Skrill account charge a small fee but transfers from bank accounts and using a regular Credit or Debit card are free. If you are going to use the account for gambling transactions do not top-up from a Credit card though because online betting sites will then not be able to accept money from your Skrill wallet if you do.

To Register a debit card as your payment method you need to fill in a short form with the relevant payment details, telling them:

A: Your card number

B: The card expiry date

C: The CVC (three numbers on the back of the card)

D: You then add the card and continue

On the next screen you can now deposit funds. Enter your deposit amount, which in this case is £10 and select that you do want these funds to be available for online gambling transactions.

That should be it, you may need to confirm the transfer with your card issuer via their App, but after that they will transfer funds instantly.
How to use Skrill: Deposits into & Withdrawals from betting sites
Skrill is one of the largest E-Wallet online payment systems and as such is one of the payment methods that you will see at all the top betting sites. Part of its popularity comes from its ease of use for both withdrawing and depositing!
How to deposit money with Skrill
To deposit with Skrill it is necessary for you to have a Skrill account. Making an account is a simple process just go to the website and create an account as we discussed above. Every bookmaker is slightly different but what happens next will always follow a very similar pattern.
Find the deposit funds button which is typically located in the top right corner or alternatively go to 'My account', 'Wallet' or 'Banking' and then chose the option to deposit. You will be given a range of payment methods which you can use and probably some information about the relevant limits. The example below is from Unibet who is a Skrill betting site.

Once you have chosen Skrill on the next page confirm your Skrill Email address (which should always be the same as the Email address you have registered at the betting site) and enter how much money you want to deposit, in this case we put £10.

You will be redirected to the Skrill site asking if you would like to use funds from your Skrill account or your bank account. We have £10 in Skrill already so we will choose that.

You are then asked to log into Skrill and are taken to the relevant page to do so.

Once logged into the account you are shown your current balance and once again confirm that this is what you would like to use to deposit money with.

The funds will be instantly credited to your Unibet account (or whichever online betting company you are using).
How to withdraw with Skrill
Withdrawing with Skrill is also a simple process so long as you have previously already deposited with this payment method.
Go to whichever bookmaker it is that would like to use Skrill to withdraw from. After logging into your bookmaker account go to the withdraw option usually located in the "My Account" or "Wallet" options. At Unibet, it is listed under "BANK" as "Withdraw money".

You have to deposit with Skrill for it to be on the list of eligible withdrawal methods so assuming that you did, select it from the list.

Enter the amount you wish to withdraw and check that the payment details are all correct. Assuming that they are then confirm it and all you have to do is wait (probably not for too long) for the money to be in your Skrill account.
Withdrawing with Skrill is one of the quickest withdrawal methods meaning that your funds could be in your account in a matter of hours or up to 1 day total.
Skrill fees, limits & withdrawal times
Skrill charges no fee for depositing funds into Skrill with a bank card or online bank transfer. If you want to use another payment method, for example using Rapid transfer, Trustly, Paysafecash, or Paysafecard there is a fee of up to 5%.
Depositing from your Skrill account to your betting account incurs no fee from Skrill however some bookmakers may choose to charge you a small amount.
If you are moving money from Skrill into a betting account then the maximum transaction amount is £10,000.
If you want to take money out of your Skrill account the fees vary depending on which withdrawal method you want to use. A transfer with online banking is free and recommended. Using cryptocurrencies will cost you 2%, transferring to their sister company Neteller is 3.49% and back onto a debit card can be pretty large, up to 3.99%.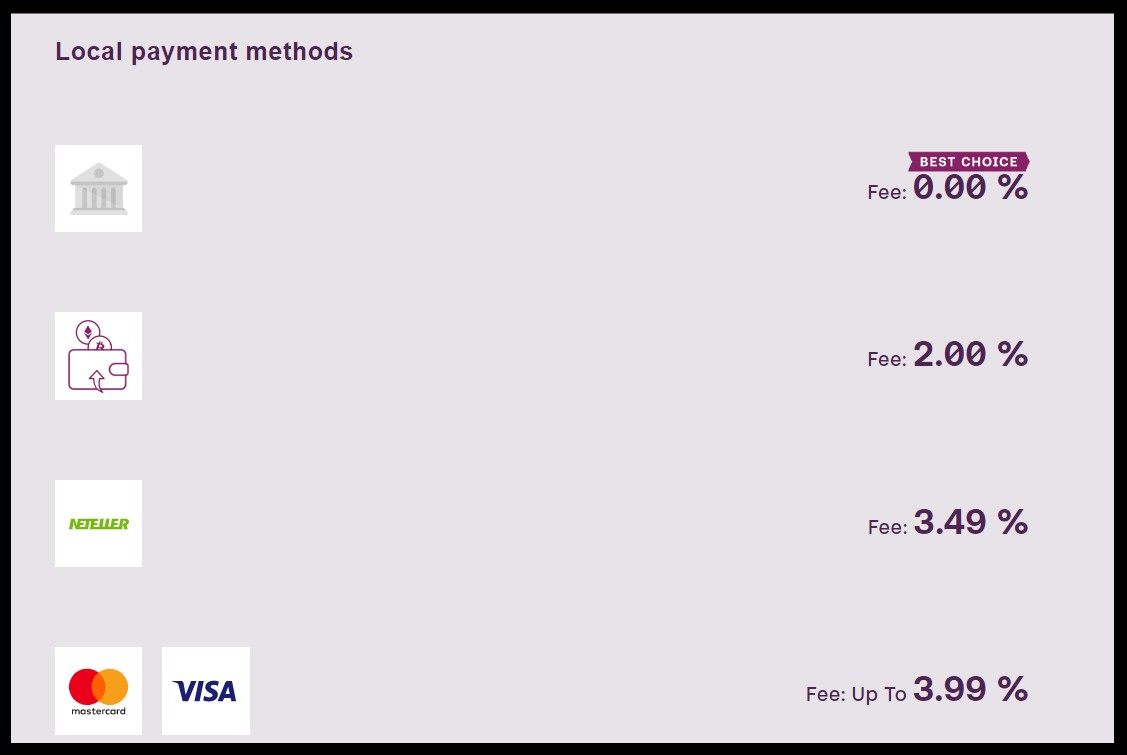 One advantage of Skrill is that moving money which is a different currency has no hidden costs or fees, you just receive the market spread price.
Skrill: Pros & Cons
Pros 
✅ Popular - Due to Skrill being a very popular E-wallet it is used by a large number of online betting companies making it an almost universally available payment system. Once you have a Skrill account you can operate a closed-loop system for your gambling funds which is sensible to ringfence them from your day-to-day life.
✅ Secure - Skrill is a payment method that acts as an intermediary service between your bank and your bookmakers. This means that any transactions will not contain your personal info when going to the betting sites and also your bank statements won't show that you have been betting online.
✅ Fees - Most betting sites do not charge a fee to deposit or withdraw with Skrill making it virtually free to use most of the time. (Although you should definitely make sure before depositing any large sums)
✅ Speed - Skrill is one of the fastest methods for deposit and withdrawal. Funds are generally available in your bookmaker account almost instantly and withdrawals typically take just a few hours.
✅ Versatility - Skrill can be used for a variety of features other than just betting. It can be used for online shopping as well on a variety of other online services making it an excellent way to purchase and pay for things online (as well as fund your sports betting).
✅ Good deposit limits - Skrill is a payment method that has fairly large limits, certainly enough that most people will never reach the top end of the limit. For high rollers it may be necessary that you make multiple deposits to top up your balance.
✅ Allowing Cryptocurrency - Not for everybody but Skrill accounts are compatible with buying, using, and selling Cryptocurrencies such as Bitcoin, Etherium, Solana, etc, etc. It is becoming one of their main focuses these days but UK customers have to pass a large number of KYC checks to take advantage of these services due to the fight against money laundering.
Cons 
❌Hidden Fees - While most bookmakers allow Skrill payments and don't charge a deposit or withdrawal fee this is not universal. Some bookmakers add fees or charges to withdrawals or deposits and this is definitely something worth checking before committing to a bookmaker or payment system.
❌Can't access some Bonuses - When using Skrill it is important to note that you will not be eligible for most Welcome Bonuses. This is because payment method exclusions apply to nearly all Free bet offers. If you were intending to take part in a Free bet offer it may be best to make a qualifying deposit with a different payment method, and only after that Free bet has been used begin using your Skrill wallet.
❌Account setup - Due to the huge weight Skrill places on customer security, it can take a while to set up your account due. As well as this some bookmakers will only accept your Skrill payment if your bookmaker login is the same as your Skrill login. This is important to remember when creating your Skrill or Bookmaker account.
❌Not everybody accepts Skrill - For whatever reason they choose a number of major and minor UK bookmakers do not accept Skrill including industry giants such as William Hill and Ladbrokes. Although some of these companies accept Skrill payments from elsewhere in the world, they, unfortunately, do not allow the use of Skrill in the UK.
❌Charges - Skrill makes a small charge every time you withdraw from your Skrill account and this can add up quickly if you make several transactions especially if they are small transactions.
Alternatives to Skrill
Although Skrill is one of the most popular payment methods for online betting there are still some areas that they are not the best at and you can find another payment more suited to the job. There are plenty of alternatives on the market for you to choose from.
PayPal is arguably the most popular payment method in the UK for general online purchases. It is featured on almost any website online and it would certainly be a challenge to find a betting account that can not be funded using PayPal. Being one of the oldest online payment methods it is still seen by many to be one of the safest too.
Apple Pay is a payment method not surprisingly brought to us by the Apple Corporation. Apple Pay allows users to deposit and withdraw online as well as make in-person purchases using their mobile phones. Apple pay can take funds directly from your bank after you link bank accounts to it.
Neteller is another one of the payment methods you will see accepted at online betting sites and this is partly because it is owned by the same parent company as Skrill. PaySafe process more online transactions than any other E-Wallet and since the merger the number of Skrill bookmakers that now take Neteller too has grown and grown.
Conclusion
The main reasons for using Skrill were always that you could mask when you had deposited into a betting site and also the fact a second account could be in a different currency so you avoid exchange rate fees. Originally you could use Skrill to make a qualifying deposit into a betting site to get their advertised Free bet. In recent times it is the case that payment method exclusions apply and it is rare to be given Free bets if you are using Skrill. In short, if you like to be as anonymous as possible online Skrill still makes sense. If you are someone always on the lookout for Free bet stakes then online betting with Skrill might not be best for you.
The top betting sites are…
Here at Legalbet we have also categorised the top betting sites and their features to make them easier for you to find. They are:
By Sport: Football | Tennis | Boxing | Cricket | Snooker | Golf | UFC | Darts | Greyhound | Rugby | Horse Racing | Basketball | Baseball | Formula 1 | Ice Hockey (NHL) | Volleyball | Cycling | Netball | AFL
By Payment Systems: PayPal | Skrill | Klarna | Boku | Debit Cards | Apple Pay | Paysafecard | Neteller | Google Pay | Prepaid Cards | Revolut
By Features: Cash Out | £5 Minimum Deposit | Minimum Bet Sizing | Live Streaming | Betting Exchanges | Safest | Fast Withdrawal | Daily Free Games | New Betting Sites
By Esports: CS:GO | Dota 2 | League of Legends | PUBG | Valorant | FIFA | CS:GO Betting Sites with Paypal
Frequently Asked Questions
What are the best Skrill betting sites?
Some of the best Skrill betting sites are already listed at the top of this article. We have listed them using the criteria of how good a bookmaker they are, but have not considered if Skrill can be used for the Welcome bonus or not. Sometimes betting sites do not give Free bets if you have used Skrill to deposit so do your own research to see if that applies.
Is Skrill better than PayPal?
Like everything in life Skrill has Pros and Cons. Deciding whether Skrill is better than PayPal really depends on what you need the payment method to do and specifically its features suit your needs. It's definitely worth giving several different payment methods a try when you are moving money from your bank account into your online betting account. It may take some time to decide which is your preferred payment method.
Do any betting sites have special Skrill offers?
Unfortunately, the vast majority of Welcome Bonus Free bets are not given to customers using Skrill. However this doesn't mean they do not exist. Although it may take some searching, Skrill welcome offers and regular bonuses and promotions certainly do exist; they may just be harder to find than typical offers. Checking on the Skrill website is actually normally a good place to look, if a site is listed there then the Free bets will be given to you.
Is there a VIP Club offered with Skrill's services?
Yes! Skrill offers a VIP club for users with high volumes of cash. The VIP club provides users 24/7 support, special promos and extra security measures. As well as the VIP club, Silver members or above have access to their own personal account manager.
What is the minimum Skrill deposit for online sports betting?
The minimum Skrill deposit amount varies depending on the payment restrictions put in place by the bookmaker. Some of the best betting sites may have no minimum deposit and some others may set a limit as high as £10 - £15. Make sure to check what the limits are and whether you are comfortable with them before deciding to enjoy online betting with them.
How long do deposits and withdrawals take using Skrill?
The time it takes for a deposit or withdrawal to clear at Skrill bookmakers will vary from bookmaker to bookmaker but for the most part, Skrill is usually one of the faster methods. Deposits are normally almost instant and withdrawals take on average takes 3 - 4 hours.
Which currencies can I use with Skrill?
Skrill operates in more than 35 different countries and as such if you reside within any of these countries (which are listed on the Skrill website) your currency will be accepted. UK customers can have two separate accounts, using two different currencies if they require it.
Can I use Skrill with other online payment methods?
Skrill allows you to interact with the payment method Neteller because it is a sister site and they share the same owner (PaySafe Corp). You can transfer from one to the other paying a small fee to do so. If you are going to be depositing into UK betting sites with Skrill and also other payment methods this is OK but note withdrawals can only be processed back to one method once deposits from all other methods have been repaid first.