What is live streaming?
What a time to be alive! Thanks to the wonders of modern technology, you can now watch your favourite sporting events, track the odds and place your bets in real time all at once, all from the comfort of your own home. All you need is a computer or smartphone, and a fairly decent internet connection.
But what is live streaming? Well, where as before you'd need to find TV or radio covering of the match, then find a bookmaker to allow you to make bets in-play, now the bookies with live streaming provide you with the ability to watch the sporting event live (and for free! Bonus!), while allowing you to bet on the action, as it happens, all on the same webpage.
However, not all betting sites provide live streaming, and not all online bookmakers with live streaming are equal. It's important to know, before creating a new account, whether the bookmaker provides live streaming in the first place. It's also useful to know which are the best live streaming betting sites. But don't panic! We're here to help with all your live stream wagering needs. Let's get started with how to choose the best betting site.
How to choose the best live streaming betting site?
When picking the best bookies with live streaming for your needs, it's worth considering a number of factors. We've outlined some of them here for you so that you can keep them under consideration when searching for the best betting experience.
Event Options
Not all bookmakers with live streaming offer all events, nor do they all offer the same events. So your first task will be to find the betting sites with live streaming that are providing the match, race or game that you're looking to take a punt on. There's plenty to choose from, so you'll soon find what you're looking for.
Device Storage
If you're downloading a bookmaker's app to make use of their live streaming capabilities, it's worth knowing that some of these are pretty hefty in terms of the amount of storage space they take up on your device. It's worth making sure you've got enough space before getting started, especially if you're intending to download multiple apps to make the most of the range of events offered by online bookmakers with live streaming and to compare odds to get the best bang for your buck.
Banking Options
You can't expect something for nothing! Most betting sites with live streaming will require you to make a deposit or at least have a positive balance. Some may expect you to place a bet in order to access the live stream. As you'll be wanting to withdraw your funds at some point, you must select an online bookmaker with live streaming that supports your preferred banking option.
Functionality
Isn't it frustrating when you can't find the event you want to get involved with, or the bet you want to place? For this reason it's important to choose a betting site with great functionality and ease of use. You'd think this would be a priority for all betting sites, but alas it doesn't always seem to be the case when it comes to a live stream. There is quality out there, though, you just have to find it. Check out our top picks for online bookmakers with live streaming, to help with this.
Viewing Options
Are you a fan of full screen viewing, or do you prefer to see everything you need, all the time, all at once? If it's the latter, you'll be looking for an online bookmaker that offers integrated viewing. The picture will be a bit smaller, which might not be ideal, but it does allow for the best live-betting experience when using live streaming betting sites.
How are we rank the betting sites with live streaming?
When compiling a list of the best live streaming betting sites, we take into account a number of factors, so you don't have to. We want you to have the best possible sports betting experience, so we've done the legwork for you and taken into account all of the following, when deciding which betting sites with live streaming to recommend.
The range of events offered for live streaming - the more choice, the better, right?

The number of wagers available in each category. 

The user requirements needed to commence streaming (e.g. minimum deposit amount, minimum wager, minimum account balance).

The quality of the live streams - what's the point if you can't see what's going on?

The range of in-play markets available to the punter.

Generally accessibility and useability. If it's clunky or confusing, we don't want to know.

Availability and frequency of Free bets and crucially if they are valid for in play betting.
Best 3 live streaming betting sites
Here we describe 3 best bookmakers whose live streaming service we have ranked based on different factors: quality, access, amount of sports.

William Hill
Minimal requirements to watch: for most sports, simply make sure you have a positive balance.

Watch sports events from around the world as long as you have a funded account.

Wide range of sports available for live streaming.

Hundreds of events on the live stream each week.

You must place a minimum bet of £1 in order to watch horse racing live (Greyhound races too).
William Hill offer a £30 new user Welcome Bonus which is paid as 2 x £15 Free bets. To qualify you must deposit £10 with an eligible payment method and wager it at odds over 1/2 (Decimal 1.5). As well as this they have Best Odds Guaranteed on all UK Horse racing and offer regular price boosts and a free bonus ball drop where you can win a different Casino bonus every day. Typically Free bets paid after qualifying bets settle, and Free bets will expire 30 days after that.

Bet365
Reliable, good quality feeds.

Log in to watch the live streaming service for free.

Each month, Bet365 live streams over 1000 sports events.

Huge range of sports available to live stream.

Best of the betting sites live football streaming.

Integrated streaming screen with odds clearly displayed on same webpage.

Intuitive in-play betting console.
Bet365 offer new users a generous £50 Welcome bonus paid as Free bets after your first bet settles, as well as Free bets given to existing users specifically for in play betting which are randomly E-mailed to you and will also be credited after your qualifying bet has settled. They run other promotions such as Horse Racing Best Odds Guaranteed, which means that if you placed a bet and the Starting Price is higher, you are paid at the higher price. There is also the Football Early Payout offer, go '2 Up' and get paid out as a winner. Remember that it is standard at Bet365 that Free bet stakes are valid for 30 days after being credited.

Betway
Betway streams over 1140 events per month.

Choose from a wide range of sports and sporting events.

Free bets available as a Welcome bonus and to existing users.

Wide choice of in-play markets (Not horse racing).

A positive balance is required for live streaming.

Some events require you to place a bet before the live stream will open.
New customers at Betway can get up to £30 of Free bet stakes if their first £30 Acca bet looses. This offer is valid for bets of between £5 and £30 and must be placed on either a football or horse racing acca involving 3 or more legs at combined odds of 2/1 (Decimal 3) or more. The qualifying bet must settle within 7 days of registration and the Free bets will be credited upon settlement of the qualifying bet. For existing users Betway have a constantly changing promotions page offering everything from cash prizes, Casino bonus spins, Free bets and everything in between.
Types of sports streamed by bookmakers
There is a wide range of sports available from the live streaming betting sites. Unfortunately, Premier League Football is not available to live stream due to the exclusive rights held by UK broadcasters. However, there are plenty of other sports available for you to take a punt on while following the action, live, at your favourite bookies with live streaming.
Horse Racing 🏇
Horse racing is by far the most common sport to bet on in the UK and Horse racing live streams are available from virtually all of the live streaming sites. It is common for the live streaming service to be activated only after you have placed a bet of a min amount for you to be able to watch, but the best Horse Racing Live streaming service is from Geoff Banks who do not require any bets in order to watch their horse racing live stream.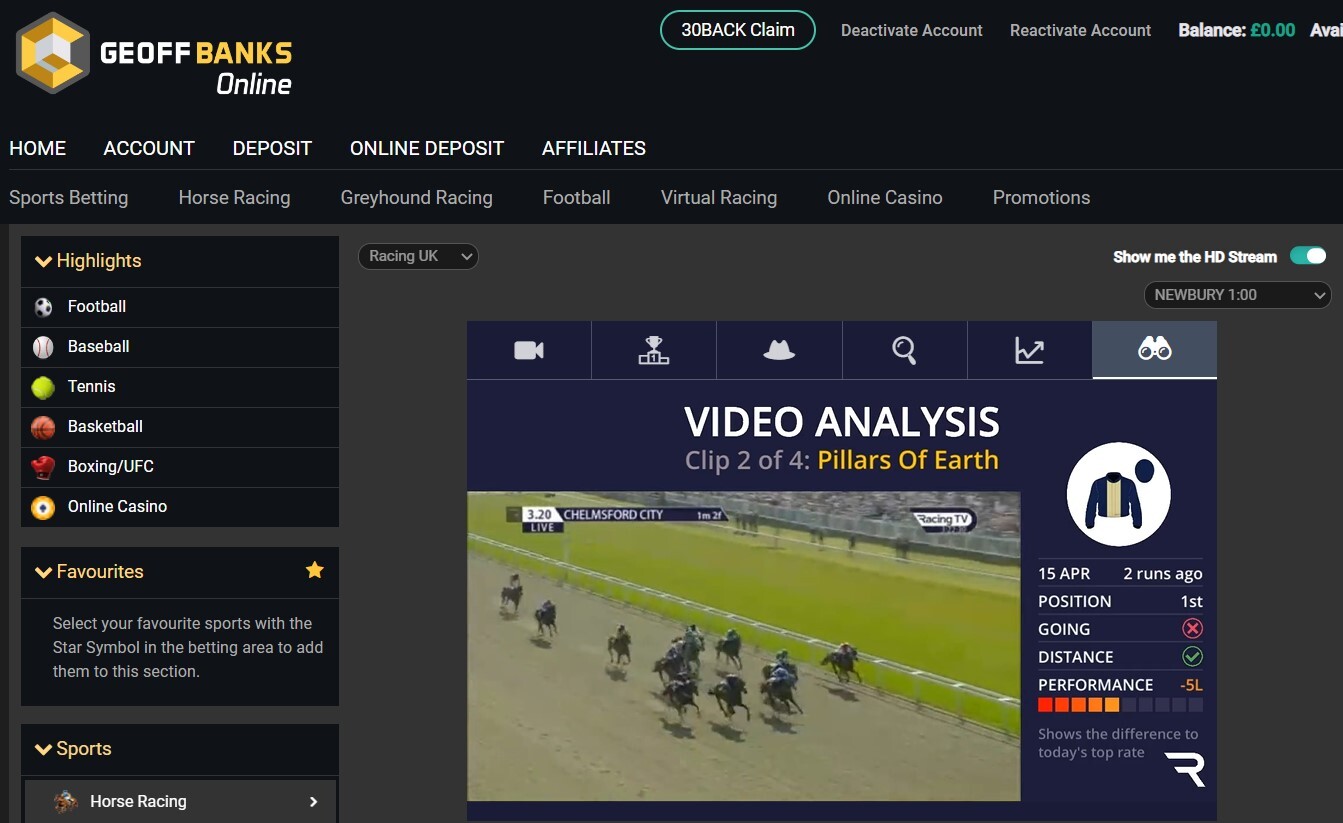 Horse racing is one of the harder sports to bet on in play, and more often than not you can get a huge range of Free bet offers to use on it but they involve a qualifying bet before the off, and it is only after the race has finished that the free bets credited to your account. It is hard to bet in running because even with a streaming service there is always going to be a delay to the live stream, some people are going to be at track, and their information is going to be ahead of the punters who are online betting. Due to the speed of horse racing, the average race taking just three or four minutes, although it is one of the more common live streamed events most gambling takes place before the race begins.
Football ⚽
While the Premier League isn't available, betting sites that have a live stream for football often include top European football leagues such as Series A, Bundesliga and La Liga, as well as other matches from around the world. This is certain to make your online betting more enjoyable. It is unclear at this time if there will be a live stream for the World Cup in Qatar later in the year but there has been previously, live streaming services from around the World were able to distribute their feeds to various channels.
Tennis 🎾
If you love a bit of tennis, then you're almost guaranteed to find the perfect punt at live streaming betting sites, with a wide range of markets available to have a flutter on if you are in play betting. The live streaming tennis match you are watching is certain to be delayed though and your pictures will be behind anyone watching at the game, so be careful that you are not a victim of 'courtsiding' where some people either place bets or accept bets after they know the result.
Golf 🏌️
Fancy a hole in one? You're bound to find some good golf to place in play bets at bookies with live streaming, as there are multiple professional golf tournaments happening weekly. What's more, you can follow multiple different tournaments in different time zones, as all of the major tours are covered. What more could you want?! The live stream, despite its name, is unlikely to actually be live for the majority of the shots, and factoring not only a players current score but also where they are on the course, and the expected difficulty of the upcoming holes, makes golf in play betting one of the more skillful and exciting variations. Betting sites offer various promotions when you are in play betting on Golf and so long as you place a valid qualifying bet you are almost certain to receive some free bets whether you win or lose the qualifying bet itself.
Greyhound Racing 🐕
Most betting sites with live streaming also often stream greyhound racing, if that's your thing. Much like horse racing, the stream will usually be available after you have placed a bet (usually of around £1) but some bookmakers will provide live streamed events without needing this qualifying bet. Free bet stakes can be available specifically for Greyhound racing if you look around and if those bookmakers have a live stream too, this is the place most suitable for you.
Rugby 🏉
If you like your action to be more hands on, most of the main online bookmakers with live streaming offer Rugby as one of the markets. There is a decent selection of leagues and markets available, while some bookies with live streaming offer an animation alternative for events that can't be streamed, meaning you don't miss out on your live action wager. Rugby Internationals such as the 6 Nations have been available from at least one live streaming betting site before, Free bets are also available providing you have placed a qualifying bet whilst in play betting on the matches.
Basketball 🏀
American, European and World Leagues are all represented on betting sites that have live streaming with , so whatever your time, you take take a punt while following the action, as it happens. Live streaming basketball is not available everywhere but it should not be hard to find from the best in play betting sites. It is less common to get Free bets credited for betting in play on basketball for some reason, but occasionally some live streaming sites will offer them.
Boxing, UFC and MMA 🥊
Most fights make their money through pay-per-view TV revenue, so you might find it tricky to find your fight available at betting sites who have live streaming. The best betting sites will though, but be prepared for having to wager on the event in order to earn the right to stream the action live. Free bet stakes specifically for these type of sports are available after you have placed a bet, and the free bets valid for in play betting only more often than not. Payment method restrictions will apply to this and the vast majority of offers that involve Free bets so make sure you meet this and all other min bet, min odds, time restrictions and every other T&C's. Take good care of your bet credits, stake them only when you are certain that you will qualify for each offer.
Esports 🎮
Esports are rapidly growing in popularity and we all know that you can't enjoy a punt on eSports without seeing the action unfold with your own eyes. As a consequence, many betting sites with live streaming a starting to offer Esports as part of their live streaming offering. Because of its novelty and the desire to get hold of the new, younger, generation of gamblers you will find Free bets available for your in play betting whilst watching the live stream quite common.
Tips for live sports streaming
Okay, so now you know what's available to punt on and where provides the best experiences when it comes to betting sites with a streaming service. Now it's time to think about how to make the most bang for your buck when it comes to laying down your hard-earned cash. So let's get to it!
Firstly, you'll need to make sure that you have a super reliable internet connection, and decent broadband speeds, or the live stream is bound to struggle. You'll also need to make sure you've got the latest version of Flash Player installed because most live streams will need that. There's not a lot in life that's more annoying than a juddery video when you're trying to take a punt on live action, or the spinning wheel of doom when you're at a crucial point in your in-match wager. So make sure your device setup is primed and ready to go!
Now you've eliminated the potential for a lagging stream, you need to keep in mind that a 'live streaming service' does NOT mean live to the actual second. Live-streamed events usually have a delay of around 5 to 10 seconds. You must keep this in mind, especially when wagering on face markets, because you don't know exactly what's happening at that exact moment. That throw-in or corner has probably already happened, so be careful!
With the above in mind, it's time to think about where you're going to place your bet. There are plenty of betting sites with live streaming, so make sure you find the one that's right for your particular bet. Don't limit yourself to just one; it's generally free to sign up to betting sites, so get yourself a few accounts and shop around and compare odds to make sure you're getting the best potential outcome for your chosen punt.
In addition to this, keep in mind that for most events, live streaming is free, and for sports like horse racing or greyhound racing, you only need to wager as little as £1 in order to watch the live stream. So don't waste your time with any online bookmakers with live streaming who are asking for any more than that. Take your business elsewhere!
Bear in mind that the betting sites want you money and therefore offer a number of Promotions and Free bets for your custom. Sometimes in play betting can lead to a Casino bonus but it is more common to get Free bets which either must be placed on a specific sport such as Horse racing, or Football but sometimes can be used on anything the live streaming services cover. Free bets nearly always have a max qualifying bet stake and the minimum bet will be at least £1 but may be more. It is likely that your Free bet will be credited after you have had your first qualifying bet settle. Sometimes Free bets are for not so much money and are hardly worth it but sometimes upon qualifying bet settlement you can be looking at 30 in free bets to use on any sporting events that you want.
The last point might seem like common sense, but stick to your favourite sport and then watch as much of it as you can! You may like to watch Horse racing on a streaming service, or it may be that you like to watch live streaming basketball, it is up to you but finding a betting site with a live streaming service of the sports that you enjoy is what matters to you. It would be great if there was a betting account which could stream sports including the football games we all want to watch, the English Premier League, but unfortunately for UK customers those games are not one of the live streamed events available. When you are gambling, always do your own research and 'know the players, know the game', and make sure that you are sports betting that you gamble responsibly.
The top betting sites are…
Here at Legalbet we have also categorised the top betting sites and their features to make them easier for you to find. They are:
By Sport: Football | Tennis | Boxing | Cricket | F1 | Snooker | Golf | UFC | Darts | Greyhound | Rugby | Boxing
By Payment Systems: PayPal | Skrill | Klarna | Boku | Debit Cards | Apple Pay | Paysafecard
By Features: Cash Out | £5 Minimum Deposit | Minimum Bet Sizing | Live Streaming | Betting Exchanges | Safest | Fast Withdrawal
By Events: Politics
By Esports: CS:GO | Dota 2 | League of Legends | PUBG
Frequently Asked Qusetions
What is the best bookie for live streaming?
With the rise in popularity of live streaming in the online gambling world, there is now a huge range of bookmakers who offer live streaming. Amongst the best are the William Hill streaming service and the Paddy Power live streaming service but there are so many to choose from it is a matter of personal preference really.
What is the quality of the live stream?
The quality of the live streamed events will depend on a few different things. First of all you need to make sure that your internet connection and device are up to scratch. Once you've got all of your connection requirements sorted at your end, it really then just depends on which live stream you choose.
Can I stream for free at bookmakers?
You absolutely can stream for free on the betting sites that offer live streaming. Most betting sites with live streaming will require you to have an account with them, and a positive balance before you can start streaming though and some may even insist on a qualifying bet. The minimum bet size is unlikely to be much though.
I can't find the match I am looking for. What do I do?
If you can't find the match you're looking for, it might be that the online bookmaker you're using doesn't offer those live streamed events as part of their live streaming service. There are plenty of sports betting sites with live streaming to choose from now, as the genre is increasing in popularity, so you can always try a different bookmaker.
Is there a time delay on streams?
Yes, there is a time delay on live streams on betting sites. The delay is usually between 5 and 10 seconds, but can be up to 30 seconds. The time can vary from bookmaker to bookmaker and is also dependent on your Broadband provider and how quickly your internet speed can download the live stream.
Ιs live streaming safe and legal?
Live streaming is absolutely safe and legal. Online bookmakers with live streaming have absolutely nothing to gain and everything to lose by not being above board. Betting sites with live streaming protect punters from illegal shenanigans by providing advanced security on their apps and websites. All decent bookies with live streaming ensure that they can secure all the broadcasting rights by following the letter of the law. It's simply not worth their time not to. So fear not, you'll be in safe hands!