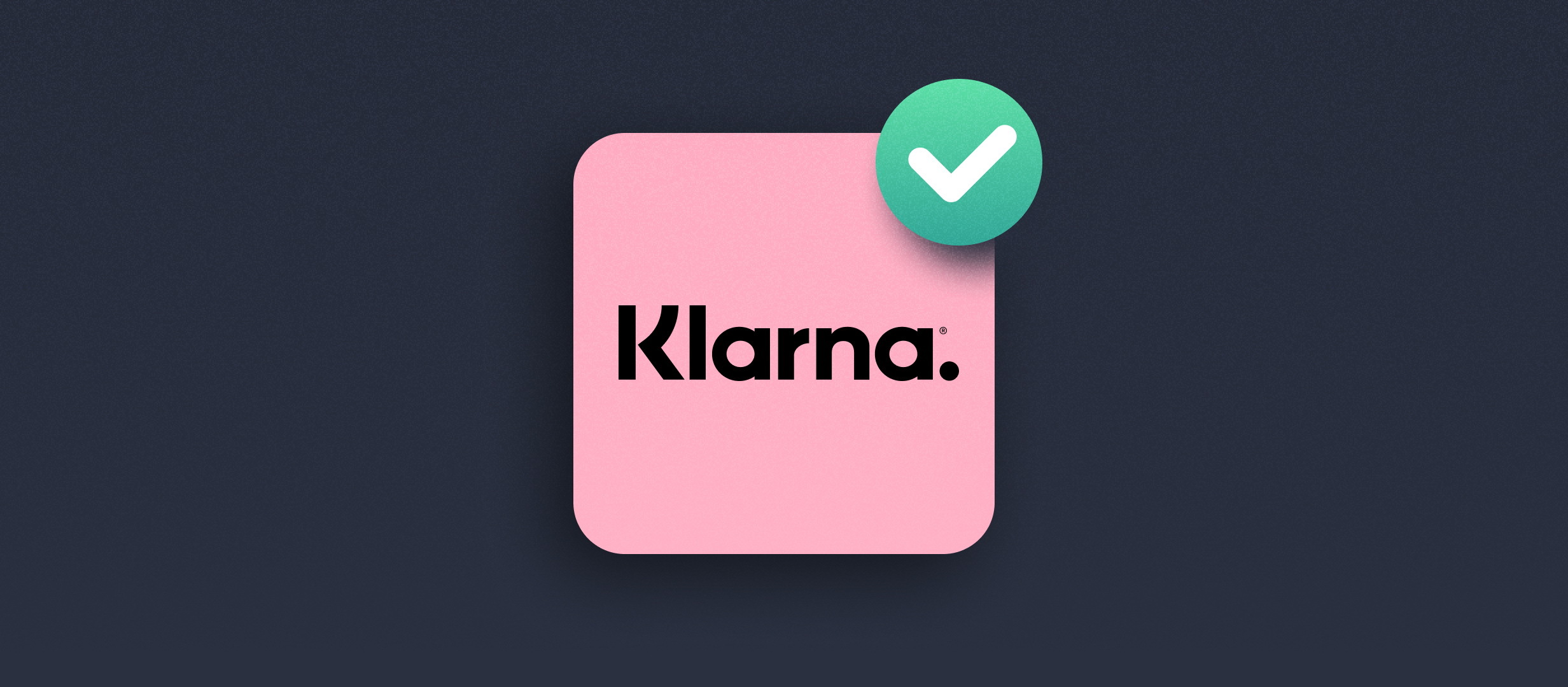 What is Klarna?
Experienced Esports punters within European countries such as Switzerland, Germany or Austria, will have probably already have heard of Klarna, perhaps by its former name; Sofort. Sofort is a very popular online payment method in Germany. For most bettors in Germany and many other German-speaking countries in Europe, Sofort is one of the most popular online payment services for Esports betting sites for making deposits and withdrawals.
However, if you're in a non-German speaking country in Europe, or indeed the USA, Klarna may not be a familiar payment method to you. While its popularity is increasing throughout Europe, it's still new for many punters, but fear not! We are here to help you out and tell you all about the payment method that is Klarna.
Klarna Pay Later
Klarna Pay Later is Klarna's flagship service. Its main purpose is to help users make online transactions, even when they don't have enough money in their bank account to cover the required amount to be paid. Customers can make payment with a bookmaker using Klarna, then pay the balance back to Klarna at a later date. This is certainly unique and sets them apart from other payment methods.
As a user, you must use Klarna responsibly and ensure that you have enough money in your account to repay Klarna before the end of your payment timeframe. This timeframe can be as short as 14 days, but usually up to 30 days. It is your responsibility to make this payment in time. Failing to pay in time could result in your being unable to use some of Klarna's features in future, and if you fail to pay altogether, you could find yourself receiving a visit from a debt collection company.
Klarna Split It
Klarna Split It is also known as Pay in 3. With Pay in 3, you can split your payment into three chunks, to be paid back over 60 days. The first payment is taken immediately, the second will be taken 30 days after the first payment, and the third payment is taken 30 days after that. Simply choose 'Pay Later in 3 Interest Free installments' and enter your card details.
While this is a credit agreement, no interest is charged and you can choose to repay earlier through the Klarna app, at which point any remaining payments due will be cancelled. If you are unable to make the second payment, Klarna will advise you and make two further attempts to take payment. If they are unable to do so, they'll add your second payment to the third one, so you can pay the rest at the end.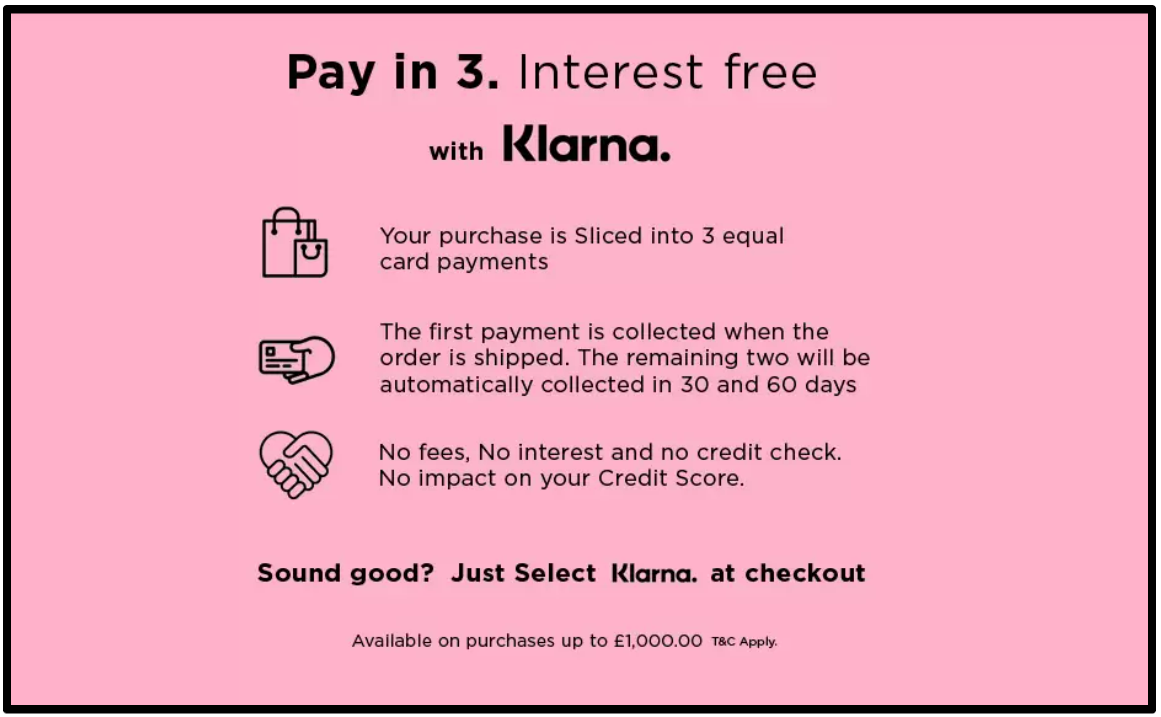 Instant Banking
Instant Banking is the most recent of Klarna's payment services. Klarna Instant Banking allows customers to make instant bank transfers, via their Klarna account. Using a Klarna account allows you to make payments on websites to betting sites without your bank details being provided to that website. It also means that the website details won't appear on your statements like they do with other payment meth ods. You must, however, have enough funds in your bank account in that moment, to cover the transaction, as the funds will leave your account instantly.
Instant Banking is the Klarna service that betting websites have started to accept. It's understandable that sometimes Klarna's deferred payment services aren't accepted since it is not allowed to use a credit card at UK betting sites, and in reality both payment methods involve borrowing money in order to gamble.
How to use Klarna: deposits & withdrawals
To use Klarna as a payment method at betting sites you must first have a Klarna account. Once you have this, you will then need to find one of the betting sites that accept Klarna as one of their payment methods. Check out our list of the best betting sites to accept Klarna above. 
How to deposit with Klarna
If you're unsure of how to make a deposit at Klarna betting sites, then simply follow this step by step guide.
Go to the Klarna website and set up a Klarna account for yourself. 

Link your chosen bank account (the one you'd like to use for gambling deposits) to your Klarna account. Once complete, you can use the Klarna Instant Banking option at any online betting site that offers Klarna as a payment method. 

Now go to the Klarna betting site of your choice and log into your betting account. Go to the section of your account profile where online payments are made.

Choose Klarna from the available payment methods. This is usually listed as 'Pay Now by Klarna' or 'SOFORT by Klarna'.

Enter the information required by the bookmaker website. This will include the deposit amount, your bank or card provider, and your unique Klarna PIN and TAN numbers. 

Confirm the deposit on the bookmaker website and because this is an instant banking service the funds appear straight away in your online bookmaker account. Your bank statement will simply show a payment to Klarna, rather than any betting sites details. 
How to withdraw with Klarna
When signing up to a Klarna betting site, it's worth checking that Klarna is one of the payment methods which funds can be withdrawn to. Some Klarna betting sites will only allow withdraws via an alternative method, so this is worth bearing in mind if you wish to exclusively use Klarna for betting transactions. If you're happy to use an alternative withdrawal method, then bank transfer is usually the quickest and most straightforward.
Fortunately, withdrawing funds from online betting sites using Klarna is as simple as using any other payment methods like, bank transfers or E-Wallet service such as PayPal, Neteller, and Skrill.
Here's how to do it:
Locate the withdrawals page of your online betting site. 

Enter the amount of the available balance you wish to withdraw.

Select Klarna as your desired withdrawal method. 

Once confirmed, the withdrawal process will start. Expect it to take anywhere between 24 hours and five days to reach your bank account. 
Make sure to check the bookmaker website and Klarna terms and conditions as while it's unlikely that the bookmaker will charge a fee for withdrawals via Klarna, it is possible that Klarna may impose charges. It's always best to check so you don't get any surprises when the money reaches your account. Klarna charges can vary based on the type of transaction, the service used and your geographical location.
Countries where you can use Klarna for betting
Klarna is now available to use at betting sites in the following countries:
Belgium 

Denmark 

Finland 

Germany

Great Britain

Netherlands

Norway

Sweden

Switzerland

USA
It is possible to use some Klarna features in a range of currencies in 45 additional countries, too.
Pros & Cons of Klarna betting sites
PROS ✅
Instant Deposits - When making a deposit with a betting site using Klarna, the money will appear instantly in your betting account. 

No Bank Details - When using Klarna to make deposits or withdrawals with Klarna betting sites, none of your bank details will be provided to the bookmaker. This payment service will keep your details all fully confidential. 

Security - The fact that your banking details are kept confidentially by Klarna means that using Klarna is one of the most secure ways of funding your betting account. 

Bookmaker Details Won't Appear On Your Bank Statement - When using Klarna as a deposit method at an online bookmaker, the bookmaker name will not show on your bank statement; it will just be listed as a Klarna transaction. This is useful if you do not want everyone to know that you are online betting.

The breadth of use - Online bookmakers aren't the only place that accept Klarna. It's also an online payment service that is accepted at many other popular online retailers, meaning you can enjoy the benefits of using Klarna widely.
CONS ❌
Availability - Unfortunately, there are no bookmakers who offer Klarna as a payment method and could be defined as Klarna sportsbooks. Although the number is increasing every day around the World and could apply to the UK soon. At present other payment methods are still far more common.

Fees - This is probably the biggest negative of using Klarna vs a traditional bank transfer. Klarna's fees aren't particularly straightforward to understand and vary from country to country and between the various services that Klarna offers. This is definitely something to keep in mind as you don't want any nasty surprises when transferring money. 

Withdrawals - As mentioned earlier, not all betting sites offer Klarna as a withdrawal method. This can mean that you'll need to spend time setting up an alternative withdrawal method in order to bank your winnings.

Promotional bonuses - Free bets may not be credited if you deposit with Klarna as it is possible payment method exclusions apply. Betting sites all set their own T&Cs and certain payment options can be excluded from getting a Free bet welcome bonus.
Klarna Fees
Klarna doesn't charge any fees for using its Pay Now direct banking feature. However, you may incur some transaction fees, depending on your country of residence and the bank linked to your accounts. Some Klarna betting sites may also have deposit and withdrawal fees added their end. Whilst most UK betting sites don't charge fees, it's worth checking the terms and conditions so that you know where you stand.
Klarna App
Klarna has a great mobile app, but it is aimed more at retail shoppers than the gambling industry or sports betting. However, the UK version of the app does provide a list of websites where Klarna is available, so you can easily find websites that use Klarna for gambling as well as shopping, saving you time. You can use the shop now, pay later service using the app. Most importantly, we all need help sometimes, and you can access customer support via the app or the Klarna UK contact number, also provided in the app.
It is available to download for free from the Apple App Store or Google Play.
History of Klarna
Klarna was originally just a Swedish bank & payment service. It was founded by three young Swedish entrepreneurs named Sebastian Siemiatkowski, Niklas Adalberth, and Victor Jacobsson, with its first ever transaction taking place at a Swedish bookshop called Pocketlubben, one Sunday in April 2005. Their mission was to improve online payment services making transactions as easy and seamless as possible, and the company was originally called Kreditor.  
Over the next few years, Kreditor expanded from Sweden and launched in Norway, Finland and Denmark, before rebranding as Klarna in 2009. By 2013 Klarna had ten million users and was valued at around $1 billion. In 2014, Klarna Group acquired German payment company Sofort and launched in the United Kingdom. Just three years later, Klarna gained its banking license and launched the app, making it even easier for customers to shop using Klarna.
By 2021, Klarna had 20 million users in the United States of America alone, and saw the number of retail partners grow rapidly. Klarna also launched its retail app, allowing customers to shop at a range of retailers as well as betting sites. Now, in 2023, Klarna has more than 150 million active users worldwide, and over 400 retail partners. The company is one of the most highly valued private fintechs in the world, with a valuation of $45.6 billion. You can't help but be impressed by those figures! But most importantly, Klarna continues to work to innovate and find the best ways to help its customers shop online with ease.
Conclusion
In conclusion, Klarna, also known as Sofort, is a secure and reliable payment service that in theory allows you to make deposits and withdrawals from online gambling websites, without having to divulge your personal banking information. In most cases, in the countries that bookmakers do accept Klarna then there are zero fees. The main advantage of this is that funding your betting account will not appear on your bank statement, offering your gambling transactions an added layer of anonymity.
We've compiled a huge list of positives about Klarna in this article, including (but not limited to) the ability to make instant deposits and the breadth of services available.  Remember though that online bookies in the UK won't actually allow you to withdraw using Klarna, so you will need to use an alternative payment method for now.
We've also provided you with step by step instructions on how to use Klarna to make deposits and withdraw funds at bookmaker websites that offer it as a payment service.
All that remains is to answer some of the most frequently asked questions about Klarna, and you'll be good to go!
The top betting sites are…
Here at Legalbet we have also categorised the top betting sites and their features to make them easier for you to find. They are:
By Sport: Football | Tennis | Boxing | Cricket | Snooker | Golf | UFC | Darts | Greyhound | Rugby | Horse Racing | Basketball | Baseball | Formula 1 | Ice Hockey (NHL) | Volleyball | Cycling | Netball | AFL
By Payment Systems: PayPal | Skrill | Klarna | Boku | Debit Cards | Apple Pay | Paysafecard | Neteller | Google Pay | Prepaid Cards | Revolut
By Features: Cash Out | £5 Minimum Deposit | Minimum Bet Sizing | Live Streaming | Betting Exchanges | Safest | Fast Withdrawal | Daily Free Games | New Betting Sites
By Esports: CS:GO | Dota 2 | League of Legends | PUBG | Valorant | FIFA | CS:GO Betting Sites with Paypal
Klarna betting: Frequently Asked Questions
What is the difference between Sofort and Klarna?
Sofort Gmbh is a German payment company, established in 2005. Klarna acquired Sofort in 2014. In 2017, Klarna Group went through a significant rebranding and the Sofort payment method became fully integrated into the Klarna product range. In short, they are both online payment methods, owned by the same company: Klarna.
Which currencies are supported by Klarna?
At the current time of writing, Klarna payments can be made in the following currencies:
AUD

CAD

CHF

DKK

EUR

GBP

NOK

SEK

USD
It's worth keeping in mind that as a company, Klarna is expanding rapidly and no doubt will offer the ability to complete payments in an even wider range of currencies, given time. 
Are Klarna deposits instant?
In a word, yes. When using Klarna to make a deposit at an online betting site, via their Instant Banking feature, funds will appear in your bookmaker account as soon as you confirm the deposit.
Can you use Klarna for withdrawals from a betting site?
This answer is slightly less straightforward than deposits. Generally, yes you can. However, not all bookmakers that offer Klarna as a payment option for deposits, allow you to withdraw funds using the service. In this instance, you will need to set up an additional payment method in order to withdraw your winnings, such as E-Wallet or bank transfer.
Are Klarna betting sites safe?
Yes. One of the biggest positives of Klarna as a payment method is that it doesn't share your personal banking details with the sports betting websites, which reduces the risk of crimes such as phishing scams or identity thefts. So, you can place your bet safe in the knowledge that your sports betting activities are secure.
Which banks can I use with Klarna?
With Klarna, as long as you reside in one of the countries in which they operate, you can connect your Klarna account to any bank account with any bank in those countries. As a result, it might even be possible to connect it to Esports betting sites with American Express. Exciting times!
Can I use Klarna with other online payment methods?
Klarna allows you to make online payments with both E-Wallets and online banking services. As a result, instead of providing details of your bank, you can instead provide your E-Wallet or other online payment details to Klarna and they'll sort the rest for you.
How can I contact Klarna customer support?
There are many ways to contact Klarna customer support. Simply drop an email to [email protected], fill in the contact form on their website or give them a call on the telephone; lines are open 9am to 6pm Monday to Friday, and 10am to 5pm on Saturday and Sunday.
Can I fund my Klarna account through PayPal?
Unfortunately no, at this moment in time you cannot fund your Klarna account through PayPal. Currently, you can only fund your Klarna account with your credit or debit card, or via bank transfer.