Virginbet Mobile App – review of betting app for iOS & Android (2023)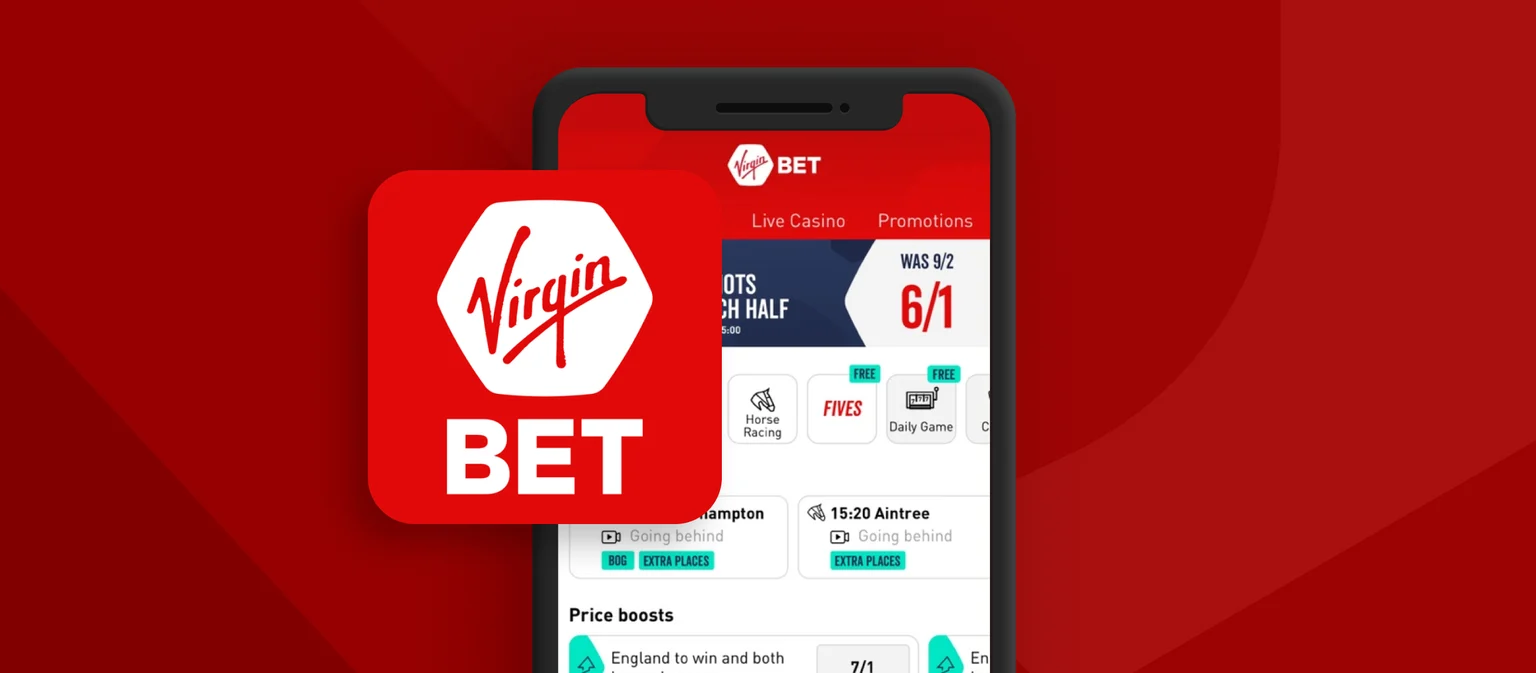 Mobile Betting
The Virgin Bet mobile app is a very popular and critically acclaimed in almost every review. With a 4.8 star rating the elegantly designed app is jam packed full of features designed to improve your gambling experience. This is combined with a delightful red colour scheme to match the well known Virgin logo really completes the app. The Virgin Bet mobile site is identical to the mobile app in every way and uses the same template for the home page, advertisements, promotions page and internal links.
Mobile app overview
The Virgin Bet mobile app opens up to a feature filled home page providing you with quick links all around the app. From the 4 main links at the top of the page allowing you to quickly switch between the Sports, Casino, Live casino and Promotions sections of the app to the bottom bar allowing you to move between the Home page, an A-Z list of Sports on offer to you, your bet slip as well as your current bets. There is also the "more" section which gives you access to your account as well as other quick links and the all important deposit page.
On the home page you will find a slideshow of offers, increased odds bets, upcoming tournaments alongside responsible betting messages. Following the page down you come to a swipeable list of exciting events and opportunities for you to look at! In play betting, a link to the free daily game as well as information on the "fives" promotion, a link to the Casino and a huge list of Sports are there for you to quickly place a wager on should you wish.
Moving down the page you get to the Sportsbook proper. This section shows you all of the sports there are for you to bet on currently priced up by Virgin Bet. This section includes "In-play" events as well as all the favourites, football, tennis, snooker, boxing, you name it.
The final section of the homepage has a list of companies and organisations which Virgin Bet partner with as well as Terms and conditions and various other policies
Mobile bonus offers:
1) Welcome bonus:
As a welcome bonus Virgin Bet are currently offering £20 in free bonus bets if you wager a £10 bet on anything with odds with ½ (1.5) or greater within 14 days of signing up. To be eligible for this sign up to Virgin Bet by using the link advertising this on the app (which is shown on the rotating slideshow).
How to download mobile app?
Instructions for android users
Search for virginbet on the Google play store using the search function.

Simply Press install and allow a few moments for your app to install.

Instructions for iOS users
After opening the app store use the search feature to search for "virginbet"

Simply press get and wait a short moment for the app to download to your device.

App Key features:
Cash-Out
"Cash out" betting allows you to close a bet before the event has come to its regular close. This allows you to secure a profit if your bet looks like it is going to win before the event has naturally finished and means that you can eliminate the risk of a bet losing unexpectedly or towards the end of the event. However because of this the lower risk it also means a lower reward and only a smaller portion of your winnings is paid out to you. As well as this cashing out also allows you to minimise your losses by taking a smaller loss early if you think the final result of the event will be a loss for you.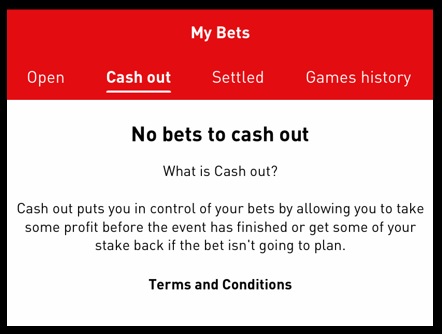 Live betting in-play
Live betting or as it is commonly referred to, "in-play" betting is a very common and pretty popular feature which all of the big online bookmakers offer. In-play betting allows you to bet on an event while it takes place. This allows you to make educated bets based on what is happening in front of you and allows you to choose how you would like to bet. In play betting is commonly seen as a more exciting gambling experience due to its fast based and quickly changing nature. Along with the ability to bet on events live the feature comes with odds that update in real time. This allows you to place bets that at one point may have been unfavourable but have changed to be something you definitely want to give a crack! To tell how these odds changed you can simply look at the green or red arrows to tell if an odd has improved or decreased (as shown in the red highlighted box)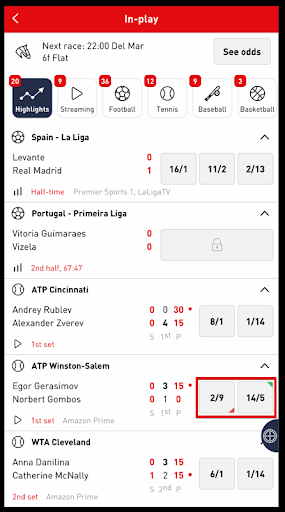 Live streaming
Live streaming with Virgin Bet works in a few different ways. If you have not deposited yet then you will only have access to an animation which depicts key events of the event taking place. However if you have deposited funds into Virgin Bet then you will have access to live broadcasts of the events you would like to bet on. Using this feature along with Live betting and the cash out feature can provide a fun and exciting gambling experience!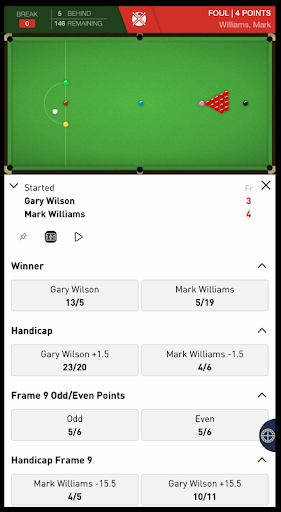 Acca betting
Accumulator or Accas betting is one bet made of multiple different bets all combined into one. For an accumulator to payout all of the selections need to win for the overall bet to win. Accumulators pay significantly higher odds than if you were to bet on your selections separately. This allows there to be an increased risk as well as an increased reward.
Next goal wins
Next goal wins is a type of In-Play bet designed to make games more exciting, even when they would otherwise be dull. For example a team may be 4-1 ahead and there is ten minutes left to play. Under normal circumstances there is very little left to bet on, nobody will be on the losing team to win, because they wont win, and the bookmaker is unlikely to accept bets on the winning team, because they will win. Betting on "Next goal win" means that you can bet on either team to score next, which is definitely possible with ten minutes left, and if they do, the bet is settled the same as if they won the match.
Frequently Asked Questions
On which devices are the app available?
The Virgin Bet app is available for both Apple and android devices as a free download on the relevant store.
What are the banking options and deposit methods?
Depositing into Virgin Bet is available only with Visa and Mastercard debit cards or by using a PayPal account. No other E-wallets or card options are available.
How can I contact customer support?
To contact customer support on the Virgin Bet app simply go to "more" in the bottom right corner. Then select help and information and then Contact us. From this you will be given a phone number as well as a live chat option which are both direct links to the Virgin Bet customer support team.
How do you withdraw money from the app?
To withdraw from your Virgin Bet account using the app simply go to "more" in the bottom right corner of the screen. Then select my account followed by withdrawal. Here you will be greeted by a list of withdrawal methods where you must choose one and then enter any required information as well as your withdrawal amount before finalising your withdrawal. Please note that to withdraw with a select method you must have first placed a deposit using that method.
Are there specials in the betting market such as political bets, tv shows, etc?
There are a small selection of specials available for you to bet on using Virginbet including Politics and TV shows. They also have fairly niche sports such as chess and and gaelic hurling.