Our Top 3 Fantasy Football Betting Sites
Fantasy Football betting has proven incredibly popular. There are, however, only a handful of bookmakers who offer this facility with real money. Below, we've analyzed your best choices for fantasy betting and which offer you the chance to win real money.
Paddy Power
UK players only - 18+ - BeGambleAware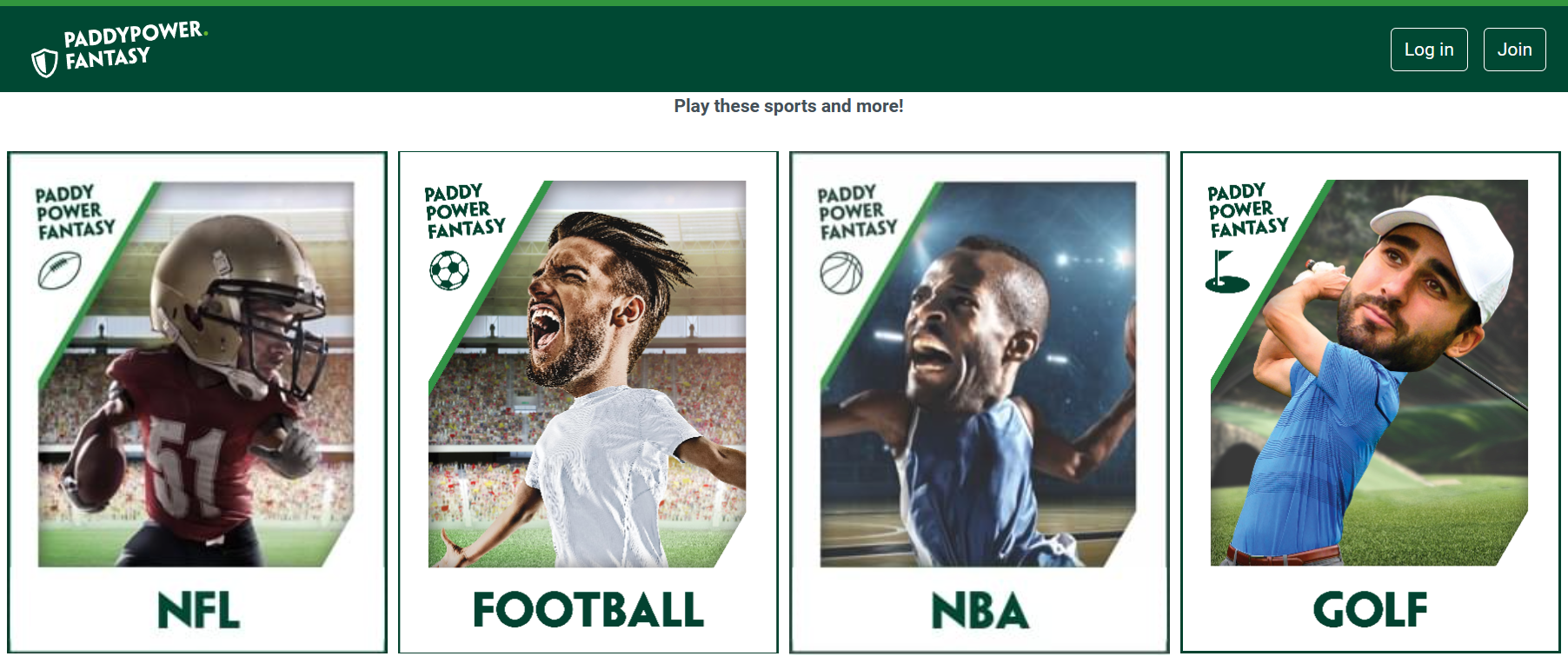 Paddy Power is one of the most popular Fantasy Football betting sites in the UK right now. They've gained their reputation thanks to the huge number of sports, events and markets they offer odds on, as well as their irreverent humour.
There are a range of Fantasy leagues you can bet on. Currently, you can play Premier League, NFL, NBA, Golf and other fantasy games. You don't have to commit to the entire season, either. Instead, you can take part week by week or by Contest.
How do you get started? Firstly, you will need to create a Paddy Power account. Once you've done so, head to the Fantasy section of the site. Create your team and enter it into whichever contest you desire. Note, there may be an entry fee for some fantasy leagues. Your team goes up against the teams of other players in your league, and you could win cash prizes!
Pros:
Wide range of player tournaments

Cash prizes

Based on real life matches
Cons:
Need to fund your account for some contests
Betway
New UK customers only. Min Deposit: £5. Maximum Free Bet: £30. First bet on a Football or Horse Racing multiple with 3+ selections. Odds 3.00 (2/1) or higher. Free Bets awarded on settlement of qualifying bet. Offer valid for 7 days. 50 Bonus Spins credited on placement of qualifying Acca..50x bonus wagering, bonus Spins expire after 7 days. Debit card deposits only. 18+. BeGambleAware.org.
Full terms apply.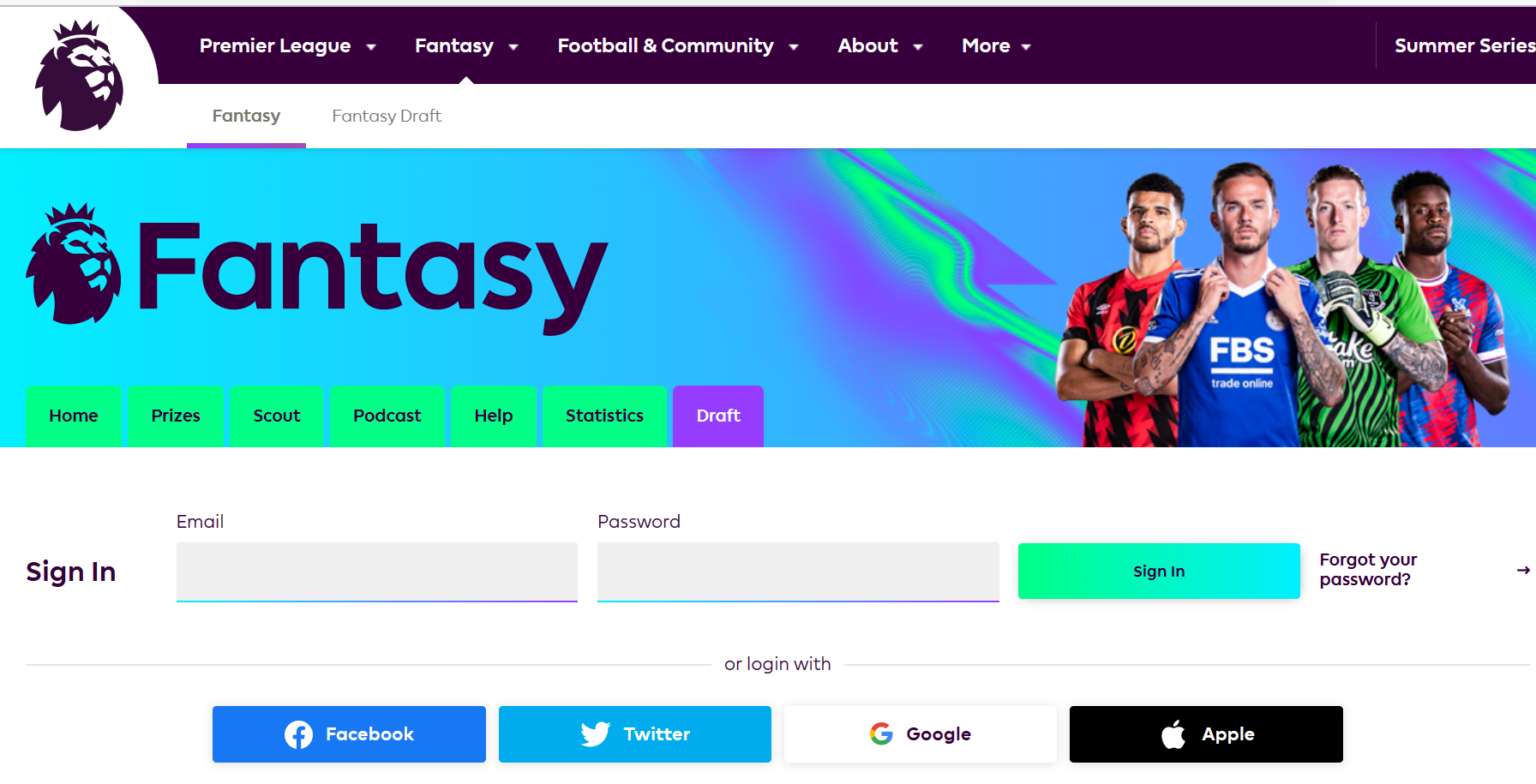 Betway are another betting site with a great reputation. They offer odds on hundreds of markets based across a good range of sports and events. They particularly excel in football, with some attractive promotions and offer throughout the football season.
They also offer their version of Fantasy football betting. They've joined forces with the Premier League itself to create the Betway Insider Fantasy League for their customers to compete in.
There are a number of free bets and bet credits to win each Gameweek, with an overall cash prize at the end of the season for the best performer.
To get started, create a Betway account. Once you've done this, you can join the league and create your own fantasy team. Use the PIN given to enter their Fantasy Football league and challenge other Betway customers!
Pros:
No fee to join the league

Free bets and bet credits available to win each week
Cons:
Time limit on bet credits stake

Not hosted by the bookmaker
DraftKings
UK players only - 18+ - BeGambleAware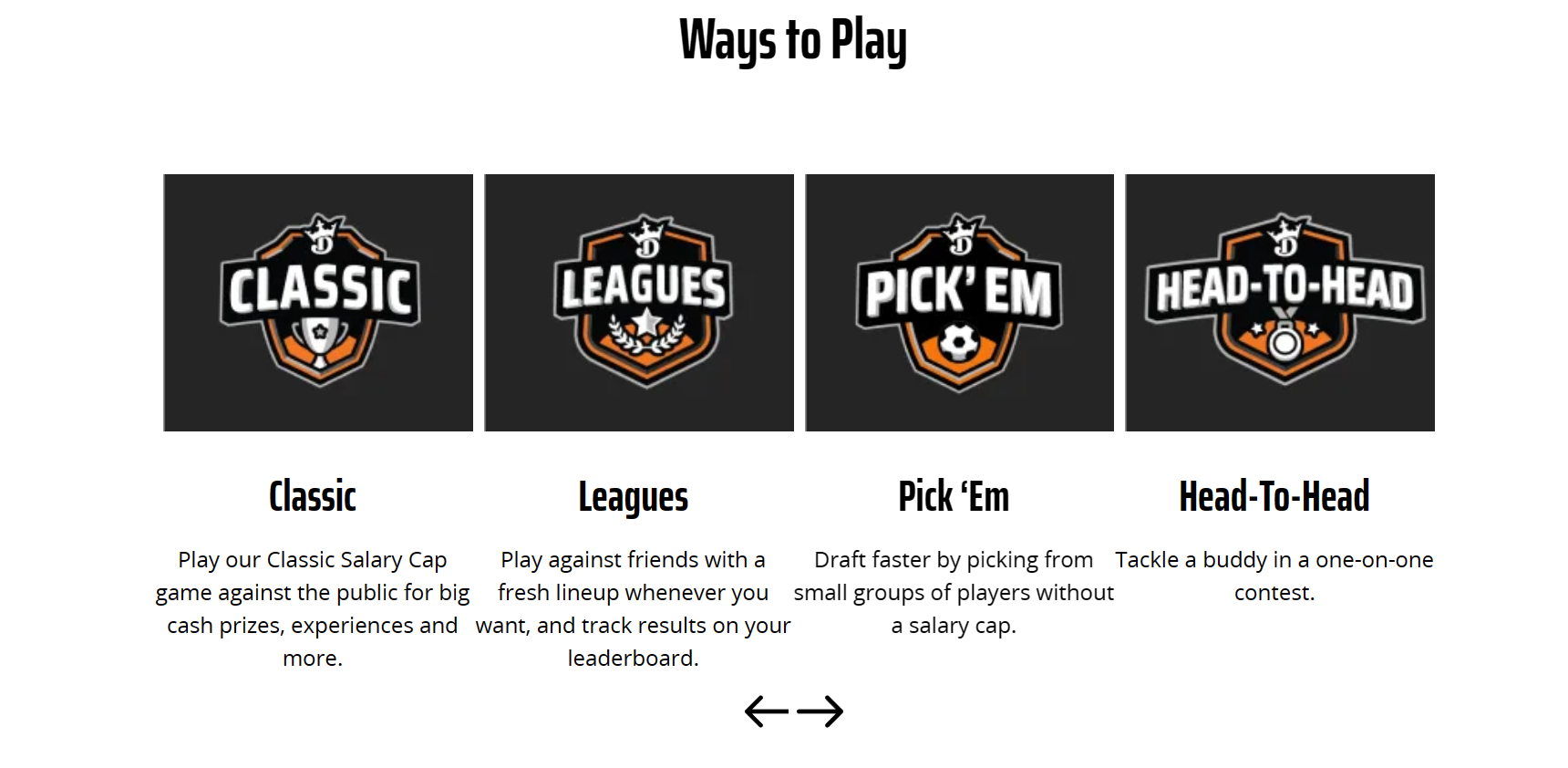 DraftKings now offer a great Fantasy Football betting experience for UK customers. One of the more popular betting sites in the USA, Draftkings now bring their Sportsbook to British shores.
The DraftKings Fantasy Football facility is based on the English Premier League. There are a range of Fantasy contests you can take part in. There are daily and weekly tournaments you can join. You can also create a league for you and your friends to compete in.
Create your Fantasy Football team and enter it into any contest you like. Contests include Classic, where you can win cash prizes and free bets; Leagues, where you can change your Fantasy Football team whenever you like; Pick 'Em, in which there is no maximum amount you can spend on players (although the player pool to choose from is smaller); and Head to Head, where you can go up against a friend of your choice. Free bets are commonly awarded for the best player or team.
As well as Fantasy Football, there is a wide range of Fantasy sports betting you can take part in. Currently, there are 17 Fantasy contests you can take part in, including NFL, NBA and MLB weekly tournaments and daily contests.
You do need to fund your betting account to take part in any Fantasy contest, though you do get free entry fees when you make your first deposit.
Pros:
Daily and weekly tournaments

One of the best Fantasy football sites

Great range of sports to choose from
Cons:
Have to fund your account to start playing fantasy football
What is Fantasy Football?
Fantasy Football betting has been an incredibly popular pastime for many years. Now, there are a number of bookmakers who offer you the opportunity to take part in contests. While there are dedicated Fantasy sites you can join, traditional online betting sites also now offer this facility. In the UK, only a handful currently offer this service, though we do expect the best online bookmakers to follow suit.
So, what exactly is Fantasy Football? Players can choose their Fantasy Football team by selecting players from a given pool. Once you've created your team, you can then enter this into a contest of your choosing. You can earn points and, depending on how well your Fantasy Football team performs, top leaderboards to win money prizes and free bets.
Most Fantasy football betting in the UK is based on the Premier League. Select your Fantasy Premier League team from the pool of players available. There is generally a cap of how much you can 'spend' on players. Many Fantasy Football tournaments allow you to have substitutes that you can sub in from week to week. There can also be opportunities to change your squad completely throughout the season. This depends on which Fantasy Football league you've joined.
There are a range of contests you can enter, depending on which Fantasy Football betting site you've signed up with. Generally, there are daily and weekly contests you can take part in. There are also season tournaments you can enter. Many contests also allow you to change your team after each Game week.
There are a number of rules you have to follow to have your team accepted, though these differ, depending on which contest you're taking part in. For example, with Fantasy Football betting, you can't make your selections up from players of your favourite team. Instead, most Fantasy Football sites only allow you to choose a set number of players from each team to make up your squad for your Fantasy league.
For instance, you wouldn't be allowed to select the entire Manchester City starting 11 in your Fantasy Football league. You could, however, select Erling Haaland and Kevin De Bruyne, as an example, should your hypothetical funds allow it.
Fantasy football betting differs from traditional betting. We'll look at this in more detail shortly, but in essence, Fantasy betting is based on different types of bets than traditional betting, such as placing system bets.
When you create your Fantasy Football account, there are different ways to enter contests. For some, you need to make a qualifying bet or deposit to join in or place a bet at min odds. The terms and conditions of your qualifying bets depends on which Fantasy betting site you've joined. Make sure to read all t's and c's before you place any Fantasy Football bets.
Many Fantasy football sites offer new customers a welcome bonus. Be sure to be on the lookout for these before you sign up. When betting on Fantasy Football, note that payment method exclusions apply for any or all offers.
In general, you will have to make a real money qualifying bet to enter your Fantasy team in a tournament. This is particularly true of those contests that offer a cash prize, though usually only small stakes are required. Double check any entry fees before you complete your sign up.
Your potential winnings depend on the terms of the contest. With most contests, the best team, or that which has accumulated the most points in a Gameweek, will win the available cash prize or free bets.
How Does Fantasy Football Work
Let's take a closer look at how Fantasy Football works.
There are a variety of player tournaments you can take part in. For this section, we'll look at the most common way of playing at Fantasy Football betting sites.
A typical Fantasy league will last a whole season, though there are daily and weekly contests throughout the campaign.
To start, you get given a set amount of 'funds' with which to build your new team. For this example, let's say it's £100 million. You then pick a squad of players, usually 15, that you can choose from the entire league. From your squad, you pick 11 players to start. The other four choices can be used when you need to substitute suspended or injured players each match week.
Once you've picked your squad, this is what you go with for the season tournaments. Some Fantasy football betting sites allow you to have a few transfers during the season. This is so you can swap out any long term injured players or those who aren't performing as well as you'd imagined. You don't have to choose a replacement player of the same value, so long as they fit in with your remaining budget.
Fantasy football is based on real life matches. Whatever happens in real life affects how many points your Fantasy team makes. For example, if you've selected Erling Haaland as one of your strikers and he scores in real life, you get points. You can also lose points too, depending on what happens in a real life game. If you've chosen a player and they get sent off, concede a penalty or score an own goal, you can have points deducted from your total.
How do you win points? When you're betting on Fantasy Football, this depends on which contest you've entered but generally you get points if your selection scores a goal, keeps a clean sheet, makes an assist or wins a penalty. Many contests award you points if your selection simply makes an appearance. Remember, though, that you can lose points for a variety of reasons as we've touched on above, so choose your team wisely!
The team with the most points each Gameweek will top the leaderboard. With this number one spot comes prizes, either in the form of cash or free bets.
New customers can join contests throughout the season - you don't have to create your team before the season begins although for obvious reasons you could be more successful if you did! Minimum deposit or bets at minimum odds rules could apply, so make sure you read and understand the terms and conditions of all Fantasy Football tournaments you enter. You may need to place qualifying bets to enter specific contests.
So, any Fantasy Football tips? While you do get given a reasonably large budget, it can be very difficult to select a squad of 15 players with the amount you have to play with. The most knowledgeable football fans don't just look at the best players in the league. Instead, you can find players at a much lower cost who have a great impact on their side to add to your Fantasy team.
Betting on Fantasy Football can reward you with cash or free bets. There are many ways to win real money and/or free bets at your Fantasy Football betting site. It can depend on a number of factors. Firstly, what types of contests you enter. Secondly, whether you need to place a qualifying bet or if a contest is free to enter. Check the details of your Fantasy league, if min odds are a consideration, if you can place small stakes, and what types of bets you can place, i.e system bets.
The Differences Between Fantasy Football Betting and Classic Betting
There are a few differences between betting on Fantasy Football and traditional betting. With traditional betting, you're typically up against the bookmaker. They offer you minimum odds on an event to take place, and you place real money on that event to happen. If you win, you get your stake back, plus extra winnings depending on what odds you took. If you lose, you lose your stake to the bookmaker.
With Fantasy football betting, you're not challenging the bookmaker. Instead, you're up against other players in a variety of contests and tournaments. Pool market bets are a regular choice. Cash games such as Head to Head matchups are incredibly common. With these types of games, you can bet on your chances of scoring more points than your opponent(s). With tournament betting, there are also many ways in which to win either cash or free bets. For new customers to take part, you usually have to make your first bet at a given stake, with winners of the contests sharing the prize at the culmination of the season or competition.
Advantages Of Fantasy Football Betting 
There are a variety of advantages to playing in contests of this type. Once you've chosen your Fantasy Football betting site, you can find a range of opportunities that don't involve traditional betting. Let's take a look at some of these now.
Free Prizes

No deposit contests

Small Stakes

Knowledge is Power

Short or Long term Contests
Free bets are often awarded as a prize without the need to have made a cash bet. Coming top of your Fantasy League leaderboard in either daily, weekly or season-tournaments can see you rewarded with a free bet that you can then use to enter other Fantasy betting tournaments or free games. As we've looked at, there are a huge number of contests that you don't need to deposit or stake any real money funds to enter. For new customers in particular, this is a brilliant way of learning how to play without risking any of your real life funds.
There are cash contests available if you're comfortable in taking part. There can be tasty cash prizes to won from betting relatively little. You don't always have to win a contest to earn real money, either. As some tournaments are based on the pool market, runners up can also win real cash.
As with all forms of gambling, no matter what betting markets you stake on, knowledge really is power. There are many factors that determine how well you do in Fantasy Football. You're not just betting on one particular outcome, instead you're betting on most, if not all, of your selected players to succeed. The most knowledgeable football fans tend to be the ones that succeed most in Fantasy football betting. While season-long tournaments are a popular choice, you also have the option of taking part in daily, weekly and player contests, too.
Fantasy Football Markets
As we've discussed in this article, there are a variety of Fantasy Football betting markets you can bet on. First up, we have Daily contests, where you can pick a player or team for that matchday. This means you're not stuck with the same player or team and can change it for the next Daily contest. Similarly, Weekly contests offer you this option of a short turnaround.
Another betting market is Season tournament. These generally yield the biggest cash prize. You pick a squad at the start of the season and accumulate points throughout the campaign. There are also Player contests you can take part in. With this market, you can bet on a specific player for a particular match, week or season.
Daily Contests

Weekly Contests

Season Tournament

Player Contest
How to Bet With Real Money At Fantasy Football
To start betting with real money on Fantasy Football tournaments, you must first sign up to an operator that offers this facility. To do so, hit the links in this article to be taken to the operator. Next, hit the Sign Up button. Here, fill in all your personal details. Make sure you read all the terms and conditions of holding an account before you submit the form. If you're looking to claim a bonus, which we'll look at in more detail shortly, note that a first deposit might be required.
Once you've completed your form and made your first deposit, you can start betting on Fantasy Football! Head to the Fantasy section of your bookmaker account to get started. Here, you'll find all current and ongoing contests you can join. Select your team from the pool of players offered. Remember, you have a limited number of players your squad can hold, as well as a budget to stick to. Once you've chosen your squad, enter it into whichever competition you wish.
To summarise, follow the steps below.
Head to the online bookie of your choice

Complete the sign up form with your personal details

Make a deposit

Head to the Fantasy section

Create your squad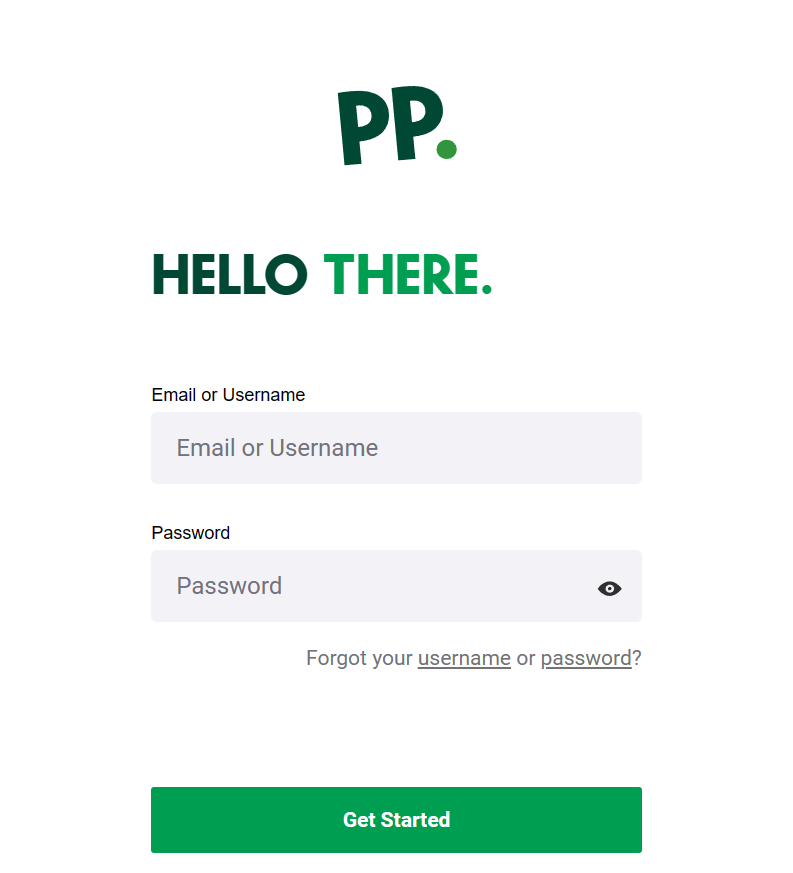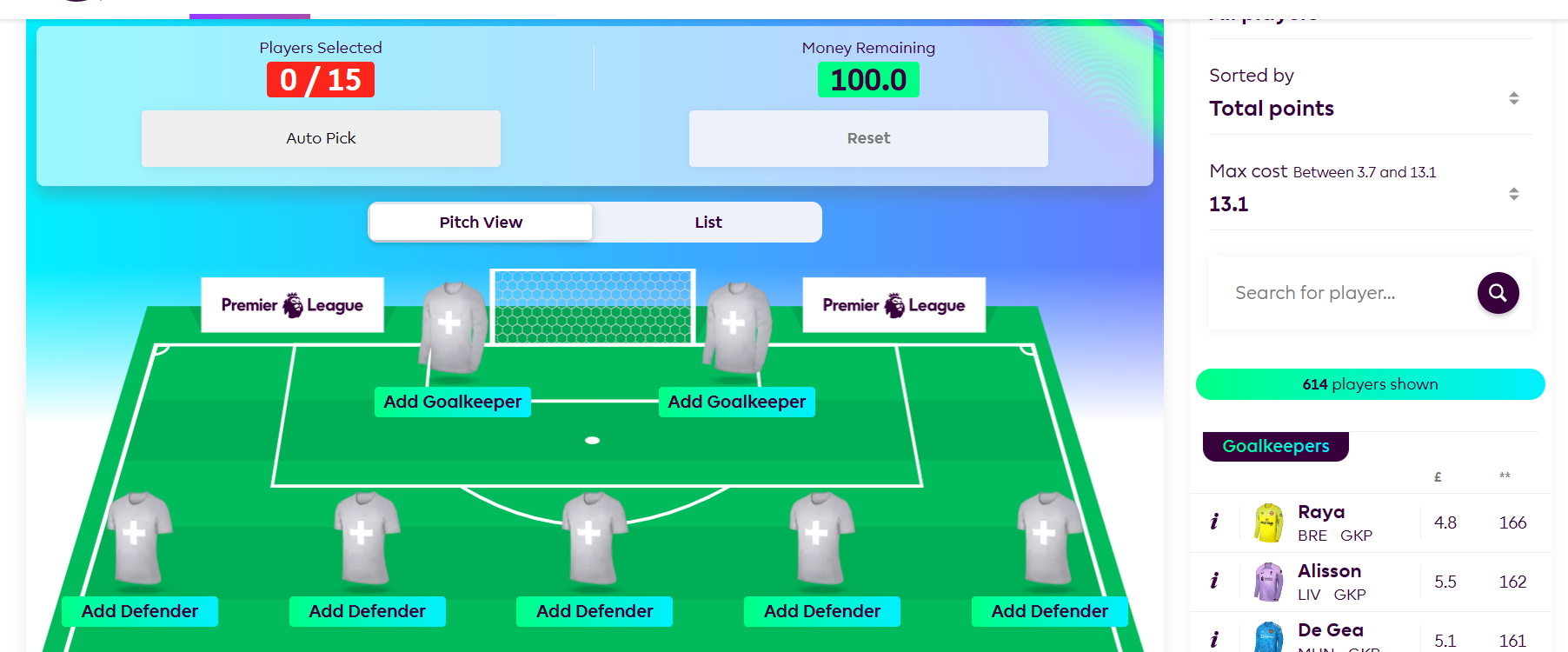 Bonuses at Fantasy Football Betting Websites
There are a number of bonus opportunities and promotions you can take advantage of when you start betting on Fantasy Football. These can include welcome bonuses, a deposit match offer or a free bet. Many Fantasy Football sites can offer various match bonuses, while others specialize in free bet options.
For any offer, remember to read the terms and conditions. Min odds, minimum stakes and other terms can apply to free bets and deposit matches. There may also be betting limits that apply to any or all offers. So, whether you're taking advantage of a free bet, or any other welcome bonus, be sure you understand the t's and c's before you sign up.
Can You Play Fantasy Football on Mobile?
All of our bookmaker choices we've looked at in this article offer a dedicated betting app. These are optimized for online play. If you haven't got the app, you can still play Fantasy Football directly on the operator site via your mobile browser.
Deposit Limits for Fantasy Football Betting
To be able to enter specific Fantasy Football contests and tournaments, deposit limits and stakes can apply. For some contests, you will have to bet over a stated amount to be eligible. Make sure you read the terms for each contest before you attempt to join.
| OPERATOR | Min Deposit | Max Deposit | Min Withdrawal | Max Withdrawal |
| --- | --- | --- | --- | --- |
| | £5 | £100,000 | £5 | £20,000 |
| | £10 | N/A | £10 | N/A |
| | £5 | N/A | £5 | N/A |
Essential Criteria for Betting on Fantasy Football
To stand the best chance of success in Fantasy Football, there are many aspects to consider. Just as you would when placing traditional bets, it's incredibly important to do your research. If you're unsure, it's probably a wise idea to start off in free contests before you bet any of your bankroll. This way, you can learn your strategy without the pressure of losing money.
So, what should you look out for? It's important you follow the league in action as it happens. Look out for long term injuries and suspended players. Research to see if your chosen player is actually getting any game time or if their appearances are limited. Who are the in-form players at the moment? Are any players likely to be rested for upcoming games? Every detail you consider gives you the edge over your competitors and, in turn, gives you a better chance of winning. Follow the statistics each Gameweek to see where you can hold the advantage. If you do bet with real funds, make sure you have a plan in place. It's vital you keep a tight check on your bankroll and don't overspend.
Start off with free contests

Keep a tight check on your bankroll

Research statistics

Follow each Gameweek closely
Beyond Football: Betting on Other Fantasy Sports
In addition to Fantasy Football, there's a whole range of Fantasy Sports you can bet on. The bookmakers we've talked about in this guide all offer fantasy betting on a range of different events. These include NFL, NBA, NHL and MLB contests. You also have the opportunity to bet on Fantasy Golf, rugby and tennis, amongst others. Check out the Fantasy tab of your chosen bookmaker to see what's available.
Conclusion
The popularity of Fantasy football betting has significantly increased in recent years. This trend has become more accessible for UK bettors, with a number of bookmakers offering you the opportunity to join contests and tournaments. Many also offer free contests, so you don't have to part with your bankroll to win prizes. If you do decide to bet with real funds, there are opportunities to win cash, free bets and more when playing Fantasy Football. Keep a close eye on your bankroll, do your research and you could be heading up the leaderboards!
The top betting sites are… 
Here at Legalbet we have also categorised the top betting sites and their features to make them easier for you to find. They are:
By Sport: Football | Tennis | Boxing | Cricket | Snooker | Golf | UFC | Darts | Greyhound | Rugby | Horse Racing | Basketball | Baseball | Formula 1 | Ice Hockey (NHL) | Volleyball | Cycling
By Payment Systems: PayPal | Skrill | Klarna | Boku | Debit Cards | Apple Pay | Paysafecard | Neteller | Google Pay | Prepaid Cards | Revolut
By Features: Cash Out | £5 Minimum Deposit | Minimum Bet Sizing | Live Streaming | Betting Exchanges | Safest | Fast Withdrawal | Daily Free Games
By Events: Politics | Superbowl | WWE
By Esports: CS:GO | Dota 2 | League of Legends | PUBG | Valorant | FIFA
Frequently Asked Questions
Can You Bet on Fantasy Football?
Yes, you can bet on Fantasy Football with a couple of bookmakers in the UK. In this guide, we've found the prominent operators include Paddy Power, Betway and DraftKings.
How Do You Bet in Fantasy?
To start on your Fantasy football betting journey, you first need to choose a betting or fantasy site. From here, create your team from real players. You can then use your team to go up against other players or in betting sites tournaments, either for real money or free bet opportunities.
How Does Money in Fantasy Football Work?
Depending on which bookmaker or Fantasy Football site you're using, you can given a hypothetical amount of money to create your team.
Can You Bet on Fantasy Premier League?
Yes, the Premier League is one of the most popular competitions in fantasy betting worldwide.
What Are the Best Fantasy Football Betting Sites?
In our review, we've found that Paddy Power, DraftKings and Betway all offer a great Fantasy Football facility. There's a great range of contests and tournaments you can take part in with all three operators.
What Are the Fantasy Football Betting Rules?
The rules of Fantasy Football can differ, depending on who you're betting with and what contests you're taking part in. Generally, you are awarded a hypothetical amount of money with which to build your squad. Once you've created your Fantasy Football team, you can then enter this into a range of private and public leagues and tournaments.
How Do You Pick a Fantasy Football Team?
In most Fantasy Football competitions, you get the opportunity to 'purchase' a squad of 15 players. This is made up of two goalkeepers, five defenders, five midfielders and three strikers. From this squad, you pick your starting 11. It's nigh on impossible to pick the perfect Fantasy Football team, though! To stand the best chance of heading the leaderboards, make sure you conduct your research thoroughly each Gameweek.
How Old Do I Have to Be to Take Part in Fantasy Football Betting?
To play in any Fantasy Football tournament in the UK, you must be 18 years old or above.
Is It Legal to Bet on Fantasy Football?
Fantasy Football is legal in the UK. Online bookmakers have strict rules from the UK Gambling Commission they must abide by. Always ensure you're betting with a legal and regulated betting site that holds Gambling Commission credentials.
How Safe Is Fantasy Sport Betting?
Betting on Fantasy Sport, just as with classic forms of betting, is full of risk. Never bet more than you can afford to lose. To stand the best chance of winning, always do your research.
Can I Earn Real When betting on Fantasy Football?
Yes, there are a wide range of contests and tournaments which pay out real cash to its winners. Take a look at the sites we've mentioned in this review - all offer real money contests as well as free-to-enter tournaments.
How Can I Receive Fantasy Football Points?
The points you collect in Fantasy Football correlate to the real-life actions of the players you've chosen in your squad. You get points for goals scored, assists and appearances. Note that you can also lose points for certain actions, such as an own goal scored or a read card.
Does It Cost Money To Enter Fantasy Football Tournaments?
While some tournaments are free to enter, there are many that ask for a min odds bet or deposit stake.