Ladbrokes Mobile App – review of betting app for iOS & Android (2022)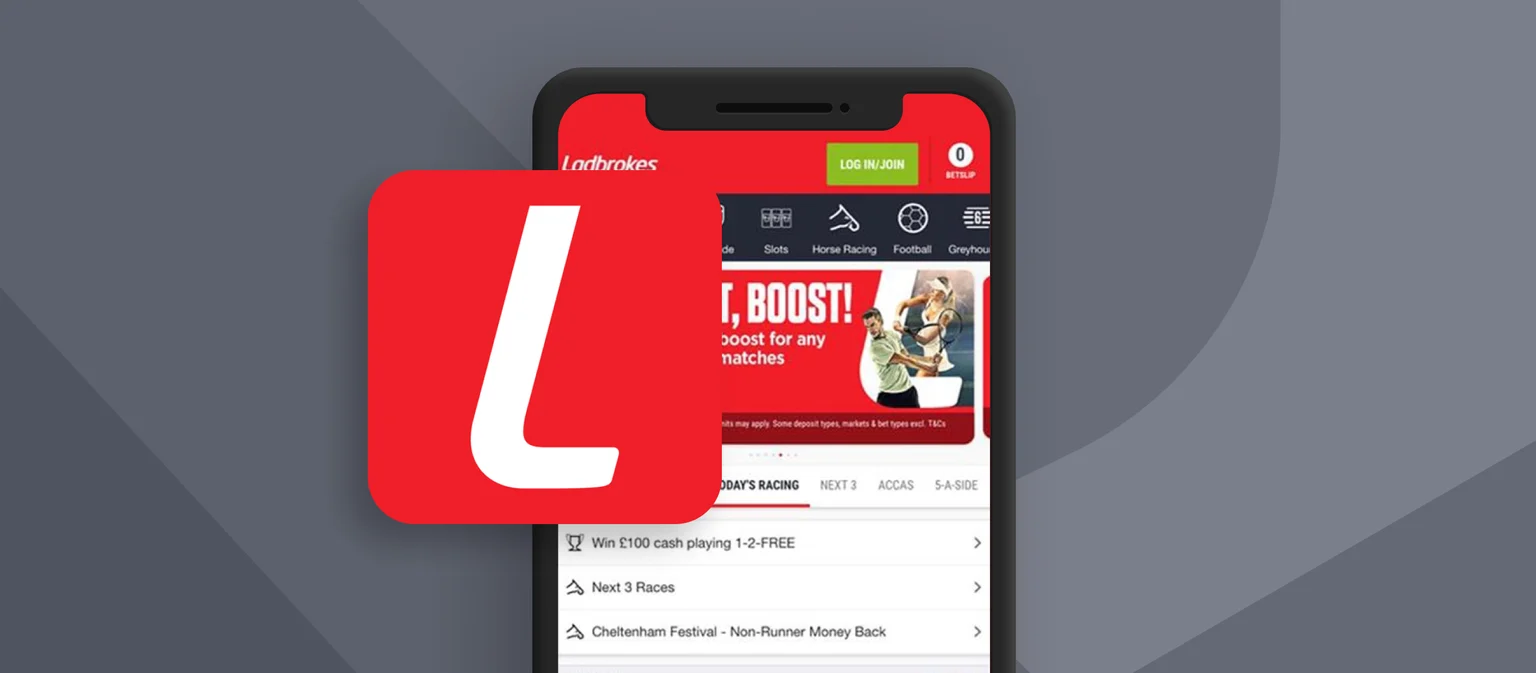 Mobile Betting
The Ladbrokes mobile app is an excellent experience for any user new or old. Packed to the brim with features and a huge list of events for you to bet on you will never be bored with Ladbrokes mobile betting. Along with this a huge variety of promotions, boosted odds and bonuses only enhances your experience further!
The Ladbrokes mobile site is identical to the app. Every feature available to you on the app is available to you on the site. This includes the promotions, bonuses and boosted odds.
Mobile App overview 
The Ladbrokes homepage has a huge list of features and sections for you to explore so here is a short summary of that list. Starting from the top of the page the bookmaker gives you a slidable bar that allows you to access all different sports for you to bet on. From greyhound racing to horse racing, football and five a side football as well a few casino options such as slots, live casino and table games are all available using this section.
Moving down the page is a slideshow with a variety of images each one showcasing a variety of promotions, bonuses, boosted odds, free spins on the slot machines and safe gambling messages.
Further down the page you will find another section dedicated to different betting options. These options such as In play, Accas, Bet builder and live streams give you many different ways to play and allow you to mix up your betting style and get maximum enjoyment from your betting.
The final section of this app is the sportsbook. This section of the app has all of the events currently happening or upcoming for you to wager on including Tv shows.
The final section of the Ladbrokes app is the bottom bar. This bar gives you instant access to important parts of the app like the menu,the "my bets" section which allows you to view any open or closed bets that you have bet on. The bottom bar also gives you immediate access to inplay events and the gaming section which transports you to the casino side of the Ladbrokes app.
Mobile bonus offers:
1) Welcome bonus:
The current welcome bonus is £20 in free bets if you sign up and stake £5 on a sports bet. This is available to any players whose account is 14 days old or younger. This bonus is accessible both when you make your account and from the promotions section which can be accessed from the menu. No code is required, the bonus will automatically be applied to your account when the conditions are met providing you joined through an official affiliate page.
2) Existing user bonuses:
There are many promotions available to you at Ladbrokes either from the website or downloading the apk. You can easily access them by going to the menu after using the bottom bar and then going down to promotions. Promotions such as £100 free if you can predict 3 correct scores with 1-2-Free and even an Accumulator boost to take your bet to another level.
How to download the mobile app?
Instructions for android users:
Using the search feature of the Google play store search for Ladbrokes.

Locate the Ladbrokes sports betting app and press install as shown in the red box below.

Instructions for iOS users:
To install the Ladbrokes app you must first open the google play store and use the search bar and search for Ladbrokes.

Locate the app and press "Get" which will appear in the same location as the cloud icon currently (as highlighted in the red box)

App Key features:
Cash-Out
Cash out is a feature that allows you to close a bet before the event has come to its natural close. This allows you to lock in a proffit before the event has even finished and lets you completely eliminate the risk of your winning bet losing at the final hurdle. The only downside to this is that with a lower risk comes a lower reward and unfortunately a slightly smaller portion of any winnings is paid out to you. Cash out also allows you to minimise losses by allowing you to pull out early on your bet if you believe that there is no way for you to win.
Live betting in-play - one paragraph: what is it, how to use + screenshot
In play or live betting is a very common feature with all major bookmakers. The feature allows you to place bets on events that are still running. This allows you to make a more educated decision on how and what you would like to bet on. In play betting is often thought of as a more exciting betting experience due to its fast paced and volatile nature. As well as the ability to bet live, live betting also allows its odds to update live. This means that odds that were once unfavourable can update and quickly become an excellent wager for you to enjoy. When odds update the colour of the text changes depending on whether they have improved or worsened. Green text shows improvement and red text shows a worsening as shown in the red box below
Live streaming - one paragraph: what is it, how to use + screenshot
Live streaming on Ladbrokes is available for most UK sporting events however to view any of the live streams you must have a "funded account" or have placed a bet in the last 24 hours. However once one of these requirements has been met you will be able to access a live feed of the event you wish to watch. Alternatively if you do not wish to deposit into your account you are able to view an animation of the event showcasing specific points of key information and statistics from the event.
Other apps (Casino, Games, Bingo, Poker, Exchange)
Ladbrokes has a total of 6 apps available for you to download on the App store. These apps are poker, sports betting, the grid, casino games, live casino games and the Ladbrokes exchange. Each of these apps allows you to play a different game such as poker or even a live table game like blackjack.
Frequently Asked Questions
In which devices does the app available?
The sports app is available on both Android and Apple devices for free as a download to help you enjoy your mobile sports betting on the go.
What are the accepted Payment methods?
The Ladbrokes online betting app has several payment methods which can be used to transfer money into your account for free. They include Debit cards (Visa, Mastercard and Maestro), PayPal, and Online bank transfers. Another online payment method is paysafe card but this can be used for deposits only, not withdrawals. There is also the ability to deposit and withdraw money as cash if you set up a Ladbrokes "The Grid" card in your local shop and link it to your online betting account.
What are the Deposit options? (minimum deposit amounts and fees)
Unfortunately there are not as many deposit options as some other online bookmakers. The Ladbrokes application allows you to deposit with Visa, Mastercard and Maestro debit card options, all three having a £5 minimum deposit amount. As well as this Paypal and Paysafecard are your E-wallet options also with £10 and £5 minimums respectively. If you want to use cash to deposit that is possible too if you travel to your local Ladbrokes betting shop and use a connected "The Grid" card.
How can I remove card details from ladbrokes app?
To remove a card from Ladbrokes simply go to the deposit tab in the account section. From there select Debit card and then view the card that you would like to remove and press remove.
How can you withdraw money from the app?
To withdraw funds from your Ladbrokes account simply to go the account section in the app and then withdraw. From here simply select how much you would like to withdraw and method of withdrawal and finalise your withdrawal. It is the same process for the mobile site.
How to sign in to Ladbrokes?
To sign in to your ladbrokes account simply open the app and go to the homepage (although this should be the default page upon the app opening) and select Login/Join in the top right corner of the app. Enter your username and password and login to your account.
Why do Ladbrokes apps keep freezing and crashing?
The Ladbrokes app may be crashing and freezing due to an outage on one of the Ladbrokes mobile servers causing it to crash and lose connection. Alternatively there may be a problem with your installation of the app or your phone itself. Restarting your mobile device as well as uninstalling and reinstalling the app may be a solution however should all else fail using the Ladbrokes online customer support chat is almost definitely your best bet.