Betfred Nifty Fifty Results & How To Play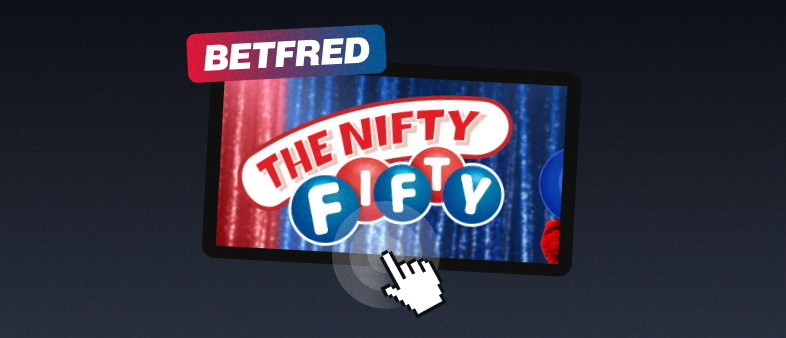 If you like to play the lotto, then forget the twice a week National Lottery draw and consider playing Betfred's Nifty Fifty, a lottery game that happens five times every day! It's played in a very similar way to the National lottery, and it offers payouts up to a huge 5,000,000/1! Below you'll find the most recent Betfred Nifty Fifty Results and everything that you need to know about BetFred Nifty Fifty, including what it is and all you need to know about how you play…
What is the Betfred Nifty Fifty Lottery?
The Betfred Nifty Fifty Lotto is a 50-ball lottery that takes place five times a day (10:30, 11:30, 12:30, 14:30, and 18:30 BST) and is exclusive to Betfred. The nifty fifty draws can be watched live on Betfred TV and the results are announced shortly after the draw is made and can be found on the Betfred website.
The Betfred Nifty Fifty is a random number lotto game from Betfred, which is the only place you can play and bet on this numbers game. Why is it called Betfred Nifty Fifty? The reason for this is that there are 50 balls in the game for you to choose from.
The Betfred Nifty Fifty Lotto: How It Works
To play the Betfred Nifty Fifty, players pick the numbers that they want to play in the draw, or, of course, they can use the Lucky Dip option to randomly input their numbers. Once they have their numbers, there are two options available to bet on: Numbers or Groups.
In Numbers, there are between one and fifty numbers that are chosen, and if all those numbers show, the bet's a winner. With Groups, players select a group of numbers such as one to ten or odds or evens, and the bet wins if the first ball drawn matches what you picked.
So, how does it work?
There are relevant tick boxes next to the number and date of each draw, and players have up to 4 weeks in advance to bet on one, two or three Nifty Fifty draws out of five every day.

Players can toggle the bonus ball option to play the 6- or 7-ball draw. Bear in mind that while it does increase your chances of winning, the 7-ball draw usually results in smaller payouts.

This is a fixed-odds numbers betting game, which means that players place bets of fixed odds on the outcome of a draw created solely for this type of betting.

This also means that you can even place system bets such as Patents, Yankees, and Trixies.
Nifty Fifty Results
To check the nifty fifty lotto results of the recent draws you must:
Go to the "Check your numbers" section of the lotto betting area.


Once you have opened this, choose what it is you want the results for, in this case it would be the nifty fifty lottos. Then select what date or date range you want the results for. Then click on "View filtered results".


The next page will display the relevant nifty fifty lotto results in chronological order, clearly showing the date of the draw, which draw it was that day and what the results of the six ball draw were.

Betfred Nifty Fifty Payouts & Winnings
There are fixed payouts for the Nifty fifty Betfred lotto regardless of how many other people correctly guess the numbers with you. This is a distinct advantage over the National Lottery draw, as well as the fact the odds are much higher generally, and you get paid something from just one ball onwards! The payouts are effectively the nifty fifty odds, which are known in advance and are fixed like all lotto games.
| | | |
| --- | --- | --- |
| Numbers Matched | 6 Ball Draw Pays* | 7 Ball Draw Pays* |
| 1 | £7 | £6 |
| 2 | £70 | £50 |
| 3 | £800 | £500 |
| 4 | £10,000 | £5,500 |
| 5 | £200,000 | £60,000 |
| 6 | £5,000,000 | £150,000 |
*All payouts are based on a £1 stake.
How to Play Nifty Fifty?
In order to take part in Betfred's Nifty Fifty draw you must first of all obviously have a Betfred account, and have funds in there to use. The minimum bet amount of The Nifty Fifty lotto game is actually just £0.05 but it is more common to bet £1. The minimum deposit amount into your Betfred account is £5. If you do not have an account yet you can register through the link below and also claim £30 of Free bets:
New UK 18+ only. Register with promo code WELCOME40, Bet £10+ on Sports in one transaction. Get £30 Free Bets & £10 free spins within 10hrs of bet settlement. Bonuses expire 7 days after issue. Min odds, eligibility & payment exclusions apply. Full
T&Cs apply.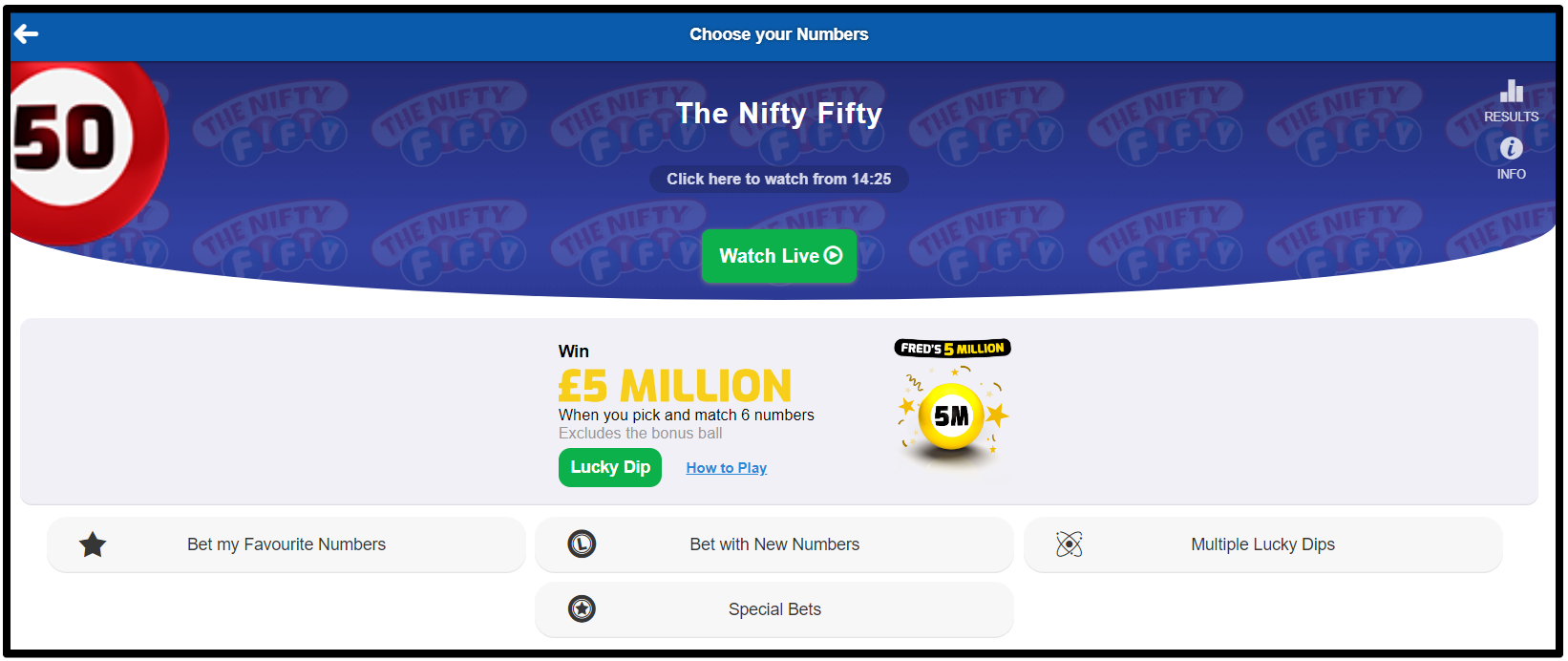 Log into your account and enter the Nifty Fifty section of the website, from here you will be able to watch the draw live, a stream will open from five minutes before it begins. You can also begin to pick your numbers, the options are to bet on your favourite numbers if you have played before or bet with new numbers if it is your first time or you fancy a change.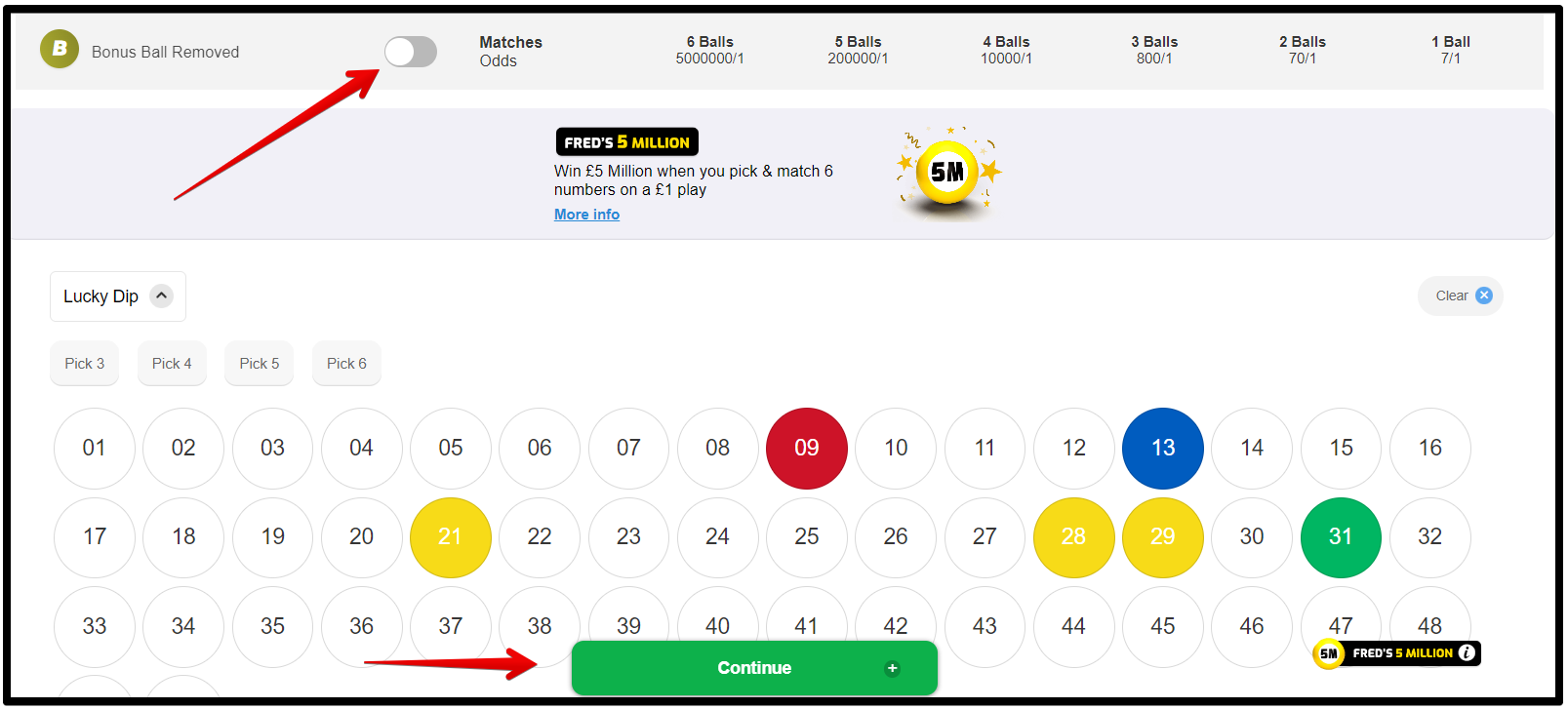 On the next screen you select your numbers by clicking on them, you can deselect them by clicking on it again. The colours represent the number value, 1-10 are red, 11-20 are blue, 21 - 30 are yellow, 31-40 are green, and 41 - 50 are white. One thing to note here is that it is on this page you can opt to include a bonus ball, and have 7 selections. Obviously, this gives more chances to win but the prize money is decreased. In this example we chose not to have a bonus ball and just hit "Continue".

On the next screen you can double check and accept your selections, add another line if you want to, or go to the next step which is to decide which of the draws you want to enter.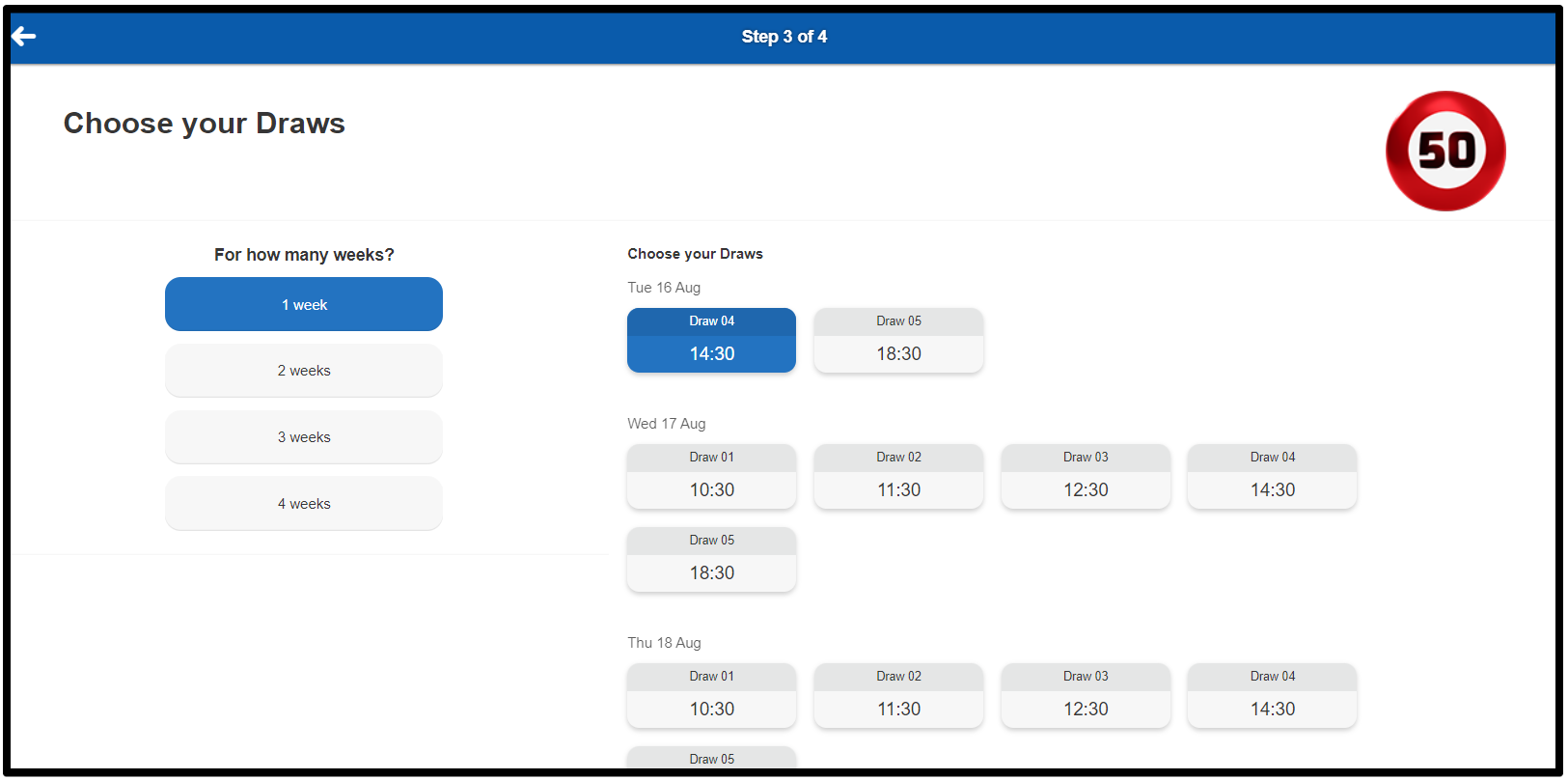 All the scheduled draw times are listed for the whole week ahead. You can bet every day on five different draws, they are held at 10:30, 11:30, 12:30, 14:30, and 18:30. You can bet for multiple weeks meaning with one bet you can bet on, for example, the 11:30 draw on Tuesday morning every morning for the next four weeks. Which is more convenient than having to remember to log in and bet each week.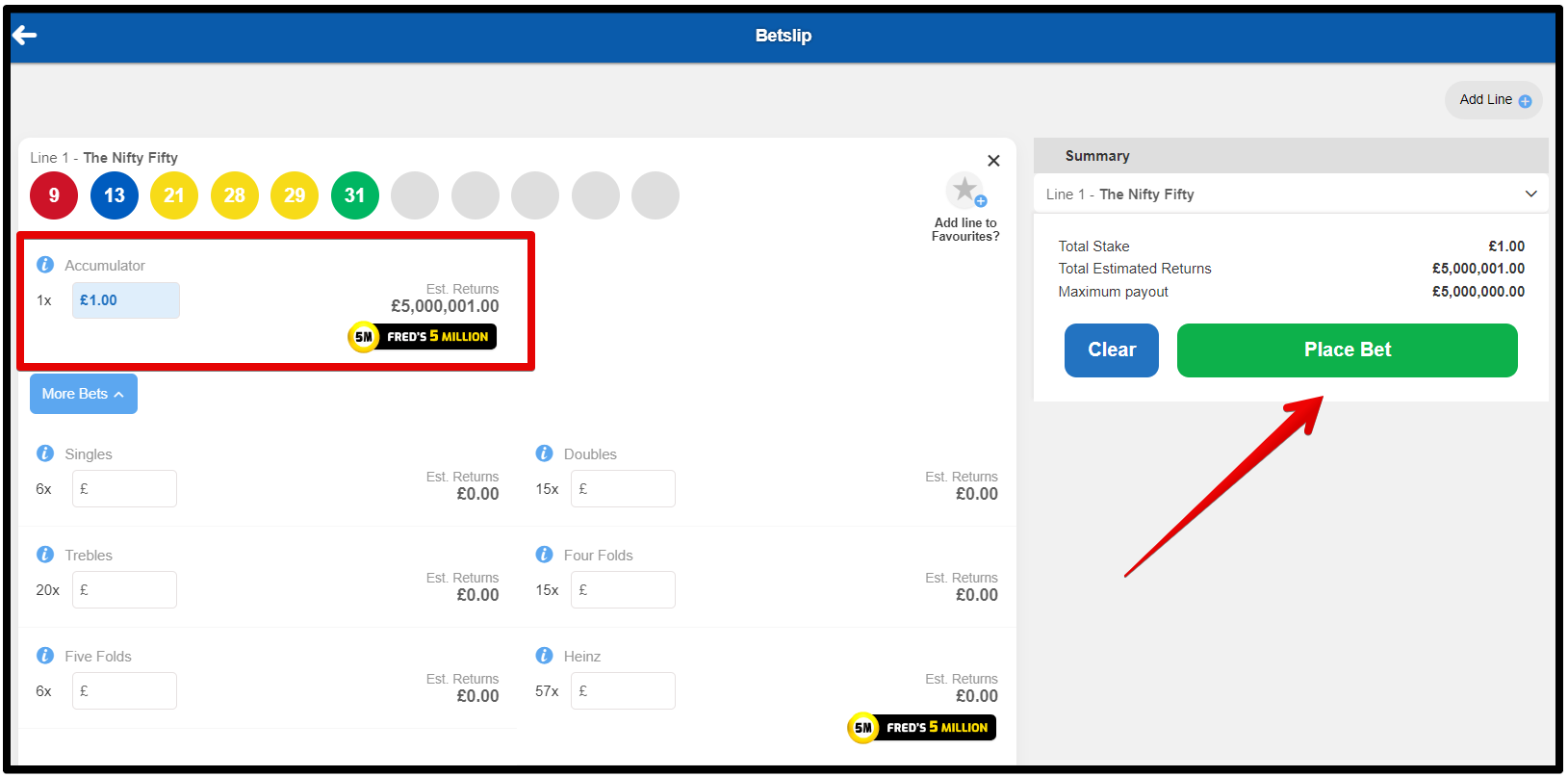 In our example we are betting for just one draw, and enter a stake amount of £1. You are shown your selections one final time, review the info and "Place Bet".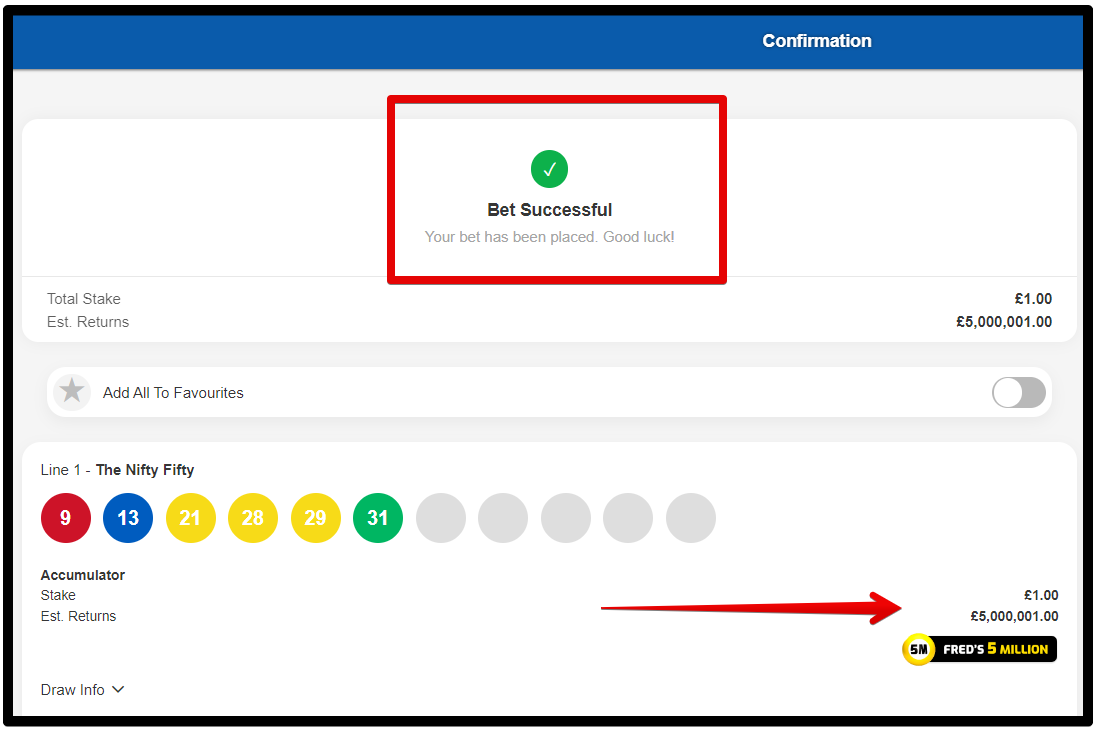 You will then be taken to a confirmation screen showing "Bet Successful". You can then log off and get on with your day or week of you want, but it is possible to come back and watch the draw live should you wish.
Come back to the Nifty Fifty section of the website where you can watch the balls be drawn live on the screen, which can be quite exciting of you have the first couple of balls!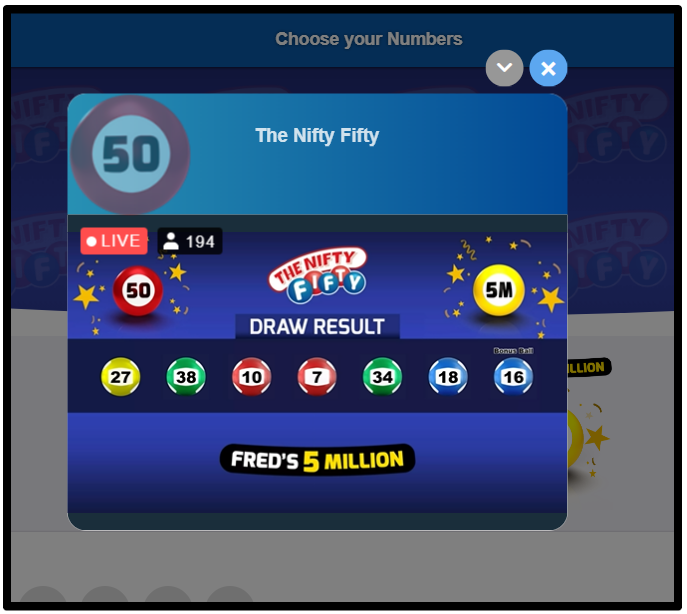 At the end once all balls have been drawn the final results will be displayed on the screen. These latest nifty fifty results are also available on the results page of the Betfred website 24/7.
Other Betfred Lotteries

Betfred allows you to bet on various international lotteries from all around the World. You can bet on the Irish lotto, Spanish lotto, French, Polish, Canadian, Greek, Australian, German lotteries, and the New York lotto too! On top of that they also have their own in-house 20 ball and 49 ball lotteries that run alongside the Nifty Fifty.
Irish Lotto
This alternative to the Nifty Fifty has been running for over 25 years. It began as most national lotteries did, by being broadcast on terrestrial TV, in this case by the Irish RTE television. Now it has become the Betfred Irish Lotto with draws taking place on Wednesdays and Saturdays at 8:00 pm.
New York Lotto
This is a slightly different format to a standard ball draw game and involves many exotic bet options, such as Trixie bets or placing a Lucky15. To learn more about this look at the excellent free Betfred lotto guide available on the website.
Daily Million
The Daily Million lotto is as the name suggests a lotto draw with £1,000,000 as the top prize available every day. It is an Irish numbers game that remarkably has four draws a day, every single day!
The top betting sites are…
Here at Legalbet we have also categorised the top betting sites and their features to make them easier for you to find. They are:
By Sport: Football | Tennis | Boxing | Cricket | Snooker | Golf | UFC | Darts | Greyhound | Rugby | Horse Racing | Basketball | Baseball | Formula 1 | Ice Hockey (NHL) | Volleyball | Cycling | Netball | AFL
By Payment Systems: PayPal | Skrill | Klarna | Boku | Debit Cards | Apple Pay | Paysafecard | Neteller | Google Pay | Prepaid Cards | Revolut
By Features: Cash Out | £5 Minimum Deposit | Minimum Bet Sizing | Live Streaming | Betting Exchanges | Safest | Fast Withdrawal | Daily Free Games | New Betting Sites | Horse Betting Apps | Football Betting Apps | Virtual Sports Betting Sites
By Events: Politics | WWE | NRL Grand Final | MLB World Series
By Esports: CS:GO | Dota 2 | League of Legends | PUBG | Valorant | FIFA | CS:GO Betting Sites with Paypal
Frequently Asked Questions
Is Nifty Fifty free to play?
No unfortunately not. The Betfred Nifty Fifty lotto is not free and the most common amount to stake is £1 a line. You are not limited to £1 though it is possible to bet as little as £0.05 on one of the permutations should you wish.
How does Betfred Nifty Fifty work?
The Nifty Fifty is a Betfred lotto which has, as the name suggests, fifty balls to choose from. You need to select which 6 of the 50 will be randomly drawn, for every ball that you pick correctly the prize money you win increases exponentially. All the way up to 6 correct numbers paying £5,000,000
When does the Nifty Fifty draw occur?
The Betfred nifty fifty draw takes place five times a day and seven days a week. It is only on very special occasions such as Christmas day where there is not a draw. The daily draws happen at 10:30, 11:30, 12:30, 14:30 and 18:30 BST.
Can I play the Nifty Fifty game from the Betfred mobile App?
Yes, you certainly can! Just log into your account as usual in the Betfred Lotto App and open the lotto section. Open the Nifty Fifty game and follow the exact same procedure as you would on a desktop.
When should I place my Nifty Fifty bet?
It is entirely up to you and really does not make any difference. We would suggest probably doing it more than 5 minutes before the lotto game begins so that you are not rushing and make an error or fail to get the bet submitted in time. There would be NOTHING worse than intending to bet on 6 numbers, not being able to, and then watching those 6 numbers be drawn!
How much does a Betfred Nifty Fifty bet cost?
Exactly how much it costs to play is up to you but 5p is the minimum amount. The most common amount is to pay £1 per line.
How many players have got their winnings with Nifty Fifty?
We do not know how many people have won something but it would almost certainly be tens of thousands of people. There has been at least 8 Millionaires created since he lotto game began in 2020.