The Cash Out feature has been around manually since the exchanges first came onto the scene around the turn of the Century. More recently the Bookmakers themselves have automated the process making it simpler to execute and not requiring any extra money to be put down, you simply take a smaller and certain profit earlier than if you let it ride. The obvious advantage is that your bet can go on to lose, but you have already cashed out your profit so it does not matter. The disadvantage is that you will receive less profit than if you had simply let the bet ride. Lets look at some betting sites that allow cash out.
Popular markets which can be used to cash out early are:
Football - Match Betting – 90 mins, 1st Half & 2nd Half
Football - Total Goals – Over/Under
Football - Both Teams To Score – 90 mins, 1st Half & 2nd Half
Football - Match Result & Both Teams To Score
Football - Correct Score – 90 mins, Half Time, Extra Time To Win Extra Time & Penalty Shootout
Football - Asian Handicaps
Football - Asian Goal Lines
Football - 3-Way Handicap
Football - Double Chance
Football - Team Total Goals
Football - 1st Team To Score

Tennis – Match Betting
Tennis – Set Winner
Tennis – Set Betting (Match)
Basketball – Handicap
Basketball – Total Points
Basketball – Money Line
Horse Racing - Outright Win (not including SP bets & Antepost markets)
Horse Racing - Outright Each Way (not including SP bets & Antepost markets)
Snooker - Match Betting
Snooker - Frame Winner
Snooker - Race to X Frames
Badminton - Match Result (incl. Set Winner)
Badminton - Over/Under - (incl. Set Over/Under)
Badminton - Correct Score
Badminton - Set Odd/Even
Table Tennis - Match Result (incl. Game Winner)
Table Tennis - Over/Under - (incl. Game Over/Under)
Table Tennis - Game Correct Score
Table Tennis - Game Odd/Even
Volleyball - Match Result (incl. Set Winner)
Volleyball - Game Total (incl. Set Total)
Volleyball - Correct Score
Volleyball - Set Odd/Even
What is Partial Cash Out?
Betting sites with cash out will often offer a partial cash out. This is a compromise between allowing a bet to be completed normally and cashing it out early. The feature allows an early payout from a bet but still leaves some of the stakes to run, allowing some excitement and greater winnings to continue to the end. Partial cash out operates a little differently depending on which betting site you use but the basic idea is always the same. You will have a slide bar which you can adjust to a percentage of your bet that you want to cash out and what the instant payout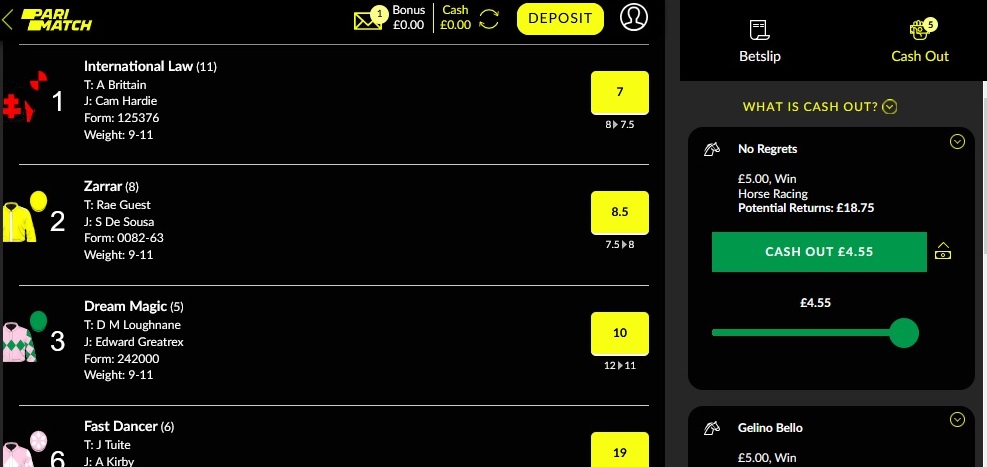 In the example above, it is possible to cash out anywhere from £1 to £4.55 worth of the bet. You move the slider along to chose how much you want to take now. Most Cash Out Bookies have this feature.
Cashing Out In-Play - What does it mean? 
Cashing out in play means that the games (or games) which you have bet on have not been completed yet and are still in progress. By cashing out early the Bookmakers allow you to take a lesser amount of profits for the certainty of those profits being in the bank now.
How to Cash Out In-Play?
Every bookmaker will have a slightly different layout when it comes to cashing out early but as a rule if it is available you will see it on your betslip when you have it in view in your browser. It will state your possible cash-out amount should you wish to close your bet now. You simply click the cash out amount being offered, then click on the confirmation, and you are done.
What Bet Types Can't I Cash Out?
Again every online betting site with cash out is different but it is common for the main bookmakers to offer cash out on at least football, horse racing, and cricket. Nearly all will offer cash out options for accumulator bets including all sports when there is no In-Play element. If you are planning on cashing out in play it is likely that you will have the option to do so for more markets in the major sports such as football than lesser sports such as American Football.
Conclusion
The advent of Cashing Out bets actually began at the turn of the century with exchanges when sports betting could be layed in running. This was a slightly less user friendly way of doing things though and was the realm of Betfairs "smart minds" rather than your average punter. Cash Out appeals to the average punter and they tend to bet at Bookies. Betting sites with cash out in 2021 are now the norm rather than the exception.
Frequently Asked Questions:
Each bookie varies slightly in how to implement their cash out option but the principal and theory is always the same.  You are in effect canceling the remainder of your bet, instead opting to take its current status.  This could be a way to either lock in profits or minimise losses depending on how your bets are performing at that point.
Which betting sites do cash out?
A large number of bookmakers now offer cash out functions, but it would be plausible to get the same results as cashing out at every bookmaker if you use an exchange to lay your positions.  This would require more capital and a working knowledge of exchange betting though so many prefer the simplicity of "in house" cashing out.
Can you cash out an accumulator?
The short answer to this is "Yes" but with the caveat that a number of factors must be adhered to. Usually though, yes you can. This is providing that the markets that remain in your accumulator are available for cash out and also that there is enough equity on the bet to allow a cash out.
Can you cash out a free bet?
The short answer to this is "No" although again, this would depend on each individual bookie and there would not be a blanket rule that they all must follow. In our experience though the answer is no you can not, it is against the freebet terms and conditions.
How is cash out calculated?
Each bookmaker will have a slightly different formula and much like they are free to offer different odds before you place a bet they are able to offer any effective odds they wish whilst you are cashing out and it is then up to you to accept or refuse them.  A rule of thumb though is that you will be offered your winnings if they bet is successful at fruition multiplied by the current "In Play" odds on those events happening.
Why cash out unavailable?
This could be for a number of reasons,such as one of the legs of your accumulator has already lost or that a pending bet is about to.  It could be that "Cash Out" is simply unavailable for a market you have bet on, or it could be because a market is temporarily suspending for a significant event to rebase the odds.