Pros
24/7 live chat
No fees on deposits or withdrawals
The website is laid out clearly
Real-time match updates
Cons
No telephone number listed
Few deposit/withdrawal methods
Latest 21.co.uk Welcome bonus September 2023
All bonuses
No Welcome Bonus
Unfortunately, the bookmaker doesn't offer a Welcome bonus for the sportsbook at the moment.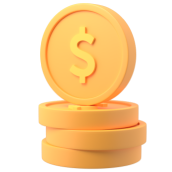 This bookmaker is not working with Legalbet.uk to solve disputes.
Review of the bookmaker 21 Bet from Legalbet
Debuting in 2013, 21.co.uk is owned by LeoVegas, which is a pioneer in online and mobile gaming. With people becoming increasingly reliant on technology, it's no wonder that 21.co.uk is a popular choice for those looking to gamble online. LeoVegas has its headquarters in Sliema, Malta.
Odds — good
We calculated the margin for 21 Bet by analyzing the odds they offer. We further ranked them in one of the following three categories:
From 1% to 5%: Good value
Over 5% to 7%: Average value
Over 7% to 10%: Poor value
Football
We got our results by taking into account the odds for final result outcomes measured in line with the over / under for different football leagues. Getting the average results using this method, we were able to obtain the margins for each league and the overall betting margin for the bookmaker.
21 Bet has an overall average margin of 7.62% for football and falls in the high margins category. In the first section with Premier League, the margin is at 7.06%. In the second section with Spanish La Liga and Italian Serie A, the margin is at 6.68%. Finally, measuring the leagues from the rest of the world the margin is at 9.12%.
Betting options — normal
Betting Markets
21.co.uk has 34 different betting markets, including sports and leagues from abroad. All options can be viewed by selecting the "Betting" section of the site and navigating to the A-Z list: American Football, Australian Rules, Baseball, Basketball, Bowling, Boxing, Chess, Cricket, Cycling, Darts, Esports, Floorball, Football, Formula 1, Golf, Handball, Ice Hockey, Lacrosse, Motorsports, Netball, Padel, Politics, Rugby League, Rugby Union, Snooker, Surfing, TV & Novelty, Table Tennis, Tennis, Trotting, UFC/MMA, Volleyball, WWE/Pro Wrestling, and Winter Sports.
Live — normal
Live Betting
By Selecting "In-Play", you'll be able to see all the live matches. By clicking on a specific game, you'll be able to see real-time odds with real-time updates. In some matches, e.g., Football, you'll be able to track the ball and view an in-depth live analysis with clear visuals on what's happening in the game.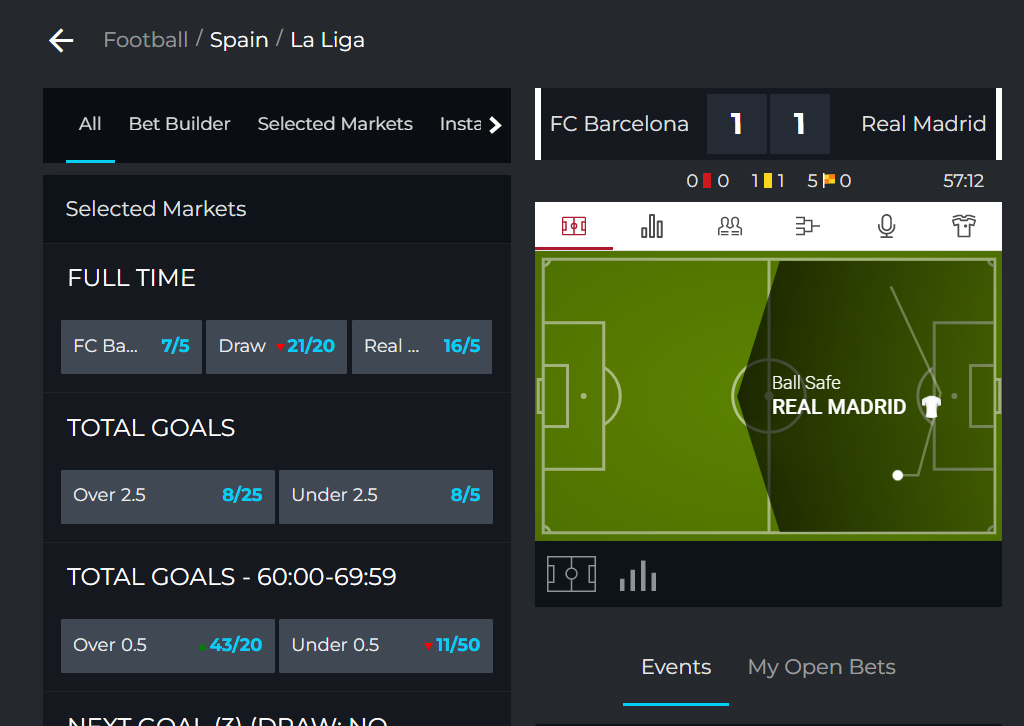 Live Streaming
Sadly, 21.co.uk does not have the option to live-stream games or matches. As mentioned above, however, they do offer the ability to see the match overview in real time, providing a very similar thrill to watching a live game.
21.co.uk Mobile App
21.co.uk offers an exciting mobile app, bringing the thrill of their website to the palm of your hand. It's available to download on iOS and Android, so you'll never feel like you're missing out.
How to Register with 21.co.uk
Registering with 21.co.uk is extremely easy; just follow the steps below: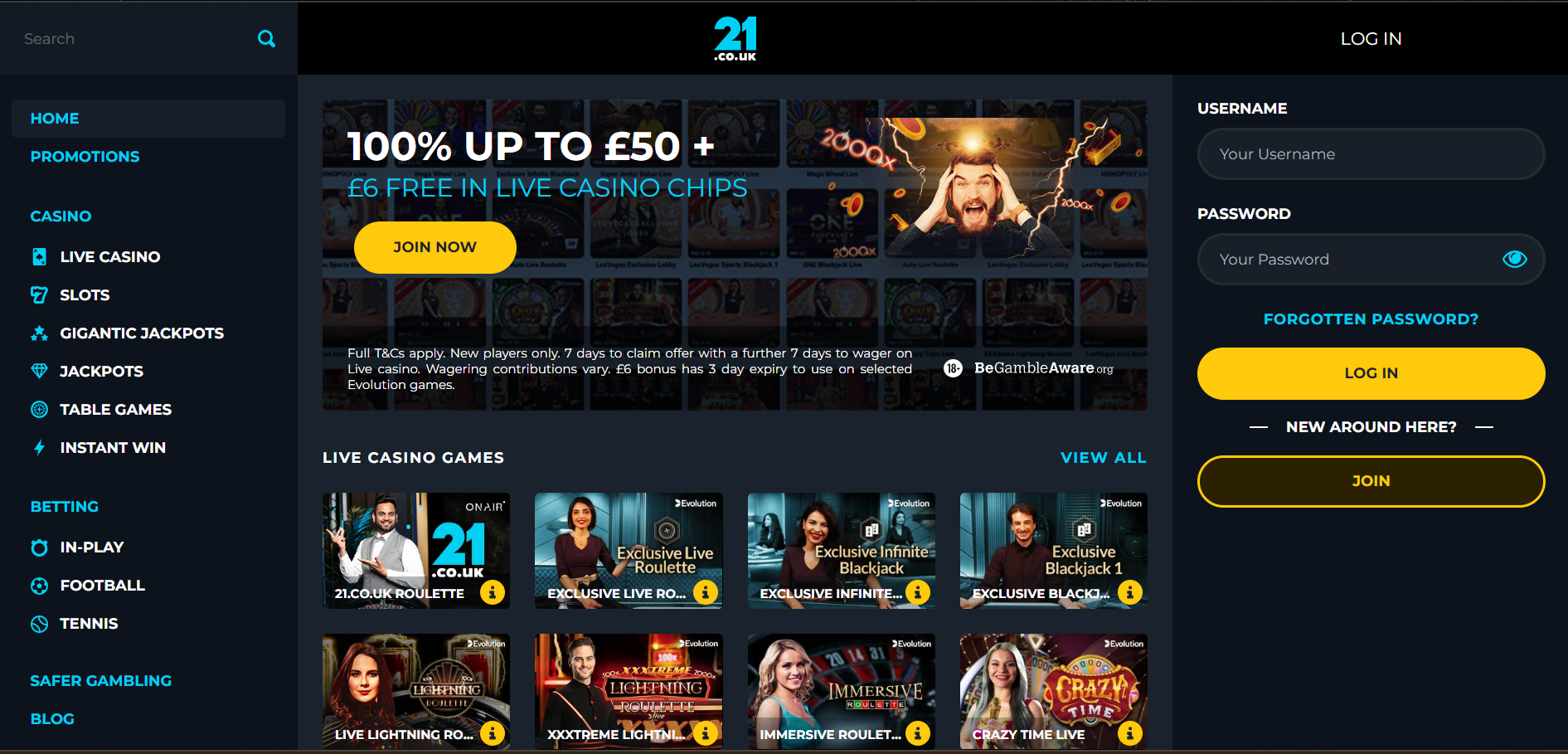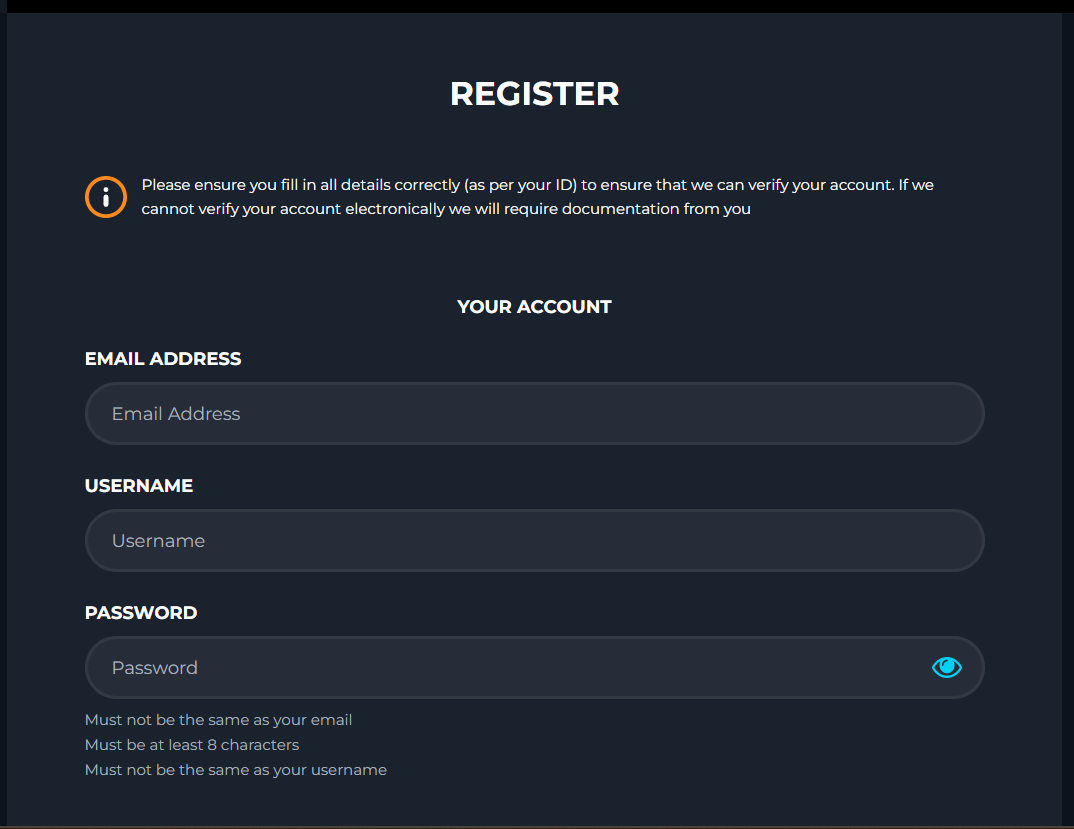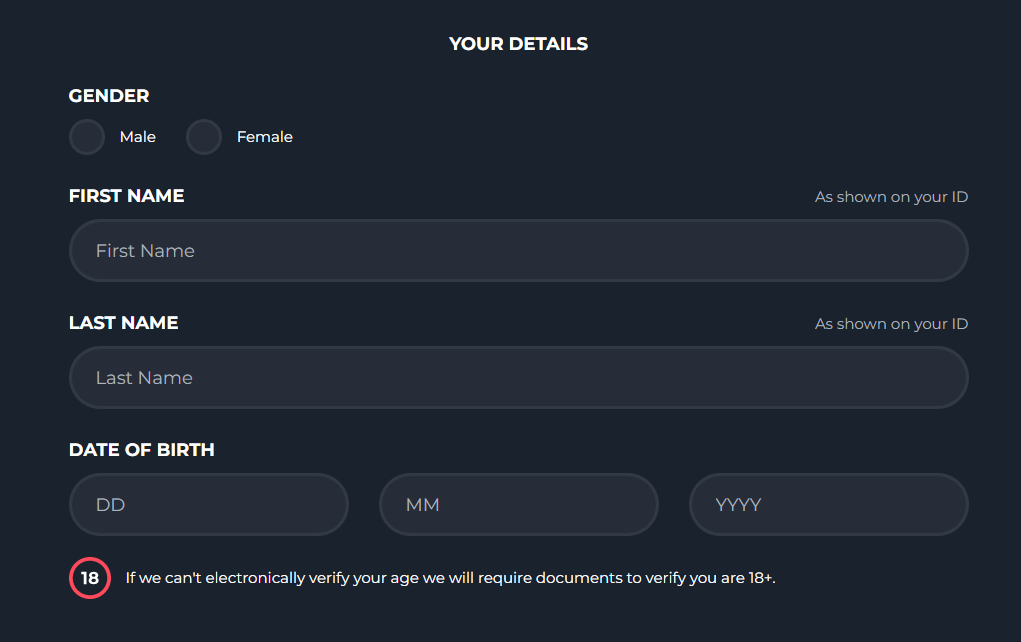 Firstly, locate the "Join" option. It is on the right of the page in yellow, making it hard to miss. Click this to bring up the registration form. Bear in mind, however, they may require additional documentation, so make sure you have some ID handy just in case.

On the registration form, you'll first be asked to input your email address, username, and password. The password cannot be your email address or username and must be at least eight characters in length for security purposes. Scroll down to view the next section.

You will now be asked to enter some personal details. This will be your gender, first name, last name, and date of birth. Make sure the details match your ID exactly, as this information will be used to verify you.

Scrolling down again will take you to the section asking for your contact information. You will need to input your address and your mobile number. Bear in mind that for both, the only options are for the UK.

Finally, you'll be asked to select your marketing preferences and confirm that you understand the terms and conditions. When you're happy, select "Create Account", which will let you know if you need to provide further documentation or if your account can now be used.
How to Deposit at 21.co.uk
Depositing is made extremely easy with 21.co.uk: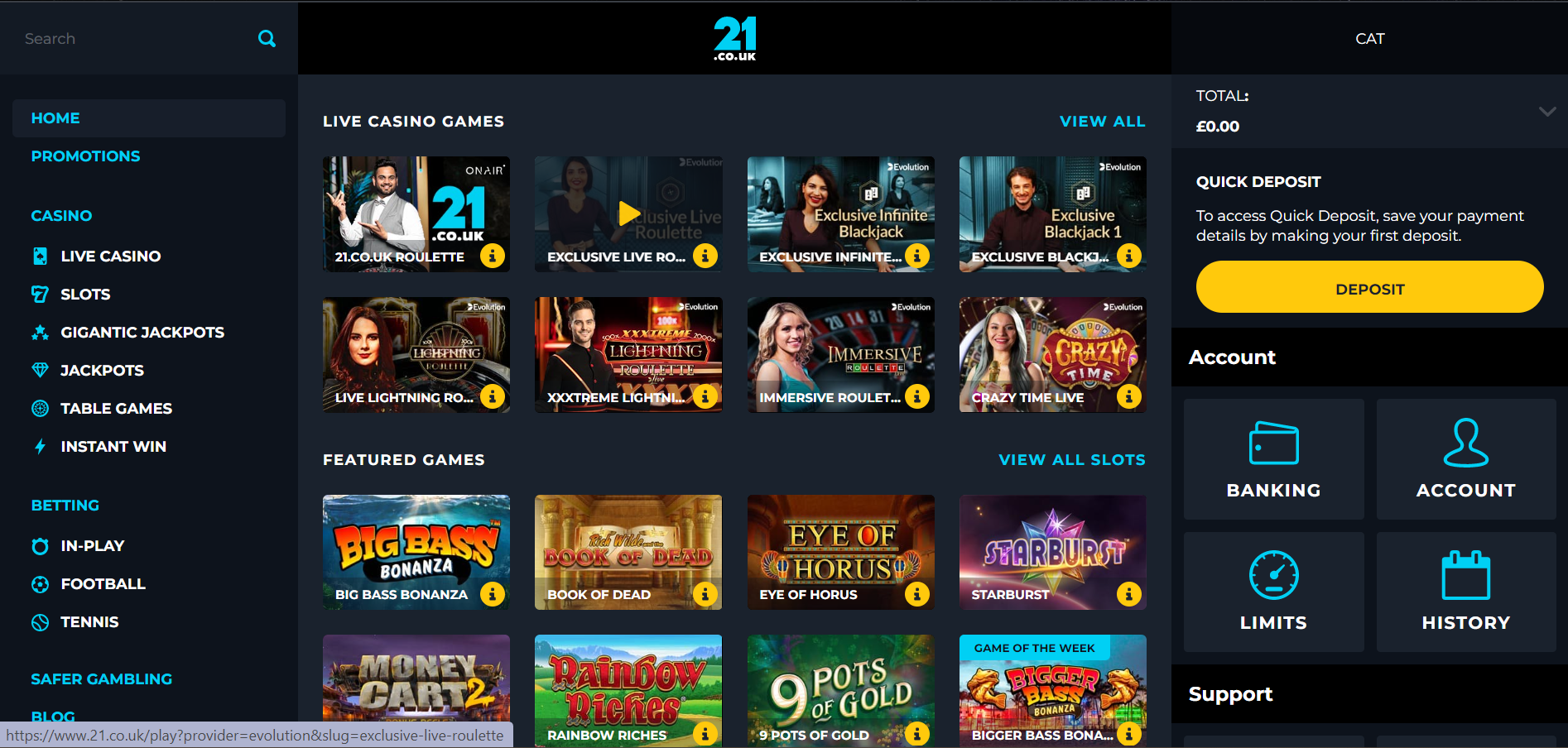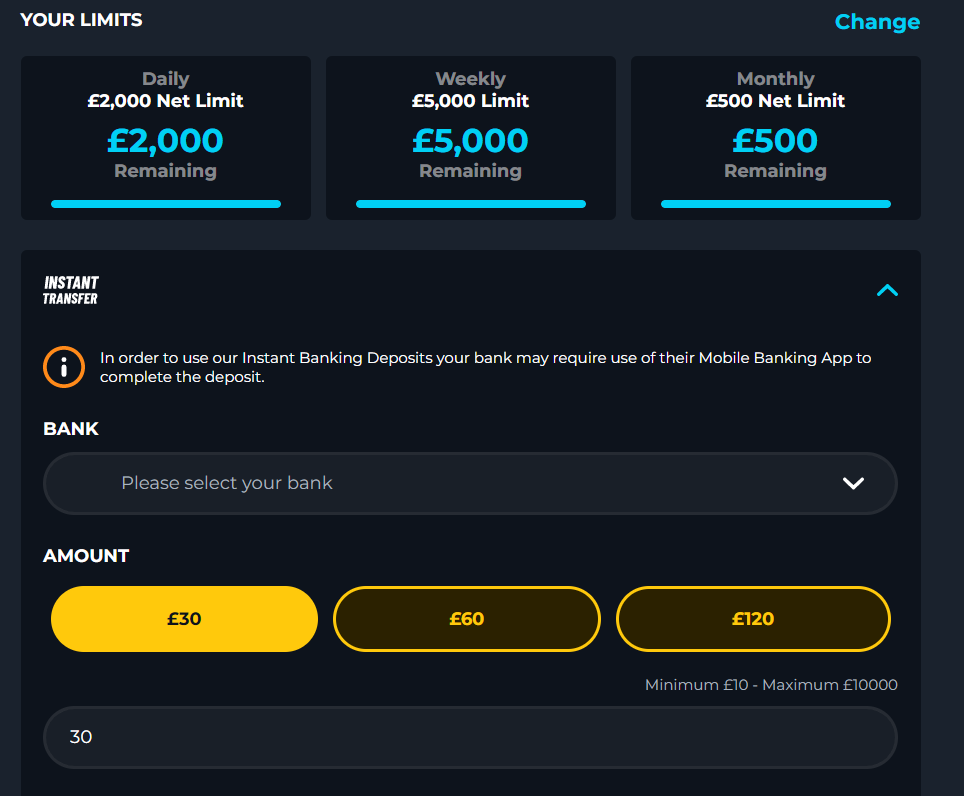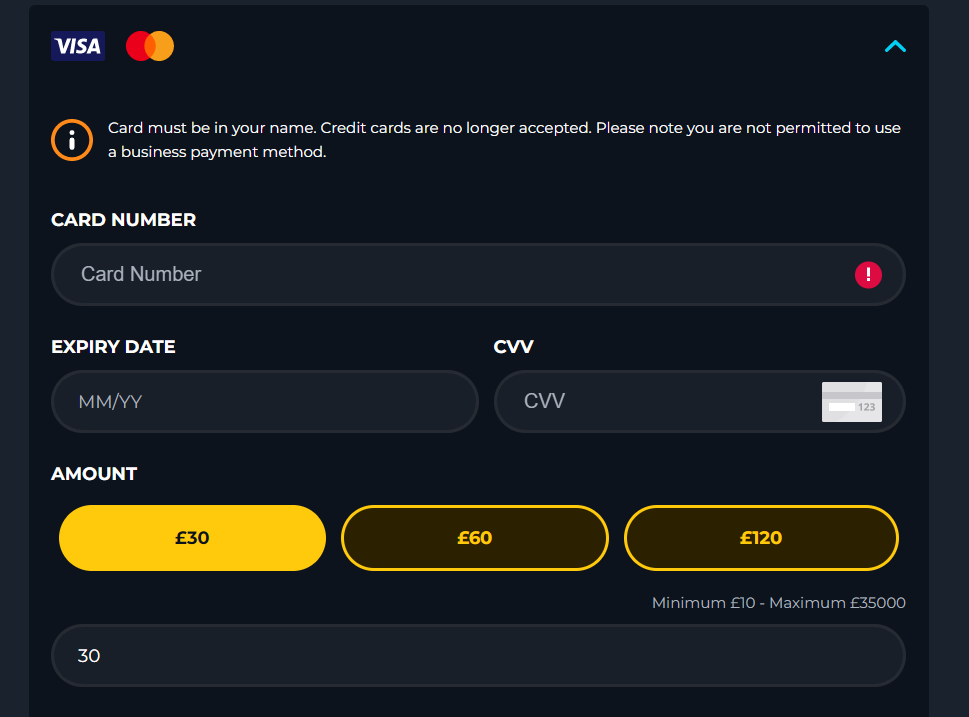 To get started, you need to navigate to the "Banking" option on the right side of the page. This will bring up cashier options, including the deposit and withdrawal section. Click on it, and then select "Deposit" to move to the next step.

Next, you'll need to choose your deposit method. You can use bank transfer, Visa/Mastercard, or PayPal, all with a minimum deposit amount of £10. Here you'll also see your default deposit limits, which you can change if you'd like.

Input your deposit details. Be aware that some methods may ask you to approve your payment within the provider's app for security, so be sure to have their app nearby. Once you've accepted the terms and conditions, your deposit will be confirmed. Your balance then shows in the top right-hand corner once successful.
How to Bet at 21.co.uk
The website is easy to navigate. The options are clearly laid out on the left-hand side of the page, where you can choose what part of the site you'd like to visit to bet.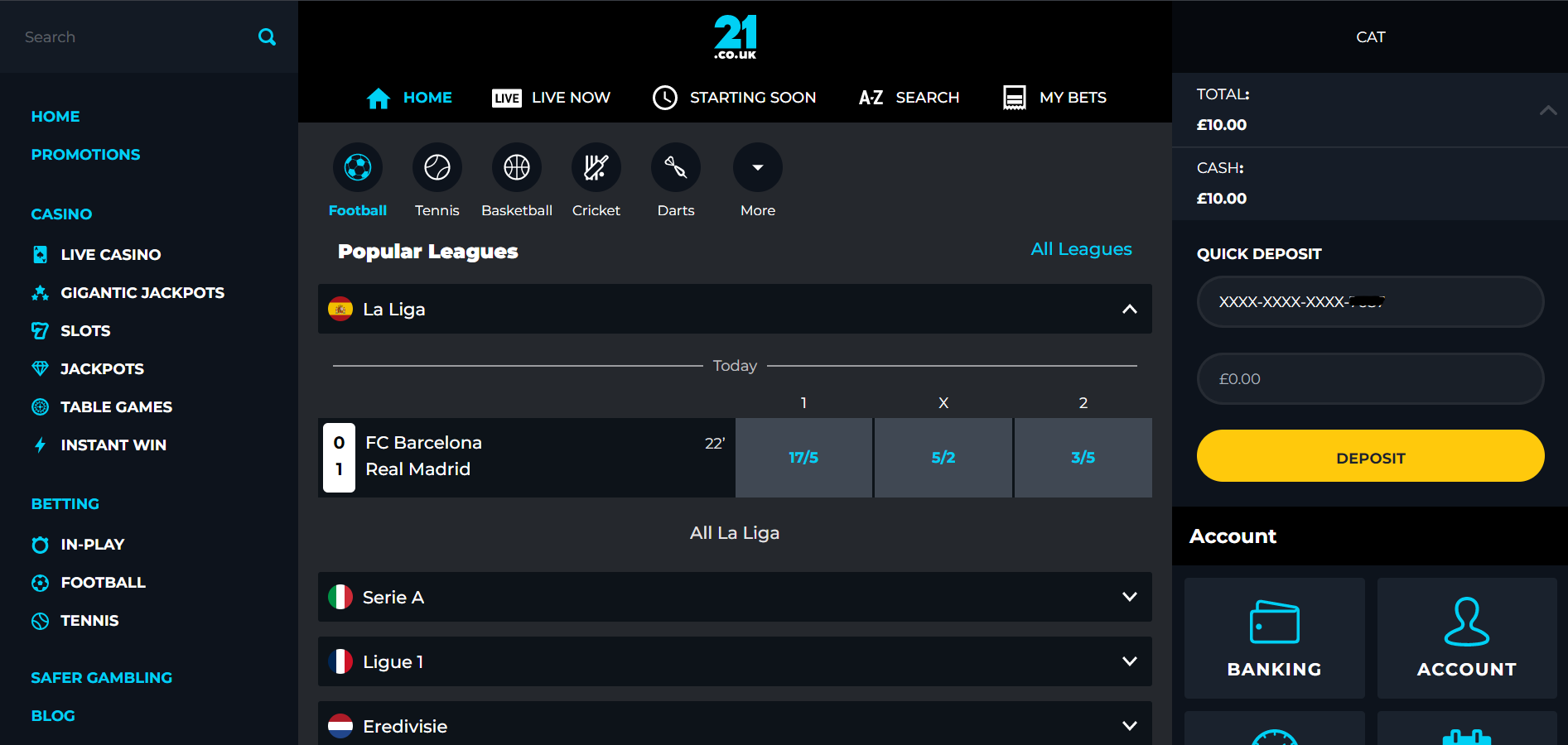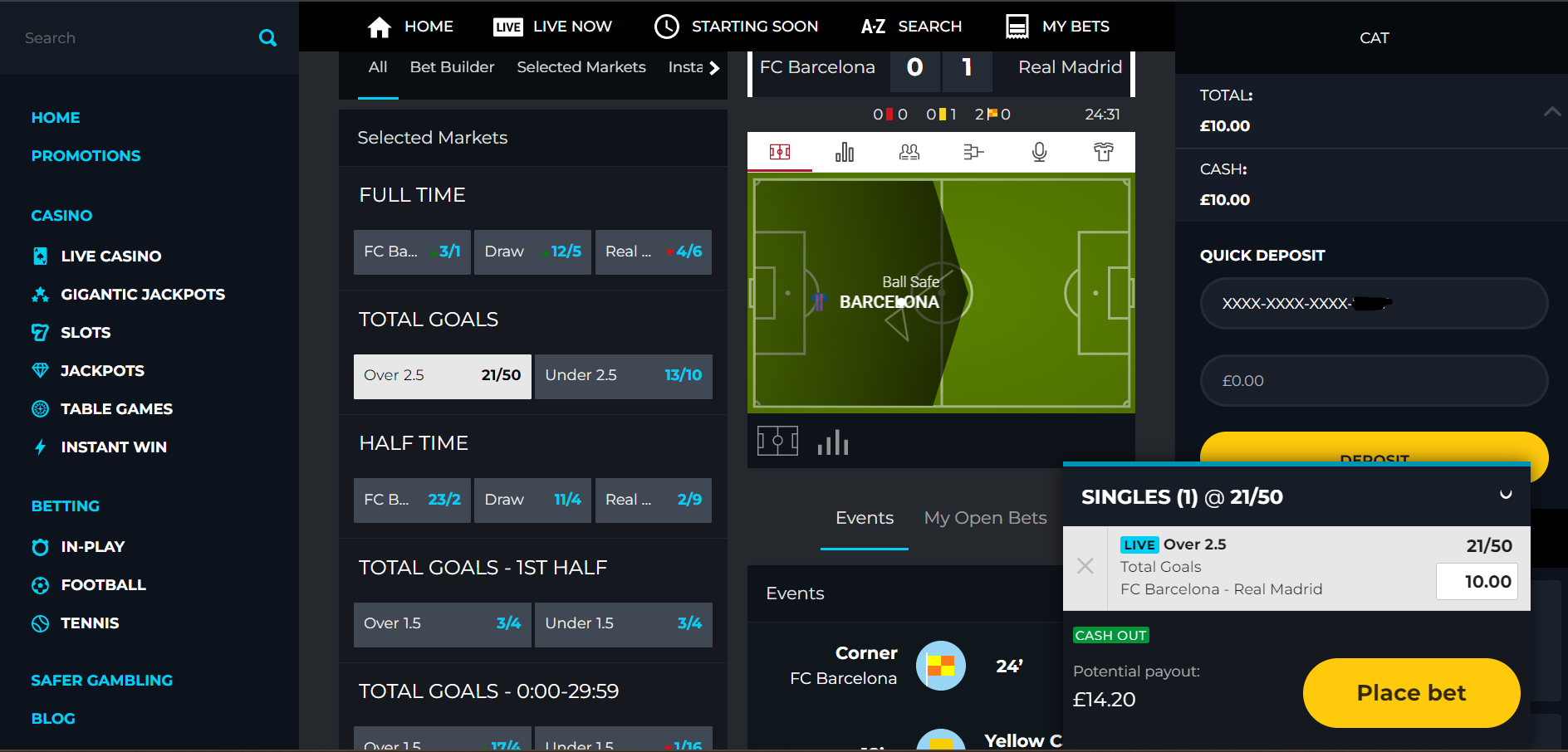 For their sportsbook, find the option for "Betting" on the left side of the screen. This will bring up all the sports options. Select a sport or match to bring up more information about it. Live matches update in real time, and there's even a list of 'events' (red cards and penalties) to get you up to speed in case you missed anything.

Once you've picked a sport to bet on, you'll see the markets available. The odds are also updated in real-time, so you may find that, after you add something to your bet slip, the odds have shifted. Your bet slip is displayed in the bottom right corner, and once you're happy, you can select "Place Bet."
How to Withdraw at 21.co.uk
Withdrawing money from 21.co.uk is simple - just make sure you have enough funds available!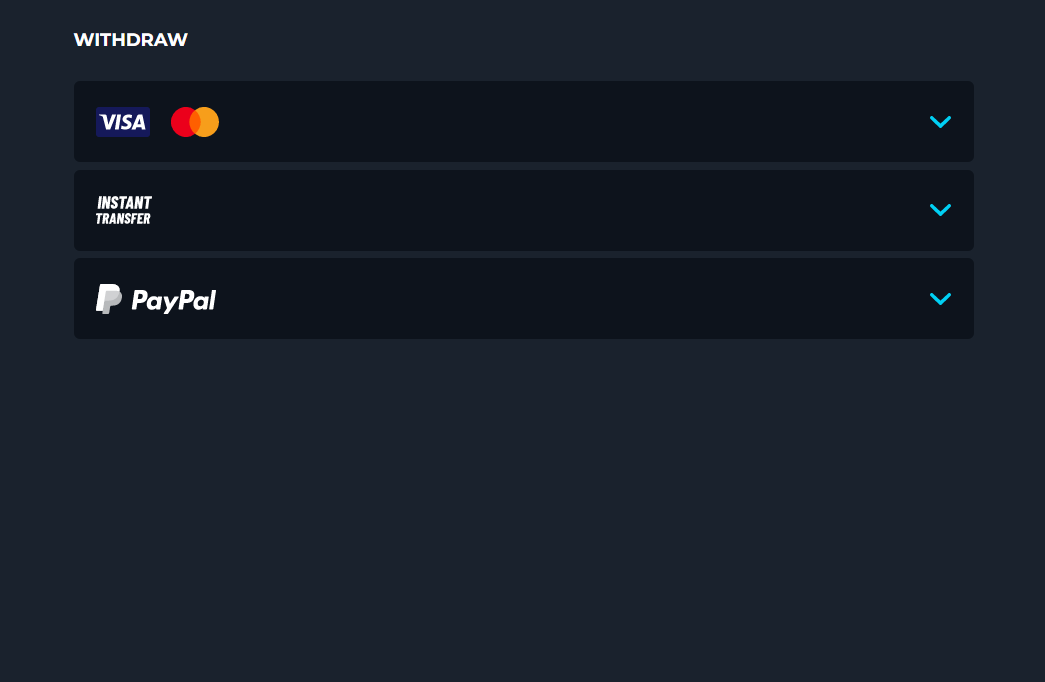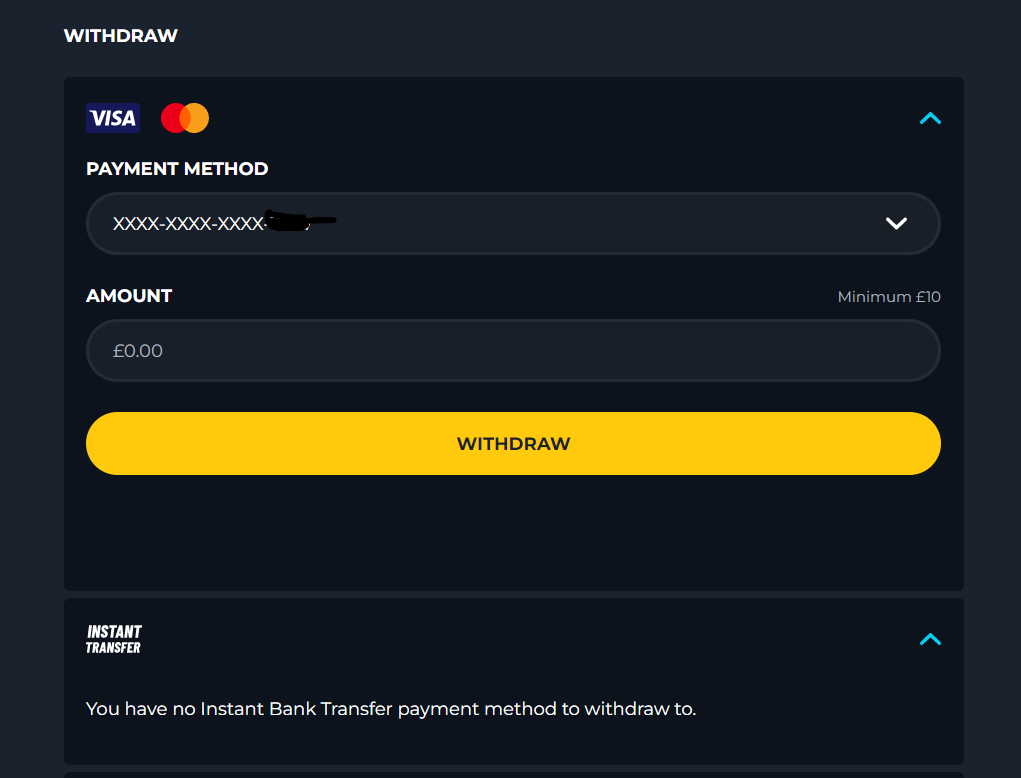 Navigate to the "Banking" section of the site, much like how you made the deposit, and select "Withdraw." The same options will pop up for withdrawal as they did for depositing. Bear in mind that you must withdraw using the same method you used to deposit.

Because you are withdrawing to the same place you deposited, your details will have been saved, meaning you won't have to scramble for your card details or hastily sign into PayPal. Once you've entered the amount you'd like to withdraw, click "Withdraw."
Licensing & Safety
21.co.uk is licensed by the UK Gambling Commission; its licence number is 39198. At the time of writing, there has only been one regulatory action taken against LeoVegas (21.co.uk's parent company). In July 2022, it was found that the company had failed some social responsibility and anti-money laundering processes. It was fined £1.32 million by the UK Gambling Commission.
Service & Customer Support
We spoke to 21.co.uk's Live Chat after being unable to find the answers to our questions in their help centre. It didn't take long to get connected to a real person who was extremely polite and helpful. The answers were clear and concise, and our expectations were appropriately managed when the specialist needed to take a moment to check information for us. This made us feel valued and get the impression that the agent genuinely wanted to help us. We asked a couple of questions, and both times we were acknowledged quickly, and the whole chat took less than 5 minutes!
21.co.uk Casino Review
21.co.uk also offers a huge range of casino games. They've teamed up with some huge names, including Evolution and Slingo, to offer players upwards of 400 games for players to try their hands at. 21.co.uk states that the list is ever-expanding, so there will be something for everyone, regardless of whether you prefer slots or table games, and if you don't know what you like yet, why not try something new? There are even digital scratch cards you can try for a potential instant win. If you are a new player, don't forget to take advantage of the welcome offer available at 21.co.uk Casino.
Live Casino
The live casino at 21.co.uk offers a classic range of live games, including Blackjack, Roulette, and Poker. There's also Monopoly and some other dice games, so if you are looking for the thrilling experience of a live event with other players and a real host, this might be the place for you. The live casino will have you on the edge of your sofa, just like an in-person casino, and that's really all we can ask for.
More Information About the Bookmaker
Founded in: 2013

Owners: LeoVegas

Sponsors: N/A

Registered Office: Level 7, The Plaza Business Centre, Bisazza Street, SLM 1640, Sliema, Malta

Licence number: 39198

Email: [email protected]

Phone: N/A
Updated: 19.07.2023
Information about the company
Other bookmakers



50% refund of first day losses
£35








"Bonus Credit" if lose
£40