Pros
24/7 live chat
Live streaming and In-Play betting
Well laid out sportsbook
Variety of payment options
Cons
No telephone number or email listed
No welcome offer
Potentially long withdrawal time
Payment methods
Payment method
Min
Max
Fee %
Deposit time

£10
N/A
£0
Instant

£10
N/A
£0
Instant

£10
N/A
£0
Instant

£10
N/A
£0
Instant

$11 (£9ish)
N/A
£0
Instant

£10
N/A
£0
Instant

$11 (£9ish)
N/A
£0
Instant

$11 (£9ish)
N/A
£0
Instant

£10
N/A
£0
Instant
Payment method
Min
Max
Fee %
Withdrawal time

£10
N/A
£0
3 to 5 business days

£10
N/A
£0
Up to 1 hour

£10
N/A
£0
Up to 1 hour

£10
N/A
£0
3 to 10 business days

£10
£6,500
£0
3 to 10 business days

£10
N/A
£0
3 to 10 business days

£10
N/A
£0
Up to 1 hour
This bookmaker is not working with Legalbet.uk to solve disputes.
Review of the bookmaker PokerStars Sports from Legalbet
PokerStars was founded by Mark and Isaia Sheinberg back in 2001, and currently, the platform has the industry's largest online rooms for poker. Despite its dominance as an online casino, the PokerStars Sportsbook, launched in 2015, is also accumulating plenty of supporters from around the globe, as the bookmaker has had the opportunity to prove its reliability. PokerStars is operated by Flutter Entertainment plc, which is listed on the FTSE 100.
Odds — bad
We calculated the margin for PokerStars by analysing the odds they offer and placed them into one of the following three categories:
From 1% to 5%: Good value
Over 5% to 7%: Average value
Over 7% to 10%: Poor value
Football
We got our results by taking the "Match result" odds and also the over/under 2.5 goals odds for different matches in different football leagues. Getting the average results using this method, we were able to obtain the margins for each league and the overall betting margin for the bookmaker.
PokerSpoets has an overall average margin of 9.31% for football and falls in the average category. In the first section with Premier League and Championship, the margin is at 9.45%. The second section with Spanish La Liga and Italian Serie A, the margin is at 9.28%. Finally, taking matches from around the rest of the world into account, the margin is at 9.21%.
Betting options — good
Betting Markets
PokerStars Sports has a total of 27 betting markets. They are the following; American Football, Australian Rules, Baseball, Basketball, Boxing, Cricket, Cycling Darts, Esports, Football, Gaelic Games, Golf, Handball, Horse Racing, Ice Hockey, Mixed Martial Arts, Motor Sports, Netball, Rugby League, Rugby Union, Snooker, Special Games, Surfing, Table Tennis, Tennis, volleyball, and Water Polo.
Live — normal
Live Betting
You will see to the left all the existing games that are currently live categorised by sport. For the game you have chosen the main header will contain useful information such as the current score and how long is left in the game. To the top right you will see a small graphic displaying the current phase of play, meaning that although you are not watching it live as such you get a regularly updated stream of information about how the game is progressing and what is currently happening.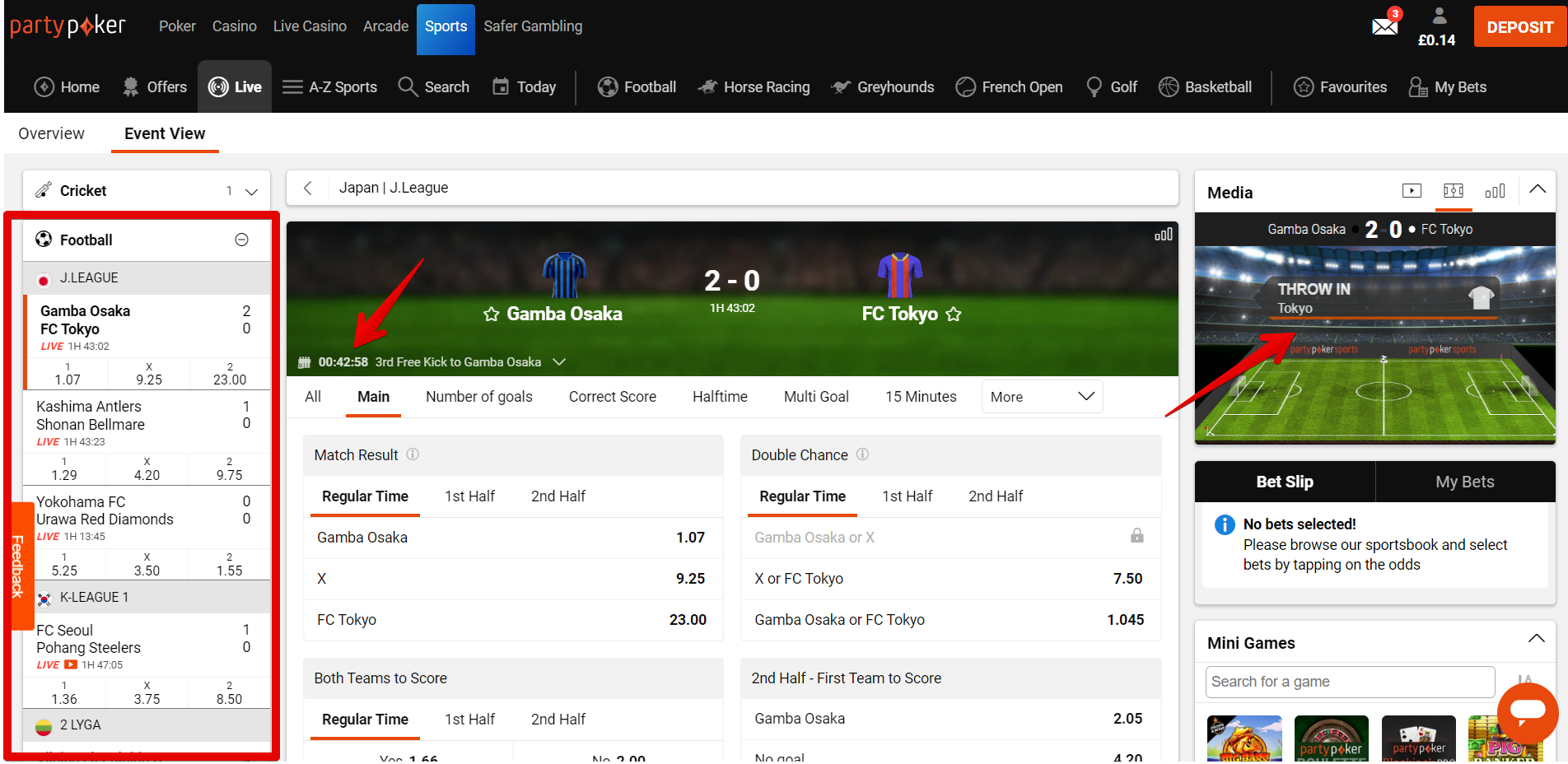 Live Streaming
PokerStars Sports sometimes livestreams sporting events such as horse racing and tennis. There is no criteria to meet in order to watch the streams (e.g. a minimum bet), except that you must be signed into your account.
PokerStars Sports Mobile App
Among bookmakers, PokerStars Sports provides a simple but effective sports betting platform that you can access from any device at any time. The app is free to download from the App Store or the Google Play Store.
How to Register at PokerStars Sports
The registration process on the PokerStars Sports platform is relatively simple, and you should not face any challenges if you follow the instructions below.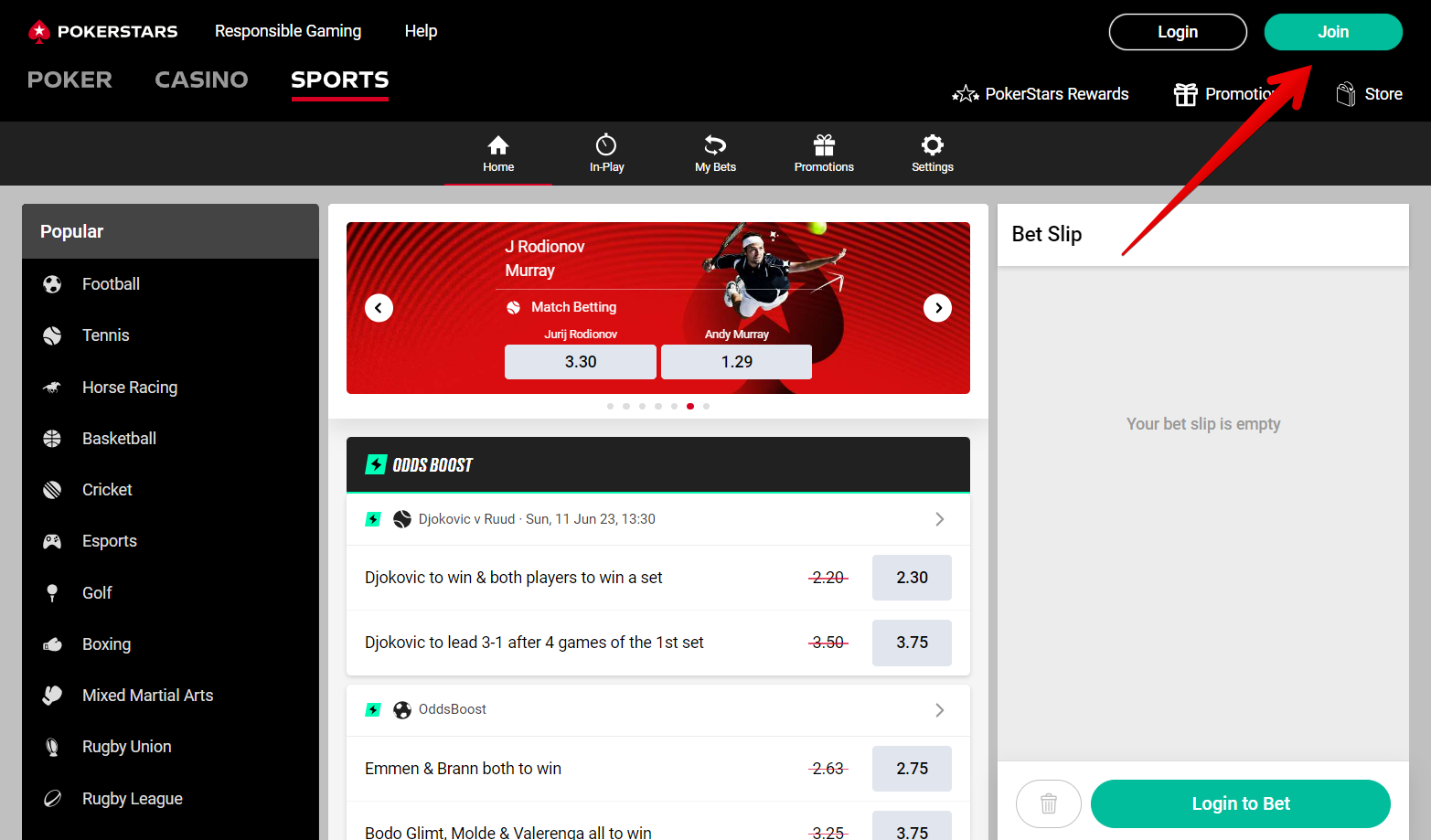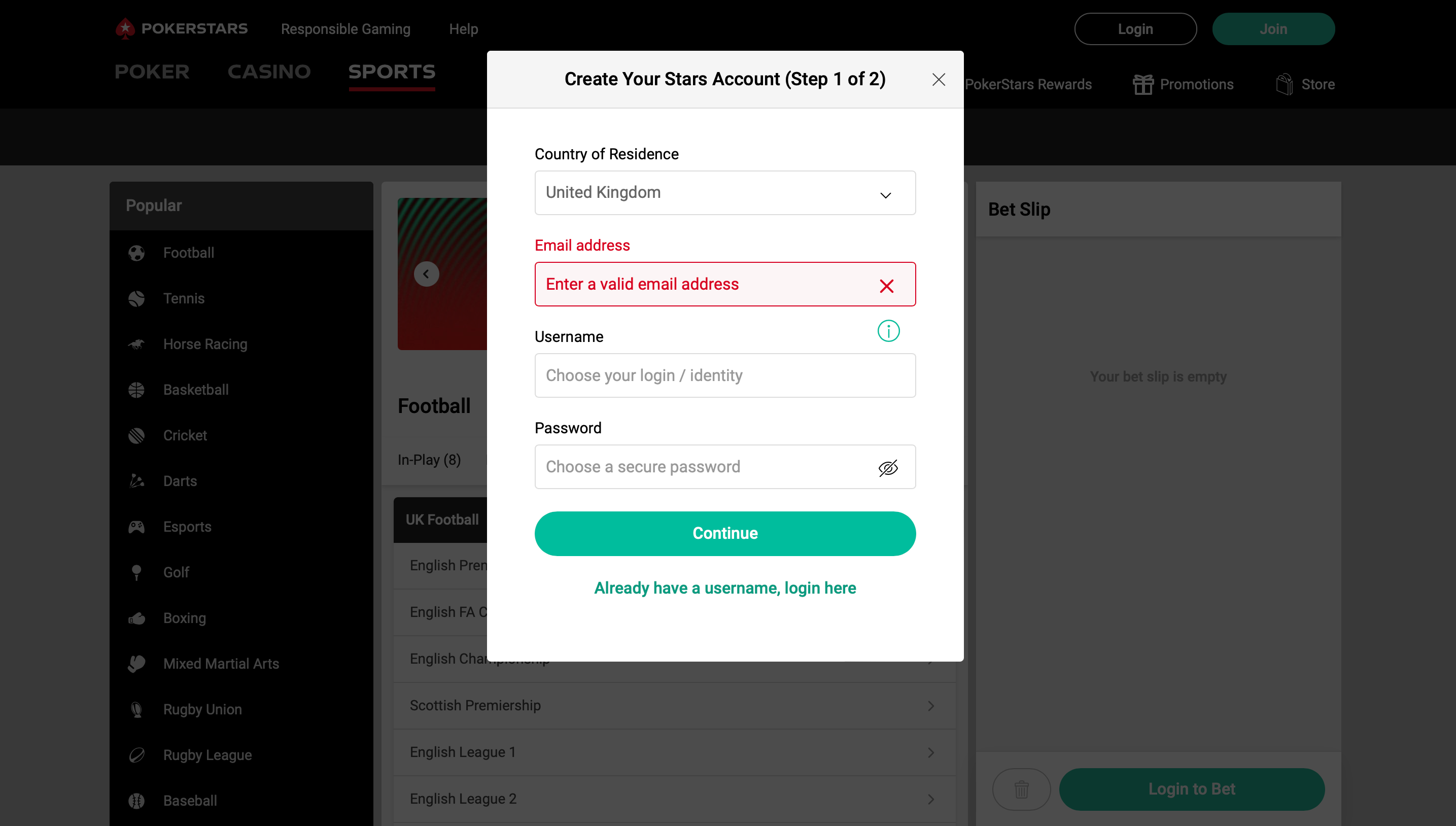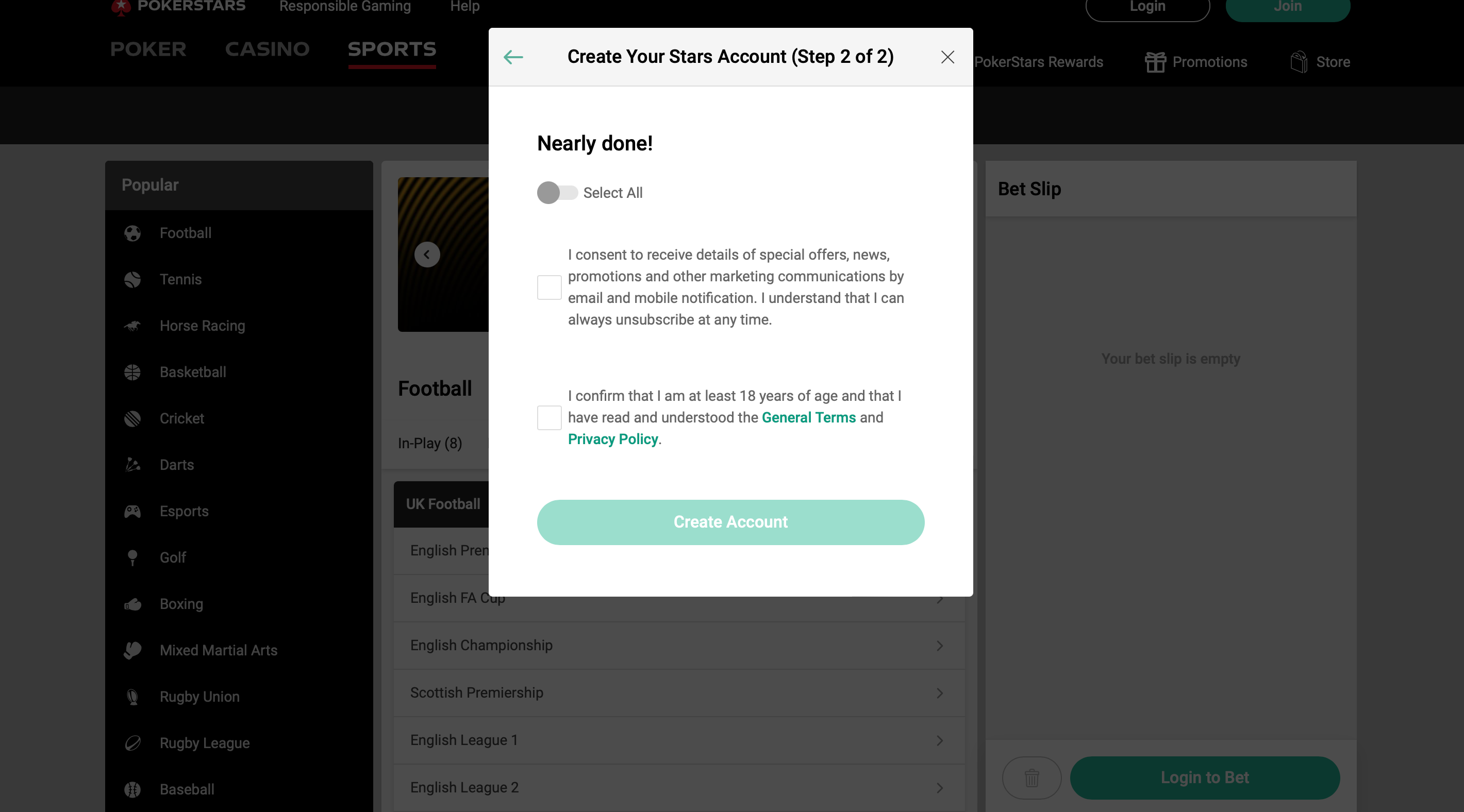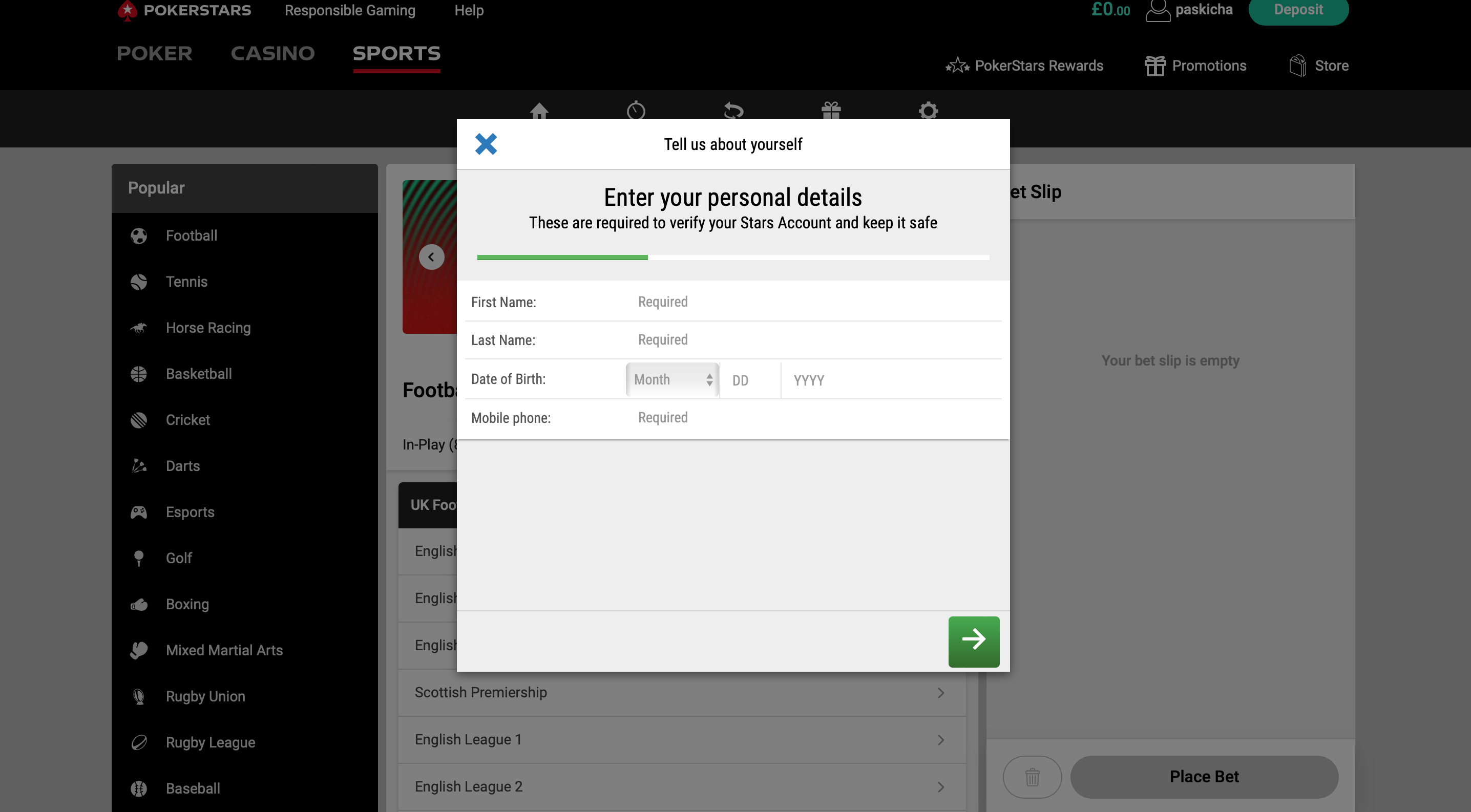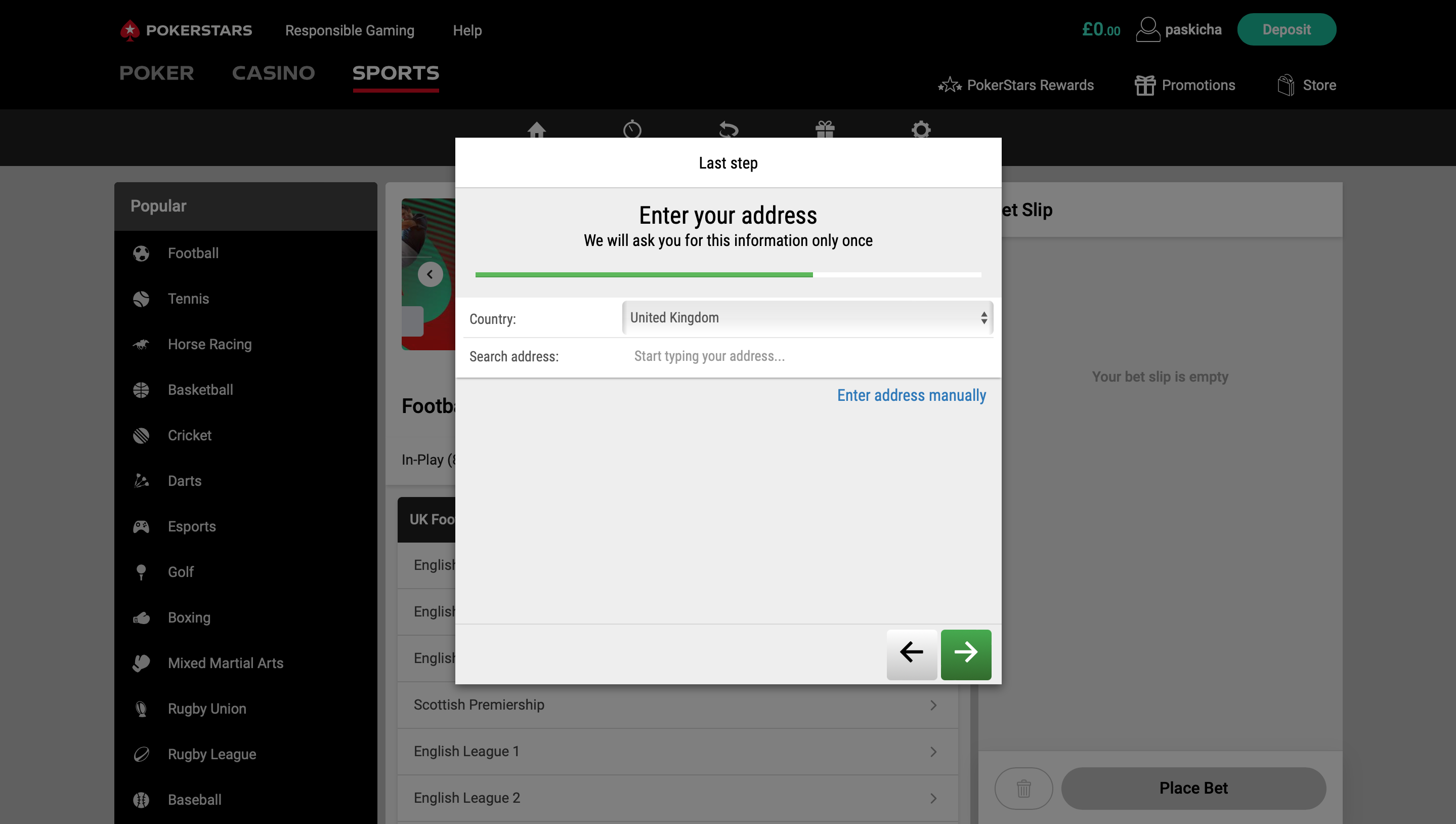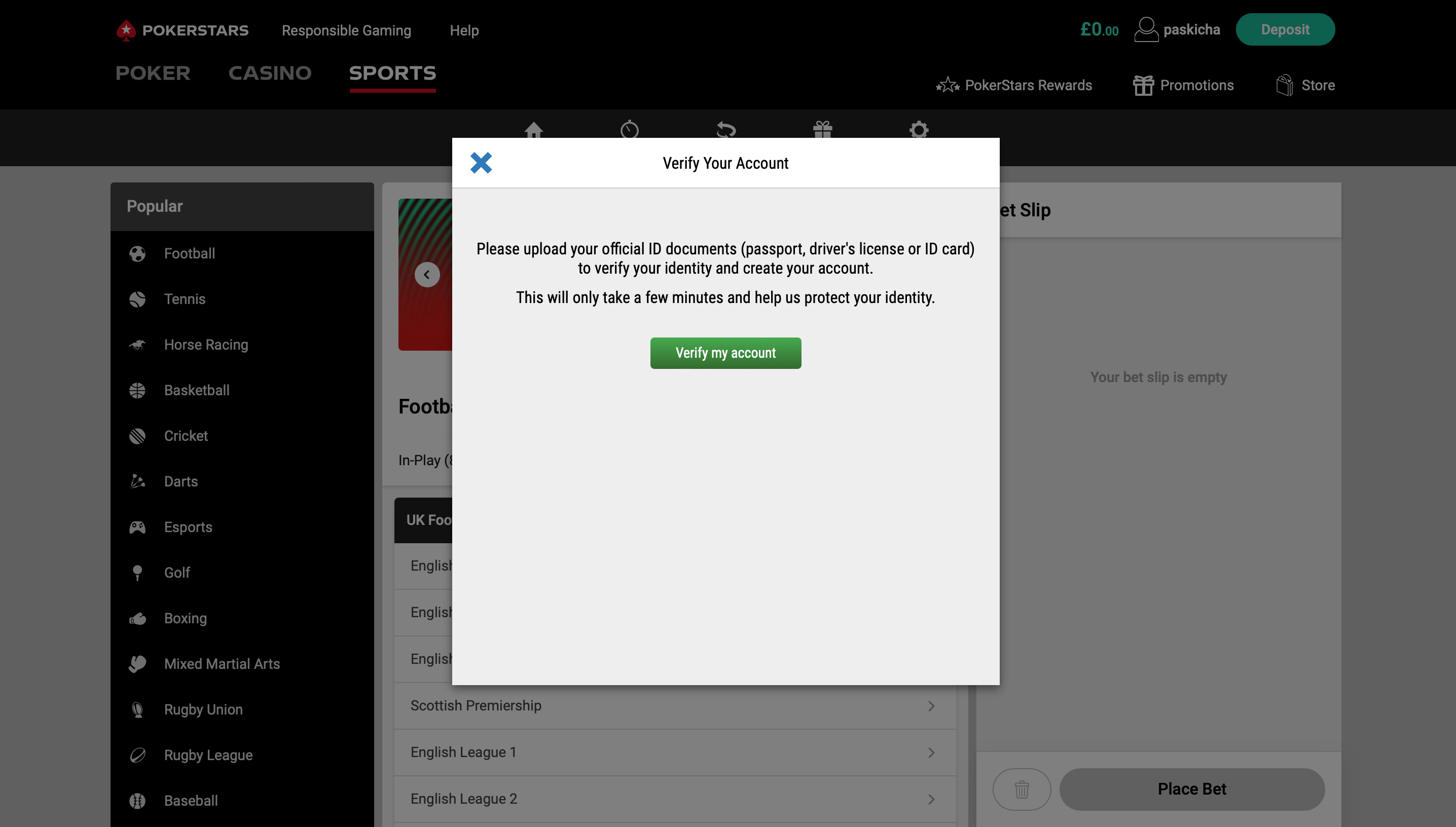 To begin with, once you are on the sportsbook page, find "Join" in the top right-hand corner and click on it. This will then bring up a window where you can proceed to create your account. You will need to have some photographic ID handy as well.

You will first have to select your country of residence and enter your active email address, followed by a unique username. Once you have done this, create a safe password that is not longer than 20 characters, starts with a letter (A-Z) and contains at least one number.

During the second step, you will have to confirm that you are over 18 and that you agree to the bookmaker's terms and conditions. You can also subscribe to the newsletter, which will provide you with regular promotional content; however, this is optional.

For the next steps, you will need to provide some personal details:your full name as it appears on your passport, your date of birth and your mobile number. And then you continue.

At the last step, you will need to enter your address. After choosing your country of residence from the drop-down menu, you will see that PokerStars Sports lets you find your current address by simply entering your postcode and then selecting the corresponding address from the drop-down menu.

Finally, PokerStars Sports will ask you to confirm your identity. To do so, you will need to submit a photo of your ID document, which can be your passport or driving licence. Once your identity is confirmed, you will be ready to make a deposit.
How to Deposit at PokerStars Sports
Before depositing funds for the first time, make sure that you have successfully registered your account. Then, even though the bookmakers suggest downloading the app to make a deposit, you can still do it through the website.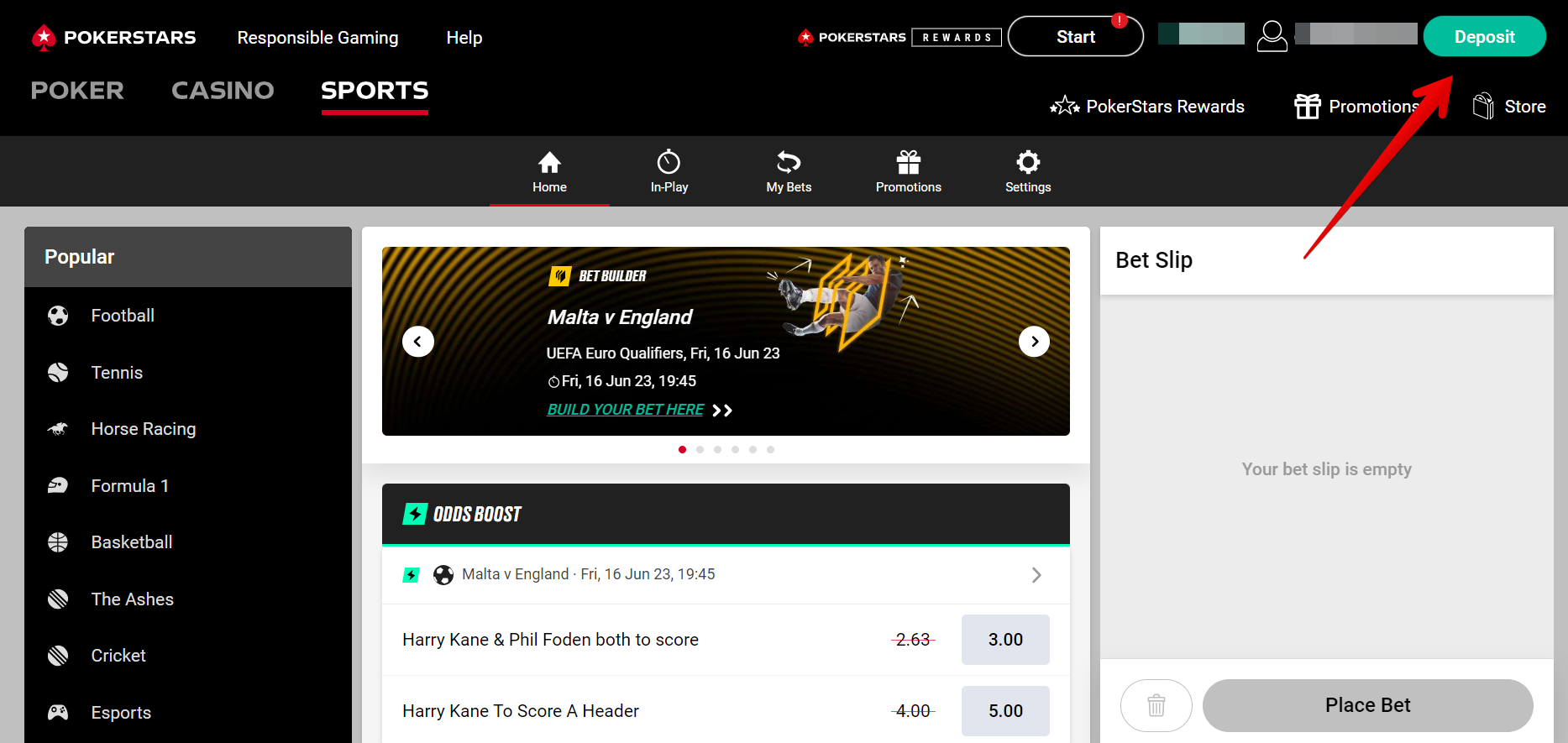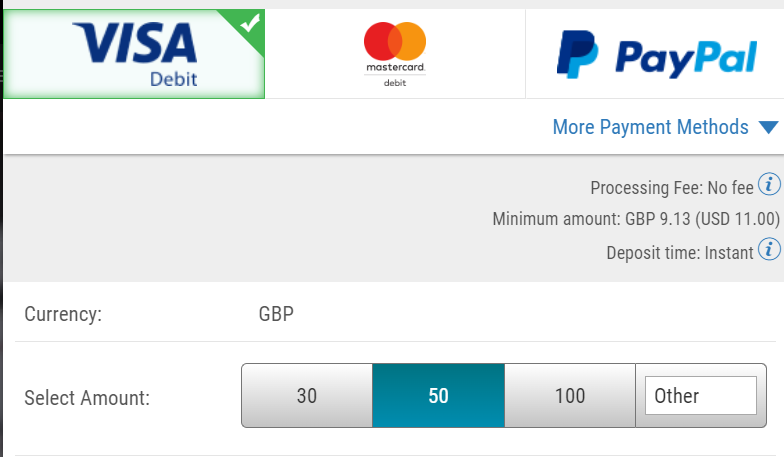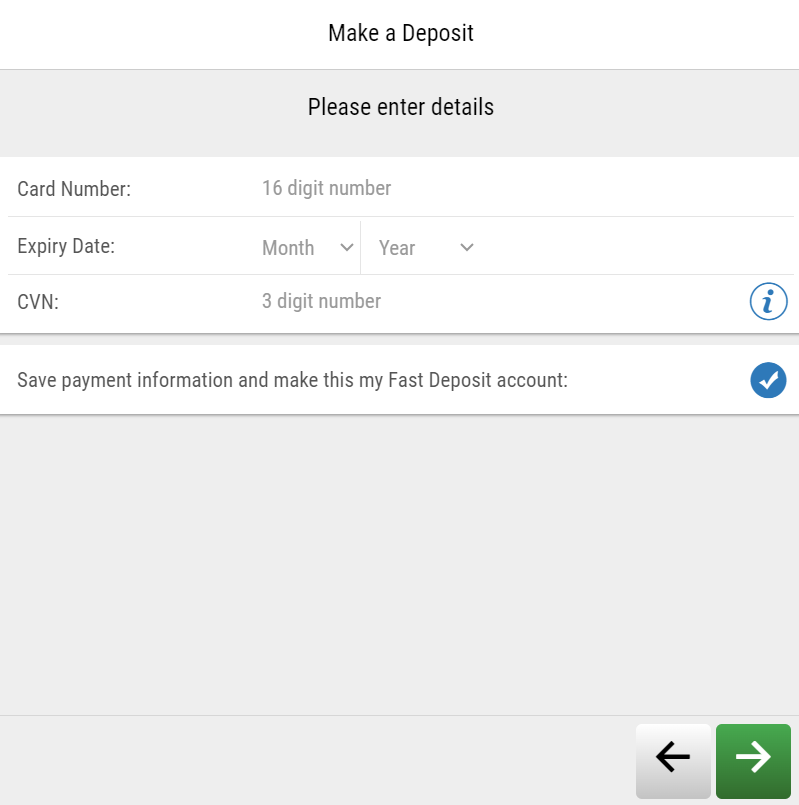 Start with finding the payment portal by clicking on the "Deposit" icon, located on the top right of the page. This will bring you to the section showing a variety of payment methods.

Choose the one that you are most comfortable with. The options include Visa, Mastercard, and Paypal. In this case, we will use Visa for demonstration. Click on this to proceed to the next step, where you'll be asked about payment details.

In the final step, you will need to provide the payment details associated with the method you chose in Step 1. For instance, if you pick Visa, you need to enter the card number, the name as it appears on the card, the CVV and the expiry date. After entering the necessary information, finalise your deposit and get ready to place your first bet. Click the green arrow to continue. Your balance will appear in the top right.
How to Bet at PokerStars Sports
You will find that placing a bet on PokerStars Sports is rather simple and doesn't differ from what you will encounter on other betting platforms. Please follow the steps below to avoid any confusion.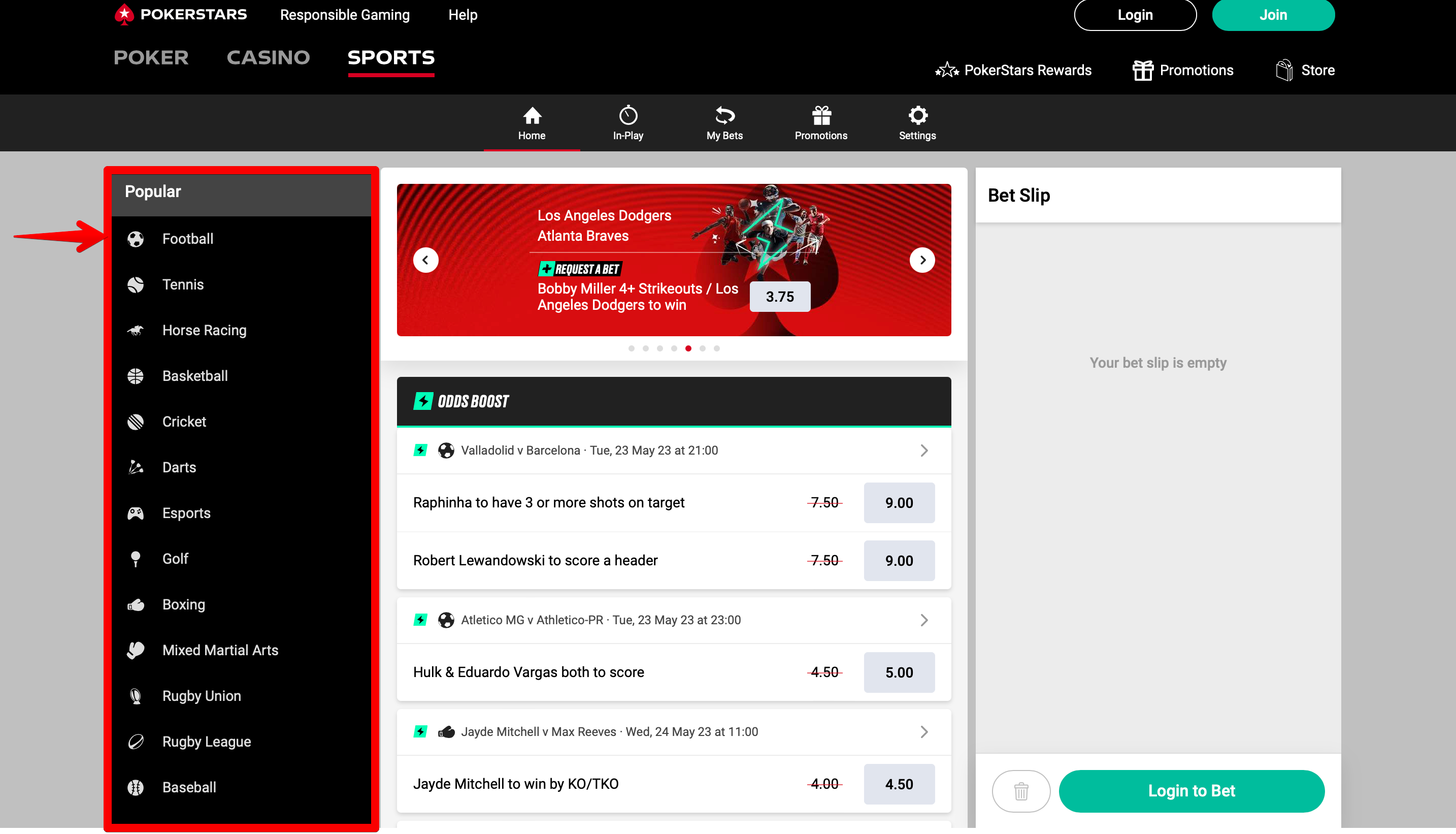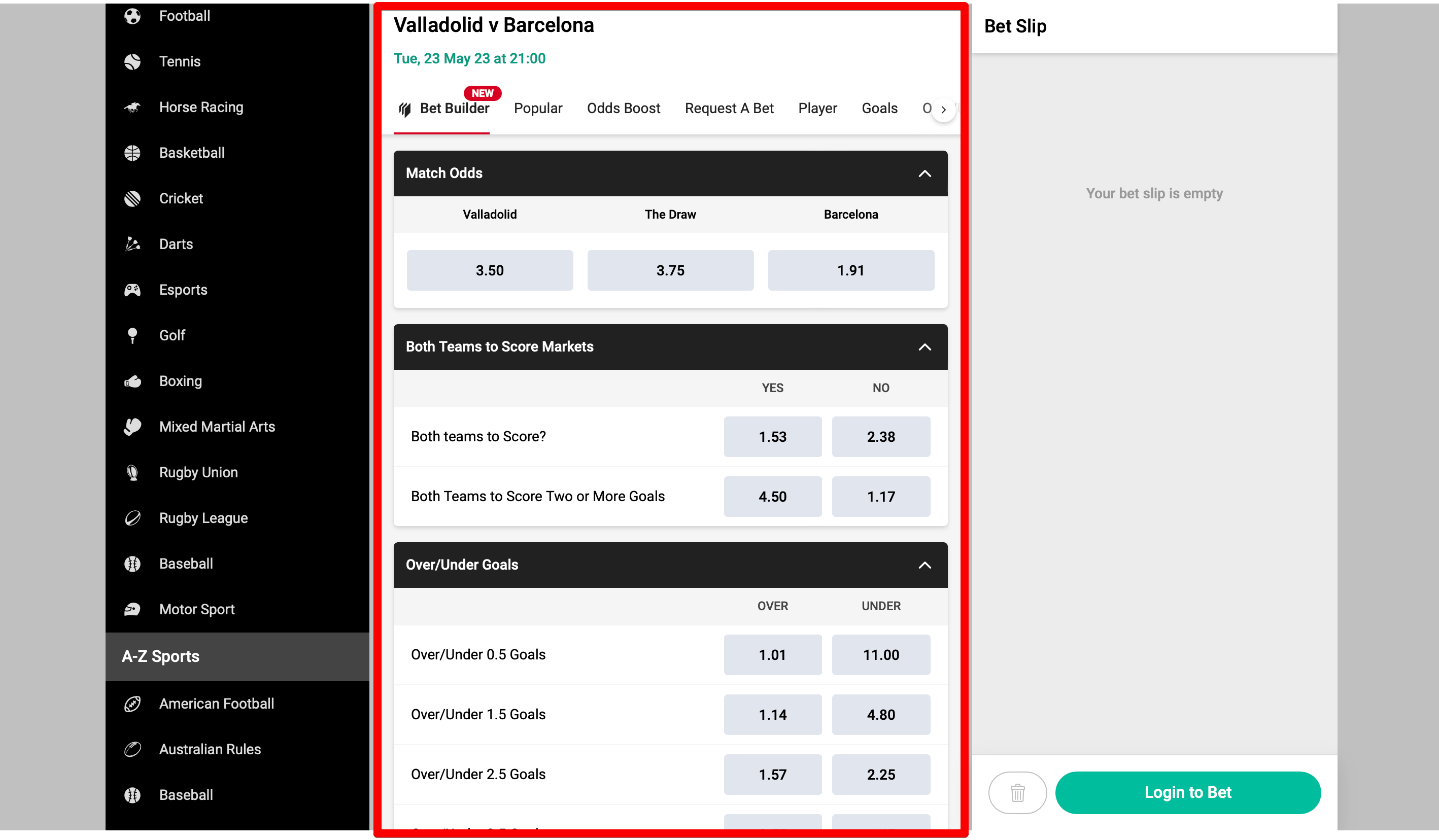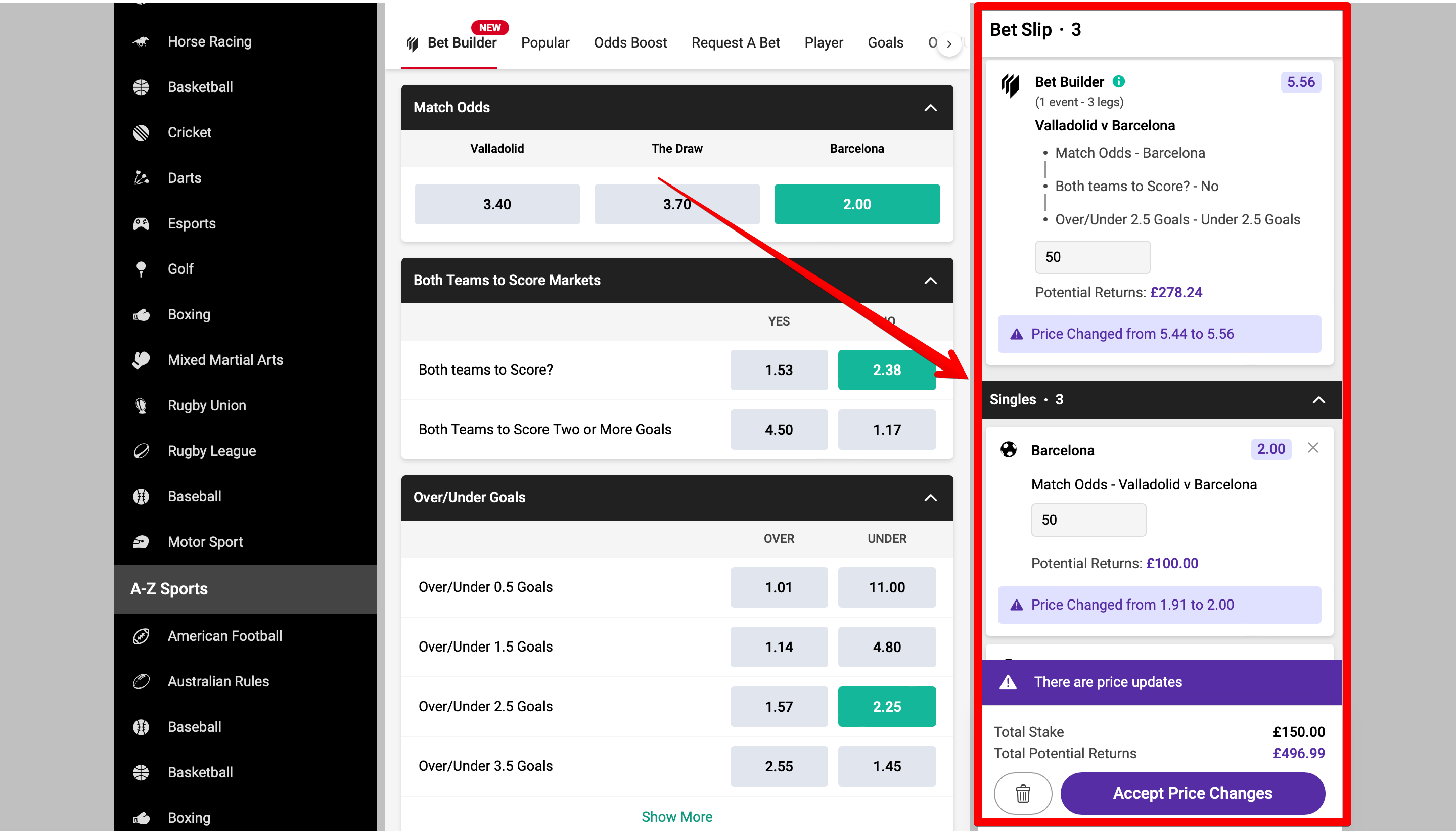 Once you have accessed the sportsbook page, you will be presented with a panel to the left that will include all the available sports on PokerStars. The list is extensive, which leaves you with plenty of options to choose from. For this demonstration, we have selected "Football".

Next, you should shift your attention to the middle section of your screen. It will contain a list of all the available games that you can bet on at this moment. We chose only Valladolid vs Barcelona, but you can select any games you wish. After picking your game, you will find the extended menu with all the available betting markets for this event. Make your selection and continue.

Take a look at the betslip, which is located on the right side of the page. There, you will find every betting market you selected in Step 2, with an additional text box next to it. Enter the stake in the text boxes. If odds are updated, this will appear in your betslip, which you'll need to accept (or delete the bet if unhappy). You can see that there are two visible bets here to demonstrate that you can have more than one on your betslip at a time. Then place your bet.
How to Withdraw at PokerStars Sports
Before attempting to withdraw, you will need to confirm that you have more than the minimum withdrawal amount (£10) in your account balance. Please be aware that depending on the withdrawal method, the withdrawal time can range from 3 to 10 days.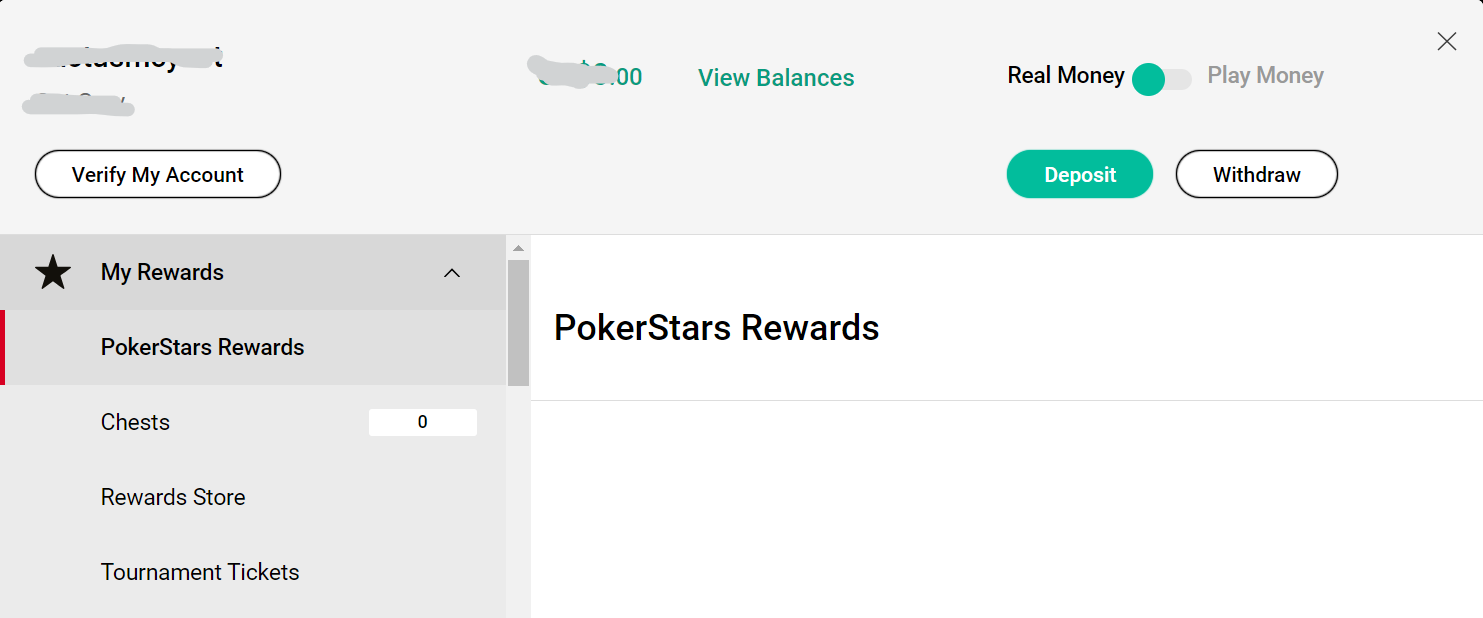 Firstly, you will need to go to the payment portal. To do this, simply navigate to your account and select "Withdraw". This will take you to the withdrawal portal, and then you will be able to finalise the payment after one more step.

Since the bookmaker has strict restrictions that punters can only use the payment method for withdrawals that they used for the deposits, you will only need to enter your withdrawal amount. The withdrawn funds cannot be over £6,500 at a time. Finalise your withdrawal and expect to receive your money shortly.
Licensing & Safety
PokerStars Sports is owned by the parent company Star Interactive Limited (a part of Flutter Entertainment plc), which is registered with the UK Gambling Commission under licence number 39108. In March 2023, the Securities and Exchange Commission (SEC) in the United States charged this company with books and records and internal accounting control violations arising out of the company's use of third-party consultants in Russia.
Service & Customer Support
Email - N/A

Phone - N/A

Live Chat - 24/7

Facebook - https://www.facebook.com/PokerStarsUK 

Twitter -https://twitter.com/pokerstarsuk
Our team contacted the customer support department on several occasions through the live chat tool on the website. We did not have to wait long until the support team answered, and on top of that, they conducted themselves in a professional manner. Overall, talking to them was easy, and they tried to help us out to the best of their ability.
PokerStars Casino Review
As we already mentioned, PokerStars is a widely respected online casino platform. The bookmaker lists a game of the week, which at the time of writing is "Up Pompay". You will also find the most well-known slot games out there, such as Big Bass Splash and Big Bass Bonanza. The casino has a listing called the "PokerStars Originals" section, where you can find games like Diamond Stars. Overall, PokerStars offers a great casino section with a variety of different games.
Live Casino
As the name would suggest, PokerStars offers an impressive poker section. In fact, it has the largest online selection of poker rooms with live dealers in the world. There is also a wide variety of other live casino games that you can try out. For instance, there are numerous Baccarat games, Live Roulettes, Blackjack games and even TV show games, like Deal or No Deal. Each category offers multiple games with different specifications, like, for instance, different bonuses.
More Information About the Bookmaker
Founded in: 2015

Owners: Flutter Entertainment plc

Sponsors: Team PokerStars, Red Bull Racing

Registered Office: Douglas Bay Complex, King Edward Road, Onchan, Isle of Wight, IM3 1DZ

Licence number: 39108

Email: N/A

Phone: N/A
Updated: 06.11.2023
Information about the company
Gambling Commission of Great Britain

№: 039108
Articles about the bookmaker
Other bookmakers





50% refund of first day losses
£35




"Bonus Credit" if lose
£40