Pros
The website is easy to use
Live betting
Great customer service
Quick withdrawal time
Cons
No casino/ live casino
No Live streaming
Few payment methods
No new customer offer
Payment methods
Payment method
Min
Max
Fee %
Deposit time

£20
N/A
£0
Within the day

£10
N/A
£0
Within the day

£10
N/A
£0
Within the day
Payment method
Min
Max
Fee %
Withdrawal time

N/A
N/A
£0
Within the day

N/A
N/A
£0
Up to 2 days

N/A
N/A
£0
Up to 2 days
This bookmaker is not working with Legalbet.uk to solve disputes.
Review of the bookmaker Ken Howells from Legalbet
Ken Howells is a family-owned business, which was founded in 1968 in Ammanford, currently owned by Ken Howells. The bookmaker's goal is to provide its customers with a top-notch, professional, and competitive service. The platform specialises in sports bets on the following three activities: horse racing, rugby, and football. Apart from its online betting services, the bookmaker owns racing pitches in Hereford, Bath, and Cheltenham, as well as some in Wales, as the bookmaker is Welsh. 
Betting options — normal
Betting Markets
On its website, Ken Howells hasn't accumulated a decent variety of betting markets as its  specialisation is horse and greyhound racing. Still, the sports betting markets you can bet on are the following: American Football, Cricket, Football, Golf, Greyhound Racing, Other Horse Racing, ROI Horse Racing, Rugby League, Rugby Union, Special/ Other, Tennis, UK Horse Racing, Virtual Greyhound racing, and Virtual Horse Racing. 
Live — normal
Live Betting
Apart from traditional online sports bets, Ken Howells allows its customers to place bets on live games. In-Play bets are exciting because of their volatile nature since the odds vary depending on the progression of the game. On Ken Howells' platform, you can place Live bets on certain football games. 


Live Streaming
Unfortunately, the bookmaker does not have any live-streaming services in the sportsbook section.
Ken Howells Mobile App
If you are looking for a great online sportsbook that is easy to use and has a well-established reputation, then Ken Howells should be a place to consider. Even though it does not have a mobile app, Ken Howells can still be accessed from every device you have. 
How to Register at Ken Howells
It only takes 5 minutes to register at Ken Howells, and the process is very straightforward. The bookmaker's website is backed by A BET A Technology Limited, a platform provider for other bookmakers, so it might look familiar.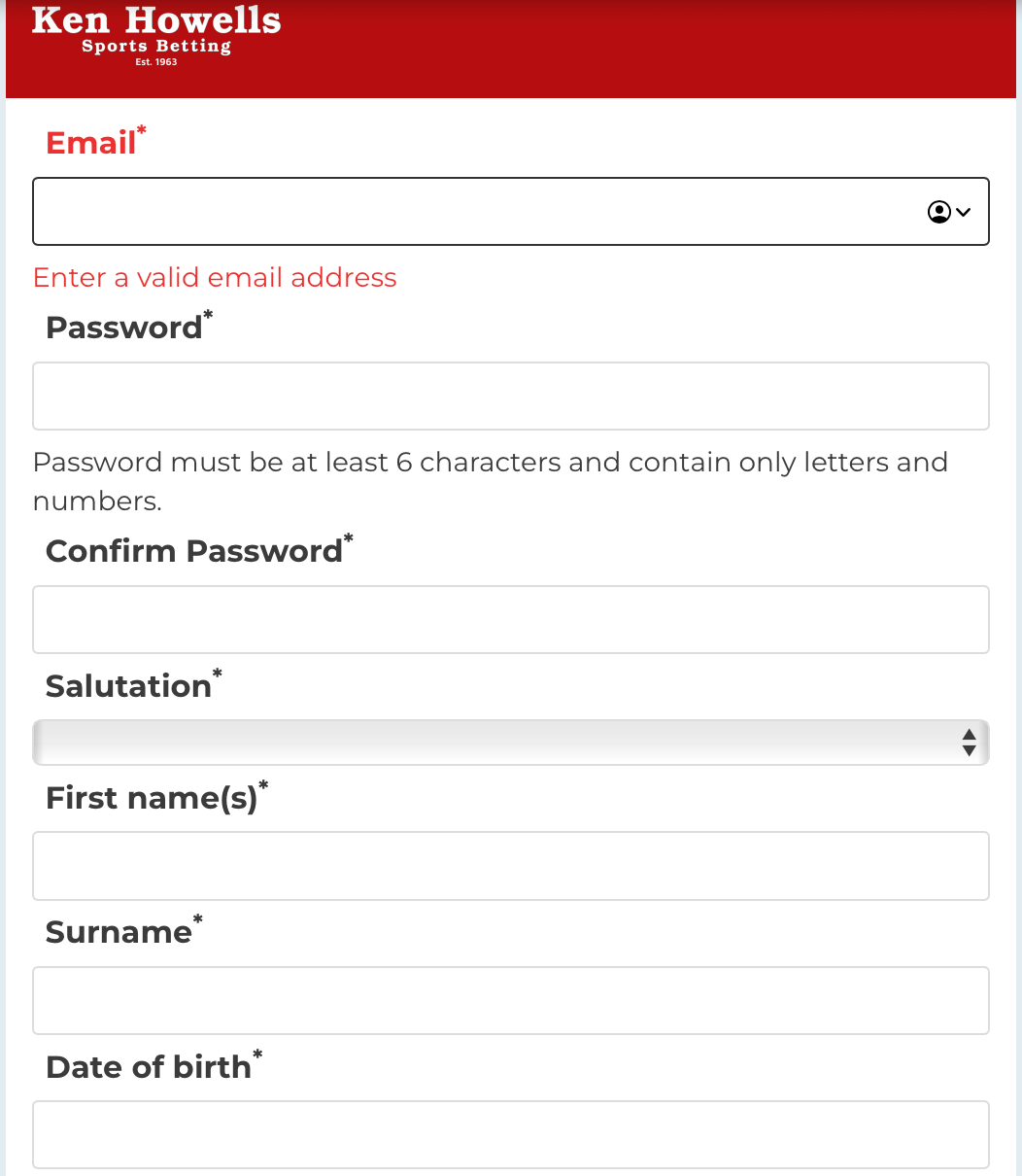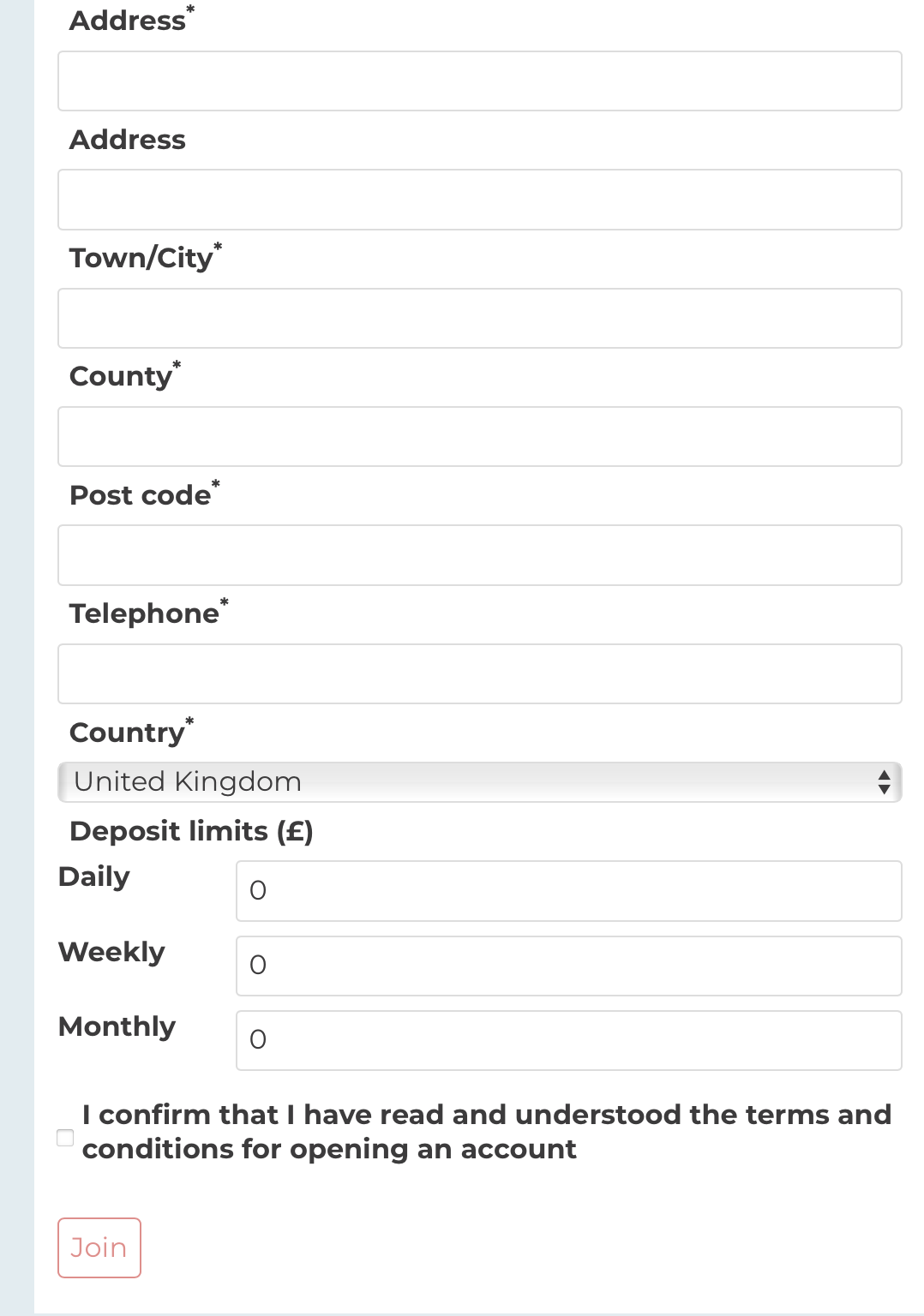 Firstly, the bookmaker will ask you to provide the following details. You will have to enter an active email address, followed by a safe and secure password. Then you will have to choose a salutation - Mr, Mrs, Ms, etc. Afterwards, you will need to enter both of your names as they are on your ID document. Finally, provide your full date of birth and proceed to the next step. 

Throughout the second step, the bookmaker will require you to input your full address. You will need to type in your street and house number, the town/city, the county, and the postcode. Once you have done it, you will need to enter your personal mobile number. Then, after selecting the country of residence and the currency, you will be asked to pick a daily, weekly, and monthly deposit limit. Confirm your compliance with the terms and conditions and press "Join." 
How to Deposit at Ken Howells
The deposit process is simple, even though the payment portal can be a bit tricky to find. Follow the steps below to be sure that you won't face unexpected challenges.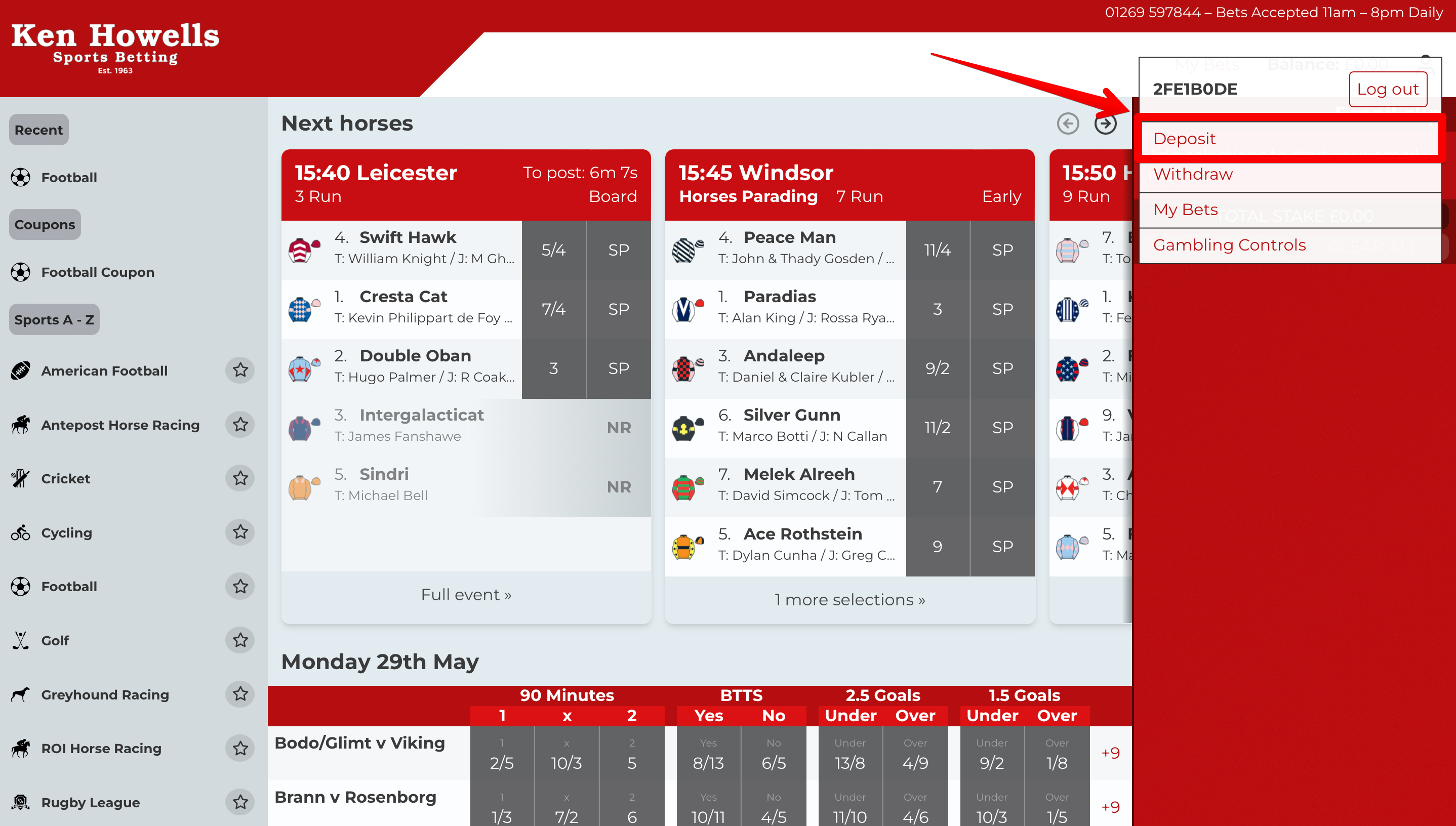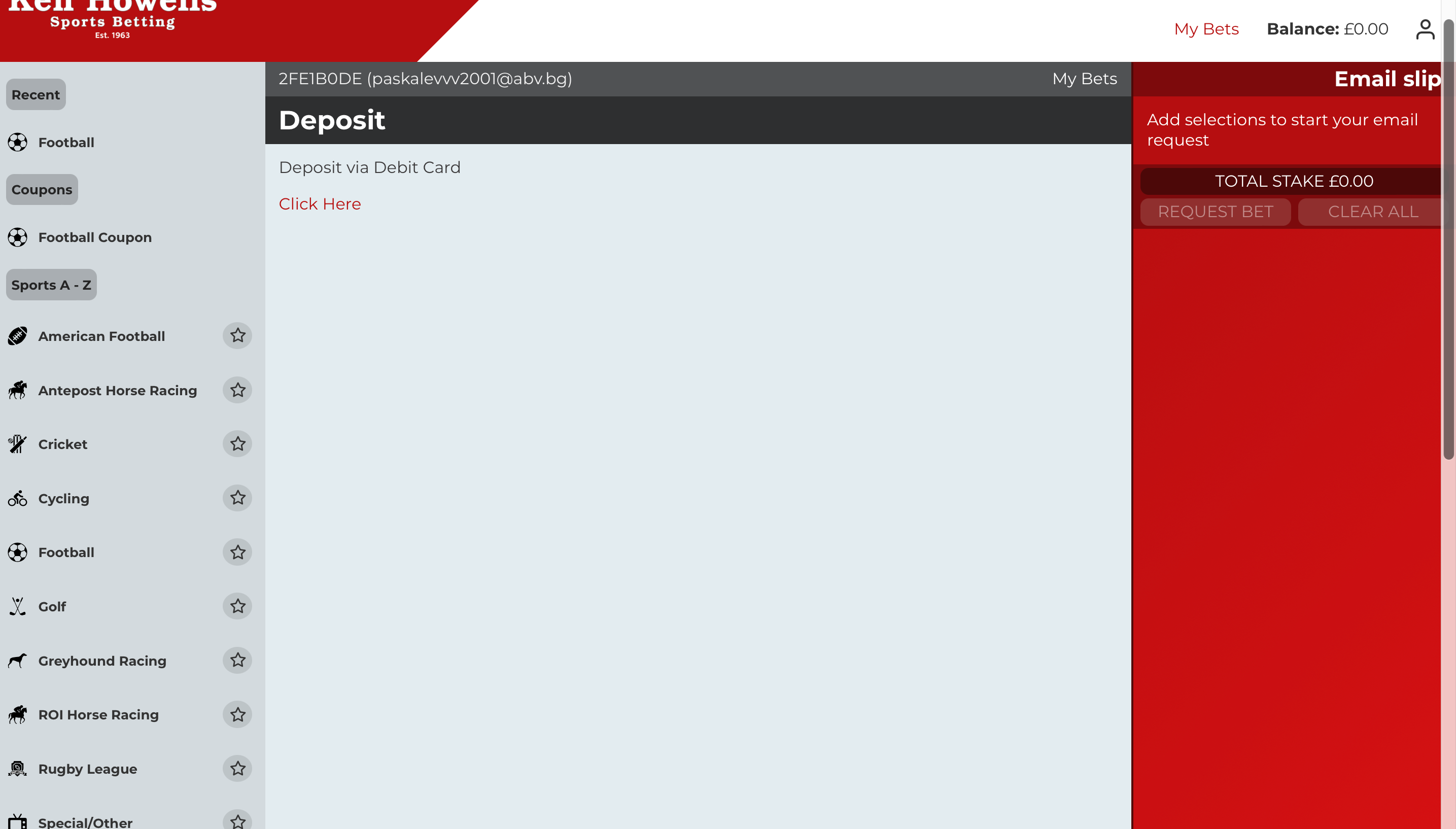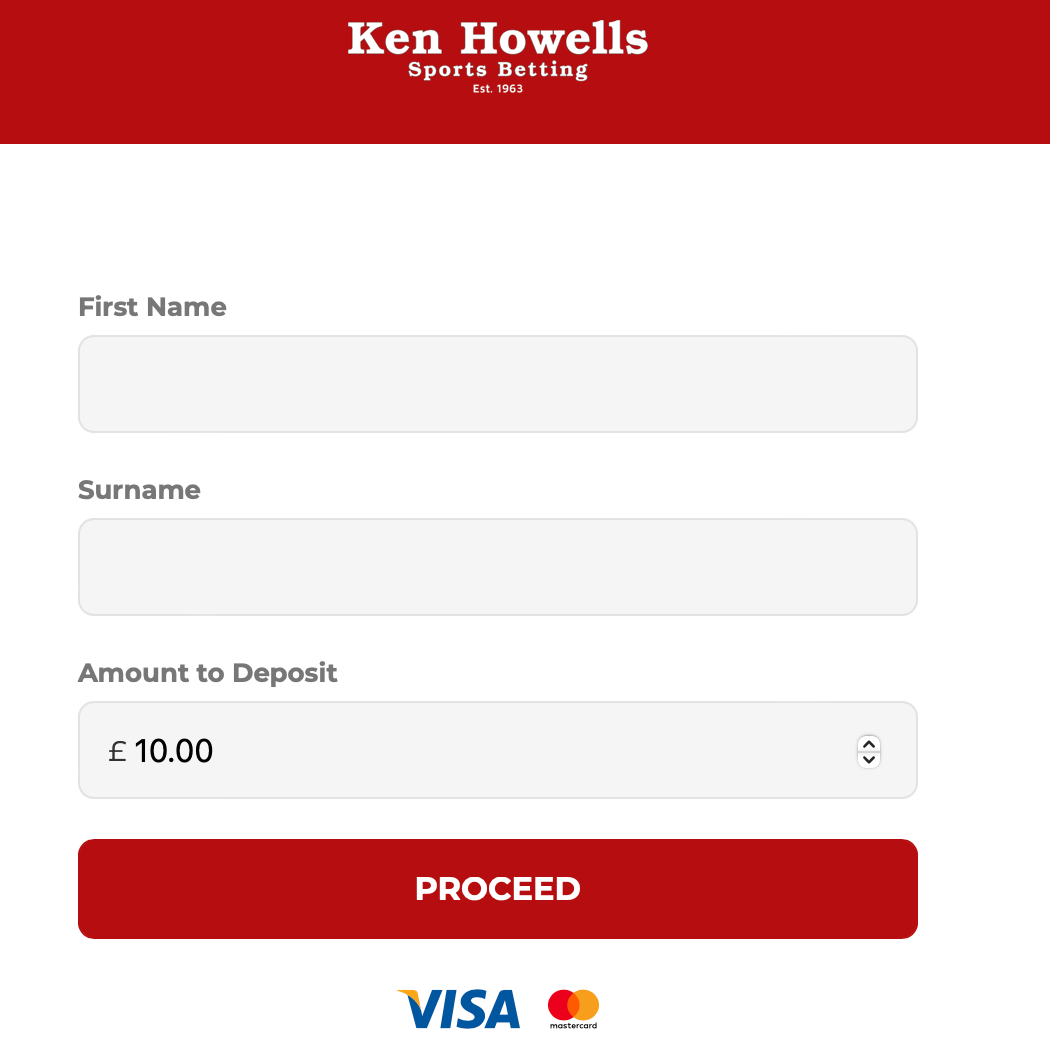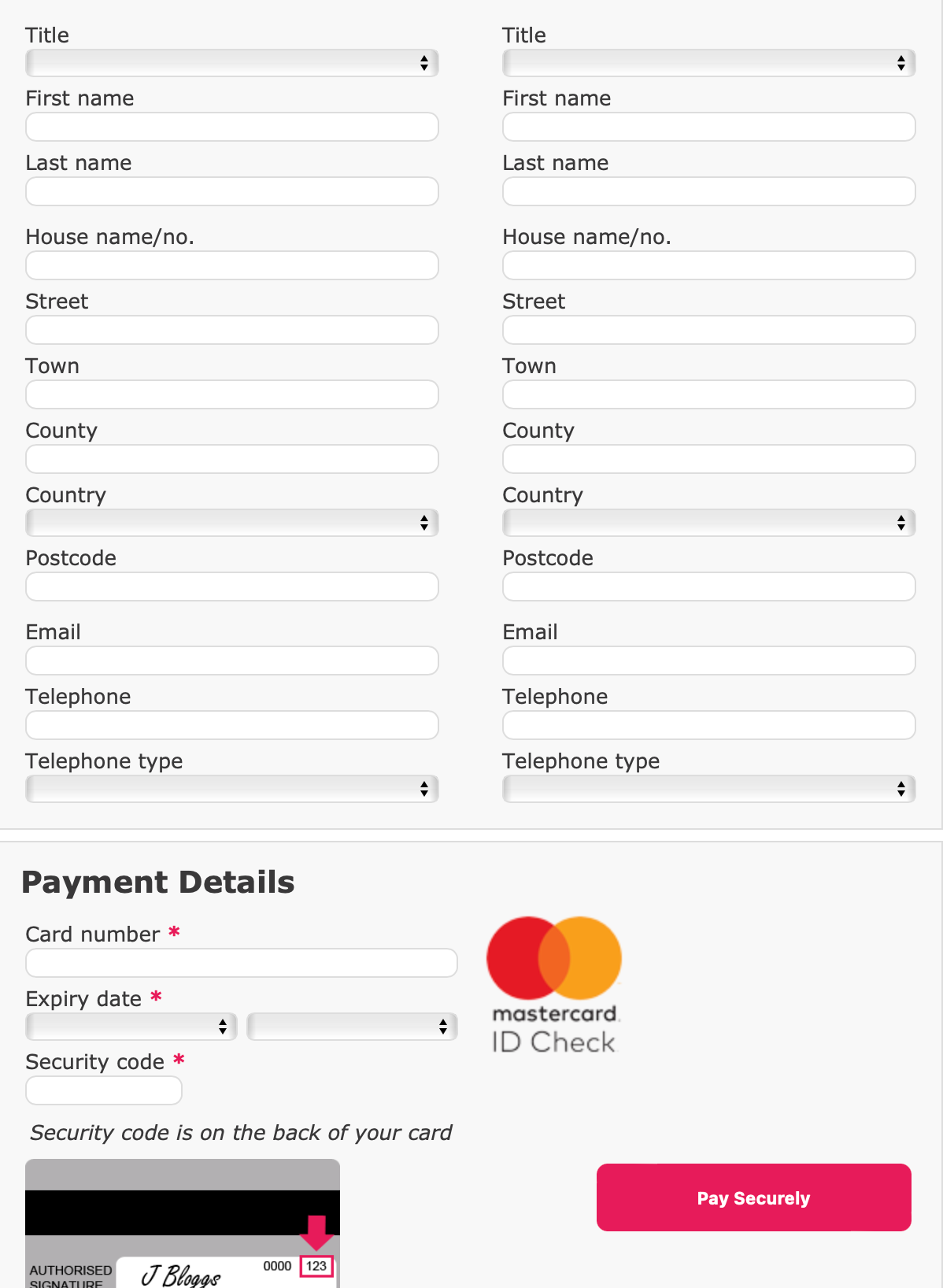 Firstly, you will need to find the deposit icon. To do so, navigate to the account icon in the top right of your screen. When you click on it, a small drop down menu will pop up. The first section of the menu will be named as "Deposit". Click on it and proceed to the next step. 

After you have clicked on "Deposit",  you will be taken to a new page, where you will be selecting your deposit method. As you will see, the only available deposit method is to pay via a debit card. However, you can also make a bank transfer deposit. In this case you should contact the support team to initiate it. Click on the link and proceed to the next step. 

During the third step, you will need to choose your deposit amount. Firstly, enter your name and surname as they appear on your ID. Then enter the sum of money you would like to deposit. The minimum amount required is £10 if you are using a bank card payment. If you prefer to deposit through a bank transfer, the minimum amount will be £20. Once you have done that, move to the final stage.

While you are on the final step, you will need to add a billing address, and we suggest that you use the same information as you did for the registration. Then all you will need to do is to enter the details of your bank card. This will mean entering the card number, the name as it appears on the card, the CVC, and the expiry date. Confirm you have provided the correct details and then click "Pay Securely". 
How to Bet at Ken Howells
Placing a bet on Ken Howells' sportsbook is no different from what you may be used to at other sportsbooks. Follow the instructions below.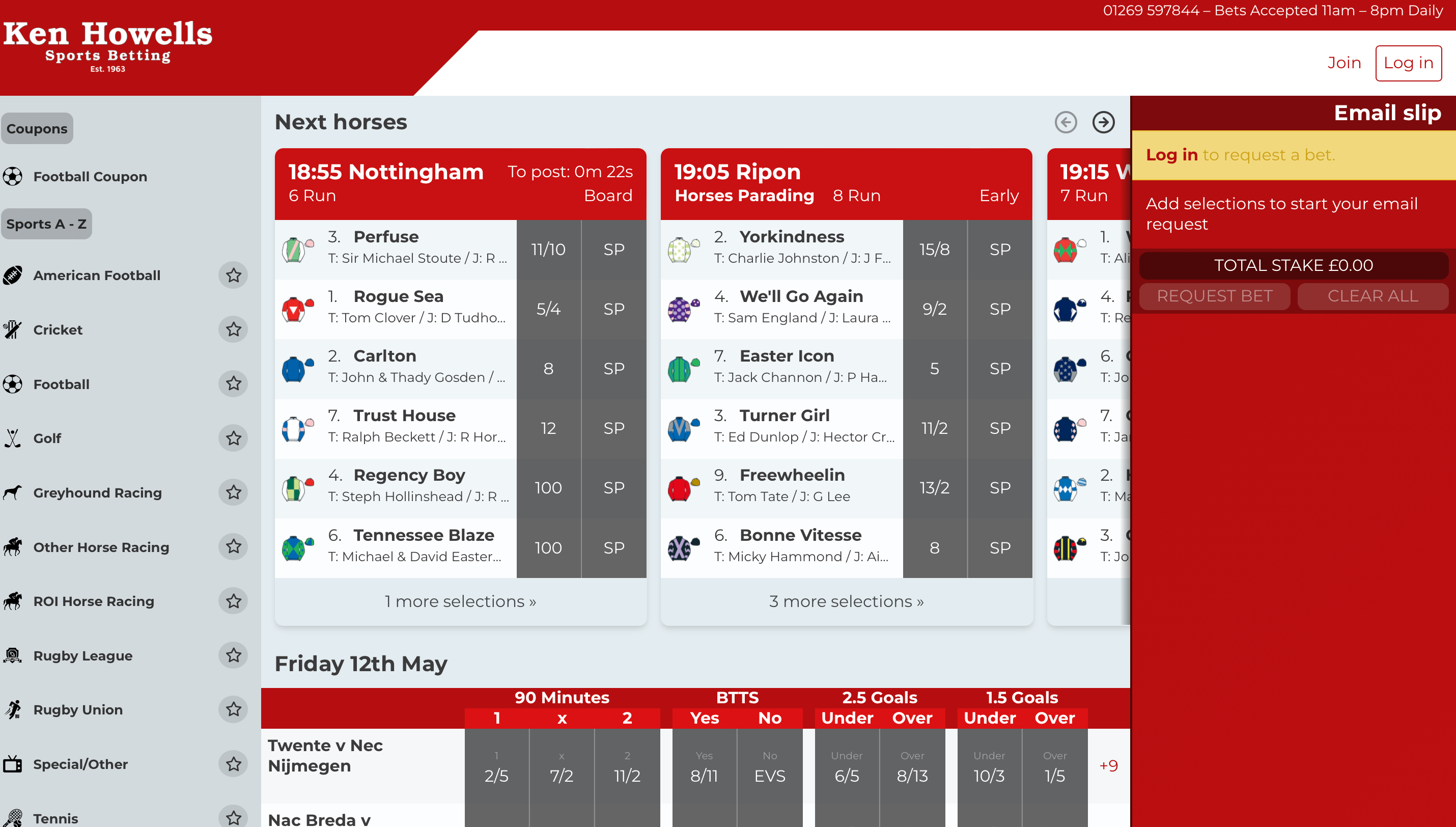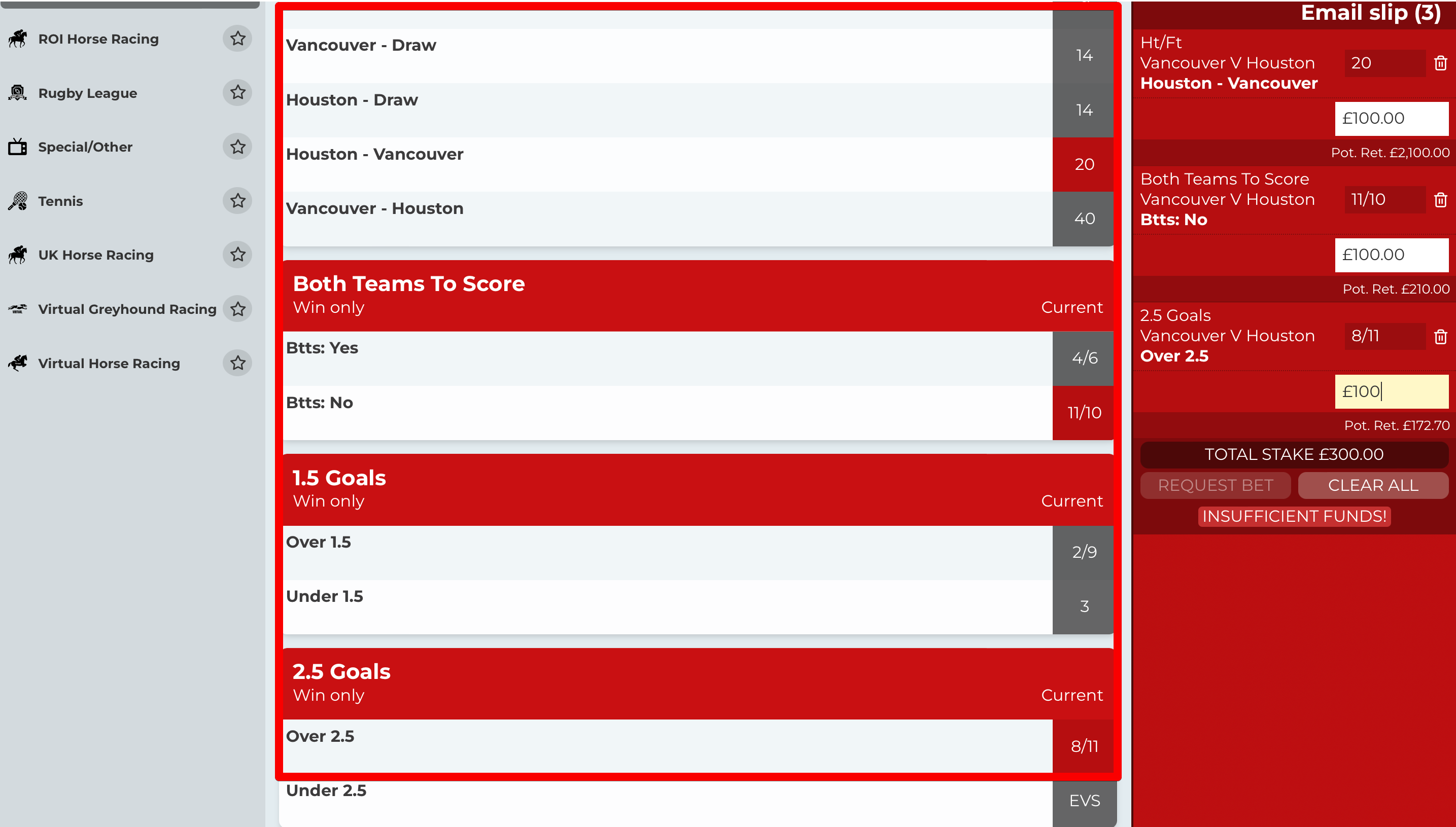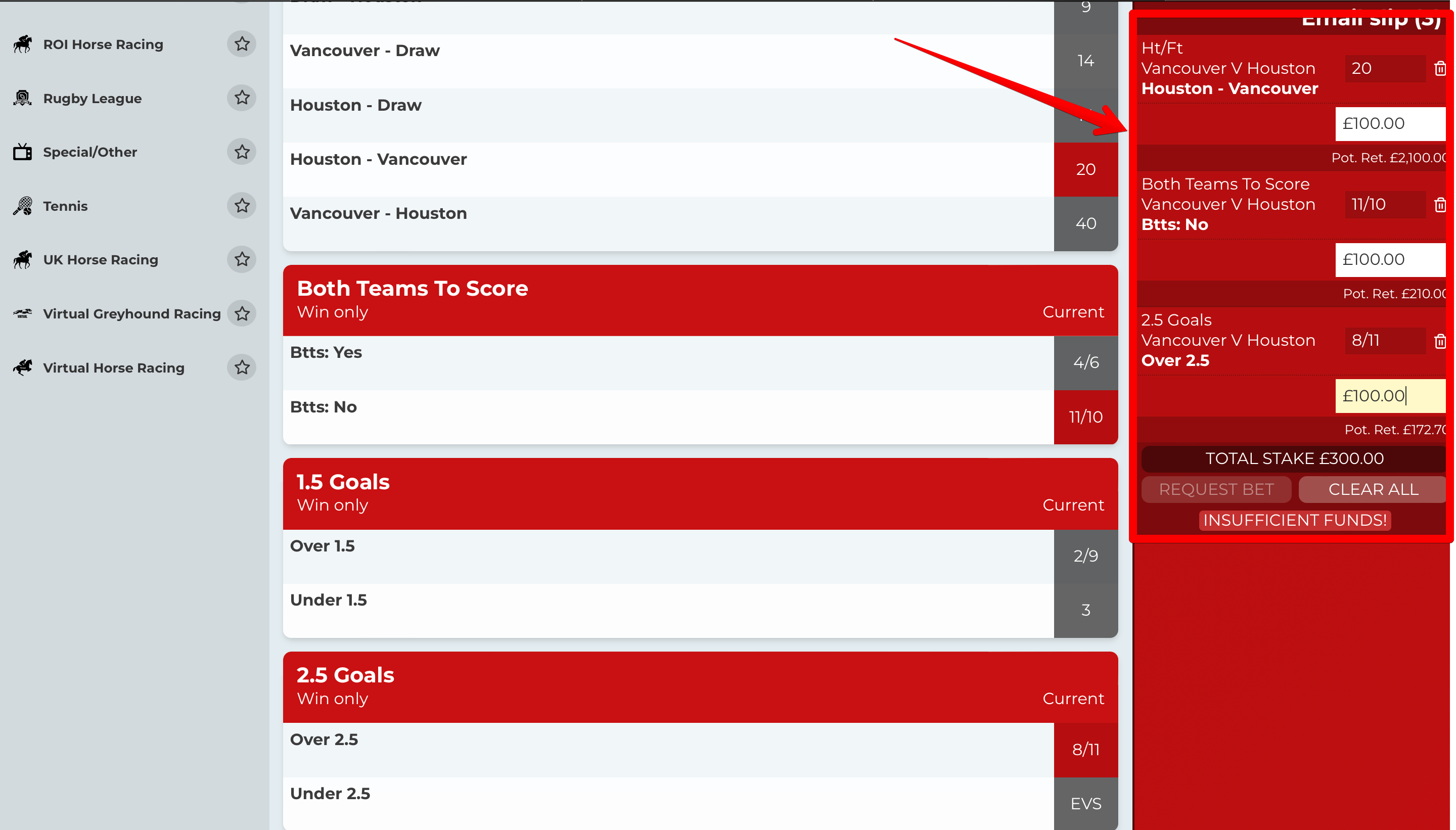 The first thing that you will have to go through is the selection of sports for betting. Once you are on the sportsbook menu, you will be able to look through the variety of sports available for bets on the left side of the page. The bookmaker specialises in horse racing, rugby and football, but it offers other popular sports too. Choose your sport and move on to the next step.  

During step 2, you will need to choose the markets on which you will be betting. In the middle section of your screen, you will be able to look at all the games available for bets on a specific sport. Click on one of the games, and you will be able to access the wider betting market menu. In our case, we chose the game between Vancouver and Houston, placing our bets on Houston. Choose as many different markets as you wish and move on to the final step. 

For the final step, you will first need to locate the betslip. It should be on the right-hand side of your screen. There, you should find all the betting options you selected in Step 2. You will also notice that next to each betting market, there is a text field. You will be able to bet a different amount on each betting market. Determine the amount you want to stake and finalise your bet.
How to Withdraw at Ken Howells
The withdrawal process is very similar to the deposit process, so you should not experience any difficulties at all. Take a look at the instructions below to be on the safe side.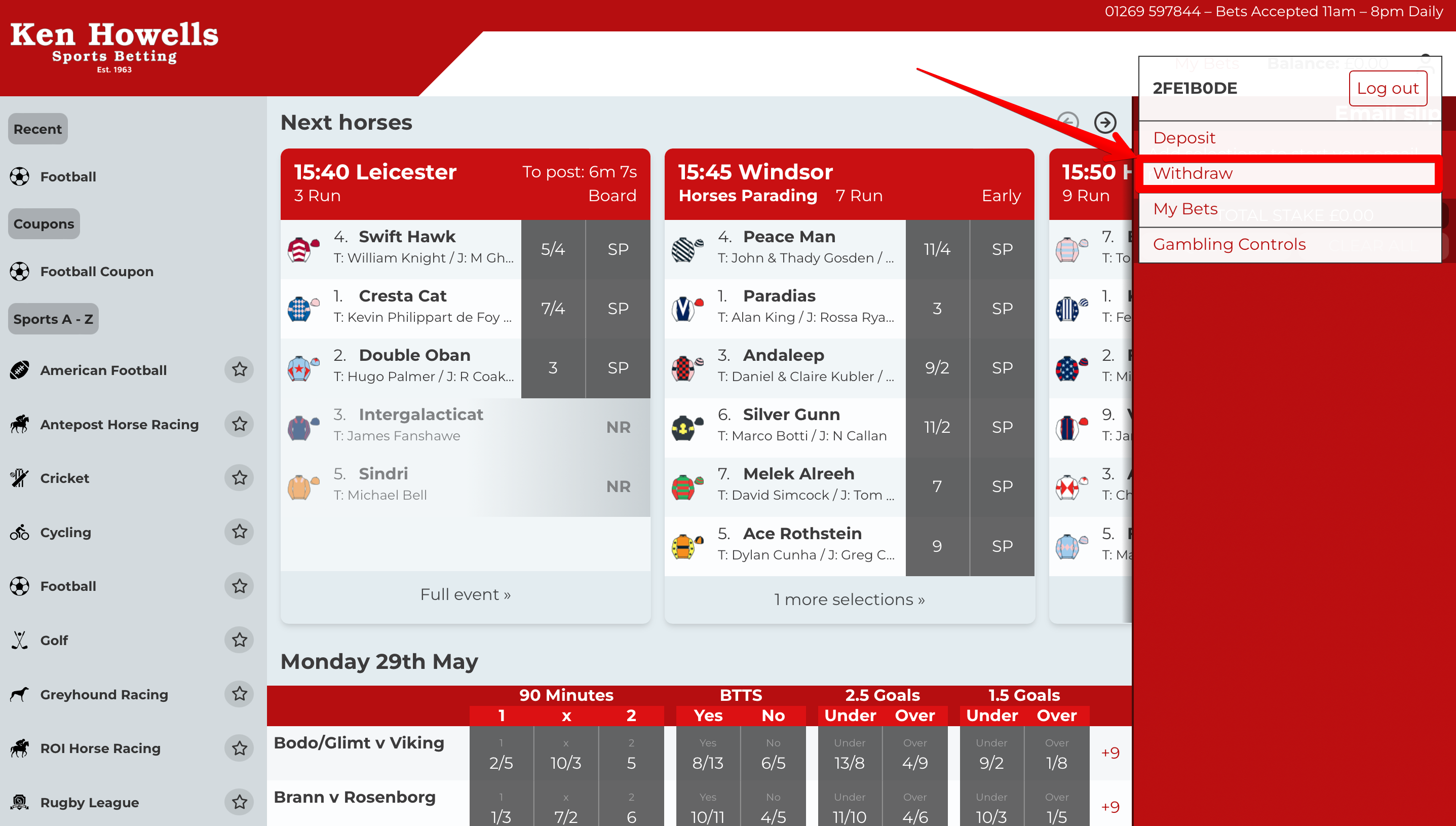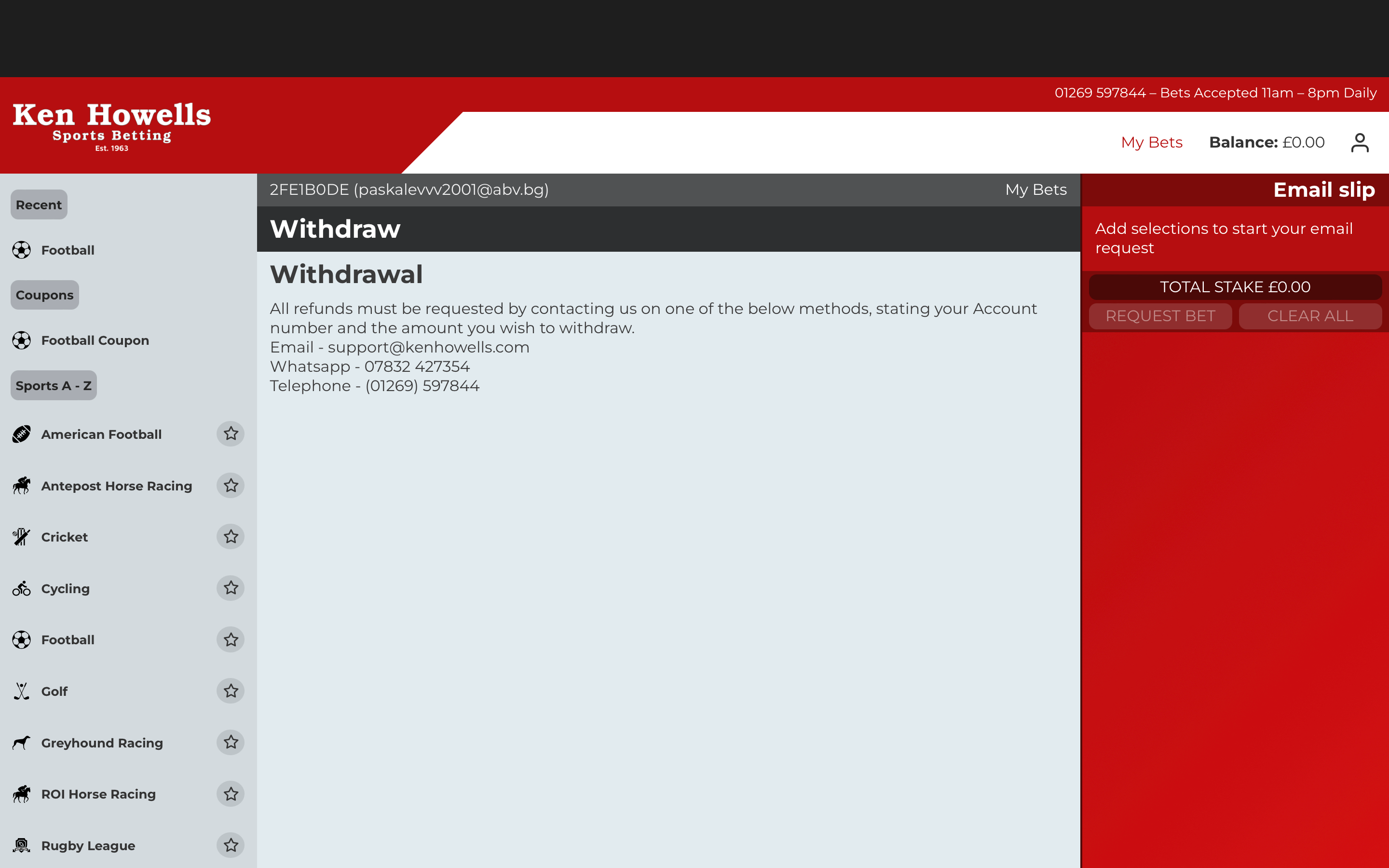 To withdraw funds, you will need to find the withdrawal tab. To do so, navigate to the account area in the top right on your screen, as you did for the deposit. When you click on the account icon, you the drop down menu will appear. Click on "Withdraw" this time. 

In order to finalise your withdrawal you will need to contact the customer support team. You can do so via email, WhatsApp or a phone call. The support team will ask you for your account number, as well as the amount you are willing to withdraw.  
Licensing & Safety
The bookmaker's platform is owned by A BET A Technology Limited, a company registered in England and Wales. It is also regulated by the UK Gambling Commission under account number  3434. Ken Howells is also owned by Targetlocal Limited, and it is licensed and regulated by the UK Gambling Commission under account number 422. The bookmaker has not broken any regulations as of the time of writing this article.
Service & Customer Support
Email - [email protected]

Phone - 01269 597844 

Live Chat - N/A

Twitter - https://twitter.com/2021_jem
In case you face any issues or challenges throughout your betting journey on Ken Howells, do not hesitate to contact the customer support team. Unfortunately, the bookmaker does not offer a live chat function on its website; however, you can reach out to them either via a phone call or through an email. We contacted the support team ourselves by email on several occasions, and the support team was quick to respond.
Ken Howells Casino Review
Ken Howells is a sportsbook and a sportsbook only. This means that it does not provide any casino games or services.
Live Casino
As mentioned in the previous section, Ken Howells is only a sportsbook platform, so it only offers sports betting services.
More Information About the Bookmaker
Founded in: 1986

Owners: Target Logical Limited, A BET A Technology Ltd

Sponsors: N/A

Registered Office: 65 Wind Street, Ammanford, SA18 3DT, Wales, United Kingdom

License number: 59016

Email: [email protected]

Phone: 01269 597844 
Updated: 12.09.2023
Information about the company
Other bookmakers





50% refund of first day losses
£35




"Bonus Credit" if lose
£40